Tubecast update for Windows Phone and Windows 8.1 supports YouTube API v3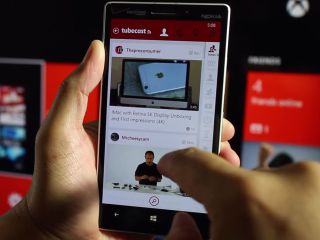 The developer behind the popular third-party YouTube app Tubecast for Windows Phone and Windows 8.1 has updated both versions that include, among other things, support for the new YouTube API v3.
Since YouTube is discontinuing support for its older API v2 on April 20, this means that Tubecast will be able to handle videos from the service using the API v3, It should also allow third party apps to add features such as comments inside their app, in-video promotions, channel sections and more.
Here's what's included in the full change notes for Tubecast for Windows Phone and Windows 8.1:
Windows Phone - 3.0.8.1
API v3 100% ready !
Fix for the Chromecast new firmware
Due to complains => rollback fullarea click for the play/pause button
Fix some downloads with no sound
New "incredible" red color original Youtube
Samsung ATIV S possible bugfix for HD playing in portrait
various bug fixes
Windows 8.1 - 1.2.0.1
API v3 100% ready !
Fix for the Chromecast new firmware
Fix for "MF_MEDIA_ENGINE_ERR_SRC_NOT_SUPPORTED" error
Handle big screen better (21:9 and others !)
Fix some downloads with no sound
New "incredible" red color original Youtube
various bug fixes
You can check out our recent look at Tubecast for Windows 8.1 right now on our YouTube channel.
Download Tubecast from the Windows Phone Store - (Free with optional in-app purchase)
Download Tubecast Pro from the Windows Phone Store - ($2.99)
Download Tubecast from the Windows Store (opens in new tab) - (Free with optional in-app purchase)
Download Tubecast Pro from the Windows Store (opens in new tab) - ($2.99)
Windows Central Newsletter
Get the best of Windows Central in in your inbox, every day!
Does the new API allow captions?

Indeed!! This is the first YouTube app on Windows Phone that I see supporting captions and annotations. Perfect!

myTube! supports annotations and captions as well :)

Yes it does but only with the beta version and will probably come soon.

Thanks alot!
I'm a beta tester, after hard resetting my phone I didn't install it, I thought it wasn't updated.
Downloading....

Yes it does. I use the app!!!

So is there anything missing after all?

I think that is a shortcoming of the Windows Phone API. Not of Tubecast. Because none of YouTube clients support that.

Subscriptions are not part of the V3 API, so that'll have to be handled manually. MyTube will very soon publish an update including this self-made subscription page

Roku support in general as it is the most prevalent of all streaming to devices. My whole house is set up with Rokus. To heck with anything made by Apple/Google

Yes indeed. Plex and Roku is the ish. with the Plex un-supported Apps it's even better. Stream directly from yifi Torrent.

Hopefully you nice people with the Roku's can help answer a question for me. I'm currently using a HDHomerun network tuner and a PC acting as a DVR for my main TV setup. But I've been thinking about getting a Roku for a little while because I know it supports both Plex and Emby (formerly Media Browser). I know Media Browser supports live tv using a tuner, and I think Pleex might too, but do you guys know if you can get the live TV stream using the Roku and the appropriate app for Plex or Emby?

Would love to see Roku3 supported.

We should do for this update but with the end of APIv2, we had to do this update before but don't worry, it will incoming soon ;)

Perfect app for "Chormecasting"

MyTube is dead :(
I loved it's UI (V1)

Agree, the new mytube app has gotten worse. Huge step back in all aspects. Navigation and performance. The only thing that keeps me pulling to mytube is the way you can swipe and scroll through a video.

New update will make you pretty happy again. Bunch of stuff incoming

Yeah, I felt the same way too. myTube used to be stable and fast in version 1, but since the new update, it has issues like the video download progress overlay not appearing consistently, video item is not automatically removed when a video is deleted from Saved Videos. Live tiles sometimes stopped refreshing and certain live tile frames fail to load the video preview.

I agree, it's stepping backwards, I loved the old UI experience though.

It is "dead" for you, but there are a lot of people who like myTube.

No. You are the ONLY one who like it. There is no "lot of people" at all.

How can you generallise the whole userbase and say that only he likes it?

Then how can he generallise that there are alot of people who like MyTube as well?? You should have ask him first, not me.

Well fine, I accept that I oversaw "alot", however I think that there are bound to be users who prefer a specific app according to preference. I still believe that its not all dandy to say that only he likes it. I mean I'm sure there are some users who love it and vice versa.

I thought the new api was supposed to be very limiting to third part apps. I don't see any limitations here. I'm so confused.

That's because 90% of the commenters here are doom and gloom and bitch all day. Since this is a positive article, you won't see too many comments.

lol I was wondering where everyone was. I'm usually never the first to comment on an article.

Well for one, no subscription feed so you'll have to manually check all the channels you've subscribed to for new videos.

But thats the first thing we see in the video.

The video is old, I'm pretty sure. There aren't subscriptions anymore. Now, it's the same thing as "What To Watch," which is disappointing.

False. Everything is still there. Nothing lost. Now you have the ability to access links on videos.

False. Check again. The News Feed tab isn't your subscriptions feed anymore. It shows random recently uploaded videos from people you're subscribed to, but it doesn't show all the videos that they've uploaded in order like it did.

Damn... This is another deal breaker.... Does it affect only 3rd party YouTube apps, specifically Windows Phone 3rd party apps? I have no such issues with the Google YouTube player on my Note 4.

Calm down!! I'm using the latest version now. I still see my subscriptions feed. I can still download videos. Actually look at the app before you pass doom and gloom judgement. It's actually better than ever!!

False. I can still see all my latest subscription feeds. And yes I have the latest update. I see no loss in functionality. Tubecast is a godsend for Windows Phone.

Thanks for checking. I can't seem to log in on windows 10 tech preview my phone. And none of my pcs wanted to work to last night either. Stupid router.

One of the new features is "in-video promotions". Does that mean that we're getting commercials in the videos? I better not update then.

Red youtube? I've seen it yesterday but didn't know what it was.

I thought I'll give it a go, And its crazy how fast it crashed :D

This app is freakin awesome! Many thanks Webrox!!

The talent is here not with google

Amazing how so much can be added in a 0.0.0.1 update.

I'm clearly not that observant but what is the different between the paid and free version?

Pro version has an Unlimited number of "cast".

Stream the YouTube video to a dlna ready device

That's what I use currently.

Can MetroTube cast videos?

That breaking sound is his jaw hitting the ground. lol

Not everyone need to cast videos.... Just watch on your freaking phones.

Tubecast is and has been better for a while. It supports more features and things, such as 60fps and higher resolutions. Also, the casting, obviously. Metrotube recently copied some other features, though. I hope Metrotube gets better, but it isn't better than Tubecast, currently.

Can Metrotube download videos to SD like myTube?

I use MetroTube also. Works good except that it won't play through my playlist. It will play a couple of videos in a row and then stop. Or it will only play them singularly. A bit frustrating. Maybe time to checkout other YouTube clients.

Can this app download videos?

Download to your phone, no. Pre-load so you can watch offline (within the app), yes.

Cheers for clarifying that for me.

Nice scrap-iron scarecrow avatar. I love 5Ds

It's more how I feel now but thanks

So what's new with API v3 ??

I must be the only one having issues. When I use it, it constantly hangs up with the 'wheel' sitting at 50%...assuming its trying to cache the video, but never completes. I also has quite a few playback issues when I broadcast it to my MS Wireless Display adapter. Love everything about the app, design, layout, UI, etc, etc...but I have issues playing any videos from start to finish.

It's a Denim issue, you have to restart your phone when this issue happen

Unfortunately, this is on my Laptop not a phone...

Some network issues could be annoying, unfortunately, it's 90% time oustide Tubecast, some users have proxy, some others have dual band routers etc etc

The only thing missing from this is the ability to queue up videos. That's the only thing separating it from the proprietary YouTube app.

Great app, and I use it to cast videos on apple tv. Works great.

I use it to cast video's on Xbox One. Love it.

Is there any difference between the pro version and the free version (that has been in app purchased)

with the pro you get unlimited casts to tv. Other than that it is exactly the same (no banners, no ads) just pure tubecast experience :P

I get unlimited casts with the in app purchased version.

He didn't understand the question. He thought you just meant the free version that wasn't paid. No, there is no difference. It's only there, because of Windows Phone 7. It didn't support in-app purchases, if I remember correctly.

Tubecast is really awesome!

Does this new api allow annotations and for you to click on them etc.

Did they fix where the computer goes to sleep while in full screen?

Yes, in thelast week update ;)

Still use metrotube, but wish they added 480p setting. All it has is 240p,360p,720p. No 480p,which I find weird. Also tubecast us a lit slower for me.

what is the difference between pro version and free version ? i find no difference between the 2 of then

You can read the comments, already answered several times.

i am too lazy to do it :D

Very good best Youtube app

Do this app download in background such as uc browser or IE?

The video is old. No more subscriptions feeds with the latest version, while I'm still enjoying sub feeds on my Note 4 official YouTube app.... Darn it!

Thnx wonderful Tubecast team for your continued hard work!

No longer casts to my xbox one

Yes it works, but when it displays black screen, it means you have to upgrade the app => you have to restart the XBOX, launch the "Video" app, then update the app, and then it cast again.

I tried it today and it looks awesome! the design and UI works perfect on both PC and smartphones. The only negative feedback I could mention about TubeCast is how incredibly hot the phone gets when watching videos!! and I mean really hot, not warm :( other than that it's the best YouTube app for Windows Phone out there IMO.

Its not loading anything since the update, only the loading icon spinning until it says network problem

And the something is happening on my laptop

Tubecast does not support typing prediction in this latest version during comment.

Hi all ....i tried to download some of video , but it doesnt show on my photo hub even in video app..can i ask your help guys?
Windows Central Newsletter
Thank you for signing up to Windows Central. You will receive a verification email shortly.
There was a problem. Please refresh the page and try again.