TuneIn Radio gets a small update to fix streaming error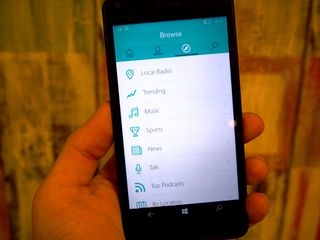 TuneIn Radio for Windows 10 and Windows 10 Mobile, has received yet another update, though this one is decidedly smaller. It corrects a streaming error that cropped up on phones.
Other than that, there doesn't seem to be much to this update. TuneIn Radio became a universal app for desktops and phones earlier this week. You can find the update on the Windows Store now.
Thanks to Ben for the tip!
Download TuneIn Radio from the Windows Store (opens in new tab)
It's great to see a lot more of Universal Windows App coming along, but it's somewhat sad that those updates are not for Windows Phone 8.1 :( I really hope Windows 10 Mobile kicks off the ground and behave very nice on every device, so everyone with a Windows Phone 8/8.1 device can get all those new apps.

Well everyone will get the free upgrade to Windows 10 mobile so it's all good. Posted via the Windows Central App for Android

Not compatible with my mobile device? Lumia 950??whatt? Very cool but what i don't understand is that if it's an universal app why is it different (old one) in xbox one?

Saavn gets updated to support win 10 mobile

NO more available for my 720 :(

Had the same problem, used windowcwntral app go to thread from couple of days ago about update to universal app,swipe left,download app. Worked for me

Not for me :( Edit: Oddly enough, I was able to download the old app through my library. It won't update to the universal app though.

Went to reinstall after uninstalling. It says the app is no longer compatible with my device (Lumia 925)

Not compatible. Nokia Lumia 930.

Not compatible with me 920 XL

Possibly because there is no such phone

I had a tunein radio account prior to the update but now it will only let you sign in with facebook or google. Seriously??? I don't want to sign in with either of those

How come it says my device is not compatible? Using a 640

Now it says it is not available for my device. (950) I swore I had it installed and now it is gone. Slightly frustrating.

I just updated! Worked flawlessly

Chill out guys, I'm sure they have their reasons, they'll fix it. :)

This update is HUGE, now all of my favorite stations are playing again!

Love the app, but it's in German. Want to changes it to Norwegian. Can I do that?

Hmmm.. Doesn't work on my 640. It seems alot of people are having issues as well. Guess we will wait for another fix then.

It's working for me after updating.

No more errors. Lumia 950 XL. Can actually play audio now.

Pretty broken still. I closed the app with music playing, and the audio correctly stopped... Except it's apparently maintaining a connection to the stream and not playing the audio, as it still shows the song name in the volume dropdown, and that song name is updating every few minutes, and my battery is dropping like crazy. Pressing the pause button in that dropdown isn't doing anything to stop this either. Also, I wish it still had support for the in-device FM tuner like the WP8.1 version had. Not too big a deal but it was nice to have from time to time.

Can't install on my 640 with Windows 10. Says this app not compatible with this device. WM 10 ver 10586.

After updating, the error was still there, so I uninstalled it and now its unavailable in the store. Button is greyed out

Can't install on 1520 w./latest insiders build. Says not compatible with device.

Not compatible 950XL...????

It's the most important bug with TuneIn. I hope this proactive update means that the issue that has plagued windows for so many years is finally resolved....and that TuneIn remains proactive more regularly in resolving streaming issues in the future of windows 10.

Glad it's universal now but it performs terribly. So slow even on wireless and crashes often. Look forward to further updates.

Agreed. I've got Win 10 on my 920, and it's dog slow, only to crash with a Stream error whenever I try to play something. :(

Maybe the app unavailability problems are due to needing to update to.... 10586.29. I was expecting .17, but just saw the notification to reboot and found .29 ready to install

Was working, had a problem with follow, uninstalled. Tried to reinstall, not allowed for my 950 - grayed out. Wait, what?

Is this app really working good? Win8 app not updated till date.

The app was working fine until this last update. Not sure who needs to solve the issue. The app now says that it is not compatible with this device -using Lumia 535 and HTC 8. Please advise how to correct the issue if we can on our end. Thanks!

Same here: says not compatible with my device. That's a Lumia 950. I think they missed flipping some bits when packaging the app up for the Store (for instance: forgot to mention it is ARM compatible, not just x86)

so, it looks like they fixed the streaming bug for my Lumia 920, but broke the device compatability. It is currently listed in the store as a PC only app. What's weird is that the app is working fine on my phone.

Is there any usable alternative of Tune-in? I'm about to give up on WP altogether. I shouldn't have to spend hours looking for ways to stream local radio stations to my phone. I've tried several apps, the browser doesn't work (silence). I might as well put my sim card back in my G2 and shelve the 640XL for a while, it suck's too because my phone has a low signal issue.

I started using myTuner Radio app. Works great! Fix your app, TuneIn!!!

STILL not available for Lumia 950. They must have really messed up and are now desperately trying to fix it.
Windows Central Newsletter
Thank you for signing up to Windows Central. You will receive a verification email shortly.
There was a problem. Please refresh the page and try again.