TuneIn Radio is now a universal Windows 10 app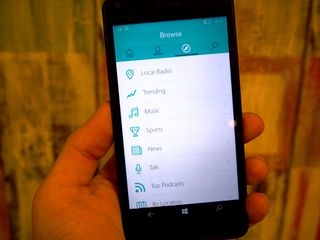 It looks like the folks at TuneIn Radio have delivered on their promise of a universal app with the latest update. TuneIn radio is now a fully universal app across Windows 10 and Windows-10-mobile, giving users a unified experience across all of their devices.
As you can see in the image above, it looks like that app got a bit of a face lift in the transition as well. Things are bright and poppy, with a more modern, clean look and feel. If you're a big fan of TuneIn, the update is definitely worth snagging at the Windows Store link below.
Thanks to Tony Y. for the tip!
Check out TuneIn from the Windows Store (Free)
Check out TuneIn Premium ($7.99 a month)
Dan Thorp-Lancaster is the former Editor-in-Chief of Windows Central. He began working with Windows Central, Android Central, and iMore as a news writer in 2014 and is obsessed with tech of all sorts. You can follow Dan on Twitter @DthorpL and Instagram @heyitsdtl.
Listening to radio stations around the world as we speak.

Nice...however, on a similar note..isn't it time MSFT start publicizing & 'Bragging' about the millions of computers currently running Windows 10. That would attract app developers

They already announced how many were running it

Not talking bout just announcements.. more like brag!. Get stats & throw it in pple's faces about how many & how quick the windows 10 adoption is/was. It'll make companies & developers realize that it's a ripe market they can tap into.

They'll eventually do that when the numbers are impressive, you only get one shot, you better show something impressive and not only good. I'd expect something in late spring hopefully.

They have? I never heard any announcement. one or two individual announcements but no big formal announcement.

Downloading now :-), devs please continue this trend, at this rate in 6 months we should have a big base of the big apps running on windows 10, Spotify im looking st you next for nice universal app ;-)
Update: Daniel I know we cant be hasty but nice universal windows central app would be nice early Christmas's present ;P

I agree with your desire for more apps going this way, but is this the place you think they are looking for input?

I sent a tweet to Spotify regarding the development of an universal app. They answered "not for now". I canceled my subscription and went to Groove music.

They already have x86 application no need for UA Posted via the Windows Central App for Android

Their windows phone app needs improvement, it lagged, album list sometimes disappeared and although albums were downloaded I still got the notification "waiting for WiFi". Therefore UA might bring a better app.

I use tune in radio on windows phone 8.1 on a regular basis. Its useable but not a good experience. Let's hope this is an improvement. Will give it a go when I eventually get to windows 10 as I'm assuming based on this article the update is only available on windows 10 for phones.

Windows 10 PCs and Phones.

I'm aware its availabe on windows 10 for pcs. My original comment was about my current use of tune in on my windows phone and that I will check it out the new version when windows 10 for phones eventually arrives on my phone.

My bad! If it is any consolation while you wait for Win10, this update does not work on my phone. Wish I could have the 8.1 client back.

Thats a shame! Was hoping to hear from those that are on windows 10 if this update is any good.

I'm running WM 10586.29 on my Lumia 1020 (the OS is running really well BTW), but the TuneIn app in the store won't install, says my device is not compatible. Received this from TuneIn Support Team: "We are actively working on our Windows application, which should improve features and fix bugs. Sorry for the inconvenience."

App runs but gets an error when trying to stream anything. On both my1520 running W10 mobile 10586 and my week-old 950XL (which is probably going back).

Just send the 950XL to me. I'll pay up to $10 for shipping. ;)

A month after your comment, it still does not work on Windows 10 Mobile. Just upgraded my 928 over the weekend. While I can see the app in the Store, it says that it is not compatible with my device. I do use it a lot. Hopefully the app becomes truly "Universal" soon!

Same here... just got a Lumia 950 and bit the bullit over my Lumia 930. Went to Windows 10 Mobile. And no TuneIn on either device :(

I too hope it is improved. Especially when it comes to stability. I used to use TuneIn to play music on an old tablet in the bathroom. Every now and then the stream stopped and then that specific station (Veronica in the Netherlands) couldn't be streamed anymore. That then goes for all stations until the tablet is rebooted. Strange enough playing that specific station through their own website runs for days and days! Even when I reset my router it picks up playing again.

App gap is officially closed.

Um, it's actually nowhere near closed. But it's getting closer.

App gap is an abused expression. It is subjective and can be used by anyone to undermine a good platform. Heck, WebOS had "app gap", and WPM has tons more apps than it ever had. As long as iOS has a million apps (exaggerating here) there will always be an app gap...even though it won't mean anything.

I always thought App Gap was that space between the apps thighs when an app is too skinny.

Yay,,found HERE maps update ;)

W10, try store check update

But there is no Here Drive in store

Yup,but older ver still working

Spotify universal app would be nice. 6tag too!!

love TuneIn for out of state sports and radio. Always ran into issues on WP, but this app looks awesome and will hopefully help those bugs. Love it!

Finally, I ducking love it :D

So far as I can tell, it appears that FM radio support was pulled from this version, if that's important to anyone.

Windows 10M has FM radio built in

Right, so does WP 8.1, but it's still better to control it from the (old) TuneIn app instead of having to manually tune stations and favorites.

What do you mean? I'm able to play my local FM radios.

So far as I've seen, it's using data / internet to stream even when you use the local stations. The old version let you choose between the internet stream and the built-in FM radio.

Data also uses more power than FM, right? Posted from this here device.

Really hoping that with this update I'll be able to listen to my favorite stations now because none if them seem to ever work.

Let's hope this sucks less than the Windows 8 version. Love the service, hate(d) the software.

Good shit, keep em' coming.

I can't get any stations working on mobile even thought they work on PC. Is that just happening to me?

Me too. Is anyone getting the W10M version to work? Did the author even try the app before putting up this post?

Nothing working for me either. Every time I try to play a station the app either crashes or gives an error message.

Same here. When I pressed the play button the app crashed.

One half related question : So I am browsing a windows central ON PC, and I get to read there is a new uwp tuneIn app available. My question is: As I open the windows store on PC to download this app, can I at the same time somehow install it on my w10m phone ?

I dont want to go to my pc windows store to install an app, and later have to to the same app in windows store on my phone to install that same app to my phone... I want to do it at once, without revisiting the store over and over again :D

that is actually a really nice idea. try posting it thru the Windows Feedback app or tweeting to Gabe Aul, and maybe we'll see it happen one day. :)

Will do , hope it happens sometime in the future, for now i will just send the link to my phone via mail or anything else so i can instantly open the same app in store later :)

I thought we used to be able to use the Store on the desktop browser and send apps to the phone to install. I really wanted to that when I hard reset to do a fresh install. Scrolling through the library on the phone is tedious. Posted from this here device.

Man I don't know why but all the stations I chose gives me errors. Oh well the app looks nice though Using HTC M8 W10m preview

Same here! I have no issues with it on the PC but it will not play a single stream on my phone. Reinstalls and reboots won't resolve it. At least the WP version played almost half the time. Not only that, if you manage to get it to show the wide tile it's completely blank!

Same. Im sure they'll fix it.

You must be new to Windows Mobile.

Gorgeous!! Simply beautiful. Look how good looking UWP can be!!

Pretty much crashes to the desktop on my 950 xl... Bummer.

Worked great on PC. On phone (950XL), I can only sign in with Google/Facebook. I see the screen breifly show "sign in" and then the option goes away leaving just the connected login options. Will try continuum later to see if I can get the app to display the full sign in screen. Not sure if it's poor responsive UI design or if they are limiting login options on mobile (which makes no sense). That plus all my stations error out even when the same stations work on my surface. Ironic because TuneIn used to not work on my surface at all, but would work on the phone. Still nice to see another universal app hit the store.

The option to sign in with your TuneIn Radio account is hidden behind the navigation bar at the bottom. If you hide the navigation buttons, you'll see the "Sign In" option. This took me a moment to figure out as well. Sadly, I'm seeing the same problem as you when trying to actually play anything on my 950 XL.

Well I feel stupid ;) ... thanks for the heads up!

It's slow, throwing errors, and crashing like hell on my Lumia 640.

Thanks Dan for putting the "download app" link :)

Seems ok on my 930. We pretty much need to all download as many universal apps as we can get our hands on, even if we have no interest in the app. The numbers might convince companies sitting on the fence to produce universal apps.

It's a beautiful app! And if you resize the desktop app pretty much it turns into the phone app!! Need some refinements with the phone app though. But it's great!

Yay! TuneIn is what I use on iOS and Android to listen to things both near and far, from the Iowa Hawkeye and ISU Cyclone games that I can't catch on TV, to news/talk radio from around the world in the languages I'm learning (hr-INFO aus Frankfurt ist ausgesichtnet!) or even languages I plan to learn in the future (NHK Nihongo for instance). Trying to use the old Windows 8 TuneIn app was an absolute nightmare. It never could find anything I was looking for, and it's interface was so clunky and weird. This looks virtually identical to the app on the other platforms, and if it works like them....I will be very happy indeed! Prost!

950xl, will not play streams at all. tried uninstall / reinstall, wifi and cell, multiple channels. Just error messages. Kinda bummed out.

And it sucks. Slow, not as good as the 8,.1 app so far. Cannot find my regular station even using search. Did I say it acts as though it is running in molasses?

I love TuneIn! Im grateful they made a Universal app. It's great quality and a huge step up!

Windows Central should update their UI

They're creating a new Windows Universal App, I guess.

It's really slow, hope they fix this.

I can't get it to work on my 950. Most times it crashes back to the Start screen and when I can get to a station I get a network error.

Same here. It was working earlier before I upgraded. :(

Same here. Doesn't work on my 950 or my 640 for the exact same reasons.

My 950 says an error occurred while playing the selected radio content on any station I pick while using this on the phone or while using it through Continuum.

Good job, TuneIn! (Snapchat, take note)

Thanks folks at tune in, now get to fixing those bugs.

Is there no way yet to listen to the premium content if you have a subscription? I'm not finding it, not much reason to keep the subscription if not

And it seems there are still ads even with a premium subccription

Slowly they are coming along

The dev should be thanked, app downloaded, and rating given. Show support to inspire others to follow suit.

Good job to them for launching a universal app, but an app that doesn't run on the newest flagship devices is a pretty poor start.

I use Radio tunes right from my days with BlackBerry.... Feels good

Any news on 6snap returning?

UI looks very androidy. But I hope TuneIn will finally have a stable build that doesn't crash anymore after a few minutes and that the streaming is more stable. To date my windows phone 8.1 app and windows 8.1 app are still horribly unstable. It's so bad that the stability is comparably worse to the TuneIn app on my Galaxy Note 1. And TuneIn hasnt really shown a good service record to fix it. I really hope they have some more love for windows 10 and windows 10 mobile now. I don't think they really showed it in windows (phone) 8. I think we should be more critical this time around for them to get it right. If they can make a stable build for android, why can't they get it right for windows?

I agree with some of the previous comments: hope it is more stable! And I hope it is a light app that doesn't use too many resources. That way I can run it on old tablets as well.

Don't recommend using it, at least on a720

This is great! Now I can recommend the app to my family. lol

Ok, it's a universal app, which is great. But it's slow, crashes, and looks (and feels) like a jittery Android app, which is not good at all.

The live tile is not working, the app crash and playback issues with the new update. please fix.

I can't play the radio stations! What can I do?

Yeah I kinda liked the previous version better.

As with others not working at all on my 535. Any way to rollback? I was using it daily :(

You rollback using the MS recovery Tool which will take you back to 8.1

I hope you were being sarcastic ....

I'm not sure they tested this out on mobile at all... it flat out doesn't work. Even though the 8.x version was flaky, at least it would start a stream. On the bright side, the desktop mode works a lot better than the old one.

I just checked and it shows that this app is not compatible with my device the 1520 with Wm 10 10586.11.

Since the update, I cannot stream any stations on my 950XL.

Pc version works great. But mobile one crashes. Used to be the other way before update.

Wtf. Now i got german language. How do I change this? I need Dutch or English. Not streaming also.

I have that too on one of my machines!

hey, can anyone pin a station with this app now ? The app is pretty but, if it does not have the feaure I use all the time, it spointless....anyone ?

I've emailed support about this - so far no response. Hoping they bring back this feature.

Hi, I can't even download it for my Lumia 950 XL. It says "This app is not compatible with your device". WTF?!

Same issue here with a new Lumia 950. I had previously installed the app on a Lumia 1020 running W10 with no problem.

I can't get it to install on my 1020 running 10586.29. I get the compatible issue.

On my Lumia 925 (running the latest build) it says "This app is not compatible with this device."!!? I need this app guys.. any other way to ge it?

This is NOT a universal app. If it was it woulndn't show as not available on my nokia 920 with win10.

Hmm what is happening? not compatible with this device ? On a brand new 950 XL (10.0.10586.29)

Same on my fully updated Lumia 950. I recieve... (i) This app is not compatible with this device ... doesn't seem to fit the claim that this app is for all Windows 10 devices "Universal".

Got the same message on my 950. WHAT'S UP? I used this app on my Nokia 1020 just fine.

I can't even find it in the Windows Store app on my Lumia 950. And like you, it worked fine on my Lumia 1020 with running Windows 10. Universal, my butt.

A load of rubbish - sloppy UI and not available on mobile. I have had to switch to a different app on my mobile and I wont be going back to tunein as they cant be bothered to properly support Windows.

I'm getting "This app is not compatible with this device." from the W10M store from my L930. Is the app no longer available on W10M? I've installed and using it on my Surface with no problem.

For some reason since the app is upgraded to a Windows 10 universal app it is only available for Windows 10 devices and not for Windows 10 Mobile devices. And TuneIn doesn't seem to care at all...

for some reason Im running windows 10 on my lumia 640XL and the App says this app is not compatible with my device :S ????? can windowscentral notify them since we can't rate the app if we didnt download it :(

Update: it is finally working on Windows 10 Mobile!
Windows Central Newsletter
Thank you for signing up to Windows Central. You will receive a verification email shortly.
There was a problem. Please refresh the page and try again.