TuneIn to stream live NHL pro hockey games for free starting January 1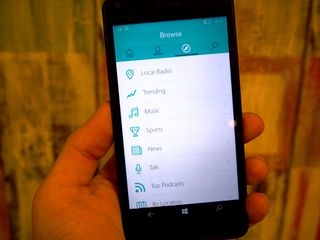 The TuneIn streaming radio service has scored another deal with a big sports organization, the National Hockey League. Starting on January 1, the free version of TuneIn will provide broadcasts of 1,230 regular NHL season game broadcasts. It will also stream all of the league's playoff games, including the Stanley Cup Finals.
According to the company:
Here's some of the other NHL content that will be available via TuneIn:
On-Demand Content – Users will be able to listen to replays of every single in-season NHL game on-demand if they can't catch the live broadcasts.
24/7 Hockey Channel – TuneIn will have a live 24/7 channel where users can listen to live and recorded hockey audio.
24/7 Team Channels – All 30 NHL teams will have a team specific radio station that will give fans access to daily recaps, analysis, press conferences, replays of historic games and other action-packed team content.
NHL.com – Starting January 2016, TuneIn's player will also be embedded on NHL.com making it easier for fans to listen to their favorite NHL content straight from the NHL's homepage.
Download TuneIn Radio from the Windows Store (opens in new tab)
Pulled from mobile store or incompatible with 950's.

Working just fine on my 950XL. I was surprised to see I already had it installed though. Don't remember downloading this before. Did it come preinstalled on the 950 XL?

It has lots app of crashes when opening and there is too much loading going through the tabs in th

Not compatible with my 1520 W10. WTFO?!

Not compatible with my 830

Awesome... now, if only it was available for my Win10mob Lumia 830. Says it's not compatible with my device.

They told me they haven't published the phone version yet, despite the fact they did then pulled it. I sure hope they hurry up though and sorry things out.

It's in the store now and seems to be working just fine.

It may be for you. But not most. It lists as incompatible for almost everyone.

Actually, mine was already installed though I have no idea when I installed it. I must have an older version.

WC at Gillette will not be as fun as Fenway. Weird not being in the city to see B's. Can't install the app yet.

Not compactible with my Lumia 830

Not compatible with 920. Hmm, sounds like the app was pulled.

Yes, the app was pulled for Windows 10 mobile devices. It's still available for PCs and for WP8 devices. Windows 10 mobile users, however, are out of luck.

The app is in the store now and working just fine.

Screenshot or it didn't happen

Ya, like I'm going to put in that much effort to prove I'm not lying. Nice try.

This is awesome. If only the other leagues did this.

Oh, and it works for me on my 640 with W10 mobile preview

Not compatible with my Samsung Blackjack

Not available for Lumia 730, WP10 preview

It says that "This app is not compatible with this device." on my Lumia 950 whereas I am able to install it on my Lumia 930...

They should first fix the new universal app that crashes all the time!

When will be a version like the Android one that can even records your shows also would be very nice that the NHL release an app for windows because they have none

Lol this being a major reason to not switch to a new rwc plan that has a season pass
Windows Central Newsletter
Thank you for signing up to Windows Central. You will receive a verification email shortly.
There was a problem. Please refresh the page and try again.