Turret Commander, an air combat game for Windows Phone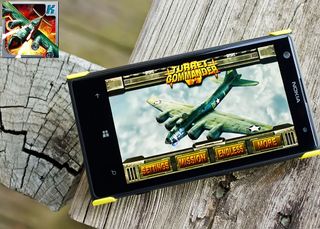 Turret Commander is a fast-paced air combat game for Windows Phone 8 that places you behind the turret gun of a B-17 Flying Fortress.
You are tasked, as one can imagine, with defending the B-17 from enemy aircraft intent on ending your flight early. Graphics are well done, game play challenging and with an endless gaming mode on top of over twenty mission flights, Turret Commander makes a nice first impression.
Game Layout
The main menu for Turret Commander is brief with options to access the game's settings, work your way through the various flight missions, play the endless game and view additional apps from the developer.
Settings cover your turret control options (touch or tilt), touch sensitivity, sound/music on or off, hide the enemy health levels, and changing your favorite girl photo.
The mission menu has your mission objective center screen along with an option to upgrade your weapons and ammunition with the cash you earn playing the game. Missions are progressively unlocked and typically have you shooting down a set number of enemy planes under time or taking out a particular type of aircraft.
The endless gaming mode is just that, endless game play. Prior to jumping into the action, you will have an opportunity to visit the armory and upgrade your weapons and ammo.
Game Play
Game play is simple, shoot down the enemy aircraft before they shoot you down. The game screen has your radar displayed in the upper left corner of the screen. Enemy planes attacking your position are red blips, planes pursuing you to attack are yellow blips.
At the top center you will find your enemy kill count and game timer (if applicable) with your weapons condition displayed in the upper right corner. You will need to pace your rate of fire or your machine gun will overheat and become inoperable while the weapon cools down. This cool down takes a few seconds but leaves you vulnerable to enemy attack.
Turret movement controls are done by touching the left lower quarter of the screen or by using your tilt sensors. If controlled by touch, you will need to swipe at this area to move your turret and line up your shots. Tilt controls are a little more responsive but both methods seemed a little sluggish. Fortunately, you can increase the sensitivity of the movement in the game's settings to add a little speed to things.
Fire control rests in the lower right quarter of the screen. Just tap this area to let loose with your twin guns.
The other gaming controls present are a repair button on the left side of the screen to keep your Flying Fortress in the air and a missile launch button on the right.
With either the missions or endless game, the enemy planes come in fast and hot. You can take them out as they strafe your plane or as they fly away to prepare for another pass. Turret Commander does a rather nice job of simulating the combat action from needing to lead a moving target with your guns to the time it takes for your rounds to impact targets at a distance.
As you complete missions, a scoring summary will be generated noting your enemy kills, time to complete the mission, overall score, experience earned and coins earned. The coins can be used to upgrade your weapons and as you gain experience, you'll move up in rank.
Game play does have a semi-realistic feel to it. Granted B-17 turrets didn't launch missile but for those distance shots, it does take a few seconds for your rounds to reach the enemy. Even the turret movements feel somewhat authentic.
Overall Impression
Turret Commander is a fun air combat game for Windows Phone 8. Graphics are well done, game play challenging and with the two gaming modes Turret Commander won't go stale too quickly. The one down side to game play is a software bug.
Every now and then, when transitioning around the game programming code will appear on the left side of the screen. This will prevent you from access the gaming screens and will require a reboot of the game to get back on track.
There are also some buttons on the mission menu that appear to be for your achievements and change your favorite girl photo but they are non-responsive. These bugs aren't necessarily a deal killer but can be frustrating and hopefully an update to the game can solve them.
Overall, Turret Commander is an entertaining, nicely drawn up gaming option to consider if you are looking to shoot a few enemy planes out of the sky.
Turret Commander is a free, ad-supported game that is available for Windows Phone 8. You can find your copy of Turret Commander here in the Windows Phone Store.
Get the Windows Central Newsletter
All the latest news, reviews, and guides for Windows and Xbox diehards.
George is the Reviews Editor at Windows Central, concentrating on Windows 10 PC and Mobile apps. He's been a supporter of the platform since the days of Windows CE and uses his current Windows 10 Mobile phone daily to keep up with life and enjoy a game during down time.
It needs gyroscope support so you can spin in a circle and do a complete 360 like a real turret. Lol

If there's no Xbox support I don't care lol

What's the big deal,? it's just a game.

Damn you must be really bored all the time

Lol? What did any of you Xbox game complainers ever do before Xbox existed? Gaming was awesome back in the day of Intellivision, Coleco, Commodore and continues to be now, yes, even without achievements. Those games cost money, more than the equivalent of today's real games. Complaining about a free game, lol.

Yeah no 512 MB ram shit Yeah.

It does support 512 Mb ram!!!!!

That's waht I said there's no 512 MB ram shit yeahhh

Is sad that after all these things developers keep skipping Brazil when they publish their games... :(

Is it not available in Brazil?! ,

You can still download it, simply change country on the Settings, go to download the game, then re-change country to Brazil.
Lots of people in the Italian community downloaded apps and games exclusive for America with this trick.

Because your country requests some kind of rating and that means extra work and expenses!

No, it don't. Every one can use a PEGI or ESRB certificate to make their game available here. Almost all game released today has one of these certificates.

It support 512mb RAM if ur phone has gyroscope sensor in ur phone.

Any chance sky gamblers will ever come to WP?