TV, music, movies, and books we're into this week
We're closing out April the right way with some great media recommendations.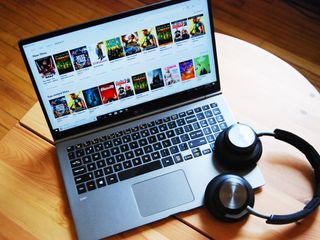 Another month has come and gone, and you're no doubt getting ready to enjoy some me-time. Spring has likely shown it sunshine-face at this point, but that doesn't mean you don't need some great tunes, a quality movie, or a real page turner to get you through the weekend. We can help.
Movies
Here are some of the movies team Windows Central is enjoying this week.
Atlantis: The Lost Empire
Recommended by Jez Corden, senior Xbox editor
Guardians of the Galaxy series
Recommended by Rich Edmonds, staff reviewer
Boyhood
Recommended by Al Sacco, managing editor
Music
Here's some of the music the Windows Central team is listening to this week.
Parc Avenue — Plants and Animals
Recommended by Dan Thorp-Lancaster, news writer
Interstate 8 — Modest Mouse
Recommended by Al Sacco, managing editor
Books
Here are the books we're reading this week.
The Things They Carried — Tim 'O Brien
Recommended by Brendan Lowry, contributing writer
Blood, Sweat, and Pixels — Jason Schreier
Recommended by Richard Devine, reviews editor
Your favorites?
What have you been watching, reading, and listening to this week? We want to know, so drop a comment and share your recommendations.
If none of these recommendations strike your fancy, check out a list of all of our past recommendations. We promise you'll find something you'll like.
Tons more recommendations from Team Windows Central
Windows Central Newsletter
Get the best of Windows Central in your inbox, every day!
Thanks for tips guys! I regularly take long commutes and am always looking for new content to consume on paper and digital

Atlantis and Treasure Planet were two attempts by Disney to jump into more "mature" animated styles. While neither was a commercial success on the order of their traditional movies, I don't think either were complete duds.

Does any by at window central like science fiction books?

Atlantis must have completely passed me by and that surprises me as the kids were at peak Disney around that time. It's now on the Cinema Paradiso list. Likewise, I've never heard of Plants and Animals. I've just played the first track and I'm encouraged enough to put the album onto my Spotify 'In The Van' playlist for work later this week. Cheers. As for me I've listened to nothing special this week, but on TV I've finally finished the excellent Marcella. The villain seemed unconvincing when finally revealed, but overall I enjoyed it. As a side note though, I just question why every police drama these days has to have the investigator and their family being personally involved in the events of the crimes. Whatever happened to the days when a police officer just did their job and the actual horror of the crimes and their perpetrators was dramatic enough in itself.