TV Show Tracker for Windows 10 helps manage your television time
TV Show Tracker is a Windows 10 app that's designed to manage your television viewing. You can track episodes you've watched, get notifications on upcoming shows and more.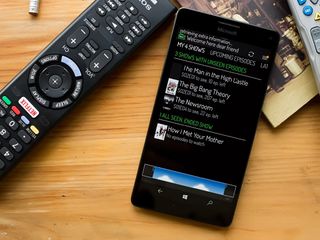 Available for Windows 10 PC and Mobile, TV Show Tracker is an unofficial Trakt.tv client and is a solid resource for thousands of television series and episodes. You can tag television series as favorites, track your progress as you watch episodes, and view stats on your television consumption.
If you are a television junky, or just need to track your binge TV viewing, TV Show Tracker is an attractive and free Windows 10 app.
Updated March 29, 2017: TV Show Tracker hit the Store last year and has since been updated to Windows 10. After revisiting TV Show Tracker, it remains an appealing option to keep tabs on your favorite television shows.
The first order of business when you launch TV Show Tracker is to establish a free Trakt.tv account. The account can be based on your email, Facebook, Google or Twitter account, and it allows you to have access to the Trakt.tv database, monitor your television activities at Trakt.tv and synchronize your TV Show Tracker information between devices.
Once you have signed into Trakt.tv, TV Show Tracker transitions to the app's main display, which has several tabbed views. These views include:
My shows — This page displays any television series that you have marked as a favorite. The display distributes series into shows with unseen episodes, series that are returning with all episodes viewed, and series that are not returning with all episodes viewed.
Upcoming episodes — Here you can see any upcoming and unseen episodes of any current series in your My shows lists.
Latest episodes — Any view of any upcoming episodes from your favorite series, plus any episodes that have aired in the last few weeks.
Watch history — Curious when you watched an episode or need to see how much television you are watching? The Watch history page lists what you have watched and when.
Suggestions — Should you be at a loss for what to watch on TV, TV Show Tracker tosses out a few recommendations based on your viewing history.
It's all about you — This page lists your television statistics, including how many episodes you have viewed, episodes left to watch and your top shows.
Menu — This is a general page in which you can access the app's settings, contact the developer, rate the app and follow the app's Facebook page.
TV Show Tracker also has a menu button in the upper right corner of the screen that reveals options to add a show to your My show page, search for episodes, refresh the screens and tap into the app's settings.
The library of television episodes available range from current series running on network television to canceled series and series available from online sources (Amazon and Netflix). Series information includes episode listings that can be checked off when viewed, general information on the series, news items and comments from Trakt.tv users. There is also a calendar listing of all upcoming episodes with the option to receive toast notifications for upcoming episodes.
The amount of information on each television series varies and can include trailers and cast information. Series can be pinned to your Start menu for quick access. Individual episode summaries offer a brief synopsis of the episode and any available user feedback.
Overall impressions
In revisiting TV Show Tracker, the Windows 10 app is still an appealing option to use for managing and tracking television series. The app delivers a ton of information on television series. It is like getting a lifetime of TV Guides rolled into one app.
TV Show Tracker is a universal app, allowing your information to synchronize between devices. This is a nice feature if you need to check your schedule on the go, to see if there are any television conflicts. On the downside, the app is a little sluggish in loading. The lag time is not consistent, but it noticeable. Hopefully, this is a minor issue that can be resolved with the next update.
TV Show Tracker is ad-supported, with the option to remove the ad banners through a $3.99 donation to the developer. The ads are not overly oppressive and offer you a chance to try things out before taking the plunge and removing them. Overall, TV Show Tracker is a simple and informative way to manage your time in front of the boob tube.
Download TV Show Tracker from the Windows Store (opens in new tab)
Windows Central Newsletter
Get the best of Windows Central in your inbox, every day!
George is the Reviews Editor at Windows Central, concentrating on Windows 10 PC and Mobile apps. He's been a supporter of the platform since the days of Windows CE and uses his current Windows 10 Mobile phone daily to keep up with life and enjoy a game during down time.
I'm liking Series Tracker.

Yes me too. But was hoping for a way to sync tv shows across devices without using trakt.tv. Like a Microsoft account

I hear ya, but the trakt.tv syncing works fine for me.

You can try out TVPLAN Beta, its a bit buggy right now, but Trakt.TV login is optional, instead, it will sync via Microsoft Account.

TVPLAN seems pretty nice although it also seems to sync only with trakt.tv. the other "add account" thingie is greyed out and only the default user (local account) appears to be available. and it is SOOOO BUGGY. Some elements are better on Series Tracker and others on TVPLAN. Time will tell which I stick with.

Hello. And what do you think of TV Show Tracker? Did you try it ?

To be honest I didn't try it. Went to the store and noticed it didn't have the "made for windows !0" tag so gave it a miss. Will take it for a spin in the morning though now that you mention it (weird thing to say I know considering the title of this article).

Hello SammyD97, So did yo have sole time to make yourself an opinion on the app ☺?

I use Series Tracker too - does the job and nice design.

I found Trakter to be the best trakt.tv app so far. I tried all available options in store.

Hello, did you tried the app of this article (TV Show Tracker ) before making your choice :) ?

No I have not tried, as it wasn't available when I tried different apps. But, assuming from this review, Traktr still seems better to me.

I hope you will have some time to try it, the review miss some key feature (like user stats, the "performance", etc. ) that you may like... or not ☺

Sure, I'll give it a go. Let's see

One major problem, it prompts for trakt.tv login the moment I launch it. I don't have an account and prefer to not to make one. The other apps allows me to use it without signing in.

Well, it is a trakt.tv client. What you expect?

Its called being nice to the dev. I told him what I wanted but he still suggested it so u gave it a shot. Wouldn't you assume it meets your needs?

I wasn't awary of that communication between you guys. Maybe you are right :)

I did miss this answer too :-( that's a good suggestion and I will work for it in a future update !

The last time Series Tracker was updated was October 2014. Is it so well done that it doesn't need updates?

The Series Tracker I'm using gets frequently updated. Are you using WP8 or W10M? It might only be for W10M.

I'll stick with Trakter. Its been my top app to track Tv series... still will give this a try..

I use Trakter also... it's alright, but it definitely could use some bug fixes. I also wish it had a way to hide shows, as it's annoying having to go to the web site to do it. Even without an api call for it, the devs should be able to figure out a way to reproduce what the site is doing for it.

hello, So what do you think of this app ? :)

Speaking of TV Show Trackers, Where is Rudy Huhn's TVShow app?

Seems like he's just gonna leave it broken. Sucks because i had just paid for the full version when it happened

Kinda like Fuse, it needs updating but alas....

Re: tmh3593,
I use TVShow on WP 8.1. It seems to work. Well, syncing with Trakt takes alot of attempts, but I thought that was either a Wi-Fi issue (inconsistent) or a web site issue? Is this what you mean be broken?

Tv show app wont update shows or find new ones. Idk how yours is working.

This app (TVShow Tracker) let you import your TVShow backup :-D

This app is gold. Am using it for about a month.

Thanks a lot (again ;)) !

Is it faster than Series Tracker? Can it be used offline?

Hey, it can be used offline (but read only).

I already have Series Fan so won't bother. That UI. :-/

How does this compare to TrackSeries?

Great app! It's updated quite frequently. Can't wait for it to adopt MDL2.

I have been using TV Blaze for a while now, which seems to work pretty good. It also has cloud saving which I like.

Based on the amount of different apps mentioned above, does anyone have experience with a few of them and purposely chose one? i've been using Trakter, but its just the first one I had come across. I'm just wondering if any have advantages or disadvantages compared between the two (are any a full universal windows app, continuum-supported, more features, etc.). Thanks

Great idea. George Ponder, care to make a review article for WindowsCentral?

Hey, did you notice that the app let's you import a TVShow backup to Trakt.tv ! How cool is that ;-)

This is my favorite tv show app. It is fast and simple, and the developer updates the app frequently and is very responsive to feedback and suggestions. It does not have some of visuals that you find on other apps, but for simplicity and speed, and because it is a UWP, this is my go to. I used to use Series Tracker, which is beautiful but soooooo slow.

Im with you...this app is updated and updated often.

Thanks a lot for your support :)

My biggest problem is I don't care much for the logo and the live tile doesn't use a anytime of cache, so often if I lose a connection or other issues, I am stuck with a nice wide tile with this logo showing. I wish it would default to some cache of show information when it loses signal instead of the logo. Also would like to see some more customization to it's look, especially the ability to user TVDB banners instead of posters.

Trakter is much better than this app. I started using it shortly after Hulu got rid of their free accounts. It's great for making sure I don't miss episodes or rewatch one.

Hello shryx86, I like Trakter a lot too ! I would like to know why you think it's a much better app : can you tell me more :) I alway seek ways to improve TV Show Tracker ! Jonathan

I use Series Tracker. It is really a very good app with great design

I love this app too ! It does not fits my usage but I love the design too !

Nice app except you will have to pay to get the full features.

Hello and thank you for trying the app ! You get access to all features for free (ad supported) except the UI customization (light theme, main color and font). I hope it's worth the shot ;) Jonathan

I use this app every day! Love it!!

https://www.microsoft.com/store/apps/9nblggh202b5?ocid=9nblggh202b5_ORSE... This trakt.tv app is the best one yet, but not quite finished, still best presentation

This may be true on desktop.. but this app is not on mobile where TV Show Tracker​ is and works perfectly between both devices. For some the lack of the mobile client is a dealbreaker.

More over this is not the official app and Trakt is trying to make this one removed from the Store (or at least renamed as there is copyright on the Trakt brand).

I miss TvShow. Speaking of, what happened to Rudy?

Did you notice that TV Show Tracker let you import your TVShow backup 😀?

I personally use SeriesTracker. I wanted to try this new app, however, I dont have an account, and I can't sign in through the app, nor the website. The website states that I have to download either the iOS or android app and create an account from there. That's absolute nonsense. I'll stick to SeriesTracker.

This is really strange as there is no official app on these both platforms too... 😀 Did you try to create an account on the Trakt.tv website directly? Regards.