Tweet It! gets multiple account support, location aware notifications and more in latest update
My Editor's Choice for third-party Twitter apps gets another fantastic update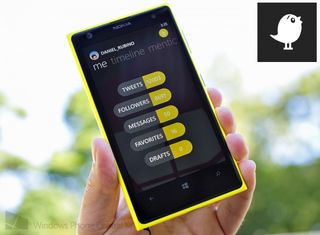 We all have our favorite Twitter apps on Windows Phone. Mine is Tweet It!
Sure, the official Twitter app is a looker but if you need something with a little more power, you turn to third-party apps to deliver. Tweet It! is that app for me because not only does it look great, but it has some unique and clever features that no other Twitter app can boast. In fact, I'm always calling it 'clever' and version 7.0.2.0 is no different.
So what's so cool about Tweet It! that has me using all of these descriptors? Head past the break to see what's new.
Multiple account support
Finally, Tweet It! catches up with other clients by offering multiple accounts. This was one feature that kept me from using it all the time. Now with version 7.0.2, you can add multiple accounts and quickly toggle between them.
What's more, you can set a default account as active when closing and have the app auto-update when switching to the secondary account. That's quite handy. There's no limit on the amount of accounts either. Drafts are also now optimized for multiple accounts with this version.
Multi-select Tweets
You can now multi-select Tweets to respond to or save to Pocket ("read it later"). That's actually super cool as you can go down the list, check off Tweets and when you hit the reply button, it will populate it with their Twitter names. The built in Pocket support is also made much more powerful now with this feature and we haven't seen this ability on any other Twitter app (though maybe we missed it).
Geo-aware Toast notifications
Toast notifications for Twitter is awesome. What's not awesome is getting them when you are home and in front of a computer. It's redundant and it could be annoying. With Tweet It! version 7.0.2, you can choose your home location on a map and Toasts will only come through when you're away from that spot.
How cool is that? Once again, I'm going to use that word: clever.
Bug fixes and Windows Phone 7
Pull to refresh finally (finally!) works correctly now. The app is also a little more polished in terms of speed and responsiveness. In addition, the Windows Phone 7.x version is being reviewed for Store approval and it will be a free app. Stay tuned.
Editor's Choice
Tweet It! is just a fun app. But more than that, it's powerful. If you follow me on Twitter (@daniel_rubino) you may notice I occasionally Tweet out songs when at the gym. To do that, I use Tweet It!, which pulls down the album art and attaches it as an image in addition to artist info. It's just one of those little things I like about the app.
Other things I like include the image attachment UX, the photo editor, filters, gesture support and the ability to hide the application bar when scrolling. It's a lot of little things that make it fantastic and unique. (Watch my video above from the last major update a few weeks ago).
It's a neat little app with features I haven't seen on other Twitter clients. That's not to say those other clients aren't phenomenal—they are. But this is my go to app and retains my Editor's Choice designation.
Pick up Tweet It! version 7.0.2 here in the Store – $2.99 – Free Trial – Windows Phone 8 only
Daniel Rubino is the Editor-in-chief of Windows Central, head reviewer, podcast co-host, and analyst. He has been here covering Microsoft since 2007 when this site was called WMExperts (and later Windows Phone Central). His interests include Windows, Microsoft Surface, laptops, next-gen computing, and for some reason, watches. Before all this tech stuff, he worked on a Ph.D. in linguistics and ran the projectors at movie theaters, which has done absolutely nothing for his career.
Daniel, this looks good, but it seems it has been at 0.99 before. Any idea how often that happens? I'm not a major twitterer so I don't want to spend too much on a twitter app...but I do appreciate good developing and would like to support good developers. Thanks.

Yeah, that was a brief sale. No word if it'll happen again, sorry. I know $2.99 is a bit pricey, so it depends on how often you use it. I think it is, but your mileage may vary.

Thanks, Daniel. I was a Rowi user, but I think that they also moved to a pay only model at 2.99. I liked Rowi. Do you significantly prefer Tweet It? (I assume you at least somewhat prefer it since it is your editor's choice)

Rowi is great. They only went to pay b/c Twitter forced them to (they ran out of allotted tokens). I find Tweet It! has more features I use, like the #nowplayiing, the notification center concept and the more polished UI. But in the end, we have a ton of awesome 3rd party Twitter apps. I actually recommend them all, but Tweet It! continues to impress me the most.

Thanks again. I will look into it a little more (comparing features, etc.), and decide if one of those two is worth the additional capabilities beyond the official app for my usage.

I personally prefer twabbit. It was the first ever application i bought way back when i had my 610. I still use it. I believe WPcentral is where i came across high recommendations for it. And if I'm not wrong, Daniel, you were the promoter for it. Thanks a lot :)

Yup, Twabbit is very fast and chock full of features. Great app too.

Can you make tweet it "how to" video? I purchased this on your recommendation, and only find it choppy and slow.

Daniel, "Windows Phone 7.x version is being reviewed for Store approval and it will be a free app. Stay tuned." What happened? Thought it was cancelled...? Do you have some good news to share? Please...

If Microsoft will not change plans, "Tweet It!" will join Red Stripe Deals promotion from 17th October to 23rd and will cost $0.99 ;)

Thank you for the heads up!

Yea i noticed the ads too. is it only because I'am using the free trial right now ? Will they go away if i buy the full version?

Yes. Ads only for demo version. By upgraiding to paid you'll never see ads and will got other features unlock.

I would love for a lot of the functionality found in these great twitter apps would make their way to the People Hub twitter feed. Inline images, inline video would be awesome.

Does this give you notifications for specific accounts you follow? Twitter was supposed to do that with their last update, but it never worked for me or anyone who commented in that WPCentral story. Does anyone have information on notifications for either one of those apps?

i just prefer MeTweets over than that. Tweet It is beautiful but i think is less simple than MeTweets. In fact, you dont need to change screen for look pictures, or have options like RT, respond... If i have all my option just on one touch is awesome.

MeTweets is also a great choice.

Man, Tweet It went IN on Twitter. Real nice work devs.

I use it merely for #nowplaying, it tweet the album art. It funny, the [following] is called friend. And i don't have idea how to open my lists, i can click it but won't open. But deffinitely fast start up, won't put a shame on your face. Unlike Mehdoh that fully packed but slow.

Nevermind, it appears i need to manually refresh it.

This app is so amazing. I've been beta testing it, and I love it. Beautiful, fast, everything.

Tweet It! certainly raised the game. Windows Phone devs are very talented.

I was going to drop the $3 for this app. To my surprise, I must have downloaded it at some point when it was free! Was notified to "reinstall." Just my luck!

i was wondering, is the notification still every 30 minutes??
will use it for a few days if i want to use it as my main app, currently using rowi / official twitter app bc of the real time notification. otherwise, love the new features!

i cant seem to add a second account to tweet it....I added the first one just fine but then when I try to add a second one...it just takes me back to the authorization screen....when I say authorize app ..it says I am linked... ..if I hit cancel it takes me to the twitter page... any suggestions

On auth screen in the right top corner you'll see "log out". Tap it and enter another account credentials. It's just cache collected by Twitter.

Oh actually I cannot find the difference between the official version Twitter with this one or Rowi,..Could some kind one help me?

"Windows Phone 7.x version is being reviewed for Store approval and it will be a free app. Stay tuned." What happened? Thought it was cancelled...?
Windows Central Newsletter
Thank you for signing up to Windows Central. You will receive a verification email shortly.
There was a problem. Please refresh the page and try again.