Tweet It! for Windows 10 adds Tweet Marker syncing and Pocket integration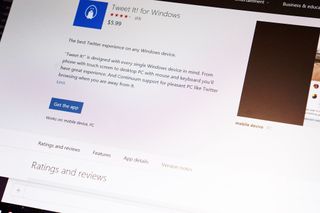 Windows 10 Twitter app Tweet It! has received a major update for its PC version, adding some new features and fixes. While the headline additions are Tweet Marker syncing support and Pocket integration, Tweet It! 2.5 also adds a number of capabilities that may seem small individually, but add up to a better overall experience.
Here's what you'll get on you PC with Tweet It! 2.5:
Added Tweet Marker support
Added Pocket integration
Huge performance improvements
Filtered tweets are now will be totally hidden
Updated settings UI
Ability to hide inline media
Ability to choose UI language
Ability to choose translator language
Abitility to switch off notifications for each account on a device
Fixed bug with fake notification about new message
Ability to delete direct messages
Built-in web browser
Fixed bug when drafts are not saving properly
Full screen support (press F11 to toggle)
Improved performance of additional columns
Ability to change width of columns
Now you can have up to 5 columns depending on application window size
You can set specific List, Search or Friend's Tweets to be shown as additional column
Updated icon for Task Panel
Ability to switch on/off notifications about new followers and who unfollowed you (it was on by default with no option to switch off, now there is such option and it set to off by default)
Added welcome screen
Fixed bug with viewing quoted tweets
Get Tweet It! from the Windows Store (opens in new tab)
Source: Tweet It! (Tumblr)
Windows Central Newsletter
Get the best of Windows Central in in your inbox, every day!
What does tweet marker syncing do?

It syncs your timeline positions so that you can pick up -- on other devices -- where you left off. It's also great if you use multiple Twitter apps. For example, I use Tweetbot on Mac OS X and my iPhone, but use Tweetium (soon to be replaced, most likely) on Windows 10.

Thanks! A buddy of mine just bought Fenice and his complaint was that it wasn't switching between accounts, that you can't go back to where you left off and when you tap on a notification, it doesn't take you to the message, it just opens the app.

TWEET MARKER SUPPORT WOO! Seems to be the only thing missing from Twitter clients nowadays...

Interactions still not working properly. Just shows followers/unfollowers.

Superb app, no doubt about it! :)

Finally, a great Twitter client that doesn't look or behave like garbage and is a Universal app. Snapped up this guy this morning and kicked Tweetium to the curb. I'd been dying for a really great Twitter app on Windows Phone and with markers Tweet It! finally has everything I've been looking for and it doesn't look terrible or behave in weird or unusual ways.

Tweet It! is currently on sale for €2.99 (at least in the German App store), the sale lasting for 4 days.
Insta-buy! ;)
Windows Central Newsletter
Thank you for signing up to Windows Central. You will receive a verification email shortly.
There was a problem. Please refresh the page and try again.