Twitter could soon stop counting links and photos against your character limit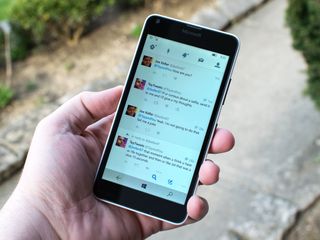 Twitter will reportedly stop counting links and photos as part of the 140-character limit for tweets, giving people a little more room to express themselves. Both links and photos currently take up a significant number of characters per post.
According to Bloomberg, this change could come soon:
Twitter has been experimenting with different methods for increasing the flexibility of the service. After increasing the character limit in direct messages to 10,000, it was reported that it would do the same to standard tweets. CEO Jack Dorsey later denied the move, calling the 140-character limit a "good constraint."
Windows Central Newsletter
Get the best of Windows Central in in your inbox, every day!
This is a great idea, it's a struggle to fit anything in at the moment

I agree with that Lumia 930 Orange W10M .318

I think the struggle is the point. I keeps brevity paramount.

Agreed that brevity is a key feature, but I think this is a good move that doesn't take away from that.

What's to prevent people from embedding http://long_text_into_a_fake_link

I assume it'll get autoshortened. An actual issue might be people just posting hundreds of links in a tweet.

I wonder if people will start typing things like "http://Today-was-a-really-good-day.-I-ate-food.com." Of course, that's just an example. It'd probably take the form of longer posts as fake URLs if people want to type longer Twitter tweets.

I doubt anyone would do that. I think numbered posts will still be a thing instead of your suggestion.

It'd be like taking advantage of the URLs no longer counting toward characters that only some people would do. I agree that most people would still do numbered posts; it's sane.

That'd be a guaranteed unfollow from me. Posted via the Windows Central App for Symbian

That would be the best feature to be introduced in a long while Posted via the Windows Central App for Android

I miss a feature that the old twitter app had to when launch the app returning in your last position (last read tweet). This new app is good to me, but i miss a lot this feature to keep my last position

Good i still think the character limit is ******* stupid! Posted via the Windows Central App for Android

This is a very needed thing.
Windows Central Newsletter
Thank you for signing up to Windows Central. You will receive a verification email shortly.
There was a problem. Please refresh the page and try again.