Twitter said to be considering 10,000 character limit for tweets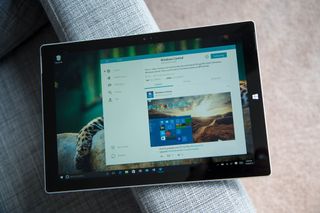 According to a new report, it appears as though the team at Twitter may be gearing up to raise the limit as to how many characters you can have per tweet. Currently, tweets are able to contain 140 characters, but thanks to an internal project, codenamed "Beyond 140," that limit may jump as high as 10,000. Twitter recently raised the limit of characters in direct messages from 140 to 10,000, and people have been asking for the tweet limit to be raised as well. From Recode:
While 140 characters may not always be enough to get your message out there, 10,000 seems like quite an unnecessary jump from Twitter. With a launch date aiming for the end of Q1, there is still plenty of time for this change to be modified before it's rolled out to users. Would you want that many characters, or is that just overkill? Let us know your thoughts in the comments.
Source: Recode
Get the Windows Central Newsletter
All the latest news, reviews, and guides for Windows and Xbox diehards.
Jared started off writing about mobile phones back when BlackBerry ruled the market, and Windows Mobile was kinda cool. Now, with a family, mortgage and other responsibilities he has no choice but to look for the best deals, and he's here to share them with you.
I can't instill their official universal app on my wp8.1, they should work on that first

Universal app on W8.1?
Ok you win

Go home... You're drunk... Posted via the Windows Central App for Android

They should just give us a windows 10 mobile version of the app. Current one sucks but love the one on pc.

I think he is being sarcastic. Also he can't 'instill' it on his phone.

Universal apps don't work on WP8.1. And Twitter is working on an app for W10.

That would give people more time to think about some of the idiotic things that pop into their head and were see a lot less brain farts.

It could quite possibly do the opposite. It generally takes longer to fit your thoughts into a short message then a long one. A limit like 10,000 characters could encourage all manners of textual diarrhea.

I don't tweet, but I follow people, mainly just checking the app on my phone every once in a while and scroll through. 10,000 seems like something that would make me stop checking for updates there if people would utilize it. I don't want to read multiple paragraphs. Maybe start small like 280 ;)

I would say 420 characters. Should be enough to keep Twitter from becoming a big Facebook clutter.

... and I think 420 characters still is a noticable limit. 10k characters is sort of unlimited, in my view. People will start writing news articles in tweets, sort of ;)

Yeah a 280 character limit is what I've always thought they should do.. I don't want giant Tweets, it'd ruin what Twitter is to me..

It's not as bad as it sounds. I freaked initially but on further investigation see that the extra characters are going to be stored elsewhere on a server and a link will be provided to see the longer tweet. So like twitlonger but official. The integrity of this unique core feature seems to be being maintained.

but isn't the 140 character limit the core of twitter? killing that would IMO kill the service as a whole..

Exactly, it's gonna kill the whole point.

It's necessary. Too many people now already bypass this by Tweet spamming multiple successive tweets: "blah, blah, blah (1/8)", "yadda, yadda, yadda (2/8)". It's far more annoying trying to keep track of Twitter conversations currently--with multiple people posting multiple tweets back and forth. They need to do this.

I don't know what people are getting so worked up about. It's not going to be 10,000 character tweets that you have to scroll through the entire thing. It'll be like on Facebook, how you can "read more".

I quickly unfollow anyone that does that 1/8, 2/8 garbage. They should learn to be concise. If they have more to say, post it on Facebook. Twitter is for short statements only. It's not a personal blog, and 10,000 would kill that. I will close my account if that happens.

Amen to that. I've already stopped following half a dozen different accounts because of that successive tweet rubbish. It's worse than spam, because you're expected to scroll back through your timeline to find tweet number 1. So many semi-literate computer users I know avoid twitter because they don't feel like they can express themselves in 140 characters (i.e., tell me about the colour of their kid's latest poo, or whatever). I say, leave that ***** on Facebook, along with the advertising, games, and rest of the pointless drivel.

Agreed the whole point of twitter is micro blogging with10k characters you could pretty much write entire blog posts. I'm not a twitter fan and only recently signed up but I'm pretty sure with a 10k limit it would just annoy me when people actually use it.

Yeah, they might as well just change their name to "Facebook". I don't go on Twitter to read long stories, just quick thoughts and musings, sometimes with a pic. I don't follow that many users, but it takes forever to catch up after a day away. I'll either be unfollowing a LOT of people, or stop using it all together. This is just dumb! #OfAllTheStupidFckingIdeas

Very interesting that they would ever consider such a thing given that 140 chars is what makes twitter so popular. I'm guessing that they are thinking that it is better to become Facebook. Twitter's maket cap 16B, Facebook 296B. I'd drop twitter like a hot potato.

This. I'm not understanding why they would consider making this change... it wouldn't even be twitter anymore.

Exactly. Twitter will fall.

I think they should go with something more reasonable like 250 characters (maybe 300 tops). The whole reason I like Twitter is because of the concise-ness.

That is going to be a suicide. Epic fail.

What a terrible idea. The brevity of each post is exactly what got it this far in the first place. I could understand maybe upping it to a max of 250 characters, but too much more than that and it destroys the point of the service.

That's too much maybe umm double or triple it but 10k would turn everything into blog posts and I dont need a feed of blog posts

Well the concise information would just turn into the same useless junk on facebook - Consise info was exactly the reason why I started to use twitter

Yes yes yes. At 10000 you're not tweeting, you are blabbing. Twitter has short fast paced bursts of information.

10,000 character limit is an overkill! Please stick to 140. Don't wanna be reading the genesis of people's problem.

This. Don't do this Twitter! Short tweets make it very easy to catch up and just have a glance at my general tl. If I wanted to read paragraphs, I can read the forums, or a blog post.

Make it 200 - 250 but not 10,000

That would be dumb..it would literally turn into facebook, and defeats the purpose of ''tweets''.

Nothing else to do at the Twitter building

I would dread to see crash reports and app logs being Tweeted to developers' Twitter profile pages. Please just put a sensible limit :/

It would surely be great to be able to tweet more than 140 characters, I often found myself unable to finish my thoughts with only 140 characters. Anyway, I wouldn't say it's an overkill.

"It would be great to tweet > 140 chars. I like to blab on and on. It's not overkill." There, same thought in less than 140 chars. The secret is to eliminate unnecessary words like "surely" (what does that even add to the sentence) and phrases like "to be able to" ("to" tells us exactly the same thing with only two characters). Also, understandable abbreviations. It's not that you can't finish your thought, you just need to organize them and be succinct (try writing for a print-based paper or strict professor, where word count is super important).

There are many reasons I can go over 140 characters and not finish my thoughts. My tweets focus heavily on politics, and due to the complexity of politics, 140 characters can't contain everything I need to say. Even if those tweets are written in the highly efficient written Chinese language.

The character limitation is what I like about twitter, it's a quick read and you can get quite a bit of info from many sources quickly. I have no interest in spending a lot of time reading this stuff, there are other resources for that. I guess people will be squawking rather than tweeting.

10000 is way too excessive! Think about all the spam tweets & ads ... Not to mention, you gonna have to scroll through all that junk. While I agree 140 is sometimes not enough... 10000 is an overkill, 500 sounds reasonable

I would think a lot of people will give up their blogging service and just use twitter. People who can post up to a two or three paragraphs plus hashtags would be able to get their (fully formed) thoughts out there while being more discoverable. It's a win for Twitter as well since they'd be able to improve their advertising using the additional content.

I only follow Windows Central. So it doesn't matter to me :P

Twitter version of Facebook then! Not required at all.

Ew, no.. I don't want Facebook 2.0

Now the Windows Central account can start tweeting out entire articles!

Indeed. This entire article was only 1,192 characters.

Twitter becomes facebook . Ugh,I am out.

maybe a doubling or tripleing of the message size, but a 10000 character limit is INSANE.

500 will be extremely now than enough.

A reasonable compromise would be to make the "@" addresses (and links/picture links, maybe) not part of the 140 character limit. You get into a conversation with multiple people and responses end up limited to "yes" "no" "Thurrott sucks".

That's something at first thought I believed to be a great idea, however, on further thought, I do believe it would essentially give people "unlimited" people they can address in one tweet. Imagine trying to read a tweet where someone included nearly 100 @ addresses at the beginning. Ugh! Insane. No, I believe it was intended to limit how many people you could address at one time to prevent people spamming other people. It would be a whole new world for spammers to take advantage of. Perhaps just increase the limit to 240 to compensate, and I'd be happy.

Defeats the whole idea of Twitter, surely? Getting a thought narrowed down into just 140 characters may be a challenge sometimes but it's a key part of the appeal and what differentiates it from other services. I also don't want to be scrolling through entire novels when I open Twitter up. Concise snippets of information, like headlines and jokes, is what makes it my favourite social network. Leave the essays on Facebook.

Now ppl will most more ****. 150 character is enough. That's y I like twitter bcoz less ****. For rest ****** things there is facebook.

I think 1000 character limit is more than enough.

i think twitter will loose its charm if allows 10000 character.

If they did this, I think they would still only show the first 140 characters but you can view the rest by opening the tweet.

Hope you are right... But in the end... Still a bad idea to go to 10k. Posted via the Windows Central App for Android

This is a brilliant idea.

Twitter is popular because you get the gist fast and short...make it 10k and people will write short stories that nobody has time to read. Downhill.

Although I agree an increase in characters is needed, I was thinking more like 250 max. 10,000, that kind of defeats the purpose of twitter. Posted via the Windows Central App for Android

#thatsalotofhashtags Posted via the Windows Central App for Android

That'll be 4 bucks baby!!! You want fries with that!!!!!

wow, that converts twitter to micro-blogging site like Tumblr

And they forgot about the main concept of Twitter itself at the first time...............

Overkill. I say increase it just 50% to 210 characters.

Seriously, if they do this, they've just turned it into facebook, and I don't want facebook.

What has this to do with Windows? It's off topic. I come here for news regarding Windows ecosystem not some social network news.

Yea but, a huge % of users here are on Socical media....Although not on topic of the site, it does affect people here and there is interest

In related news, Haiku will also be going to long-form for all those people who have been itching to write epic poetry but were discouraged by the 5/7/5 syllable limit.

I always thought the pleasue of Twitter was the 140 limit....Although I would love to see it go to 200 (just to be able to finish a point that is so hard to do in 140), going to 10,000 will just wreck the service....

I think hashtags and mentions should not count toward the character limit. That's the only change I'd make.

This Posted via the Windows Central App for Android

Yeah and increase the character limit to something like 300?

@sketchy9 @brian2014 @anyoneelsewhoagreeswiththis I disagree. People would then abuse the hashtag by writing every sentence as one word and putting a hashtag in front, then tagging 400 people in apost. #youknowwhatimean #becauseitcouldgetuglyfast #andidontwanttobetherewhenithappens #becauseitwouldreallyreallyruinthetwitterexperience @anotherperson @anyone @georgeofthejungle See? I only used 139 characters by your new rule, but made an extremely annoying post doing so. I wanted to say extra stuff, so I abused hashtags to get the point across, which no one in the real world would want to read. While it would be great for those of us who would not abuse it, spammers would put 100+ people's @nicknames per post to get their spam out.

Stupidest ******* idea ever.

I can't be bothered reading novel length updates. Not a fan

Slight overkill, I'm all for an increase from 140 but 10000 is ridiculous. 500 would be more than sufficient Posted via the Windows Central App for Android

200 is the highest I'd go. Twitter's niche is that I don't have to read long form posts.

In another news, Snapchat is removing the time limit on Snaps. Oh Snap..

total overkill. 200 caractere would be just right

I always wondered why they didn't choose 160, the same limit as text messages; but yeah, if they could make hashtags and emojis not count, that would be useful.

Because you can subscribe to certain twitter user's tweets to come to you by SMS, and they use that extra 20 characters to include a shortened URL link to allow you to visit the actual twitter page of that user. This is part of the reason for a 140 character limit. Making it 10,000 would blow up my phone, because I get tweets that way from several people I follow.

Oh hell no. The heck is twitter thinking about? 10,000 chracters is no longer a tweet, its an email.

Lol, "email" that's being generous. Most people read emails but not novels :P.

140 character limit is their trademark, replacing that with 10000 is just like killing themselves. Personally I dont agree with 10000 may be they can raise up to 250 or 300.

10,000 characters? We already have that. It's called blog. Defeats the purpose of twitter...

Twitter should not do it..... They should just make it 200 character limit because if they do 10,000 character limit twitter will also get full of long long stories like facebook and obviously not everything from the account people follow is interesting at least not for me.... I click the link for full story if I find the tweet or the picture interesting.

10,000? that's not a tweet, that's yodeling! IF you have that much to say, perhaps twitter isnt the platform.. write it elsewhere and post a link on twitter.

Thank you for that, Zarnywoop. My feelings exactly. I know quite a few people that give a headline, then post a link to their article or blog. It's the way it should be done. Helps drive traffic to your site as well.

Don't do it twitter. Don't do it

The jump is too high, no one wants to read those plenty characters on twitter plus it will chuck up screen space for onw tweet. Besides the windows phone 10 official app is not available, I guess they don't care about that now. Am fine with Aeries though

It would jist be technically allowed, but no one would tweet a 'book' anyway.

Aeries have a better UI than official twitter app anyway, unless they release the wp10 version I don't see myself using it

That's way too much. Something like 250-500 would be better.

Bad idea. Will the name change to Jabber?

Have seen elsewhere that they will want you to pay for the privilege.

Well, that escalated quickly...

Holy crap, you can fit a lot of @ and # in 10,000 characters. In all seriousness, if implemented well this could be a good thing for Twitter, getting more content on their platform rather than being nothing more than a hyperlink to someone else's content, which is what Twitter is now. 140 characters for the intro, "see more" to get the full story, something like that.

Sooo from little snippets to novels... This should be interesting lol.

10,000 characters? Essays for everybody.lol Write on. One picture at a time -- LG V10

I find I am always one character off at the end. We just need 141.

So you can Twit a book now?

500 only pls + Edit option

10,000 is way too long. They should simply make it 250 and not include links and people's usernames. That sounds more reasonable.

How about a 10000 char. limit, but only show the first 140 and click for the rest?

There is a distinct, definite, determinable possibility in the future of the increasing upwardly of the number of characters and digits in the form of message known as a tweet causing those such as he - to whom this author would refer by utilising the perpendicular pronoun - to unnecessarily supplement their once brevity-laden missives with superfluous, superannuatedly-styled sentence lengths.

I dont see a point in Twitter besides looking for updates on services that are down.

Over 140 chars isn't a tweet anymore. End of story.

I'll unfollow anyone that starts blogging 10,000 characters. Sorry, no can do.

I think the best move from twitter would be to keep the 140 character limit and add option for large write up like article attachment....

So Twitter is going to become like email spam? Progress!