Twitter update for Windows 10 PC and Mobile removes @names from reply text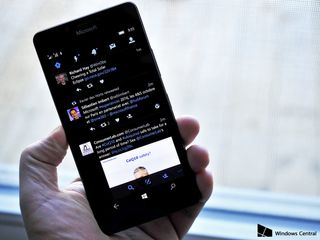 It looks like Twitter is now following through with some changes to @replies it promised at the end of March with its Windows 10 app. At the time, Twitter dropped @replies from counting towards the 140 character limit. With the change, @names no longer appeared in reply text on other platforms, with names instead appearing above the text itself.
Here's how it works, from Twitter's original announcement:
Who you are replying to will appear above the Tweet text rather than within the Tweet text itself, so you have more characters to have conversations.
You can tap on "Replying to…" to easily see and control who's part of your conversation.
When reading a conversation, you'll actually see what people are saying, rather than seeing lots of @usernames at the start of a Tweet.
The move has received its fair share of criticism, but it should clean things up for tweets that would otherwise have several @names pulled up at the beginning. It's also an extension of a larger effort from Twitter over the past year to help people take better advantage of the character constraint. Late 2016, for example, saw Twitter remove media, quotes, and polls from the 140 character limit.
It's worth noting that we aren't seeing this update on all of our devices just yet, so it's likely part of a gradual rollout. You should see the changes in version 5.7.1 of the Twitter app on both PC and Mobile, however.
Download Twitter from the Windows Store (opens in new tab)
Dan Thorp-Lancaster is the former Editor-in-Chief of Windows Central. He began working with Windows Central, Android Central, and iMore as a news writer in 2014 and is obsessed with tech of all sorts. You can follow Dan on Twitter @DthorpL and Instagram @heyitsdtl.
That's the one feature that I DIDN'T miss at all. But I'll take it. Now bring back photo tagging and people hub integration.

Add notifications of people you follow.

Please use feedback hub.. They will listen

Feedback hub? This is Twitter, not Microsoft. I send them a Tweet .... they don't listen.

I don't think the Twitter for Windows team is active on... Twitter. Haven't seen any "official" response in ages. They've put a Send feedback button in the app for a reason.

We listen on feedback hub :)

Yes feedback hub..
Just make sure you select twitter in your sub-category

THEY LISTEN VIA FEEDBACK HUB!! Just check some of the posts to know that it Works.

What do you mean? No feature is being "dropped", they're essentially just increasing the character limit by removing @ replies from counting towards the character limit. Not that I see why anyone is upset by that.

I've seen so many people questioning this design change since it was first spotted in an A/B test last year (on other platforms). In fact I own an Android device as well and I still don't like the new reply look. They could just stop counting usernames in the characters, jus like they did with pictures. But let's not forget that the official Twitter app is almost 2 years old now - the PC version shipped with the first Windows 10 RTM build. It's still far from being feature-paired with its iOS and Android counterparts. The old WP8.1 app supported photo tagging, while the current W10 app doesn't even notify me that I was tagged; I need to rely on either Android or the web client. The #TwitterForWindows team has been fairly active lately, but it's such a shame that the very same team is letting the app so far behind at this point. I've seen people asking for the missing features on Feedback Hub, even I did post on there sometimes, but the development still seems too slow for an official app. That's my biggest issue on here.

Oh I'm with you now, it's the appearance which you're not keen on with the change. I'm sure it'll be the same with most things and you'll end up just getting used to it whether you like it in the first place or not because you need it and there are no alternatives - just look at how many changes Facebook has gone through with people even threatening to boycott it, yet they're all still there because nothing compares (even if a better alternative comes along there's no way you'll convince everyone else to move over too).

y sigo sin poder ver las tendencias, un poco bugeada la app.

En mi caso la app funciona bastante bien, previo a esta actualización solía desaparecer del segundo plano. Las tendencias también las puedo ver, el que no aparezcan en tu app probablemente sea por lo que mencionan en los comentarios, se trata de una cuestión de regiones.

Also noticed the update splits profiles into 'Tweets' and 'Tweets with replies' (a recent change on iOS/Android) and replaces 'Photos' with 'Media' on profiles.

I wish the live tile worked again

My live tile use to have pictures of the latest news.

news page is dead tho... not working

nope, i send them a tweet on if they were going to fix it, they replied with that they were going to look into it..... but that was 2 months ago :D

If you mean the moments page, it only works if you region is set to your country.

Is there any way to save read position on this app?

For me, I greatly appreciate this...As I do love tweeting with the Desktop app, though for a while the Desktop App had been majorly behind the Web and Smartphone apps. Thankfully, Twitter has updated the desktop app for Windows 10.

It is not the topic but instagram nd tweeter are regularly updated .
Why messenger are not.
Someone have an answer ?

No updates yet for W10 and W10M in The Netherlands.

The Netherlands needs to stop being such a small country.

LOL. (got the update this morning)

This is just more proof that Windows Phone is dead or dying. Why would anyone update an app if they didn't need to? These Twitter folk must not read Windows Central!

I use it on the desktop daily. Works great next to my browser, as a faux sidebar.

It's a UWP app that works on ALL Windows 10 devices/form-factors.... including PC, tablets, phone, HoloLens, IoT, etc. So obviously they're gonna update it to keep up. I personally use it on my desktop, Surface and 950 XL all the time.

But Windows on Ultra Mobile PC's will be king.

I use it on desktop and really like it. Nice.

Transparent tile would be nice.

Specific notifications like tweets from a company eg a public transporter. But I asked that but a year ago. This change is very important. NOT

remember the days when @'s and #'s were just used to ask an @Op to find #LatestMovie so you can #queue it up to download to your download file? Now pop culture took it and made it their own.

At least they kept the white dots :P

Interesting bug; Go to settings, then 'More', and it takes you to an iOS-like menu. If you use the back arrow that appears at the top, you go back into Twitter BUT it'll keep the iOS look. Press the back button again and you go back into W10 mode. Bizarre, because I thought this wasn't a ported app...
Windows Central Newsletter
Thank you for signing up to Windows Central. You will receive a verification email shortly.
There was a problem. Please refresh the page and try again.