Two new Acer Aspire Z all-in-one PCs with Windows 8.1 are coming this summer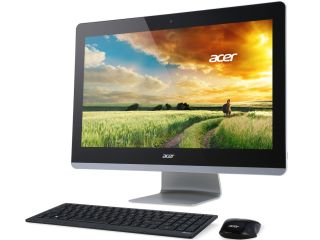 If you are looking for a new all-in-one PC to put in your office or even your bedroom, Acer might be able to help you out soon. The company has announced plans to launch two new models in its Aspire Z series sometime this summer. Both will use Windows 8.1 and will can be be upgraded to Windows 10 for free.
One of the new models is the 19.5-inch ZC-700 and the other entry is the 23.8-inch Aspire Z3-710, which also uses a 10-point touchscreen display. Here's what Microsoft has to say about these upcoming all-in-one PCs:
Acer has not revealed any prices yet for the two new Aspire Z PCs. There's also not a lot of information on their specific hardware specs, although Acer says there will be options for Intel Core, Pentium, or Celeron processors inside. The PCs will support up to 8GB of RAM and up to 2TB of internal storage, and there will also be an option to add a DVD Super Multi optical drive.
Source: Microsoft
i can't see why someone would want a touchscreen on their desktop computers... even on laptop it's weird. your hand gets tired, and the screen jumps around while tapping. please enlighten me...

Never experienced any of that screen jumping you speak of.

He's just woken up from under a rock. 2002 maybe?

Neither have I. I also don't get this hand gets tired thing either. Oh well. its not for everyone I guess.

It's just nice to have another input option. It's people like you that complain and that's why we still don't have a 4k touch screen monitor available to buy. Once you use it you'd never go back to not having touch.

Touch screen is the best.

True my Dell XPS2720 is amazing with the touch screen. I'm hoping for a Windows 10 4k version soon.

The HP Envy Recline had a great design for touch-enabled all in one; perfect for a stand-up workstation. If only it had a higher res screen and put all of the ports in the base... http://www.blogcdn.com/www.engadget.com/media/2013/09/hp-recline-lead-61...

seems as if kklemn mave have really weak hands and a crap screen. never had any of the 2 issues you mention om my SP2 or the 23" HP pavillions we have at work.

So far i have a FHD Thinkpad W510 (it's getting a bit old) but it handles 3D modeling and Audio/Video production well. my best friend has a laptop with touch screen, and it takes more time as he taps on text boxes and stuff and than moves hands back to keyboard to write... i don't know, i guess it's just me. However, i like tablets, but they are used completely different. you don't have the keyboard in the way, so you can rest your arms below the screens, and you can't really do that with laptop. about the jumping screen.. i hate it when the screen moves when you press it. in's not solid. tablets are laying on table/lap, so they are. i guess not all things are for everyone :)

Because you use both Klemn. Trust me, its very intuitaive with a Surface, even using Outlook 2013 with touch mode, having the controls down the right hand edge of the preview screen is a really nice way to triage email. As others have said, once you have it, going "back" feels weird.
Its like having an Xbox One, going "back" to remote controls annoys me - I just want to talk to the screen and make it do what I want :) I also don't get why people are still in love with OSX, when its really behind for touch, and the above Acer with it will be much more modern than OSX on an Apple all in one PC. Anyway, get one Klemn, then you will know why its some things to some-ones :)

Oh, Acer. I might consider these. :) Asus is the brand I am avoiding until their management gets over their android infatuation.

I'm looking to get a desktop for the wife. But I think I might wait for the holiday season to see what comes with Windows 10

It looks a lot like an iMac... Lol

It does but I like the iMac design myself. Its minimalist and very clean. This Acer carries on the tradition. Visio has a desktop with this look as well.

Is that 19.5 and 23.8 viewable? Or is that the whole thing? Because that looks to be some big bezel there.

Acer used to be known for being pretty bad quality overall. I haven't tried their new stuff, but it feels like they've been getting better in the last couple of years. These seem decent, but I have to wonder, will Continuum soon(ish) destroy the market for AIOs.

My Acer laptop has a track pad problem, sometimes it's not responding as I would want it to respond. What should I do? Please help.

Can anyone tell me what is the price? Or expected price?
Windows Central Newsletter
Thank you for signing up to Windows Central. You will receive a verification email shortly.
There was a problem. Please refresh the page and try again.