Two versions of Gears of War 4 Collector's Edition available for pre-order for $250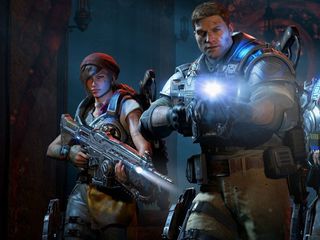 The Gears of War 4 Collector's Edition for the Xbox One is now available for pre-order on Amazon for $249.99 (opens in new tab). There will actually be two versions of the Collector's Edition available, one with a statue of JD Fenix on a COG Bike and the other with the Outsider variant of the statue.
The statue is 11 inches high and 19 inches long. The regular Collector's Edition has the character JD Fenix in his COG battle gear, while the Outside variant has him in more "casual" clothes.
Both Collector's Editions of Gears of War 4 come in a premium box, with the game in a SteelBook case. It also comes with a lithograph, a frag grenade keychain, and access to three in-game Gears Crates. Both the Collector's Editions and the $99.99 Ultimate Edition come with access to Gears of War 4's season pass worth of extra DLC packs. The games will ship on October 11.
See at Amazon (opens in new tab)
There'll be a super maniac out there somewhere, who'll buy both the Collector's Edition versions.

Too damn expensive. I remember when collectors editions didn't really stray beyond $150. Hell, even an older Gears of War collectors edition that came with a replica Lancer gun was only $150. Where are they pulling this $250 price point from? Even the DOOM collectors editition with LED lit demon statue is only $120. I'm a huge Gears of War fan, but I'll sit out on this one and just get the $99 bundle.

Depending on the quality of the figure included, it could be very much worth every penny of that 250 dollars. Quite a few higher end anime figurines cost upwards of over 100 dollars... pair that with the game + season pass, and a few goodies, and it seems like a fairly good package. Granted most people just want to play the game, not stare at a 150 dollar dust collector.

Lmao, for $50 more you can buy a new Xbox One bundled with the game.

You can blame 343 with their 250$ stupid high halo 5 collectors edition copy....

How much was the titan fall edition?

The same, and I didn't like that. I'll add, though, that the TF statue was MUCH more impressive than Halo 5's magnets.

Who the hell is editing these articles at WM? Anyone? I usually don't care but it is getting worse every week.

That is ridiculously expensive for a game, some DLC, a nice case, a key chain, and a glorified statue. For a $60 game, you're spending an additional $190 for stuff that is going to be collecting dust on a shelf in 2-3 years.

Absolutely crazy. It's almost expensive enough that a console should be included.

I wonder which one Australia will be getting. Posted via my Nexus 5X

Where is news on the Gears of War 4 console? That's all I want to know.

To hell with this. I'm beyond sick of the statue craze. $250 is a joke, and making TWO of them? Ugh, can we get something cool for a change? At least the DOOM one has lights and such, and the Titanfall one made sounds and lit up and all that. Remember, folks, Black Ops 3 gave you a mini-fridge for $50 less! I've been on the fence with Gears 4 from the start. I'm going to try to give the beta a try this week. However, seeing this honestly does a lot of damage to my interest. Such a bad pair of CEs, and a terrible price point. Some of the most-expensive stuff in gaming bundles I've seen.

I will wait for 6 months and buy it at $99 off amazon. :x
Windows Central Newsletter
Get the best of Windows Central in in your inbox, every day!
Thank you for signing up to Windows Central. You will receive a verification email shortly.
There was a problem. Please refresh the page and try again.