UC Browser gets updated with numerous improvements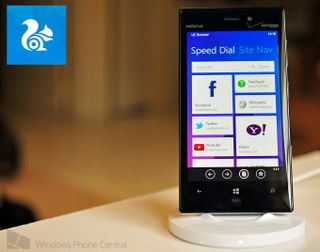 The team behind UC Browser for Windows Phone have released a new version to the store. 3.0.1.400 introduces numerous improvements to the already feature rich web browser. Here's a quick recap on what we noted was new in version 3.0, but what are we looking at in this latest release?
Maximum number of tabs increased - enables you to open a maximum 9 tabs.
New tabs manager
Get a peek of the page while viewing tabs, quickly close tabs by sliding them.
Custom font
Pick a unique font for displaying pages in Speed Mode.
Faster Speed Dial - quicker access to Speed Dial.
Enhanced stability
Improved stability for smoother operation.
You can download UC Browser from the Windows Phone Store (listed for Windows Phone 8 only).
Get the Windows Central Newsletter
All the latest news, reviews, and guides for Windows and Xbox diehards.
Rich Edmonds was formerly a Senior Editor of PC hardware at Windows Central, covering everything related to PC components and NAS. He's been involved in technology for more than a decade and knows a thing or two about the magic inside a PC chassis. You can follow him on Twitter at @RichEdmonds.
It's exceptionally unfortunate that we can't set default browsers on Windows Phone.

I was just going to say the same thing. Not a big deal deal for me, but a little unfortunate.

got a couple of updates just 2 minutes ago -
translator,display touch,accessories,flyby,swapchat free,nokia account ,doors ,twitter, blink and 4 more. no phone update though :(

Still ie is better browser..

Puy.....sorry, i'm dyslexic

LOL, me too,
Wait, LOL spells the same both ways

One question?
Is anyone having problem with facebook touch site?
The site is all messed up using ie or uc browser...


yes..it's been jacked up on my HD7 with 7.8 on IE for several months now....
anyway, I walked into a TMO store yesterday and looked at a non-funtioning demo for the Lumia 925. That thing will be mine next week!! It feels great in hand! A lot of people are judging the device by pictures/vids. MUST see in person to fully appreciate it.

I thought everyone liked the look of the 925, but not the woeful 16 GB storage. That's what I have on my HD7 and I will never own a 16 GB device again as it's simply not enough. I think 32 is minimum, and 64+ ideal.

I've actually started using IE over UC. Recently in UC, I've always been getting that short 2 sec video about retrieving memory or something. Then frequent crashes. The update to allow 9 tabs sounds ridiculous when they should continue to fix stability.

Does anyone use this browser and how does it compare to the usual suspects.? (oo, just thought that was a really good film, I must dig it out again. Sorry, totally of topic there.)

There is only one - IE. Rest are wrappers. So its IE v UC

I didn't really use it before the last 2 updates! Now it's my browser of choice. My main complaint with ie is that it doesn't preload webpages and looks slower than other browsers, even though it's not, lol. While the entire page may take the same time to load overall...it appears as if it's slow!!! In UC browser...it loads up whatever part of the webpage as it comes! I like the tabs. The option to go forward in a webpage. Speed mode for just reading without the extra load time for pics etc. And how easy it is to switch between desktop mode and mobile. Give it a try.

It also features swipe on tab manager to close the tab and swipe right quickly on the page to close it (just like N9)

Dude you must be a hardcore fan of N9
We implement it 1year ago, but few people use that feature.

really? o.0
i've just known that when updating to the newest vesion.

thanks for clarification :D

by the way, i always have issue about "out of memory". it is really annoying. even though, i reaaallyyy enjoy all of the feature.

oya, i'm not a fan of n9. even i've never had it. lol

I also use it and i love the night mode built in it. Also it has an orientation lock built in so that you can use it comfortably when lying down in bed without the pesky auto rotation kicking in.


If we are lucky enough, (and MS is not lying actually) we may have the orientation lock backported from WP 8.1 to GDR3 at the end of the year (sometime around 11:59PM 31th of December, if I have decoded the MS expression for H2 2013 correctly.. cinic mode off)

I've downloaded this twice to my L820, both times the main issue has been stability. Maybe someday I'll give it another go, since it does come with a lot of features that IE doesn't have.

It's also our major headache. Will keep pushing MS on this issue.



Hey Boris, great work.. Very snappy and feature rich browser. Any thoughts on if its difficult to implement a "forward" button?

Why pushing MS on that? Is that not app issue?
I love UC Browser and I use it instead of IE. However, it crashes a lot on my Lumia 620
Gestures are awesome. Thanks for the app!

Yay, More to come!
Same day with Lumia 1020, same milestone. Its a new beginning!

Please keep going, I love it! Fixes so much stuff i hated using IE. For example I always open a lot of background tabs which was a mess with IE.

I want Firefox :( IE is good but updates only come though gdrs :'(

I am so really looking for the inprivate mode in WP8 IE, maybe in 2-3 years time we will get it as well (cynic mode off).

Is there any browser on Windows Phone 8 that works with Nextbus.com? It works fine on Windows Phone 7.x but is just one of the many ways that WP8 is worse than it's predecessor.
And as far as I can tell, no app in the store offers even close to its functionality.

I love UC browser but I always get "Run out of memory" on it :(

I've never seen that error. Been using UC since the last update and it's now my primary browser

Way better than IE but still has catching up to do compared to browsers on android and ios. And that largely has to do with IE being the base, and not uc itself. Its just so unstable having more than a couple tabs open (even then easy to crash) and IE (as such UC) doesn't know what to do with most text fields that support word processing control in it - you'll select the text field and the keyboard goes back down. Also would be nice to get full keyboard and autocorrect support in speed mode, as speed mode is what allows me to actually type in areas on websites that have complex text fields.

yesterday I opened it it told me about an update! good to see it improving.
I dont use it much though, only when I am on another WP and i dont want to change anything they were browsing on IE, but I have seen nice features the few minutes browsing with it. I always used it is in my old WM6 since opera suckysucks and IE is too old to care about it. thats why I installed it on WP7/8 and I use it sometimes, because I feel bad for not supporting the dev in this new MS OS :P



This browser is great but I have trouble with navigation. When I try to swipe right or left through images, the browser takes me forward or back.

Still has a bug, I updated to the latest version, it still shows out of memory. Recover for your phone message and forced close.