UC Browser gets updated with SD card support, file sharing and more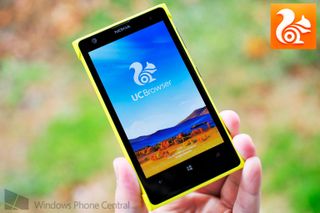 UC Browser is one of the alternative web browsers for Windows Phone, joining the likes of Maxthon to tempt consumers away from the native Internet Explorer by Microsoft. UC Browser has been bumped to version 3.4, introducing file sharing, SD card support and much more.
This is quite the update, introducing yet more functionality to separate itself from competitor solutions. Here is what's new in version 3.4.0.374:
SD Card Support: export downloaded files to SD Card or public folder for more efficient file management
Bluetooth File Sharing: conveniently share downloaded files to others through Bluetooth or QR Code
Menu Optimization: brand new menu that's easier to use and gives a better browsing experience with Speed Mode is now on main menu
General Improvements: font size adjustment available by long pressing page in Speed Mode; optimization for more fonts on Windows Phone 8; improved bookmarks; Bing search bug fixed
The new SD card support and easier file saving makes downloading and accessing data from the Internet a breeze. The added sharing capabilities through Bluetooth and QR codes opens up new possibilities without relying on third-party cloud services.
To get started with sharing files, head to Menu -> Downloads -> Downloaded and then tap + hold on files you wish to share with friends. The Speed Mode has been moved to the main menu, enabling users to quickly access it. Font sizes can be adjusted directly on a web page too.
Aside from the above, some general improvements have been applied, which includes more font support, simplification of the bookmark manager and the squashing of minor bugs.
You can grab UC Browser from the Windows Phone Store for free. Let us know your thoughts on development on UC Web Browser and how it compares to the current Internet Explorer experience.
Windows Central Newsletter
Get the best of Windows Central in in your inbox, every day!
Rich Edmonds was formerly a Senior Editor of PC hardware at Windows Central, covering everything related to PC components and NAS. He's been involved in technology for more than a decade and knows a thing or two about the magic inside a PC chassis. You can follow him on Twitter at @RichEdmonds.
It lags a lot of my L520 makes the whole system lag...anyone else facing the same problem??

Using L1020... Lags for me as well...

No. I vent any issues. But need a wifi for big file is a shame. Because if i ve a wifi, then i can watch it online, no need to download it.

Nope... That's just you I guess.

Y im not able to see any transferred files in uc download folder?every time need pc to transferr video ...help,i had moved ucdownload folder to pictures yet also im not able to see any videos,help

You need to long press downloaded files and export them.

I really feel the need for multiple selects for exporting purposes. It doesnt make sense to export files one by one so that it could be transferred around.


Can you help me , UC Browser is saying my SD Card has a problem, But I can still Move files to my SD card , It doesn't seem to make my SD card as a Download Path and repeats that my SD card has a problem. What can I Do? Also my Old tablet (Nook HD) didn't have this problem. My INSIGNIA Tablet has this problem with the UC Browser . My SD Card isn't damaged.

Too slow,infact not working as expected in L520

Works normal on my 520. Not fast certainly. But not slow either.

But still needs pc connection to properly access transferred files,its irritating and time consuming process....every where need to carry laptop for sharing....

Doesnt store Video files to SD card. Very bad.

My 525 didn't too. Its so frustrating, coz it says 'exported to SD' there.

I'm on a 925 and it also lags a little bit, I think it's a heavy browser, can't imagine how could perform on a 520 if it isn't smooth on a 925

I would use UC Browser forever if I could set it as default

What? Pin it so it's always on your start screen then.

Opening links from Twitter, Facebook, etc. always opens Internet Explorer and that annoys me

Yeah, it's annoying Microsoft took the apple approach when it comes to replacing stock apps.

I agree with Warbler. I happen to like UC browser more than IE and would like the option to set it as my default browser. IE is a pile of crap, has always been a pile of crap and will continue to be a pile of crap for evermore.

I want no fake subway surfers related comment on this article(You'll know what I mean if you go through the forums) -_-

http://www.windowsphone.com/en-in/store/app/subway-surfers-512mb/debb2f8...

Does this subway really work on 512 mb ram device?

Yes,it does but its pirated so you will feel guilty :P

Dont worry i am very comfortable in using pirated things

Me too...man it runs beautifully

Its overall working smoothly. I played it and was happy. But it has bugs also. Some graphical tweaks are needed along with frame rate bugs to be fixed. I played it, enjoyed and deleted it. Thanks to the developer and middle finger to imangi and kiloo.

Coz i don't play such games. I play pc and consoles games. Im not an apple or android geek. I bought phone for my work and its cam and utility apps. Which wp has a lot.

My 11 yr old son said "Sweeeet!" Thanks man!

does your phone need to be dev unlocked to make it work??? thx

Nope. Not at all. Download and have fun.

Thank you so much for link. Made my day

Microsoft has given out more APIs than ever! That's great!

It is curious what criteria for app maker to get this extended APIs

But to be honest, it seems Chinese developers either have access to more APIs or they work harder and faster when new APIs are available. Quite a number of major Chinese video sites' WP client support BACKGROUND downloading like UC browser. And Moliplayer is by far the most versatile and powerful media player on windows phone ever to date. It really makes me curious why so many Chinese developed apps can have so many functions that you currently cannot find on other similar apps

My theory is that chinese have much less anti-MS attitude so developers are more willing to learn and invest in the ecosystem. Good developers in other developed countries tend to ignore WP.

But the bitter truth is that even if Chinese are not anti-WP, they are no doubt pro android. One example, one of the largest websites in China, Baidu, always focuses on its android apps instead of iOS version, and never gives a sh*t about WP. And Chinese market is one of the few markets in the world in which WP sees a steady decline ever since the launch of wp8 back in 2012/2013. Most popular Chinese apps on WP really lag far behind their android and iOS counterparts. Yet, surprisingly some others still use the most "state-of-the-art" APIs for WP.

Android dominates Chinese market for a very good reason: the ability to customize so that it can fit special needs of Chinese consumers. WP fails to do so all the time due to system limitation and its rigidity. That's why Chinese don't really like WP. So I guess Microsoft understands this now and will give out more and more APIs and remove some unnecessary limitations to make WP more versatile.

I noticed the other day that one of the highest-ranked requests on MS's user voice forum for WP is for greater support for the Uighur language. It's spoken in western China. Over 60,000 votes have been cast for increased Uighur support. Who knew? Obviously, there's a demand for WP in China, but MS needs to support their character set and vocabulary better.

I'm a Chinese,many Chinese people love Nokia but hate WP for its limitations,WP7 hurts many Chinese people' heart for not been able to update to wp8,and still so many limitations on wp8,and get tired of the operates system,and the bad notification push situation of QQ and WeChat,and lack of bank apps,poor alibaba apps,and no Tencent popular games,and the boring start screen,and without Nokia and Microsoft advertisements,many people treat Nokia has go bankrupted,and thought Nokia won't products mobile phones anymore,and people who know Nokia's D&S had sells to Microsoft just feels so sad and sorry,and those are the situations Microsoft and Nokia face in China

I'm a Chinese,many Chinese people love Nokia but hate WP for its limitations,WP7 hurts many Chinese people' heart for not been able to update to wp8,and still so many limitations on wp8,and get tired of the operates system,and the bad notification push situation of QQ and WeChat,and lack of bank apps,poor alibaba apps,and no Tencent popular games,and the boring start screen,and without Nokia and Microsoft advertisements,many people treat Nokia has go bankrupted,and thought Nokia won't products mobile phones anymore,and people who know Nokia's D&S had sells to Microsoft just feels so sad and sorry,and those are the situations Microsoft and Nokia face in China

推送问题主要还是天朝的防火墙吧;-)其他应用缺失太致命

那为什么主要是QQ和微信推送问题严重其它IM应用基本没有推送问题?我看到国内很多消费者归罪到服务器问题,指出国内没有架设服务器是主要原因,我个人不是很清楚原因

因为我不在天朝,推送从13年4/5月开始就没问题。之前whatsapp也会有问题。所以应该不是腾讯的事

It's called Survivor Bias. When an engineer exam a battle worn plane and want to find out which part need reinforcement, they found most damage come to wing. But it's cockpit that need reinforcement most, since if you got shot, the plane won't survive. There's different kinds of company in China. Some were focus, they made simple and beatiful apps and focused on certain user. Usually you won't use it. Some were big companies. They made feature rich apps for Chinese, but since WP market share didn't rise in 2013 (most countries doubles in this year), they don't pay many attention to WP. Only companies that's big enough AND aiming to go global, will see the oppotunity and rapid growth in WP. UC was one of them. We had been developing mobile browser company for 9 years, covering all major platform and had more than 500 million users. It's our pride to be with you!

Thanks for the reply! Your app is definitely one of its kind as you are always the pioneer in bringing new features to the ecosystem.

I am still getting used to the new menu layout.

I think.. Wp8.1 is coming *ofcourse* lol

And time goes slower now. Cant waiiiiitttt

What else Microsoft is going to launch except wp8.1 update? What more I mean?

Dang, Rich. I just got the update this morning, and you already wrote an article on it? You sure are on it! Keep it up!

Can't see videos in "camera roll" album...how to see? Thnx

User Pocket File Manager http://www.windowsphone.com/en-us/store/app/pocket-file-manager/56dd9c3d...

Rich,would this mean if i download a mp4 file i would be able to move it to videos folder and play it from music+videos,or the file will have to be moved to an alltogether different folder and accessible only through third party players such as moli??

To music + videos dude..u can play with inbuilt player

to different folder.You will need a 3rd player at this moment

What's with this update, it says waiting.... Anyone else facing this issue?

It says Microsoft service is not available. Dafuq

http://www.windowsphone.com/en-in/store/app/subway-surfers-512mb/debb2f8...
subway surfer fr 512mb ram devices

So will u able to update the newer versions of ss in the store later of kiloo doesn't block it. I mean is ot possible for u to do that. I know there isn't any big change while updating this simple game

Bro, at least we can now play the game... Updates or no updates doesn't matter RIGHT NOW

I know i mentioned that the developer has done a fantastic job but just asking that if kiloo doesn't come to know or block this version. Will hr able to work on those tweaks and update the version? Just asking

Nah, may be not. The game just asked me to update to New York theme, but it transferred to the original game, so maybe no, we can't update this one.

Am and Boris gong team work so hard for this version...

Hop u will these features

Nice browser. File sharing via Bluetooth finally. Just remove those .mp3 thing while exporting files to hub.

I just have moved some of my videos to sd card.. But how can i play it and where can i find it ??

Go to music + videos it is there..except u downloaded flv or mkv

Is the export to SD just possible if you're already done downloading the thing? Or can we choose the SD card as the download destination right away?

After u finish downloading..

It laggs a little bit, and seems a bit slow. Much slower than Explorer. I really like it though, it has some nice features, but I still find it hard to not use Explorer. It's always my number one choice, even though it lacks some features.

How can i instal apps from pc to my lumia 925 any tricks??

Download xap files. But with wp8.1 u will be able to do it in a better way

If you mean by downloading to a PC first, and then installing with a USB cable, SD card etc... you can't do that. However, you can go to the Windows Phone store from a PC, log in with your Microsoft account, and choose Apps from there and remotely install them. They will automatically download on your phone when it's connected to the internet. http://www.windowsphone.com/en-us/store

Yes you can buddy! Follow the below procedure

Download the xap file from pc. Save it on the sd card
Restart your phone
SD card option appears in ur phone store
Select the game
Install it (keep the internet on )
Play...

Not having an SD slot... I completely forgot about this one, sorry dude.

Now uc for windows phone has become a beast.... Good bye I.E.

Great browser to watch secret stuff on my phone ;)

Incognito browser. ;) The name advertises too much but best IMO. :p

Is this the best browser to use?

No not all ,,,,,first we have to select an option to transfer video from browser to sd card...than we have to connect to pc after connecting to pc we see uc download folder ,we have to move that uc folder to PICTURE FOLDER,,,and after that disconnect phone to pc....after that if we want to transfer another video than again that process.....at every transferring uc browser create their own UC DOWNLOAD FOLDER besides of previous (transferred to picture folder),,,,what the hell.....the question remains the same at last,,,,we need pc connection at last,,,,not have that much time on the job for connecting and disconnecting

I am unable to export videos to sd card. Pls help me.

I think there's a better way to download nokia camera from store without any settings required

Still waiting for Opera... : /

One more feature need to manual controls on external power supply on downloading...

First thing I checked was my college website..still not working. But thanx for update, I like the "Clean history" on address bar

It's a pity...Still no response from MS, we are working on WP8.1 to see if it can be done.

Guys help please i cant export videos downloaded from youtube to SD card, the export option itself is not appearing.

Its only mp3s , why uc optimises for mp3s only. Videos are not moving to sd card, no Bluetooth sharing , not even export to hub option! Damn complicated. Have to wait for another update

It lags very much when using in the desktop mode and it did even hang and my phone got restarted . Im using l 520 , anyone with the same prob ?

All videos share by Bluetooth

well i have been transferring data to uc download bt i cant see it anywhere now. Earlier it use to come in music floder but now its not there to. Although i can see the video file in moliplayer bt that does not give the option to send the file through Bluetooth. Any solution to dis. Bcoz i cant keep all the downloaded file in phone memory only

After exporting mp4 files to SDcard i am not able to see in music + vedios app. How i can get and play please help here. i can able to see files in my PC when i connect phone to pc. i tried many apps like file manager there as well not able see any videos in SD card\UC Browser.
Windows Central Newsletter
Thank you for signing up to Windows Central. You will receive a verification email shortly.
There was a problem. Please refresh the page and try again.