UK pricing for unlocked Lumia 610 and 900 revealed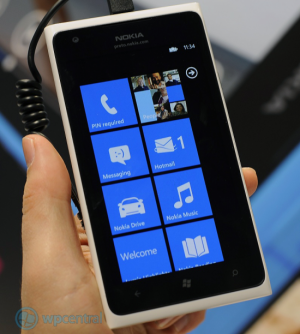 Clove UK, a mobile phone retailer, has published an article on their blog confirming pricing details for the Lumia 610 and Lumia 900 (our review), which are both heading to the shores. Unfortunately they don't have an ETA as to when the Windows Phones will begin to ship to consumers.
Should you desire to pre-order the Lumia 610 and / or 900 unlocked from Clove, you'll be set back £228 and £486 (including VAT) respectively. A fairly attractive price for those who aren't locked in contracts and are looking for a smartphone that's both feature rich and affordable.
Source: Clove UK (opens in new tab) (Pre-order: Lumia 610 / Lumia 900 (opens in new tab)); thanks Tahiti for the heads up!
Windows Central Newsletter
Get the best of Windows Central in in your inbox, every day!
Rich Edmonds was formerly a Senior Editor of PC hardware at Windows Central, covering everything related to PC components and NAS. He's been involved in technology for more than a decade and knows a thing or two about the magic inside a PC chassis. You can follow him on Twitter at @RichEdmonds.
now im starting to feel like a second class citizen in the nokia deal i got a 710 what is good where are the updates for us model. geez man this thing with the carriers needs to stop and now all i hear is about the 900 and thats not a bad thing but i dont have one i have a 710 id like to at least have the peace of mind that nokia cares about its lower end models but it doesnt seem that way at the moment... nvm me i am just ranting...

What update are you expecting?

just the stupid keyboard fix is that too much to ask for my radar has it and youd think that nokia being the premiere partner in wp7 that every lumia they make would get updated. I saw that they released the update in india, singapore, spain but what about the U.S. they have phones here too...

It's not Nokia's fault... My sister has a 710 in Belgium and she got the update a long time ago. Blame your carrier...

thats why i said i was ranting and i do blame the carrier but for fucks sake wtf every new phone i want to get is on fucking atnt and every phone i can get fucking douchebag tmobile wont fucking update them...

You are not alone. Best plan now is just to try and wait patiently, if Apollo opens things up there may be support for newer chipsets which will be pentaband and us Tmo user's worries will be solved by buying unlocked and unbranded. Then we can give 2 fingers to the useless carriers not releasing decent phones or timely updates.

those are my prayers..good sir its like your psychic

My rather got the update for his unlocked 710 last week, Portugal. You can't blame Nokia, they're supporting every device.

the refarming that T-mobile is also doing with their network will help too.

228 is a little too much for the 610, don't you think? The 710 costs 300 euros...
And 486 pounds for the 900 is like 590 euros. That's just too expensive! How is Nokia planning to fight against android when they don't price their phones competitively? The SGS2 costs 520 and has better specs... So much for me wanting to buy a Lumia 900 :'(

Yeah the 610 is a tad too much there, but then I've got reason to buy both these phones :D

I guess you wait for it to be released, it'll be cheaper by then. You'd be stupid to rush in and buy at this price.

I'm not just talking about me buying one, I'm talking about Nokia's pricing... It's not attractive at all, and it won't get people to the WP side.The 610 was supposed to be a sub 200 phone. What happened to that plan? How are people who are new to smartphones going to choose WP over android when the Lumia 610 costs 275 eur and a thing like the galaxy Y costs 130...

As the 710 could be picked up for £150 in the right pay as you go deal, I imagine the 610 will be available much cheaper when carriers pick it up :)

You can get it for less now, £140 incl. a £10 top-up
http://www.hotukdeals.com/deals/nokia-lumia-710-139-95-including-10-top-...
610 I fear is DOA.

Deals and contracts aside. If a person goes in to a phone shop, wanting to buy a phone, just browsing through all the choices they have, I very hardly doubt they'll choose the 610...

You should mention that when the SGS2 came out it cost 600GBP.

710 already has same updates as the 900

That's a pretty fair deal. Honestly can't wait to get mine! White FTW!

Clove is usually more expensive, the 610 has been priced sub £200 on European websites so I wouldn't take these prices as gospel. AT&T's prices for the 900 show that both they and Nokia are pulling the prices down.

610 pricing makes no sense when the 710 is going under £150 in some stores (namely Vodafone)

This is unlocked. You can't go wrong with unlocked... .

I hope they make the price on the 900 competitive.. I have seen that the HTC One X free at £36per month in P4U. With quad core specs the 900 has to beat that price surely to have any success.

I know what you mean; the update 12070 for the Lumia 80 was announced and released on the 7th of March last month. Nothing in the UK since and now awaiting approval from Carriers?? Rubbish.

Yet another thread that makes me realize my decision to never buy a locked smartphone ever again is the right one.

For a crippled cheap phone - 610 is ridiculously expensive!
One quick look at a few websites shows HTC Radar for £199 or LG Jil Sander for £159 - both much better choices. Come on Nokia, up your game!

Damn 486 pounds for the 900 !!!
That ruined my plans to get one
As much as I love WP7, I'll not pay almost 3K SAR for a Nokia phone I'd bad experiences with Nokia over the bast years I'll wait for Apollo & see whats up
Windows Central Newsletter
Thank you for signing up to Windows Central. You will receive a verification email shortly.
There was a problem. Please refresh the page and try again.