UK sports retailer Sports Direct to adopt Lumia 820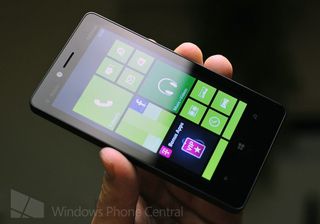 Nokia has announced that UK sports retailer Sports Direct has joined the line of companies moving across to Windows Phone 8 and will be adopting the Lumia 820. We appear to be banging a drum to a repetitious rhythm with these business success stories, but it's not often that we're able to shout out about big name companies joining the platform, and it's rare that Nokia has managed to bundle all its partnership deals into one month so far.
Sports Direct will be deploying the Lumia 820 to its regional managers to help ensure high rates of efficiency. The company has approximately 18,000 employees across the UK alone, and its operations are divided into regions with managers heading up teams for each region. Said personnel rely on stable connections for communication to take place.
This isn't Sports Direct moving to Windows Phone as a whole, though. The company has been using Lumia Windows Phones since they were announced back in 2011, taking on the Lumia 800 and 710 smartphones. Jay Lyford, IT Manager at Sports Direct had the following to comment on the move to the Lumia 820:
Main features in Windows Phone 8, which captured the interest of the technology team include OTA backup of texts and the Company Hub. Lyford continues to expand on the benefits of Windows Phone 8 that fit the bill for the company:
But it's not only the features of Windows Phone that keeps the Sports Direct team with Microsoft's mobile platform. There was also the consideration on initial cost and maintenance for smartphones to be deployed. Lyford talk about how the company moved away from a competitor platform to achieve yearly savings:
It's interesting to see such a well-known company in the UK continue to advance on Windows Phone and adopt the latest hardware. The Lumia 820 sports some impressive features for a mid-range smartphone, and on the latest version of Windows Phone, it's easy to see why it was deemed the perfect candidate to meet requirements of the company.
Source: Noknok.tv
Rich Edmonds is Senior Editor of PC hardware at Windows Central, covering everything related to PC components and NAS. He's been involved in technology for more than a decade and knows a thing or two about the magic inside a PC chassis. You can follow him over on Twitter at @RichEdmonds.
How the hell are they doing this? I don't know if I am impressed or really skeptical (in a good way!)..
Elop can' t be making so many right decisions!

I bet where microsoft concentration is high we will see more of these deals, all at blackberry's expense, double win

This is just a part if what I've been saying for a long time. Eventually windowsphone will catch on, and in a big way.. Sure it may never take percentages like Android, but it will have its much deserved chunk of the market.. We just have to stay patient!

Agreed! As Microsoft focuses more attention on the ecosystem, we all benefit!

Then why is there a picture of the 810? :)

I thought I'd be the only one that noticed that!

I was just about to say the same thing

Right time, right place, right product. Recipe for success. Get Windows phone into business and it will work it's way back down to the consumer. Though many lose sight of it, business is where the real war is really won and Apple and Android haven't quite had the right product at the right time for businesses the way that they have for consumers. Windows Phone should change that and it is a compelling sell to businesses that will adopt Windows Server 2012 and Windows 8 over the next couple of years. One interface to learn, reduced training time, platform consistency, manageable by us IT folks, happy stockholders, etc. Rinse, wash, repeat.

I agree. Business is key, and one interface really helps.

Agreed, business is ripe for the taking, I was telling my friends yesterday windows phone will push more into business

more business phones from NOKIA

I think the likely explanation for the rapid success is that there were many potential enterprise clients waiting for specific features that just weren't feasible with the inherent limitations of WP7. So when the right device becomes available with said features, the client makes the leap. This is especially true of many companies entrenched in the BlackBerry ecosystem. It's the only choice available that actually meets their needs, in spite of the limitations and extra costs associated with being tied to BES, etc. When a viable second option appears that lacks those weaknesses, they don't really care that it doesn't have instagram. It helps their bottom line AND gives them better functionality and integration for increased productivity across a wider range of price points. That's called WINNING. Plus all the stuff that SMMinkie mentioned...

That is fucking awesome !!!!

Yes and Microsoft stop providing your software for free to the competition!! Make them pay top dollar at least for office, lync, sharepoint integration. It's stupid otherwise! I have had friends asking about office on mobile and the only feasible choice should be windows phone. It's not like windows phone has some monopoly on the market.

It's amazing how every businesses deal that I have ever heard is Nokia hardware. What happened to Samsung ? There was so much talk about Samsung and their Ativ line for business use. I haven't heard a company with Samsung Hardware yet. Well good for Nokia the only Manufacturer taking Windows Phone seriously.

Well I believe its due to Samsung marketing their galaxy line. While they are curious about the WP os they can't take priority in it over their bread and butter. Nokia is a better representation of windows phone imho.

I think this is the 3rd such large deal I've read about so far. This is how I thought it would play out. I dropped my Galaxy SIII for the Lumia 920 pretty much because I liked where Windows 8 had gone with SkyDrive. As soon as I adopted that, ditching my Galaxy Note 10.1 for Surface RT made sense to me. And the next thing I now, I'm all Microsoft, which is kind of strange for me. I just think they have the right tools right now. My phone, tablet and laptop have a common store and common apps. So I thought big business should like this as well. So far that seems to be the case.

Good to see the Lumia 820 grabbing some news space. Ever since I became a 820 owner all I hear is things about 920 and more 920 even from Nokia official ads. Loving this!!!

Another day another enterpise win for WP and Nokia.

Good for both Nokia and WP :)

My company, where I'm a part owner, runs Microsoft/Windows on all platforms. From email, cloud storage, work stations, production computers to mobile phones. We're just two employees, but, so what. Our phones (920 & 8X) accounts for "missing" employees.
Windows Central Newsletter
Get the best of Windows Central in in your inbox, every day!
Thank you for signing up to Windows Central. You will receive a verification email shortly.
There was a problem. Please refresh the page and try again.