UK Xbox One owners can get the Sky TV app for on-demand TV and live sports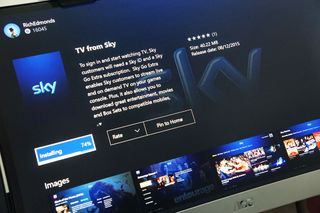 Xbox One owners can now download the official Sky TV app for the game console. The app, which was previously available for Microsoft's older Xbox 360, allows residents in that country access to the content from the Sky television networks, including live sports programming and on-demand TV shows and movies.
Access to the Sky TV app does require a Sky account as well as a subscription to the company's Sky Go Extra service. The release of the app shows that Microsoft continues to expand the media streaming app library for the Xbox One outside the US.
Source: Xbox UK (Twitter)
Be even better if Sky made this a universal app so we could get Sky Go on Windows Mobile as well.

Hopefully it's coming (possibly some shared code)

I can watch sky on my windows mobile have been able to for a while

This is brilliant news!!!! Because when my sky box is occupied by someone else I can just use the Xbox which has quite a lot of shows on demand so I should be quite content with content, Darrell114 is right now, a Universal App would have been a lot better, hopefully its in the works!!!!

The company that killed SkyDrive--the best-named cloud storage service ever. Microsoft should've fought to keep it. Everyone knew what SkyDrive was just by the name. In contrast, OneDrive is not intuitive at all. That said, it's far better than "Google Drive", which still makes me think of self-driving cars. When you have a killer name, you fight for it. Microsoft shouldn't have capitulated.

Not everyone knew that SkyDrive was MS's Sky were getting a lot of support calls and people asking why it was installed on their computers. That's the main reason MS had to change the name.

I'm aware of that. The solution is easy: call it "Microsoft SkyDrive" in the few territories Sky has a presence and call it SkyDrive everywhere else. I believe they did the same thing with Excel back in the day.

Lol soon they'll rename skype to wipe

OneDrive is better and makes more sense. I have one drive accessible from anywhere, I don't have a drive in the sky.

Well I never! Was sure we wouldn't be seeing this till 2016.

Haven't sky tv released a universal w10 in Germany recently? Got to signal a UK version soon surely!

But we really shouldn't have to pay extra (Sky go extra) to watch content that's already been paid for!

Yeah, Sky and Gold and Sky Go Extra just for the privilege of streaming it on an Xbox. That is assuming it's the same as the 360.

You don't need gold to use sky

Wish BT Sport would make an app.

Hope it is a universal app!

Weird I don't have sky go and could use app on 360/ps4... Just not download shows to hdd

Won't run, keeps fc! Sky, you had my hopes up too.

Runs ever so smooth, live tv, on demand and a great lay out.

Wtf is wrong with my app then?
Windows Central Newsletter
Thank you for signing up to Windows Central. You will receive a verification email shortly.
There was a problem. Please refresh the page and try again.