Unannounced 4.7-inch entry-level Windows Phone listed on Indian import site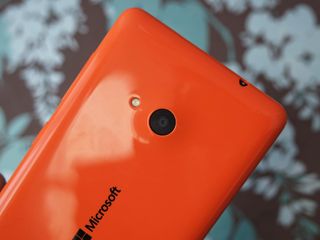 Indian import/export site Zauba has listed an unannounced Windows Phone with model number RM-1127 that Microsoft has imported into the country for testing. The listing reveals that the device will feature single-SIM connectivity and a screen size of 4.7 inches.
RM-1127 looks like a budget affair, with the device's price declared as ₹4,578 ($72). While Zauba's listings aren't the most accurate when it comes to final retail pricing of a handset, the quoted number tells us that Microsoft will target the entry-level segment with the RM-1127. We'll share more details regarding the phone as and when we get them.
Source: Zauba
Thanks for the tip Hillol!
Is there any benefit releasing lots of low budget phones with basically same spec in the market?

These kind of phones are really aimed at those who don't care about specs, they just want a working, functional phone with some great features - and at a low price to boot. Flooding the market with low-price phones will encourage more people to jump onto the platform, and we've already seen that low-cost phones are very, very popular in some markets, particularly those where mobile usage is developing. If it brings Windows more users, I'm not complaining.

I just can't see how it would, especially knowing it won't get all the w10 features. If this is a replacement for the Asha Nokia line, ok - but I thought the 430 was the low end. Or is this a 430?

Only very few phones get ALL w10 features. And as londonlumia just said, not nearly everyone even wants/needs/can afford those. That's one of the major points why low end devices exist.

No currently available phone will get all Win10 features. Case in point, Continuum, which requires new hardware.

"It's a problem of motivation, all right? Now if Microsoft works its butt off and ships a few extra low end phones, We won't see another flagship, so where's the motivation? And here's something else, Mr. Progeny: I have eight different low end phones right now." "Eight, Mr. Progeny. So that means that when Microsoft makes another low end phone, They'll have eight different people complaining about it. That's thier only real motivation is not to be hassled, that and the fear of losing customers. But you know, Mr. Progeny, that will only make someone work just hard enough not to get hassled."

Maybe this is the 440, since the 5xx series already got to 5" with the 540, if I remember right. This way the 40 generation will be complete with the other fall releases

A lot of consumers don't care about Windows 10 features or high end features in general they just want a working phone, the ability to send text, read email etc. They couldn't care less about specs games etc. There are millions of people who fit this categorie. My aunt and uncle just switched to low end Lumia's because it looked easy to use and they could "read the squares easier on my phone then the icons on their Samsung phones" This is an exact quote from them. They didn't even know they had android phones or what version operating system was. The fact my phone was easy to use was on T-mobile for cheap with no contract is why they switched. They had never even heard of Windows phone they just liked how mine looked and was easy to use. This is exactly the next billion users Nokia used to refer to, and now Microsoft is targeting, as well as the high end users

When the internals are similar, I don't get the point of flooding with many models with ok number of devices per model makes more sense than flooding with minimum type divergence with more number of devices per model. But alas, Samsung did it and success ... So there should be something in that strategy.

buyers dont like to know the internals. they want to have something to choose from, just to choices to pick one up, regardless, similar internals, just different appearance. I got the point.

I came in the first time because I saw an excellent price on a Lumia 620 (direct from the network, a returned handset with no faults, but extremely cheap). Then I bought a L920 to replace it. As an outsider, it was really hard to tell if I wanted a Windows Phone. Videos, screenshots and internet articles made it sound really good, but I didn't pull the trigger on it until seeing a cheap phone with okay specs. Living with a lower spec phone really helps to sell you the brand. Also, I gave the L620 to a friend of mine when he was between contracts and handsets (he's always flipping between iPhone and Android), and he completely changed his mind about WP and is now much more likely to get a full WP10 handset when they appear.

Me too. My first windows phone was a 630 just to try out the operating system. I then bought a 735 and will probably upgrade to a new windows phone capable of running Continuum when windows 10 comes out. Posted via the Windows Central App for Android

Yes, now each carrier gets their own exclusive :)

You cant get users in India untill you release lots of phones in market , no matter how they are or they have same specs. Flooding the market with low cost phones provide trust in users that this company is really focusing on us and beleive in itself thus they are providing these so many devices . It is same like you advertise the same device many times in many different ways. This is the reason why windows phone market share in India is countinously increasing . Its no surprise that in India you can see many windows phones.
I have no compalins , let them do , this is giving market shares and then automatically it will drive more developers.

Interesting, I don't see the need but if that's how it works in your market, cool.

If by benefit, you mean "creating more crap that will piss everyone off" then yes. I'm actually amazed that Microsoft keeps using this "deluge the market" strategy after it's worked so poorly for them. It confuses the public, and leaves them trying to support a shit load of hardware. They're stressing themselves out. I'll probably keep this on my radar just because I wanna know if it'll get an SD400+1GB ram, but if Microsoft really wanted to move units, they would have simply ONE low end, ONE mid tier, ONE high end and maybe a specialty phone like the 1020. All other attention would then be focused on getting those 3-4 phones on all carriers in all markets, and keeping them up to date. People who bought the unlocked Lumia 535 and 930 direct from Microsoft don't have the latest denim... if you don't see why that's a problem then I'm very sorry for you. You create a successful product by building the brand and polishing it more with every year. Microsoft is going in the complete opposite direction.

Agreed. Besides, I live in the UK, primarily, and msft focusing on the market that is working for them (third world) excludes this sector. But then it's sown up by Apple and android so I guess msft is going to roll out the flagship - and at the moment they've got nothing. Hence no news for us. Wp10 can't come soon enough. The apathy just keeps building. MSFT has some hype now: Capitalise on it.

I see no business benefit inundating a specific market with same device with a different name tag every month, for me I did rather have one or two models in each market segment and publicize it via ads and other forms of marketing forms

The 635 and its low price is what had a couple of my friends try the platform out. Otherwise they wouldn't have. Low end phones allows people to cheaply check it out rather than trying to decide on whether to spend a couple hundred dollars on a iphone with new contract or WP.

Gimme moar rumors on the 840

M with u man...!!! +840 want more news on 840 XD

Yes! I put my 830 purchase on hold for the 840. I hope it gets rumoured, announced, and released soon!

Hahaha same me to put my 830 purchase on hold .!! Well there are many rumours in circulation .!! Just bing it .! Well 830 set me back because of same processor alike 730 and lacking ffc than the 730 .! Well I pay a premium price for it and expect I get for what I paid .! Many ppl do say (I agree on that) that WP doesn't need too much power but still when u compare u feel.like having a better processor which turns out to be future proof too :)

Looks like a lot of us are waiting for the 840 then, yeah I didn't get the 830 for the same reason, disappointing processor and ffc. If they popped in a snapdragon 618 it'll be a dream come true for me!

Man even I am expecting 6XX processor range don't put up any legacy too the 4XX series in it and it should be now there - a 1080p display ;) since 940 rumoured to get qHD atleast we can get full HD XD hope so it comes out really soon and of its support continuum its a bonus (like when it gets updated to windows 10) if it comes out of box with windowsphone 8.1 gdr 2) and fingers crossed ;)

Exactly..... Even 540 is 5 inch phone... 4.7 definitely seems to 440

India is potential market, which has youth as 75% of the population India is biggest consumer market to many international companies are heading here

Microsoft is targeting India for their sales growth

India is such a good idea to target,it has such a reach world wide, also India is a very good judge of product quality & reliability. After what I read yesterday regards to flagship & what the possibilities & capabilities are for a W10 flagship the wait is well worth it.

4,7 inches WP? Sure it has entry level price or leaning toward mid range?

lol With qHD screen and bleeding Retina resolution :)

Not another one. Why don't they make flagships already?

They are doing. It takes longer than a few weeks to design, Test, manufacturer, and launch flagship. The flagship will come with windows 10. Just wait for it. These low end devices are the ones that were already in the pipeline when Microsoft bought the Nokia devices division, imo

Exactly. They most likely "inherited" a buttload of already bought components they have to put to some use. Also, small tailoring of hardware targeted at different markets. It's not like you really have a choice between 20 nearly identical models anywhere

You sure it takes long? Ms is shitting out phones at a diarrheal pace at the moment..

And? That is exactly why. They probably have lots of hardware "lying around". Many overlaps are probably due to MS making their OWN versions with the hardware they already have (so long 512 devices)

Yep I'm pretty sure it takes long. Because most likely, these phones were already in the pipeline when MS bought nokia devices division. Or Nokia also sold MS all the left over hardware of future phones, so why not use it and try make some money from it before making your own?

I'm still waiting for a 1020 successor, and it's been almost 2 years. The only news so far are of a couple Lumias with the same boring specs as any other Android flagship.

Yeah, the talkman and cityman specs hit me with a resounding ho-hum, but hopefully there will be some cool surprises that didn't make the spec sheet. All I want from the 1040 above the 1020 is improved zoom, improved performance, and Qi built in. Maybe a different name as 1040 invokes IRS-related bad vibes.

Because they will announce the new flagship when windows 10 for phones comes out.

Brace yourself. It's gonna be a long wait :-\

Rs. 4578 is without any duties and taxes i think. So its price would be around Rs. 9-10000 /- with taxes... it could be 440 . lets see.

Based on previous record, price would be 3x-4x from what in import data.

What kind of a name is zauba? Lol..

Absolutely zero possibility. The price is about $200 too low for a start :)

Also the design doesn't match. My 735 is a good looking phone and I don't think they will change the design too much if they will release the 740

May be the lumia 740 or the codenamed city man or talkman we heard in the rumours I am waiting for 5" inch phone please Microsoft don't increase the length of every phone size in inches and width look at 640 and 540 both are big in width and size.luma 540 is bigger and wide than 640 if you check the dimensions plz Microsoft make 5" phone similar like Samsung in terms of form factor I hope lumia 740 is what I need in terms of design and form factor

Finally, not a tiny 4-inch screen like most recent Lumias.

Release device like ppl perceive its the device they want all,features within that price range and not compromise with it. With Lumia low range its always a compromise. Either with front camera, secondary camera and the processor

mid range please! i find my 535 fair enough as my entry lvl phone, sooo love it! but i'm looking forward for an upgrade for this soon. :) 830 was almost perfect, except for the ffc. so im not taking it. should ffc wudv been 5 MP, i could hv taken a hold of it asap. but sadly it isnt, so i hv to wait

even I use 535 and waitng for 840 or 940 normal not XL. hope something comes up. I was iphone user before and its more than a month am using Lumia. it never came in my mind i was an iphone user before. thats surprising, once i jumped to android and within months i moved to iphone, but same thing is not happening now.

Can't wait for Lumia 340.

Still waiting on the Lumia 420

Or for f**** sake, not another one.

No. Doesn't deserve a number. Just Lum..save on ink.

It won't even have the Microsoft logo. You know, for reducing costs...

I think it will b nice if they put a low end budget phone in new and initiative design..... Something like a keypad phone.

If I had a dollar for every Lumia phone released..

You would have about $100-$120.

640 was imported for similar 4000+ rupees. Now it is being sold for 10k.. So this will also be around 8-10k when released.

Did Ms eat something bad? They are shitting hones out left and right, and it all looks the same. They need three phones: low end the iconic 520 variant, mid range 640 or 840, and high end 920 variant. Different screen sizes are welcome but not needed. Stop making all this low end crap, how many low end phones do we need from one OEM?

I want 1040 or at least 1540

Why is Microsoft logo on phones is not like that of home button on windows phones?

For the people moaning, take away all the Nokia branded devices and line up the new Microsoft branded devices and then look at the big picture.

It is 740 sure... Already in India no new stocks of 730 is coming..Ms stopped the 730... Latest stock is of February..

I just don't get tge mindset that lots of offerings is confusing or bad in some way. If i were to visit a new car dealership and there were only a few models to choose from I would be disappointed . I want to walk around untill i find something that suits my fancy and meets my needs. I feel the samewhen shopping for a phone. Windows phone users are the most anal retentive folks in the world.

When will 640's be released in US? It's been 2 months since announced. I think Microsoft loses out when they take so long to bring phones to market

An LTE version of 530??? That would be interesting :-)
Windows Central Newsletter
Thank you for signing up to Windows Central. You will receive a verification email shortly.
There was a problem. Please refresh the page and try again.