The Universal Emulator app for playing old console ROMs is back in the Windows Store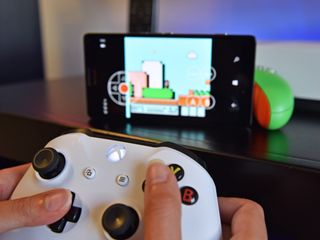 Nesbox's Universal Emulator app for playing old console ROMs from Nintendo and Sega is now back in the Windows Store for Windows 10, Windows 10 Mobile and Microsoft HoloLens. However, it no longer supports the Xbox One.
As we reported a few days ago, the app is designed to work with ROMs for Nintendo's older consoles like the NES, Super Nintendo, and GameBoy Color/Advanced, along with Sega's Genesis console. It requires the Windows 10 Anniversary Update but it even lets people play those old games on a Windows 10 Mobile phone with a controller and on the HoloLens.
The developer, Nesbox, had published the app with Xbox One support, but Microsoft pulled the app from the Windows Store this past weekend, saying that since the app was consider a game, it must be approved through the ID@Xbox Program.
The return of the app to the Windows Store, without Xbox One support, was revealed by Nesbox's Twitter account:
However, the developer is already working on a workaround for Xbox One owners. It has a prototype of the emulator running on a website in HTML5, which should run on the console's Microsoft Edge browser. The developer is also working on adding OneDrive support for the HTML5 version.
Download Universal Emulator from the Windows Store (opens in new tab)
Even if you struggle to get past the title, does the picture not give you any clues?

I asked because It's not available to download on my phone.

Seems to be there in the store. Does your phone meet the criteria stated in the article?

Well does Lumia 640 support it.

And does it have the anniversary update (as stated in the article)?

The QR code doesn´t work, try using the link in the twiter post

When I clicked the download link in the article it took me to the MS Store and said the app is no longer available. But I searched in the store app on my L950 in the UK and it showed up, just installed it now.

Come on guys just answer the question, yes it is for mobile, if you are using win 10 mo 10393 you can search "universal emulator" in store, and I already install it on my lumia 640XL, work flawlessly so far

It's stuttering for me. Can't play games fluently (and I don't mean, why doesn't this go fast? I mean its choppy and have audio problems).

Which part of "Nesbox's Universal Emulator app for playing old console ROMs from Nintendo and Sega is now back in the Windows Store for Windows 10, Windows 10 Mobile and Microsoft HoloLens" do you not understand?

The part where we click on the link and it doesn't work, so we wonder if we got something wrong.

Sort of. Can apps be sideloaded onto the Xbox like everything else? If so, it may be back on Xbox too... ;)~

How do I use Xbox controller on my phone o.o

Bluetooth or usb type-c :)

Good to know I can hook a usb cable directly to it, does this require a driver download or anything?

"The product you're looking for is not here anymore"

try clicking on the link in the twitter message

Twitter link worked for me too, however the app just crashes on my 950 when trying to open...(Update, works now after soft reset)

Not showing up for 950xl either.

Nor does it show up for my Alienware gaming laptop running AU.

"the product you are looking for isn't here anymore" is all im getting

thats because the developer is using jedi mind tricks on you! the force is weak within in you my son.

It will take time to populate across various store regions.

this app keeps crashing on my pc

Crashing on my 950 too... (Update, works now after soft reset)

Does it support Continuum?

Why don't they resubmit it as a game? Seems that MS didn't remove it for being an emulator, they removed it because its a game that wasn't submitted as a game.

This, he could try and put it through ID@Xbox.

I'm not positive, but I think he would have to rebuild the app from the ground up just for Xbox. I believe the 2 have to be seperate. Don't take this as any fact though, I'm not positive.

Yay!!! I'm downloading this when I get home!

Does anyone know if there is anyway to get this app to work on the Xbox One through Continuum? I recently joined the Xbox Preview program and heard that it should be possible, but none of the steps to do so seem to work (mainly finding the Wireless Display app). If anyone has a link to download that app to the xbox (if that's even possible), would be greatly appreciated. I wanna play Super Mario RPG on my TV =P

I dont know about Continuum but the MSWDA has too much lag for gaming.

Feel like that wouldn't necessarily be an issue with Super Mario RPG...

You'd be off with your button timings for attacks and blocks.

This actually works on my Surface 2 8.1 RT device so is AU really a requirement?

I think AU is required for Xbox controller support.

I know he used to have an older one on the store that was written for Windows 8, so I'm not sure if maybe you're using that one? It was there a couple days ago, but I can no longer find it now. The name of this one is "Universal Emulator" vs the other one which had a different name (which I wish I could remember... it may have been NES Emulator or something like that).

I can't get this to save games. Anyone know how to do this? Playing Super Mario 3 and RPG.

Use the app's built-in save functionality. It simply saves the state of the game, though I don't think you can have more than one per game at a time currently. You may be able to request such a feature though. Edit: Hit the back button once while playing and it should bring up the menu bar. The floppy disk icon is the save button, and the floppy disk with an arrow pointing down icon is the load button.

Can play Nintendo 3ds games?

But does this support n64 or ds? It did say universal Nintendo emulator

Works fine on my 950XL and SP3... But can't get SNES games to work. NES are just fine. hmmm

So many snes sega emulators but no neo geo emulator

Is there anyway to transfer my saved games from NESBOX to the new universal emulator?

So what's the working link to the app?

..still waiting for the DS/3DS rom support :D

And just lost it again can't find on store:/
Windows Central Newsletter
Thank you for signing up to Windows Central. You will receive a verification email shortly.
There was a problem. Please refresh the page and try again.