Verizon + Unlocked HTC 8X receiving new firmware update, details are scarce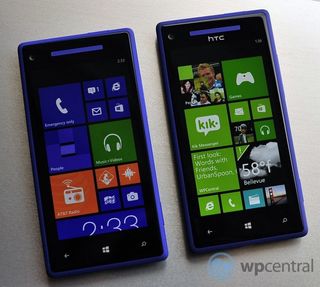 We've received a few tips today that some users of the international, unlocked HTC 8X are receiving a notification for an over-the-air update for the firmware.
Indeed in our forums, AndreiX confirms that his firmware has been updated to version 20105, up from the earlier 20100 for a few users recently.
Unfortunately, we don't have enough information at this time to state how widespread this update is, if it's for carrier branded devices or what it even does (HTC is a lot less forthcoming on these updates than a certain other company).
Update: At least for Verizon users, you are evidently getting this update too and it fixes three items (thanks, aceoforder):
Fixes the "SIM CARD NOT DETECTED" error
Fixes an issue with Skype calls not having audio
A battery-drain bug that can occur when a user enables Internet Sharing and then turns it off
If you get the update and vouch for any changes, please share your experience (and region/carrier) in comments for others!
Thanks, Casey M., zikifer, and JellymanEN, for the tips!
Daniel Rubino is the Executive Editor of Windows Central, head reviewer, podcast co-host, and analyst. He has been covering Microsoft here since 2007, back when this site was called WMExperts (and later Windows Phone Central). His interests include Windows, Microsoft Surface, laptops, next-gen computing, and arguing with people on the internet.
Not to be outdone by Nokia? ;-)

Hi everyone, I spoke to Verizon Business Support earlier about this. The new update does three things: - Fixes the "SIM CARD NOT DETECTED" error - Fixes an issue with Skype calls not having audio - A battery-drain bug that can occur when a user enables Internet Sharing and then turns it off Cheers!

Did you read the article? I'm assuming not, because you just posted same thing.

Doh! They updated it when he put that.

I think he tipped WPC and, thus, the update to the article...

Did YOU read the article, I'm assuming not, because the update came from aceoforder.

:) yes, I sent in the tip. Thanks for explaining Fayez

Also, my devices are Verizon US branded, so this does not appear to be limited to just unbranded devices. I cannot confirm rollout on other networks. :)

So far nothing for the 8X on T-mobile...but they're usually late to the party anyways.

My T-mobile 8X received 3 updates since I got it.

I've experienced the opposite. Ever since my Radar I've gotten updates rather quickly from T-Mobile. Same story with my 8X.

Yup always got timely updates for my Radar, which is now my little brother's. My moms 8x on Tmo gets updates too as well.

So, what are you using now?

Mehh...still haven't received the 1308 update for my 810

Im downloading as we speak, im in voda uk (purchased through Phones4u)

Lol I thought that said Vodka

Got an update too, on Vodafone Portugal. I'm downloading it.

update installed for Verizon 8X!

Came out on my at&t Nokia Lumia to

I get an error everytime I check for an update .
International unbranded 8X , My firmware version is 20005 though .

Just got the update for Verizon 8X

SIM card not detected error! Our ATT 8x had this error too!

Installing the update ony my unbranded 8X bought from the UK.

I would like to see changelogs from every update. HTC and other OEMs should publish them on their websites. Same for every other phone.

Agreed , a change log would be great !
I don't like to update blind whether it was an app update or an OS update !

That was quick! My unlocked International HTC 8X just got the update. UK user. Good to see HTC releasing the update worldwide and not taking weeks/months.

Off-topic: Why does the 8X on the left doesn't have the HTC logo? I would like that very much on my 8X!

Updating here in Denmark as well

The US versions of the 8x on Verizon and AT&T don't have the HTC logo on the front. Back side is a different story

Why? I like being reminded that I have an hTC device.

I like the front to be unbranded, but that's just me. Only Apple does this but I hope more will follow suit as they create more unique designs that are instantly recognisable.

Just searched for updates on my Verizon HTC 8X, in Springfield Missouri. Downloading the update now!

Updating my 8x right now on Bell in Canada

firmware version is now 20100

Just got it on TMN from Portugal

Nothing yet on O2 uk. Had the previous 20100 update the other week.

After installing update, my Firmware version # is now 20102.

I have the same firmware version after the update!

Be careful here...nobody knows what happes to an HTC phone when a update is applied. We are in unchartered waters my friends...

A successful update in less than 5 minutes here.

Stop spreading FUD, the hTCs have updated smoother than the Lumias did (grinding gears of death.)

A patch fix its one thing compared to a whole update.

In my opinion, a good and reliable software needs seldom patches or updates, only new versions / releases. Which says a lot about the frequent "updates" of Nokia.

Stay calm, it was a joke. I still own a Titan II and it never once got an update. Members who have been here a while know all about the lack of updates from HTC. Hopefully they are changing their ways. Nokia was not even mentiond in my post...

Is HTC a code-name for Nokia?
LOL.

At least with Zune we were given some blurb before the update process started.

No fix for the "other" storage issue?? Then the update is worthless to me...

WARNING: New update caused my entire phone to crash and NO LONGER TURNS BACK ON! I'm fucking pissed off righ now...


On which carrier are you?

Updated and working fine also....Bell Canada

Update: 2 hours later, my phone randomly turns back on and is functional. HTC 8x on Verizon.

I'm hooked to Nokia, because I'm GPS dependent, and nothing beats Nokia in that regard, here in Europe, but, to me, the 8X is the coolest phone on the market. It's lovely,

You know that you can get HERE Drive from Nokia on any WP8 device right? Not just Nokias. My 8X is very happy that they shared the love with that one.

Does this fix the general OS lag issues on Verizon?

If you use WPA2 security for your wireless try changing to regular WPA. It solved random freezing for me.

thanks for your reply, but mine and other people's 8X stutter even with WiFi off :(

Update available here on Verizon in Florida. 369MB. I wish it had that other storage management that's available to Nokias.

Update not yet available for me here in the Philippines. :(

Checked for the update on my Verizon 8X and its currently downloading. Cheers Verizon for getting an update approved quickly.

Verizon updated tonight firmware 20102 4/17/2013

Not that I'm complaining but I literally just did the "tape" fix for the SIM card error that's been outlined in a forum thread here. Worked like a charm too. But nice to see they sent out a fix for it, makes me feel confident in the phone/os!

Update took about 20 minutes total to download, install, migrate data, etc. My firmware went from version 20011 to 20102. My radio software from 1218 to 0221. (downgrade?) and my bootloader went from 162930 to 165610.

They might be using some weird date code as the version for the radio so it could just be the newer one is from earlier this year rather than the older one from later last year.

Verizon 8x here...went from version 20011 to 20102, also.

unbranded 8X .. downloading now ..

Unlocked HTC8X in the UK just updated. Updated the firmware, radio version and bootloader as follows:
Firmware:
--> Was: 1532.20.20005.401
--> Now: 1532.20.20105.401
Radio Software:
--> Was: 1.11b.32.19.23_2_15.42.32.19
--> Now: 1.14b.32.19.06_15.42.32.19
Bootloader:
--> Was: 0.0.1532.20(162966)
--> Now: 0.0.1532.20(165610)

Got it in Egypt no diffrence notice till now but it done seamlessly

updated from Malta...can't see any differences

My 8X reset twice since the update. Never before...

Mine has as well, both times while in the Messaging app. Never a problem before, though, I used to get a SIM errors off and on, I wonder if it's linked... did you encounter SIM errors previously?

I still get sim card errors and have to reboot the phone to fix it.. :-/

My phone updated, works well; no reseting as mentioned above... T-mobile, Croatia

Got the update this morning on my Verizon 8x. So far the only thing I noticed is after each time u reboot it puts the volume at 20

wish Verizon would have added group texting to this update.

I downloaded the update on Verizon this morning, now my messaging app is real slow to open/send messages.

HOW DO I UNLOCK THIS STUPID PHONE!?!?!??!

I think I have found a solved issue: Before the update, when I was using Word Flow and selecting a suggestion, which was longer than the space left in the current line, the cursor was not at the end of the inserted word, but somewhere in its middle. This bug seams to be eliminated.

HTC 8X updated on Verizon branded phone. No issues: no rebooting, no slow messaging, no reset volume at reboot. Nothing to report (thankfully), other than the WP8 still works as normal.

Downloading now. Hopefully this fixes that "missed call tone" you get even when the phone is on silent, too. Seems to only be a Verizon WP8 thing. We'll see.

Received an update on my HTC 8S... Guess it's probably the same thing?

New update freezes my phone while am one call never done that before m. And won't let u reeboot until Battery low..... Hmmmm m.. ?
any new better updates?

I laughed a little when I read that one of the fixes in the update was for the SIM card error because I installed the update last night and today I had the SIM card error. Bummer

Hello, anyone know what the Live Tile is, on the right side picture, to the right of the Kik tile with 70 as the counter? Thanks!!
Windows Central Newsletter
Get the best of Windows Central in in your inbox, every day!
Thank you for signing up to Windows Central. You will receive a verification email shortly.
There was a problem. Please refresh the page and try again.