Deal Alert: Unlocked Samsung Focus I917 for $215 at Buy.com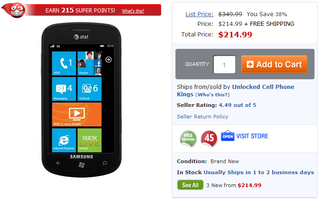 Buy.com has the unlocked Samsung Focus on sale for $215 with free shipping. This is down 38% from its regular $349.99, a pretty sweet deal for one of the great first-generation Windows phones. The Focus sports a generous 4" super-AMOLED screen in a thin form factor. It has 8GB of storage, but is open for expansion up to 32GB with certain MicroSD cards. While it's not the newest of the new, the Focus is still a solid pick, especially at this price.
Source: Buy.com (opens in new tab); WPCentral Forums; Thanks, petersun21, for the tip!
Aren't there like 3 different versions of this phone? (and "no", I don't mean the Flash, S etc)
Any idea which version these are?

I'm only aware of two hardware versions: 1.3 and 1.4.

Available in Canada? Always wanted to see firsthand how it stacks up against my HD7... (screen typability, battery life, etc.)

I know it's a dumb question, but does that mean that you can use it on any carrier?

SGH-I917 Focus
SGH-I677 Focus Flash
SGH-I937 Focus S
You can use carriers that support
GSM Quad-band:850/900/1800/1900MHz
UMTS Tri-band:850/1900/2100MHz

Nice, my mom needs a smartphone she's a lawyer and it would be so much of a help in her day to day life..but was just planning on getting a quantum on eBay there about 120$ now, I liked my old quantum I had, I wish it didn't break lol

This would make a great phone for the tmobile $49.99 unlimited plan.

Since 6 mths its avble in eBay India for same price. I purchased.

You can also get these on Craigslist for $100 or less in many areas. Not knocking the price here for new units, but I couldn't justify the new price on older hardware, despite the fact it's still a great device.

it has 8000% increase in sales since yesterday. Wow.

Great phone, hadn't failed me yet!!!

Does the Samsung have internet sharing ?

Picked up one on Craigslist for $100 a few months back after getting fed up with the lack of support on the dell venue pro. Couldn't be happier.

This is hands down one of the best phones ever. Honestly, if more people got to use it - wp would be one of the best selling phone OSes ever.
Windows Central Newsletter
Thank you for signing up to Windows Central. You will receive a verification email shortly.
There was a problem. Please refresh the page and try again.