Unofficial list of new Microsoft Store openings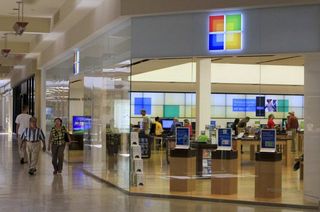 With the announcement of a new Microsoft Store being built for Boston, lots of our readers anxiously await to see if Redmond will be coming to their areas soon. While Microsoft does not pre-announce these stores too far in advance, one way you can easily figure out is by simply looking up where they are hiring.
Yup, on the Microsoft Store Careers site they have many positions open and looking to be filled. What's more, these jobs are in cities not yet announced (but you can bet they will be soon). So, are you lucky?
We are. A store is opening in Huntington Station, NY, most likely at the Walt Whitman Mall. What else is at that shopping center? Why one the busiest Apple stores in New York (besides the Manhattan store). It certainly appears that Microsoft is gunning for Cupertino on their own turf and we'll be there to cover it.
Without further ado, the unofficial Microsoft Store list as compiled by reader Travis:
White Plains, NY
Huntington Station, NY
Newark, DE
Overland Park, KS
Salem, NH
Orlando, FL
Arlington, VA
Bridgewater, NJ (Bridgewater Commons)
Freehold, NJ (Raceway Mall)
Danbury, CT (Danbury Fair Mall)
Great to see the East coast finally getting some stores. Celebrate in comments. Thanks, Travis B., for the list; Image via the Denver Post
Windows Central Newsletter
Get the best of Windows Central in in your inbox, every day!
Daniel Rubino is the Editor-in-chief of Windows Central, head reviewer, podcast co-host, and analyst. He has been covering Microsoft since 2007 when this site was called WMExperts (and later Windows Phone Central). His interests include Windows, laptops, next-gen computing, and for some reason, watches. Before all this tech stuff, he worked on a Ph.D. in linguistics, watched people sleep (for medical purposes!), and ran the projectors at movie theaters because it was fun.
I wish they would build one in Sacramento, CA!

Agreed. Keep thinking the Roseville Galleria would be perfect.

No reason we can't have one competing with the Apple stores at both locations.

STUTTGART, GERMANY
please.

Not a chance, don't forget there isn't any other countries outside America!!!

Pish-posh...don't Cali already have like a thousand Microsoft stores?! =/

No, Cali doesn't have bunch. Although I would love to see a MS store open up directly across from an apple store in San Francisco, Ca.

Life complete if they open a store in Arden.

Newark is NJ. Capital of New Jersey.

lol, this is true but in this case it is refering to Newark, DE ;-)

WTF? 1- It's Newark, DE and not Newark, NJ
2- Newark is the largest city in NJ, not the capital city. Capital is Trenton. I'm not even from US and I know this. You need to go back to school.

I'm from Wilmington, DE though I currenty live in Philadelphia, PA. There is indeed a Newark, DE and it's the home of the University of Delaware. Though I'm disapointed that there still no annoucement of a store coming to Philly, a store in my home state is close enough.

Yeah same here. It would be really interesting if they built one on walnut st to compete w the apple store there. That's like apple central though so it would surely be a tough fight. Maybe when they've got more momentum with windows 8!

I live in Newark, DE so this is def awesomeness. But you guys in Philly, it's not too far, atleast there is now going to be one in Delaware Valley... I am a little suprised myself they didn't build it in Philly, but atleast a 40 min drive down 95 beats hundreds of miles....


Yeah first off the whole Newark, NJ thing boggled my mind but 50 people pointed out the error so I will move on...as for the Philly store stuff I agree. I am shocked that like King of Prussia doesn't have a store yet planned. In terms of retail space is the largest in the US and in terms of store numbers its like the second largest. Plus there is empty spaces like right near the Apple store there so its perfect for MS to target. Oh well maybe I will make a trip to Newark, DE at least there is no sales tax there...

Dude... Newark is in a lot of other states and for your information, Trenton is the the capital of NJ.
Here is a test for you, What is the capital of New York? (Hint: Not Manhattan).

Having a lots of fun here. Manhattan is a borough of New York City and certainly cannot be the capital of New York State, Albany actually is the capital of NY. Any prize for me?

I have 2 stores in orange county cali

Why not go with the top 10 cities in the US population wise? I can understand that they may not be the best choice simply because they have a lot of people, but the sheer amount of people has to be worth something. Im honestly wondering why Dallas and San Antonio, TX dont have stores. Here in SA, we have 2 Apple stores and one of them is in one of the most unique malls in the US, La Cantera (check it out online).

We need one in Las Vegas, NV

Yes! The Fashion Show mall would be perfect!

I can say that there is in fact one opening in freehold mall

Freehold.. I applied to hear...nothing.

One is openning in the Danbury Fair Mall in Danbury, CT which is not too far from NYC...

I don't think MSFT will get to 75 stores by end of 2013.

I think they will. They only have to open 3 stores a month to reach 75 stores by end of 2013 and they're already close to that pace right now.

Have they ever mentioned building stores outside the US? Apple Stores are unchallenged in the rest of the world.

Damn straight. I don't think we'll see Microsoft Stores in Australia for another 3 years, yet Apple Stores are popping up at every major shopping centre, not just one per city.

That would be ridiculous if Microsoft takes another 3 years to open up stores in Europe, Japan, China, Australia. They should start with a Toronto store this fall.

Cardiff Uk!
Get on it Microsoft :D

He he he... In St David's?

Second! Windows for the Doctor..? =P

Wish there would be on where i live here in Sweden. We got a Apple store....feels like MSFT is late to the game in the store selection, i pray it will go faster.

No one is ever late for anything until they're dead...I hate when people say things like that. -_-

King of Prussia, PA. Please, please, please.

While I've never liked the "call a company by the city it operates in" tactic, it's especially confusing in this article, where you're already talking about cities.

Why does Microsoft need a store? Unless they are going to show something unique. Of course they could always show the surface table as used in Hawaii 5-0.

Things like Zune and webTV and Ultimate TV might not have failed if Microsoft owned a giant retail footprint. Look at how Amazon, Barnes and Noble, and Apple have been able to quickly establish proprietary media devices like Kindle, Nook, and iPod. They were only able to do that because of their retail backing. It also lessens Microsofts reliance on Gamestop for Xbox and may one day enable them more freedom in business models.

Microsoft needs to control the retail experience. Have you purchased a PC at a Best Buy or Staples? You don't always have knowledgeable sales people, good demo units, the best hardware, a pleasant buying experience, etc. At the end of the day so much of what Microsoft does must be in response to Apples wild success. The iPad and even Mac has started to make too many inroads into the Windows PC business. There is no PC response to the Apple stores and that quality of retail experience. Many PC and electronic stores have disappeared over the past decade (CompUSA, Circuit City, etc.) and nothing has replaced them other than Apple stores. Apple stores don't sell PCs.

I've long felt of all the things Microsoft is doing the retail stores may be the most important.


Michigan gets NO love! Lol. I don't even think we have an Apple store.

Unfortunately, we have many Apple stores. The one in Troy's Summerset Mall smells like a combination of BO and weed. Drop a Microsoft store in there to balance out the sh@t pumped out by that store.

To show of the upcoming Win8 tablets and hybrid laptops. It will be awesome!

Toronto? It is just the 5th largest city in North America Microsoft.

Agreed, and why all of those small time towns in the USA?

It would be nice if they would move into Canada but it would definitely complicate the building, shipping, accounting etc. so I can see why they want to get well established in the US first. Hopefully it will be soon time to being their international expansion. I know Apple really benefits from their stores and they are grabbing higher market share in countries where they have a big presence. If you look at the statcounter stats for OSes you can see that Apple's share in Canada and Australia is the highest in the world and these are two countries where there are a lot of Apple Stores and no Microsoft stores.

Apple is building a store in Halifax now but considering Toronto doesn't have any Microsoft stores yet I'm sure it is going to be a long time before we see a Microsoft store in Halifax. Meanwhile Apple's share keeps rising.


Once again no love outside the US :(

Well I only live 4 hours from Orlando. Guess that's not too far...

North Carolina gets the shaft. Two Apple stores here in Charlotte....

I really hope they open one in Hartford, CT

Edit: They should also update the Microsoft Store app. Add more features like being able to browse all their products, and make purchases straight from the app without even having to sign in cause your Live ID is tied to your phone

Well, Danbury fair mall is about 2 hours from me but, I have family who lives there, I'll have to see a Microsoft store and stay the night :)

They should put one in one of the Casinos here in CT. They do have a Apple store....

I just want to see one, Just to see the lineup and what they are selling... Not that I can't buy anything for less money on-line someplace :)

Tampa,Florida please!!!!!

arlington, va I'm from dc not living there now but arlington is close

i think mr. rubino is a little late to the microsoft store party -- they have always opened their stores directly across from or in the same plaza/street as apple stores. its their strategy for a little healthy competition. they're quite open about it.

Basildon,Essex,UK Please ! :D

Wishing we had one in San Antonio. The drive to Austin is around 45 minutes...

Lol wtf, White Plains? Maybe that's for the Palisades Mall, but idk why they would choose that over someplace else in NY like Albany, Rochester, Buffalo, Syracuse... Heck, put one in the Smithaven Mall!... But White Plains? -_-

So, VA gets 2 stores now? Having a store in Arlington seems kinda unnecessary. There is not much flow of shoppers there. They already have a perfect store in Tyson's.

YAY!! I LIVE IN NEWARK DE THEY ARE THINKING OF US IN THE SMALLL STATE WOOT!!

Screw NYC how about Albany NY the state capital

What, where the governor is would probably never get anything done! Lol, jk... =P

The Dallas-Fort Worth metropolitan area is one of the top 5 largest in the country. What are you waiting for, Microsoft??

What about all the Walmarts and Targets that have those gawd awful mini apple store displays? Lets get some presence in there. They move a ton of product.

Guess I shouldn't hold my breath for a location near Birmingham =P

Bassano del Grappa, Vicenza, Italy pleaseeeeee :D

They need a store in Birmingham, AL!

First, we need a few MS stores in the Dallas - Fort Worth area, we have Apple Stores all over the place. We also have a MS Campus next door to a Nokia Campus, suprised me the first time I drove by that they are actually neighbors. They would have some built in customers if they built it in the Irving area.
Miscrosoft needs to accelerate things as retail electronics stores are failing other than Apple. Best Buy is in trouble, Circuit City is gone and Fry's doesn't seem to be growing quickly. I think MS should do a deal with Best Buy. No serious Apple user buys their hardware from Best Buy, as one put it "that's blasphemy". Let's push out the in store Apple aisle and replace it with MS stores. Maybe they could even take a few of buildings off Best Buys hands and convert the whole store to MS Stores.
I know it wouldn't be upscale, but I also thought Mall Kiosks could be a hit. Take up some floor space, put a kinnect running Dance Central at each end, line the sides with Tablets and Phone you would get some traffic.

+1 for DFW. They obviously don't know how I like my toys are they would already be making a place for me to come visit. :)

Why Danbury CT? It is on the west border of the state. I would have thought they would choose a mall somewhere in the center of CT, e.g. Buckland Hill Mall or West Farm Mall. West Farm Mall has an Apple store.

There is one in Lenox mall, buckhead .Atlanta Ga

I'm in Baltimore so looks like I'll be gassing up the car to check out NY. Plus I have never been so this is the perfect excuse.

We definitely need some here in Canada. Toronto, Vancouver and Montreal would make sense. Apple already has there presence here.

Yes!! Totally going to Arlington when it opens

What is Microsoft selling in existing stores other than
software? Please enlighten me I live in Australia.
Apple has recently opened a very slick looking 600 square
metre store in the city centre.
The other morning whilst sitting in a cafe across the
road from the Apple store, sipping my skinny soy chi latte
with a hazelnut twist, I found it difficult to look in any other
direction. The place was buzzing at 9.30am on a monday.
I counted at least 40 potential customers and 8 or so sales
persons.
A trillion dollar corporation by years end......probably.
If we get a Microsoft store here, I'm hoping it will have the
same presence.
Windows smart phones can be counted on one hand and
not all phone sales outlets carry all brands. In some stores
you have to ask the question 'Do you have any Windows
7.5 phones in store'? The desktop or notebook experience
by potential customers is not in their mindset when it comes
to a new phone.
iPhones virtually sell themselves and Android phones offer
a mindboggling array, in terms of both choice and pricepoint.
I do see a Windows store in the near future full of Windows 8
tablets, ultrabooks and 7.5 or 8 smartphones. The usual
ensemble of professionally presented software with a range of
quality accessories tastefully placed in store. Importantly, highly
trained personel that don't shove product down your throat.



Send me your resumes at jayesh.amin@collabera.com
I'm hiring for this stores :)
Windows Central Newsletter
Thank you for signing up to Windows Central. You will receive a verification email shortly.
There was a problem. Please refresh the page and try again.