Unofficial Snapchat client, Swapchat updated with improved Windows Phone 8 support and more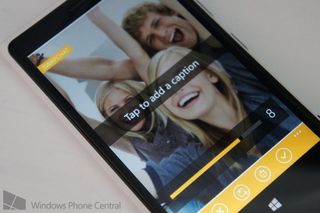 Swapchat, if you're not familiar with the name, is an unofficial Snapchat client for Windows Phone. We previously looked at the app when it was released on the Windows Phone Store, joined by a free version. The developer published version 1.2 to the store, which addressed numerous minor bugs and fixed some problems, but today we've got version 1.3.
So what's new in this latest release? Well, quite a lot actually. We're not looking at mere bug fixes and minor improvements. The developer has updated the app to use the v5 "Banquo" Snapchat API, implemented more Windows Phone 8 support and added numerous new features and functionality. If you've not tried this Windows Phone client yet, we strongly urge you togive it a go.
Here's a rundown of what's included in 1.3:
Updated API to Snapchat v5 "Banquo" (should be faster and more reliable)
Added WP8-native version
Added toast notifications for new messages
Added lock screen support (WP8 only)
Fixed Live Tile support
Improved friends management with a dedicated interface
Added ability to view a friend's best friends and score
Added recent friends on sending page
Tap-to-focus on viewfinder
Front-facing camera is now used by default (if available)
Added support for emoji on the caption (WP8 only)
Reduced text size to better match Snapchat's captions
Added ability to reset password when login fails
Fixed time setting not remembered between app launches
Fixed faulty time zone conversions
Fixed camera crashes when using hardware buttons
Other minor improvements and bug fixes
We're sure everyone will be pleased to see the above implemented, especially if you're an avid user. You can download Swapchat from the Windows Phone Store for $1.29. A free version is also available (right QR code), but is still on 1.2 for now. Thanks to Brad and everyone else for the tips!
Windows Central Newsletter
Get the best of Windows Central in your inbox, every day!
Rich Edmonds was formerly a Senior Editor of PC hardware at Windows Central, covering everything related to PC components and NAS. He's been involved in technology for more than a decade and knows a thing or two about the magic inside a PC chassis. You can follow him on Twitter at @RichEdmonds.
Good to hear the app has been updated. Been using it since its release.

Has the free version been updated? A lot of people are using the free one... Also do you know if the front face camera really is default?? Can it be changed in the settings? I don't want to have to see myself when i launch the app and i never use front facing.

I was just going to ask if it had video. Now I know. C'mon guys. Add video. Daniel Gary might beat you to it on his snapchat app and even instagram video which was recently announced. I understand it is hard work though.

They told me video was coming to Swapchat Beta this weekend. Oh and Daniel Gary has abandoned ChatSnap I believe

Please tell me it's fixed the aspect for the HTC 8X's front facing camera... it's so frsutrating currently

It's finally fixed - but not quite. If you launch the app, the aspect ratio is correct. But if you then switch to back camera and then to front facing camera again, it gets screwed up.

Works fine on my 8X :) was a much needed update!

Thanks for the heads up, I'll check mine as soon as I get home! At least it's not totally broken.

Crashes as soon as it opens for me. When I press on send a report via hotmail the whole thing closes and puts me back to Start.
Disappointing given the amount of features and fixes I've been waiting for after buying this app.

You've to unpin the tile from your home screen and start the app via the app list. Repin it and everything should work OK again. (:

I just opened the app from the app list and it worked for me. I'm guessing this will only happen for people who have pinned the messagelist to their homescreen as well.

Works but then crashes because of my stupid ffc keeps crashing any camera app if you go to open the ffc, only thing that pisses me off about my Lumia 820!!

Awesome. I had a friend who has an iPhone and commented on this app, saying that it looks better than the official Snapchat

Great work devs :) Keep it up

Does the official client have a friend finding feature? Not having one makes this feel incomplete

I'm donating some code to them for finding friends using your contact list. I had it working in ChatSnap, but since I abandoned that project, I wanted the code to be of some use to someone.

That's awesome! Its really the only thing holding the app back

Some true window developer love right there :)

Instant reboot when pressing the back button in the friends section. Samsung ativ s.

Thanks a lot dev! I'm glad I bought it the day it was out

hey i just did the update and now it wont work...it starts up then says application error then kicks me out...help?

I have an HTC 8X and everytime I try to open with the new update it shows the front facing camera for a few seconds, but the image is upside down. Then after a few seconds the app crashes. I have unpinned it from the home screen and tried launching it. I have uninstalled it and reinstalled, but nothing seems to work. Please Help!!

I need help, everytime i go to login to the app it says network error and i've tried resetting the app and my phone but the problem is still occurring. Can anyone help please

So I would really love to use this app, but it says it's not avaliable for my device. I have a Nokia Lumia 822 from Verizon and I used to be able to have this app for my device, but all of a sudden I no longer can...any reason as to why?