Unreal Tournament will support DirectX 12 for Windows 10 release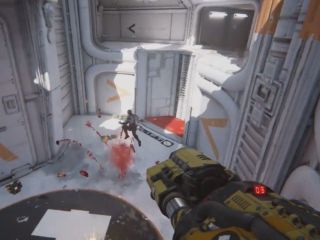 Microsoft announced that the new version of Unreal Tournament, the multiplayer first person shooter from Epic Games, will use DirectX 12, the next version of Microsoft's graphics API. DirectX 12 will be supported by Windows 10 and will officially launch alongside the OS.
Epic Games announced in 2014 their plans to release a new free-to-play version of Unreal Tournament using Unreal Engine 4. The general public can go ahead and download a pre-alpha version of the game on the official Unreal Tournament website, which just got updated this with a new map and some other new content.
Epic Games had already announced that Unreal Engine 4 would support DirectX 12 so it's not exactly a shock to hear this news. However, we are looking forward to seeing what kinds of graphical improvements can be put in the game with this support.
Source: Xbox Wire (opens in new tab), Unreal Tournament
Windows Central Newsletter
Get the best of Windows Central in in your inbox, every day!
Wow! I played UT 2004 like till my fingers bled. I'm curious what this 2014 version is all about. Is anyone playing this already?

Yep, I am and for a pre-alpha version it's not bad. It runs really well on DX10 hardware although it does suffer from quite a few bugs at the moment, that's to be expected though.

Is the www.beyondunreal.com website still around?

Some of the members are even working on the project alongside Epic Games. IIRC, the current Shock rifle, Flak cannon and Pistol are from them.

I still do a UT2004 LAN party at least twice a year. The game runs on almost any computer in existence and looks surprisingly good for its age. Timeless classic.

Dowloaded it earlier, played a few bot matches. Loved it. For a pre-alpha, it's ridiculously good. Obviously it will improve over time, but there's no reason not to jump in now.

Was sad to see no talk of what the universal map model could mean for WP. Only iOS and Android talk. Another stone in the coffin for Windows 10 for phones?

Huh? Its windows 10 what is there to know

There isn't a separate windows phone OS anymore, just windows 10 for everything :)

That's what the client sees... Internally, WP is still WP ;)


no no lol lets rephrase that, technically internally WP is now Windows 10 for phones and small tablets, period lol

God people like you and their damn drama queen attitudes need to go swim to the bottom of the ocean and quietly suffocate.

I think the word you were looking for is "drown". Lol.

Sentence-of-the-week award spotted! Nice one :-P

Wonder how DirectX12 will work on phones :P. As for the Unreal Tournament thumbs up! Fun

Hmm wonder if this will be a universal app so I can play on Xbox one. My surface pro can't handle this game lol. Hell ill pay to play this Game. I love the unreal series. Played unreal tournament, unreal 2, & unreal championship 1&2

Well don't forget to play UT2004! It's arguably the best one and beats the crap out of any newer games.

I played that one too! Just forgot :p

That's what I am wondering. Is this an Xbox on Windows 10 game and therefore also like to be on Xbox One?

I was ut99 24-7...don't think its around anymore but who remembers ngworldstats...I was ranked #1 in the world for like 4 seconds. It was a great feeling lol

Haha those days of reaching the top of the leaderboard

You can buy it (also unreal and unreal 2) on gog.com, people still play it.

Wow!!! UT is back?! WoooHoooo!

This just made my day. Unreal tournament is coming back!! :-D

Download it now, for Windows and Mac! There are only a couple of character models, but it's surprisingly complete already. I hear they're adding new builds very regularly, and you will have to put up with some bugs, but it's free! You can always play local bot matches by yourself too.

Used to have everyone in the office playing this at lunch time at the turn of the century. Can't wait to play again.

Will this run on phone/mobile?
Stupid Epic had this nice techdemo "Epic citadel" on iOS and Android and I saw a video of a Windows version, that they never published to the public.
Or has it been released in the meantime?

DirectX 12 is Shader model 6? DirectX 11.3 is Shader model 5! Consoles are Shader model 5 only! I heard that the new Snapdragon 820 using Adreno 530 graphics GPU that does Shader model 6 (DirectX 12)

DX12 and 11.3 are still Shader 5.

Oh. My. Gawd. What box did I pack my Flak Cannon and ASMD rifle in?! Look at all of this CRAP I'll never find them in time!

UT 99 was the first online game I ever played. 2003 ruined it, 2004 sort of redeemed the franchise. I hope they go back to their roots with this new one.

I can tell you now, as a huge fan who grew up on ut99, its very true. As you know, its in collaboration with the community. All though alot of them are ut04 fans (hated that fucking game) I feel a stronger 99 feel. 04 felt slower, but this is very fast, very fluid, and it just has the same nostalgic feeling that 99 gives me but obviously with a way better look.

Unreal tournament is life. Life is unreal.

Unreal Tournament was the first FPS game I had ever played. Seeing a flack cannon in the picture is excited me.

The flak is amazing. It's my go to gun, feels like it did in 99.
I heard talk about a ripper as well..
Windows Central Newsletter
Thank you for signing up to Windows Central. You will receive a verification email shortly.
There was a problem. Please refresh the page and try again.