Beer lovers rejoice as Untappd gets major makeover in 2.0 for Windows Phone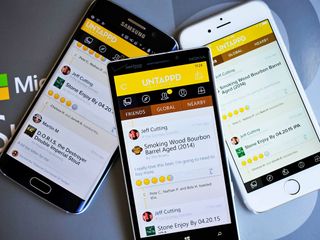 If you like to drink beer (and who doesn't) then you want to grab Untappd 2.0, now live in the Windows Phone Store. The free Untappd service lets users look up beers and check-in, record ratings, upload photos, notes and sharing the information socially. Users can even earn badges or follow people for recommendations on beer.
The previous app for Windows Phone was infamously a Phone Gap app, meaning it was not actually native, but rather a port with limited functionality. This limitation seems to change with 2.0, which looks to be a native app. Even better, the Untappd developers have included a rather lengthy changelog. Let's take a look!
Untappd 2.0 for Windows Phone
Push Notifications - We finally bring the power of push notifications to the Window platform!
Better and Smoother Scrolling - no more "window jumping".
You've asked for it - and it's finally here: Quarter Star Ratings! You can now rating your beers to the .25th degree.
Make a spelling mistake with your check-in comment/review? You can now edit it and fix those typos.
Forget to add a location to your check-in? You can now add a location to your check-in, after you have checked in.
Check-in Alerts: You can now get alerts when your friends check-in! You can turn this on for Nearby checkins or for all Alerts! Enable this on their profile page today!
Want to change your username? Now you can change this via the application, in your Profile Settings.
Added an In-App Feedback button for you to let us know any feedback you may have
That is a rather significant feature list for Windows Phone. Even more importantly, as far as we can tell this brings the app up to feature parity with iOS and Android (the app looks closer to the Android version with some design elements, though there are subtle differences too).
Up until now, we have been enjoying the excellent third party app Tapped, but we may take another look at this official offering again. Grab the app and tell us what you think!
Download Untappd for Windows Phone
Thanks, Adam, for the tip!
Daniel Rubino is the Editor-in-chief of Windows Central, head reviewer, podcast co-host, and analyst. He has been here covering Microsoft since 2007 when this site was called WMExperts (and later Windows Phone Central). His interests include Windows, Microsoft Surface, laptops, next-gen computing, and for some reason, watches. Before all this tech stuff, he worked on a Ph.D. in linguistics and ran the projectors at movie theaters, which has done absolutely nothing for his career.
Using the same tools MS announced for Windows 10?

As I noted in the article there are certain design element changes that suggest no.

Dan, I want your autograph.

Burp, in your face, too needy, Will and Grace flash back

But whatever lets have a mug! Shall we?

Doesn't mean they couldn't alter it while working on it. :P
Well who knows, not sure what to believe since the candy crush revelation xD

Why not? They did say those tools would help you port, not straight out cross compile. There are a lot of similarities with the Android version. I'd wager a beer they did it :)

Devs I'm speaking with believe they are using Cordova, which maps PhoneGap to WinJS, making this not part of the Android bridge.

The tile is now broken.. The tile logo is low resolution & is formatted off-centered now.

Yaaayyy...I love beer, in fact reading this article makes me wanna take one.

Haven't tasted beer yet...

Being Indians.... Most of the people are under parents control.. Me too haven't tasted and will not

I just had a Kingfisher which is an Indian beer. Is it just a part of India that doesn't drink beer? I know my friends who own the Indian restaurant near my work drink a beer every once in awhile.

Lol no, it's kinda a matter of choice, drink if you want to, do,t if you don't want to

Yeah right. Think about what the neighbors will think and the shame you brought on this family. Choice...

Is it third party app or official ones?

Thought I made it clear this was an official app.

You're mean. Can you be soft with your answers? Kidding! lol

Okay cool! What's your favourite beer Dan mine is Heineken,Carlsberg & Tuborg(Can't choose one lol.) #BeerFan.

Leon, Modelo Especial, Minerva and just for the hollydays (because is on sell only on those dates), the epic Noche Buena.

I wonder why is it that people post questions without even reading the articles. It feels like those people don't appreciate the hard work of the authors here at Windows Central. Daniel, do you know if it is the same on the other Mobile Nation sites?

Many people across the world prefer not to humiliate their palette by subjecting it to vile and crude liquids like beer.

Many people around the world also leave pretentious comments on the internet.

Unless you're Hachiman Hikigaya from my teen romantic comedy snafu. xD

And many people across the world prefer to sip on a well made brew. Get over it.

The second most consumed beverage in the world, and the most profitable beverage in the industry begs to differ from your opinion... At one point, one could not survive in civilized parts of the old world, without consuming, since the water was so bad... Watch the series "how beer saved the world" three part series because beer saved the world 3 times...

Sheep. Poisoning themselves.

You, my friend, are delayed.

That's a comment made by someone who's never had the pleasure of sitting down to a nice pint of Ringwood Fortyniner ! Posted via the WPC App for Android!

See what /build had done for the faith in Windows going forwards. Amazing.

There's something a bit odd going on with the Live Tile. I have always had Untapped use the smallest possible tile, and all I have after the update is a yellow tile with the very top of the logo at the bottom.

Still prefer the app Beerbasher who is directly link to ratebeer.com so you can connect with you ratebeer account, you got the biggest database and rating for beer !!!

Thank you for mentioning that application. I will check both of them and see which one is more appealing :D

Ratebeer is one of the best sources for all things beer.

Here's to an app update I'm actually excited about! I use Untapped a lot...

Awesome! Hooray for Beer!!!

After the chocking Candy Crush revelation everytime a game is released or an app receive a massive update I tend to think that was MS that offered I "early preview access" to their new porting tools. They certainly can do this. Sad that I am pretty sure they tried this with Instagram and they refused.

Why are there lakhs of apps in store.... Bcoz Drinking beer is also assisted by number of apps

The tile is now broken.. The tile logo is low resolution and is formatted off-centered now.

For nerds and inside baseball types... It will be interesting to see what they ended up doing to reach *native* status. It's likely using 8.1's Cordova support. This takes your HTML and maps it to 8.1's new HTML / JS framework (instead of XAML / C#). Tweetium is a great example of something similar.. though, I think Brandon doesn't use the Cordova layer. As the creator of Tapped, I have mixed feelings about the release. If you want the full feature set, go get Untappd. There's a lot of use cases I don't cover, especially around profile management and newer features (quarter ratings, autocomplete). If you want a more polished experience, Tapped is still probably your best bet. Even on iOS, I find Untappd to be terribly buggy and ugly. For what it's worth, I moved back to iOS after 5 years of supporting Windows Phone. That being said, if anyone wants to take over the Tapped codebase, please get in touch.

Just so you know, I love Tapped. I keep both Tapped and Untappd pinned. I use Tapped for the majority of my Untappd usage, especially for my check-ins (for the ability to choose which part of the pic is used) and most of my viewing (the full-screen feed and ability to toast/comment without changing screens is fantastic). I still use Untappd on occasion for most badge viewing, viewing my past check-ins of a beer, the 'nearby' feature, and friend management. You did a great job with Tapped, though I have often wondered if/when you'd be adding features. I'm a developer and might be interested, so I'll ping you about the code base. I'm curious about your costs, the Untappd API usage, and whether the Untappd guys have tried to block you again.

I was just abiut to post something to that tune. :P

Three cheers. This is an excellent app!

King Cobra, delicious. Burp.

Seems to run smoother and been really wanting those push notifications. I'm having the same live tile issues also. Small and medium tile not scaled right, and wide tile goes transparent with no icon. Still appreciate the update!

Woo hoo... Now there are even more features for Daniel to tell us where/what he's been drinking! =P Huge props to Untappd for bringing Windows up to date. Keep up the great work!!!

I love beer but always forget to remember if I drink something more unusual what it is... I really should use this app. :) Good to see this getting an update!


This is a great social app if you're into craft beers. I have now almost 500 checkins, 300 distingt beers and 200 badges. It's fun if you compete with your friends, but also dangerous and I'm sure your liver doesn't like this app a whole lot.


Happy to hear! I love beer!

Wow, great update! I was just talking with a friend about how the WP version hadn't been updated yet. I'm glad to see it happen so soon. My pinned tiles aren't displaying correctly, though. Anybody else notice this problem?

I can't get the notifications to work. The app is not available in the notification center. Tried to reinstall but no luck. Any tips?

Untapped on windows are smoother and more enjoyable than two other platform... hope it will be universal soon.

What a joke!! Nothing like BELGIAN BEERS!! Gee :P

Hey, I'm famous (or something). Hadn't caught up on WC yet today, but got an e-mail and FB post from some friends. Cheers, Daniel!

Anyone else have their tile icon off center? My shows a lot of yellow and then the top of the two beer bottles. It's like it's the top half of a 9x16 image.

Drink a couple more and you'll see it aligned dead center.

That is your idiotic opinion, and not"many people across the world"
Windows Central Newsletter
Thank you for signing up to Windows Central. You will receive a verification email shortly.
There was a problem. Please refresh the page and try again.