Upcoming Microsoft Store in New York City gets a new look ahead of opening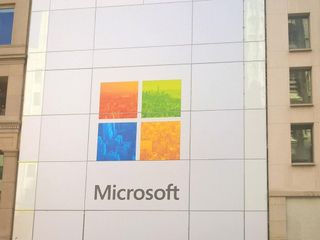 This week, some changes were made to the look of the upcoming flagship Microsoft Store in New York City. The construction scaffolding facade was removed from the store location earlier this week, giving the storefront a new look ahead of its planned opening later this fall.
Based on the picture uploaded to Twitter by Gerardo Naranjo, it looks like Microsoft still wants to conceal the final look of the new store, which is located at 677 Fifth Avenue in Manhattan. While the construction scaffolding is now gone, there's now a cover that's been placed over the store with a version of the Microsoft logo. However, it does look like the location is only weeks away from opening to the public.
The new Microsoft Store, which was first announced over a year ago, will have several floors, including one that will have what the company has called an "experiential space" for customers to check out. Microsoft is currently running a contest in the US where the grand prize is a trip to attend the grand opening of the store.
Source: Gerardo Naranjo (Twitter)
Well new hardware will be announced Oct 6th...

I would say the end of October. It will not be ready by the 6th, otherise they probably would have had the launch there. Although, the space would be limited.

Boo, I will be there next week and would have loved to popped in. Posted via the Windows Central App for Android

Why not the same day as the press event?

The press event is in NYC iirc...

Honestly, I think the more simplistic Surface logo would look better and represents quality. It's time to drop the colorful logo and leave the colors to your Windows phone start screen if you want.

You may not be able to see it but the lock on the store front has New York skylines in each color square

I'm still wonder if in that image its really the real exterior design of the store or still covered? For me, Store that lacks windows (pun intended) feels unwelcoming and isolated.

Won't help them against Apple, whose stores are way cooler.
Anyway, I couldn't care less. Make stores international, now.

Apple stores are not cooler. While pretty the apple store here is a disorganized mess

I highly disagree. The Microsoft Stores here in Canada are WAY better (and more fun!) than the boring Apple stores. The stores are more modern looking, and have awesome interactive video walls. The overall store setup is nicer too. The Apple Stores (at least the ones here) are really ugly and dull looking. They look like outdated spaceships or something with boring grey walls. Also, lots more people here in Canada have been buying Microsoft devices/services now that the stores have arrived. Before the Stores were here, I barely saw anyone with Lumias/Surfaces, but now I see pepole with them everywhere. It makes a difference, and I love the Stores.

I totally agree. Now the new store in downtown Vancouver is amazing and I see tons of people in there!

We still don't have any Microsoft Store in Québec and pisses me off to no end!! Why are there so many in Toronto and other canadian cities but none in Montréal? :(

How is it cooler? All I see is several tables of ipads, iphones, and macs. Nothing particularly cool about the store. Only reason you would thing it's cooler is because you think all Apple products are cool. In the beginning they were cool. Now, they are more of the same and not really better than the competition. I would rather go to a Microsoft store and see the broad selection of devices from many OEM.

I don't think they're that much cooler, but the Apple stores *are* way more profitable. There's no argument whatsoever about that. They have the most profitable per square inch of retail space, this side of Tiffany's.

You got that right! It like close to $10K a square foot! Plus, Apple stores get rock bottom lease rates because they draw people to the mall! Apple has it made. Mall operators go out of their way to please Apple; just to make sure they don't move somewhere else! They always can pick their spot too! Mall operator just ask the current tenants to move! LOL!

It looks like they have doubled down on the construction, because a week or two ago they were jack hammering to breakup concrete to fix the plumbing. Maybe they will make it for the 6th...

I'm assuming all that white and blue over the windows are just protectors. I rather see the final open up version of the store.

The whole thing is covering. The will take it off on the grand opening day.

I'm really excited for the opening what it will looks like. Also, of course it should have a windows!

Windows phone? I'm confused

Yeah I am too. When the store opens, WP will be yesterday's thing.

Those are temporary coverings. At this point, it is still Windows Phone. Windows 10 Mobile has not be officially released yet.

"Windows phone? I'm confused"

Windows Phone = the phones Windows 10 Mobile = The name of the OS phones will run

That's a temporary front end. It'll be removed when construction is complete.

Man, New York is only about three hours away from where I live. I think I really might take a trip up there to check this out in person. We're so close to the launch of new hardware. The only left is for Microsoft to mention T-Mobile and Lumia 9XX in the same sentence. At least one of them...

For size I want the 950, for looks and built in wireless charging I want the XL. So I hope they get the XL if they only get one.

Man, New York is only a 20 hour flight, and $2000, away from where I live. I know I really want to take a trip up there to check out this in person. ;)

You're so dedicated to the platform. Good for you sir.

I just wait for my company to pay for my flight... I'm not that dedicated... Or that wealthy hehe

I predict that the large tiles under that covering are actually monitor panels. And they will have a demo of [W10, W10 Mobile, Xbox] in action, along with video ads to draw people in. At least, that's what I would have done.

Man, how did I get down-voted for that comment? Some people's kids....

That would be cool to have live tiles as windows!

I can't wait to visit that store

It'ld be so cool if they streamed the October 6th conference, but no, won't happen... And I don't think people would really care, but at least it would draw people's attention

Watch live Tuesday, October 6 at 10:00 am EDT online or on your Xbox.
https://www.windowscentral.com/e?link=https2F%2Fclick.linksynergy.co...
#Windows10devices

I wonder when the Microsoft Band will get a proper logo set. It looks kind of sad next to the other Microsoft logos. That and I wonder what logo they will use for the HoloLens.

Not sure why the Microsoft Logo Square s are right on a joint? I would have bumped it up a bit. Posted via the Windows Central App for Android

That's a temporary cover, so it's not a huge deal. Though yes, you would think they would've adjusted it a bit
Windows Central Newsletter
Get the best of Windows Central in in your inbox, every day!
Thank you for signing up to Windows Central. You will receive a verification email shortly.
There was a problem. Please refresh the page and try again.