Update Now: Windows Phone 8 devices get maps refresh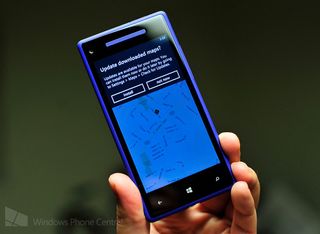 We reported earlier in the week on s slew of updates for Maps but in case you missed it these apply to all Windows Phone 8 handsets. Windows Phone 8 has been designed with the ability to download and install maps that can be used offline.
From time to time these will get updated with improved detail or just changes that normally happen to maps over time. Unlike other updates the maps don't appear to have a push mechanism so you'll have to kick the process off manually. Read on to find out how.
The ability to download a map for offline use has a few advantages. The first being you will always have access to a map regardless of if you have a mobile data connection or not. The second is that even if you do have a data connection you won't burn up your precious data allowance re-downloading maps over and over.
If you are already familiar with how to download maps skip step one and head to step two
STEP 1
Download Maps - Find Map - Click to download
Let's get started, on your phone go to the Settings Menu, swipe over to Applications and click on maps. Here you have the option to download Maps, click on the button which says 'download maps'.
At the bottom you can see a + sign, hit that and you can then go through the menus to download maps for your entire country or just a specific region. In my case I have the entire United Kingdom Maps installed. Pick your map and it will then download and install. It's as simple as that. You can download as many maps as you desire, space permitting.
STEP 2
To update you existing maps go to the Setting Menu, swipe across to Applications, select Maps and click the button to update. If there is an update available it will then download and install.
Settings - Check for updates - install.
Now that maps are available to download offline its essential that you keep them updated. Now you know how to do so. We have had confirmation from many other readers that updates are going out to most regions.
Let us know if you experience any big changes to maps, comments are open. Thanks, Larry, for the reminder!
Get the Windows Central Newsletter
All the latest news, reviews, and guides for Windows and Xbox diehards.