More Mapping updates from Nokia inbound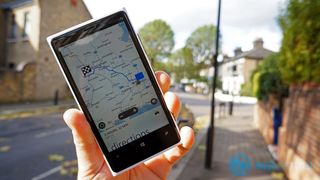 Nokia unleashed a veritable salvo of updates earlier which we reported on but it seems that the updates to the mapping components weren't quite done with, there is more.
Nokia Maps has introduced better integration with Nokia Transport and we noticed an odd disconnect in the app when getting more information would prompt a search in the store. We have had confirmation from Nokia that they will be releasing an update shortly to correct that. Read on to find out more..
The issue seen concerned the ability to get more public transit routes from within Nokia Maps, we suspected this may be due to the Nokia Transit app not being fully up to date. That was confirmed to us by Nokia who are currently putting through an update to Transit which we can expect later today and in some regions right now. The update for Transport is confirmed live in the US and the UK at time of writing.
There has also been an update to the actual mapping data for the platform, this was seen very early today here in the UK and we have confirmed for California, we suspect they are wide reaching. If you haven't already done so you should head to your device and hit the settings menu, go to applications, click on Maps and then check for updates. Please ensure you get the latest version of the mapping data for use with the new maps apps. We are told Serbia and Israel have been included in these updates and should improve on what was currently there.
Update your mapping data..
The latest version of Nokia Transport will show up as version 3.2 but this may take some time to filter through the servers in your region. We'll be sure to update when we can download the Transit update later.
Update to Nokia Transport/Transit
Please let us know in the comments if you are seeing the updates where you are and please be sure to tell us if you notice anything new. We'll be watching.
**Update**
We can confirm that the update to Nokia Transport has now corrected the issue with Nokia Maps. When clicking on more routes it will now just throw you into Nokia Transport from Maps and present the correct information. Similar app to app communication can be seen with Drive and Maps where one can launch the other.
There is a little more about the update listed here:
We have also been told that the Mapping apps from Nokia will soon receive the full 'Here' branding that their online maps have recently been changed to. We'll keep you updated on that as we find out more.You can download Nokia Transport from the Windows Phone Store or Scan the QR code below
Windows Central Newsletter
Get the best of Windows Central in your inbox, every day!
i STILL think Bing Maps should be offered as an option on the Lumias. I like the "Option" of Nokia maps, i can go to Apple if i want to be landlocked.

There is Bing maps on the device. The link has been removed to launch it. To remedy that download an app called "maps" which is just a shortcut to the bing maps and you're good to go.

OR just type maps.bing.com into IE. Same thing.

This Is a quality feature none-the-less.

Love my job, since I've been bringing in $5600… I sit at home, music playing while I work in front of my new iMac that I got now that I'm making it online(Click on menu Home) https://goo.gl/m5R0f

$5.6k a year, damn straight. Here's a piece of advice: get a real job. No matter who you are, spamming isn't employment you'd want in almost any case.

Hey Robert! I got all my Apps Updates and I just checked the "Get Directions" and get more routes with Tramsport and when clicked, I get the addressed to the Transit App on the store, dowloaded and everything works Perfectly!

Great news, let us know if you spot anything new! :)

I just installed an update, the version of Nokia Transit is now v.3.2.868.0 - location Denmark.


Sweet, looks like the updates are filtering through quickly.

I can't take it anymore, I need firmware update now... Skipped gym and sleep today, just sitting there, clicking the stupid check for updates button

You've got to get back to your regular life, we only have until Friday!

Can confirm that offline maps for Texas are updated.

Nokia transit update now available in UK

Vodafone Germany, Nokia Maps app updated. German maps got an update too, but I need to wait for a WiFi connection to update this large one.

Got the Update in Australia, the traffic information is waaaaaaaaaaaaaaaaaaaaay better now in Melbourne, mty only problem with Transit is that it doesnt have bus schedules :S


My question is why maps still won't support compass?

Just downloaded version 3.2.868.0. Carrier At&t US

I received the update of the maps on my 8X two days ago. Sadly, still nothing for Japan and I go there soon but in places I'm not used to go (ie. not Tokyo).

I'm from Germany and got the transit app and map data updates. I have the maps for Germany, Austria and Switzerland installed. So I guess they changed something in those countries as well

Got all the updates in boston

Still no DC metro in Nokia Transit...sigh.

Traffic data is still better from the regular maps app. They need to get with it. What is odd though, back when the collaboration started and the integration of Nokia services into Bing took place, the bing traffic layer got much better. I was seeing more secondary streets than I was prior. Now with the Nokia Maps app, i'm only seeing primary roads. I just don't get it.

Keep posting about this issue in the Nokia Discussion forums, that is our only hope of them hearing us. They NEED to merge the Bing data with Nokia Maps for traffic but maybe more important, POIs.

Thanks Nokia, keep the updates coming, must have updated 5-6 Nokia apps yesterday, almost didn't sleep lol update: Dallas, TX using att

Keep the updates coming! The more the merrier!

Not available for my phone, is it WP8 only?

Unfortunately, Nokia still refuses to implement real-time GPS-based bus tracking information in areas that support it. These makes it pretty useless in the Boston-area.

Also, the maps themselves were actually updated at least a week ago, because I got the updates then.

Ya I still use the Bing Map's for traffic information .. It is a million times better then the Nokia Maps baked into WP8 :( which is really SAD. I wish they would just hand that stuff to nokia's map's already.

Hi this is Pino from the HERE team at Nokia. Actually we provide the same traffic information for both apps, Nokia Maps and Windows Phone Maps. Just yesterday we have update however Nokia Maps to improve how traffic information are displayed, please have a look, you should be happy now ;-)

Just updated Delaware, Maryland, New Jersey, New York, Pennsylvania, Virginia, and Washington D.C maps.

There are a couple things that bug me about Nokia Transit. The biggest is that there doesn't seem to be a way to set mode preferences. Where I live in Philly, I can catch a bus on my corner, or walk 3 blocks to the subway. Oftentimes, the subway is better because of more frequent headways, free transfers to the el and trolleys, and underground access to Suburban and Market East station for regional rail.

Hi this is Pino from the HERE team at Nokia. This is a grea feedback, actually! The team will take into consideration for one of the next releases.