Busy times for Nokia as they update Maps, Cinemagraph and Music apps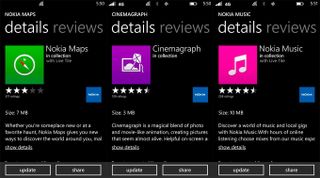 Hot damn. Nokia has updated a handful of their Windows Phone 8 apps for the Lumia 820 and 920. Most of you are going to bed excited for 'Portico' to hit tomorrow, but now get even more. Nokia has updates in the Marketplace for Nokia Maps, Cinemagraph, Nokia Music and some audio settings. Read on to see what has changed.
Starting off with Nokia Maps we get two new features, the first being a new traffic layer that improves reliability and quality of flow information. I wish I had compared before and after for the traffic layer, but I do remember not being as impressed with it and having a hard time telling the direction of traffic. Now the update makes it a lot easier to distinguish the flow of traffic and which direction. Check out the screenshot below of a typical Monday in Los Angeles.
The other addition to Nokia Maps is the ability to get public transit schedules from the route planner. When you select public transport as your mode of transportation you'll have the option to "get more routes" right above the directions. Oddly, I clicked that and was directed the store to search for apps to complete this task. The option was to install Nokia Transit, which I have, and resulted in no solution. Maybe an update for Nokia Transit is incoming?
Cinemagraph receives a most-welcomed upgrade – the ability to share your creations with the world. You can select 'share' from the app menu when viewing a picture in Cinemagraph and upload it via social media, email, or messaging. In all instances the image is uploaded to Nokia's servers and the recipients are sent a link to view the masterpiece, like mine below. The site is also mobile friendly, so if you send it as a text message to a buddy you can rest easy they'll be able to see it.
The update for Nokia Music is a little harder to figure out. There wasn't anything in the Marketplace description indicating new features, bug fixes, etc. If you notice anything new please let us know in the comments below.
There is also an update for the audio settings, but I was unable to download them from the marketplace. So, like Nokia Music, if you notice anything new before I get the update, let us know. Update - Over at MyNokiaBlog they have a screenshot of the Audio settings update. So what's new? You can now set the same playback volume for all music and video tracks. Also some folks in the comments are saying there are more presets for the equalizer. (Thanks to Windows Phone Central reader Chad for the image below)
It's great to see Nokia working hard to make their current devices and services better. We showed you the improvements they've made with the camera in the Lumia 920 earlier today. Now we get these apps updated and can look forward to Portico tomorrow. As Ice Cube would say, today was a good day.
If you're a Lumia users running Windows Phone 8 and want to upgrade, you can find all three apps in the Nokia Collection in your Store App. You can also hit these links from your Nokia Lumia Windows Phone.
For Nokia Maps go here in the Windows Phone Store. If you want Cinemagraph go here in the Store. Last, but not least, if you want Nokia Music go right here. Or use the QR codes below with the order Cinemagraph in the middle, Maps and Music on the left and right respectively.
Thanks for the tip Jamal!
Get the Windows Central Newsletter
All the latest news, reviews, and guides for Windows and Xbox diehards.