Busy times for Nokia as they update Maps, Cinemagraph and Music apps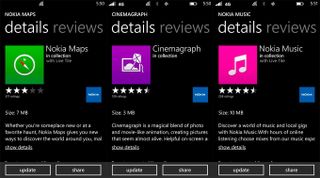 Hot damn. Nokia has updated a handful of their Windows Phone 8 apps for the Lumia 820 and 920. Most of you are going to bed excited for 'Portico' to hit tomorrow, but now get even more. Nokia has updates in the Marketplace for Nokia Maps, Cinemagraph, Nokia Music and some audio settings. Read on to see what has changed.
Starting off with Nokia Maps we get two new features, the first being a new traffic layer that improves reliability and quality of flow information. I wish I had compared before and after for the traffic layer, but I do remember not being as impressed with it and having a hard time telling the direction of traffic. Now the update makes it a lot easier to distinguish the flow of traffic and which direction. Check out the screenshot below of a typical Monday in Los Angeles.
The other addition to Nokia Maps is the ability to get public transit schedules from the route planner. When you select public transport as your mode of transportation you'll have the option to "get more routes" right above the directions. Oddly, I clicked that and was directed the store to search for apps to complete this task. The option was to install Nokia Transit, which I have, and resulted in no solution. Maybe an update for Nokia Transit is incoming?
Cinemagraph receives a most-welcomed upgrade – the ability to share your creations with the world. You can select 'share' from the app menu when viewing a picture in Cinemagraph and upload it via social media, email, or messaging. In all instances the image is uploaded to Nokia's servers and the recipients are sent a link to view the masterpiece, like mine below. The site is also mobile friendly, so if you send it as a text message to a buddy you can rest easy they'll be able to see it.
The update for Nokia Music is a little harder to figure out. There wasn't anything in the Marketplace description indicating new features, bug fixes, etc. If you notice anything new please let us know in the comments below.
There is also an update for the audio settings, but I was unable to download them from the marketplace. So, like Nokia Music, if you notice anything new before I get the update, let us know. Update - Over at MyNokiaBlog they have a screenshot of the Audio settings update. So what's new? You can now set the same playback volume for all music and video tracks. Also some folks in the comments are saying there are more presets for the equalizer. (Thanks to Windows Phone Central reader Chad for the image below)
It's great to see Nokia working hard to make their current devices and services better. We showed you the improvements they've made with the camera in the Lumia 920 earlier today. Now we get these apps updated and can look forward to Portico tomorrow. As Ice Cube would say, today was a good day.
If you're a Lumia users running Windows Phone 8 and want to upgrade, you can find all three apps in the Nokia Collection in your Store App. You can also hit these links from your Nokia Lumia Windows Phone.
For Nokia Maps go here in the Windows Phone Store. If you want Cinemagraph go here in the Store. Last, but not least, if you want Nokia Music go right here. Or use the QR codes below with the order Cinemagraph in the middle, Maps and Music on the left and right respectively.
Thanks for the tip Jamal!
Windows Central Newsletter
Get the best of Windows Central in your inbox, every day!
Damn, Nokia is on fire lately

http://forums.wpcentral.com/attachments/nokia-lumia-920/25072d1355887955...

Love my job, since I've been bringing in $5600… I sit at home, music playing while I work in front of my new iMac that I got now that I'm making it online(Click on menu Home) https://goo.gl/Rfe3C

Thanks for the info. Just updated all three apps. Nokia ain't playing.

Thank God there is WPCentral. For some reason updates never show up when I access the store...

If I recall, the Marketplace checks once a day for updates. So that's why sometimes you'll see a bunch of apps at once. I'm sure someone will correct me below if I'm wrong, but that's how it works I think. Otherwise, in the next 24 hours you'd see all the apps available for update. Anyways, we love you too. (edit- I stand corrected. Unless someone else chimes in)

No... Not sure what pattern (if any) they use, but I've had three separate instances of app update notifications just today, as a for instance.

Agreed. I go weeks not knowing about updates and only find out if I happen to stumble upon an old article on WPC. And this has been going on since WP7

I find that it checks at least once per day as long as it's still pinned on the start screen... beyond that, I have no idea. I've not gone more than 24 hours, but WPC usually posts right away (or at least within a few hours), and every time I go to the app, it offers it right away. It's annoying that there isn't a manual check for updates button, but I don't find it all that painful to do it by hand either... especially since I check WPC constantly, lol.

Was just about to post the same thing...

HTC updated many of their apps too including the beats audio app

Yeah! G is working on that post right now. Should be up shortly.

Makes me that much happier I chose the 920 over the 8X...no disrespect to the 8X though!

U made the best chose ,no need to apologize to HTC lol .

Nokia is awesome. They really do listen to their consumers. Ever since I bought the 920, I've been trying to spread the word around about all the great work Nokia is doing. And they continue to impress with their regular updates!

I use the built in Nokia feedback tool in Settings. It seems they read each an every concern of customers. Awesome! I will buy whatever their next Lumia phone is, blindfolded.

Finally I can share my cinemagraph masterpieces with the masses!

Lol - do they work on Facebook?

you get a pretty big thumbnail, but (fortunately) it's just a still. Otherwise facebook timelines would get chaotic. But yeah, amazing work from Nokia. Sharing was really needed to make cinemagraph useful. Now they need to enable coments and likes etc on the memories.nokia.com

This is what sets Nokia apart for Windows Phone. They're here not just to make money, but to offer the best experience to their customers and they prove it. If only they would stop limiting their flagship devices to certain carriers worldwide. Other than that, they've done everything you could ask for and as soon as I get a chance I'm leaving T-Mobile for ATT and a smoking hot red Lumia 920. That's a phone I could really enjoy for the length of a contract. I'll use WhatsApp to save on messaging costs so I won't be stuck with an $80 plus bill.

You should try out straight talk. I went with them partly because they are way cheaper than ATT and don't want any more contracts. I have been with them since I got my 920 a month ago and service has been very good. Do enjoy your Red 920! Cheers

Thanks I'll have to try them out. But I would have to buy the phone outright then? And do they support LTE or HSPA+?Either way, I'm getting one.lol

Yes you have to buy it outright and straight talk only supports att hspa+ not their lte

It sound weird but I have both cyan 900 and Red 920 and I'm still with Tmobile. I've 10gb data with tethering and all I do is to use my Radar as a hotspot to my venerable Red L920. I always use Bluetooth headset so nobody sees that I'm actually carrying two phones and the 920 basically is my daily driver. I must admit that it gives me the best smartphone experience you can't find anywhere.

Wow, that's such an interesting concept. I sold my Radar to get an unlocked HTC Titan which is great cause I get plenty of 4g speeds now with T-Mobile expanding their network. I really would like to stay with T-Mobile though. So maybe I'll just pay for monthly hotspot and get the L920 that way. Thanks, neve lr thought of that.

Could you not just unlock the L920? I live in Canada, and simply purchased a Rogers L920, unlocked it, and am currently using it with Telus, but I could just as easily use it in the states, with T-Mobile, for example.

From my understanding the Lumia 920 does not have the bands needed for an unlocked 920 to get anything better than Edge network on T-Mobile so even that would not help. My unlocked HTC Titan supporting those bands actually gets 4g all over Baltimore. But if an unlocked Lumia 920 can get 4g on T-Mobile as my Titan does, I'll gladly pay full price for it.

I'm not too sure of the 920 lack of support for the T-Mobile refarmed network but I live in Columbus (Ohio) and the Tmobile is yet to cover here with the refarmed network but I'm very certain that AT&T Lumia 900 perfectly gets 4g speed on T-Mobile refarmed network. I was recently in Long island and I did enjoy 4g speed on my retired Lumia 900. For now I'm 4g on my Lumia 920 through the 'hotspot general'(HTC Radar).

THIS is why I chose Nokia over HTC. They actually UPDATE their apps and firmware. Now it does look like HTC has taken a more agressive approach with their new WP8 devices, but lets just see how long it takes before they sink back in to bad habits.

Looks like the audio adds more presets choices

Can you send me a screenshot? sam at wpcentral dot com

Not sure if it's the firmware or the app, but Display+Touch is also updated with more options. I'll email a screenshot of that too.

They added Sunlight Readability toggle and an option to enable auto lowering of screen brightness when phone goes into battery saver mode.

And offline downloading works in background now!

http://mynokiablog.com/2012/12/19/more-nokia-apps-get-updates-for-wp8/

It will make me very happy if tomorrow's update fixes the batter from overheating when using nokia drive and other Apps.
Thanks guys @ WPCentral for the info!

For Audio changes, I think Audio Levelling was added. At least I don't remember that from before.

Wow, I was literally just thinking hours ago that Nokia should include a volume normalization feature too.

Thank you WP Central for reporting this since Windows Phone 8 cannot seem to show available updates. I leave my phone connected to WiFi all day as well as on the charger, so it has plenty of ability to check as well...

Had the same issue. Only way I could fix it was to factory reset the phone. Hopefully tomorrows Portico update will fix that issue.

Just noticed a couple of things in Nokia music

1. There is a Create a Mix. From what I see you can let Nokia scan your phone/computer and create a mix for you or you can create it. AWESEOM!

Create a Mix was always there, but without the library scanning.

Unless I completely missed the option, the create a mix seems to only be for computer scanning. I see nothing for scanning your phone

Yay, lots of update, and I am showing Audio also. Awesome.

I had also received a Nokia update for access point today as well

Please give me even a crappy version of playto

Hey, head to the forums and share your Cinemegraphs with everyone!

Yea the Nokia music update is nice actually reads ur music and makes great recommendations could never get it to act right before and too lazy to manually search

Create a mix has been there just not phone version and could never get it to do a complete scan of my computer

OMG! Nokia Maps finally shows traffic for NYC! Its not silky smooth but at least it works now. I think they really need to focus on performance in the next update. But I got a feeling they may already be working on the next version. My guess it will come in early summer and be connected with HERE. Hopefull they will barrow some POI data from Bing too, at least for the US

I STILL NEED A LINK FOR THE AUDIO UPDATE!!!!!!!!!!!!!!

Did you even read the article? No. You did not.

I did read the article. Multiple times. There was no link for audio and you can't even tell what the ones you gave are without clicking.

still haven't seen a single update on my store tile in 3 weeks. I'm wondering if i should leave the app updates until after i do the system updates, to see if it shows me updates available on my tile.

Same with me, I got 1 update yesterday which was Facebook... Any other updates I have to force by searching, or wait.....

Perhaps we should unpin it reboot then pin it again.

i'd already tried that.

i've also had multiple soft resets (power and volume down) since i last saw an update

i've also had in pretty much on top of my wifi router while charging every night, which some other people said worked.

Im so happy with my limia 920. Its super coom

If anyone cares haha 7.8 apps were also updated today, added daily commute etc to Nokia drive, good to see them still supporting us!

Just updated the three apps. How do we update the audio settings? I haven't gotten a notification yet. I'm looking forward to the OS and firmware updates. Thanks, WPCentral, for keeping us in the know!

RuleOfSines posted a QR code for the audio settings update in the Forums:
http://forums.wpcentral.com/nokia-lumia-920/209185-nokia-maps-nokia-music-cinemagraph-updated-18-12-2012-a.html
It worked and I was able to update my audio settings.

Seems offline mix download will still hang if screen goes black...

Don't forget, Nokia Reading now has audiobooks. That update didn't seem to get mentioned.

But can you put your own audiobooks on there?

I wish Nokia Music had better bit rate for their offline radio mixes. The standard quality sounds like poop. Any way to increase bit rate quality? I couldn't find any options.

I agree....does someone know how to increase the quality of the sound ???
I am continuously going back to Spotify and XBox Music because of the sound quality...

And yet I'm still waiting for the updates.... Damn, this Store bug really does my tits in!

Updated blissfully! Thanks! :D

Next time, I am going to wait after any update notification posted here to see if I get it automatically within 24 hours or not!

The music app z updated for windows 7.5 too

Happy the nokia player got updated. Asked nokia why i culd not go directly to Sound settings through the app. Now im able to do so :)) happy

Amazing work from Nokia. Cinemagraph is only missing now "bounce" as another method for Looping (some cinemagraphs don't work so well if you loop, and should bounce back and forth instead)

WP7 nokia maps is still in 2.5

Wow, that's such an interesting concept. I sold my Radar to get an unlocked HTC Titan which is great cause I get plenty of 4g speeds now with T-Mobile expanding their network. I really would like to stay with T-Mobile though. Thanks, never thought of that.

Damn, the audio leveling feature in my experience just boosts the hell out of the volume, distorting the sound quality to be pretty useless.

This is the reason I'll be buying a Nokia Windows Phone. They're all in, and that will only mean the best software and hardware.

I just got a notification via marketplace update for all those including the Traffic app as well..

I don't know the kind of encryption AT&T uses for their Lumia phones but I tried all the known phone unlock sites but all to no avail. Also unlike the Canadian version of the 920 which is pentaband and supports Tmobile's 3g/4g network, the AT&T version does not support support the AWS spectrum Tmobile uses for their 3g/4g network. I must say that T-Mobile is refarming their network and in some few cities one can access their 4g network with these AT&T branded phones but until they expand to cover most of the country you would be stuck with 2g data speed if you choose to use an unlocked AT&T phone on T-Mobile's network.