AT&T Nokia Lumia 920 and 820 OS update begins today, Dec 19th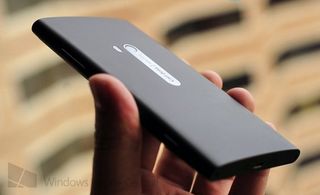 For those of you fawning over our sneak peek of the Lumia 920 OS and firmware update, you can go to bed happy tonight because tomorrow is your day. AT&T is now notifying employees internally that the combo OS and firmware update will be going live tomorrow, December 19th for both the Lumia 920 and 820 (no word on the HTC 8X, sorry).
No time was given but our bet is 9AM PT/12PM ET is when the update will begin to be available...
The information comes via an internal AT&T email circulating around to employees that details the OS update, codenamed 'Portico'. The fix from Microsoft updates the OS to 10211 through a series of system patches, the main crux of which will fix a stability issue related to Bluetooth connectivity, causing isolated cases of OS resets or freezes. Portico will also deliver SMS call rejection, SMS mass delete and new firmware from Nokia that adds greater sharpening to the front and rear Pureview camera...
The email from AT&T states that
You may notice the pop up notification for an OS update tomorrow and you are given the choice to postpone the update until you are over Wi-Fi or at another time, but not indefinitely
T-Mobile and HTC are planning to update the 8X with a similar update starting tomorrow as well.
So far, the OS and firmware update have made our Lumia 920 even better than before. The update should also bring some fixes and enhancements for the Lumia 820, though we're not sure what exactly those are. We do expect, however, to get a full details about the Nokia's changes sometime tomorrow, so stay tuned to Windows Phone Central for all your Windows Phone needs!
Big thanks to Jeffrey, for the information!
Daniel Rubino is the Executive Editor of Windows Central, head reviewer, podcast co-host, and analyst. He has been covering Microsoft here since 2007, back when this site was called WMExperts (and later Windows Phone Central). His interests include Windows, Microsoft Surface, laptops, next-gen computing, and arguing with people on the internet.
Oh. This is too awesome. Let the updates begin!

This is why I switched from HTC bring on the updates : )

HTC phones already have the update as far as I know

I hope they fixed the kids corner bug , with the lock and they didn't forget .

I asked windows phone support about this and they said kids corner should ask you for password if you set up a password on the phone.

I was surprised by this too - when I handed my kid my phone, and he said he needed a password for Kids corner. I checked the online documentation and it says if you have your phone set to auto lock after a certain time, you should have to unlock it for your kids. This undermines a huge benefit of kids corner - namely that I can hand it to my kid and not have to use or share my password with him/her.

Yea. I thought that it was kinda odd. switching back and forward between the two is a step too much for me. and every time i play with the Zynga Apps (draw somethin & WWF) my lumia crashes like crazy

Yes! Thank you guys for letting us know!

I literally yelled "OH MY GOD" and started flailing. Thank you sweet baby Jesus.

Good lawd there's a fire!

Nobody got time for that!


I was getting a cold pop when I read this :)

I didn't grab my shoes or nothing Jesus I rannnnn!

so did I. I am sooo excited about this

and the Verizon HTC 8x is waiting...

I hope my (unbranded, CV DE, bought in Austria) 820 will stop freezing when using my bluetooth car installation to dial by voice command. That is really annoying so far.

Decisions, decisions... do I say "screw it" and update by NaviFirm and Nokia Suite tonight... or just wait for tomorrow. I don't have anything on the phone that isn't backed up, so wiping isn't a problem.

Daniel, did you have any trouble updating manually?

I'd wait...it's a bit of a pain to start over if you dont' have too...

But... but... I'm SO impatient, lol. It's like the meatloaf... MA! WE WANT IT NOW!!

"Goodthings come 2 those who wait" ;-)

Daniel......do you guys know if Rogers in Canada are rolling this out as well?

Did you use the backup feature of WP8? If so, how did it work?

Did you use the backup feature? How did it work?

Just do the update :) went nice and painless for me earlier.

I love how everyone bashed att 2 days ago and said hell will freeze over before they release it. Happy holidays you babies

Thank God I'm not "everyone". :) I've been anxious, but I had no doubt we'd have it "by Christmas".

Haha this is so true. Happy Holidays from Nokia and AT&T.

Lol. If ATT is the first to rollout this update, definitely something is wrong. Maybe the Mayans were right and the world will end on the 21st.

I didn't bash AT&T two days ago, but I would have! :) I'm SHOCKED that they are playing ball considering they never did patch the "vanishing keyboard" problem with early WP7 devices even though Microsoft had the fix sitting there for them. Also, I hope I don't have to wait until January 13th...I need some pictures of the end of the word on Friday.

Maybe Nokia gave them some kind of stipulation with the 920 that they need to get on with the updating ASAP.

I like to praise Nokia and Microsoft, so I'll give them credit over the carrier.

You can say that again. I got an update for my 900 just 10days after I purchased it and I'm getting an update for my 920 within 20 days of purchase yet my Tmobile branded Dvp and Radar never got the Tango update. I'm saying this because there was a lot of AT&T bashing this afternoon when it announced that Tmobile 8X is getting the Portico update tomorrow. I'm not making any excuse for AT&T but so far my update experience with their phones have been better than Tmobile even though Tmobile is my official carrier and I like their pricing.

Even though I don't think my 920 was giving me "soft" photos I can't wait to see the new improved image quality and other OS features!

Like apple always say , how something good ,can get better is possible apple that's why I got me a Lumia 920 , lol cant wait to get my camera to the maximum potential , Lumia 920 best phone ever ever ever .

No... Apple blames the consumer. (example: YOU'RE HOLDING IT WRONG!!)

No kidding. Rogers will have it... eventually... but it will only take B&W photos. Rogers doesn't believe in colour.

Happy Birthday to me! Happy birthday to me! Awesome!!

Welcome babe, can't beat Nokia, they are in with their 100% no divided loyalty

-|- 1 if you went to settings and checked right now

Can't wait for the update. Yeah for OTA.

I hope Bluetooth for car stereos is fixed!

I hope so too, but not for me... for my CEO. He's got a Ford Sync and a Mercedes system that I'm really nervous about when his yellow one arrives ... umm, soon? lol

If it were anyone else, I'd just blame it on the car, but this is going to be his first Windows Phone, and he's my boss, so I want the experience to be good.

I can certainly understand, so let's keep our fingers crossed. So far I haven't heard either way if it is fixed in the update. But it is definately the biggest problem in WP8 so far.

I have the same setup, but no CEO. :`-( I too hope this fixes the random "locks" when using Bluetooth. I also have the problem with two 920's and the Jawbox speakers.

From what I've read it is supposed to be fixed....i hope so too, I use Ford sync and Toyota Bluetooth and it locks up on both often. Sucks :/

OMFG yes, my only complaint with this phone is bluetooth connectivity.....so friggin happy, now can Squareup please make a wp8 app???

I remember when I was on Android and had to wait months for an update :)

MONTHS? It was a full year before my Droid Incredible got its first update, and it only got one tiny one after that, and THAT one took several months.

Welcome to Windows Phone.

Do you think this is AT&T Nokia Lumias only, or would global unlocked 920s be updated as well?

Unfortunately I think tomorrow will just be AT&T. There is no update for the unbranded 920s on navifirm as of yet, wheras the AT&T update is there. I'm hoping we don't have to wait long, I put down my $700 up front for the 920 essentially for the ability to get timely updates.

You people cry bloody murder if at&t witholds an update but NOT ONE OF YOU so far have praised at&t for their speedy rollout of the update after completion. I would like to remind those that complain constantly about at&t that they need to get a life. Thank you at&t. That is all.

Why should we praise an individual or business that does what they are supposed to do? Do you get praised for being at work on time?? No...you are supposed to.
AT&T has a poor track record with updates and this does not change that fact or absolve them of any criticisms.

I am grateful...and SHOCKED, to be honest!

I'm very thankful, grateful, and happy... but then I wasn't one of the ones criticizing.

Well they still haven't announced the release of the update for the AT&T 8X, and I'm saying this as a TMO customer.

I would bet that Nokia is pushing ATT to get this update out. If it was left up to ATT you probably wouldn't see it for 6 months.
Now, what about the Titan I update that HTC shows has been ready since September?!

Looking forward too the update for my 920 my wife has a 820 tho she probably wouldn't know if a single thing changed lol

So, what about the Lumia 810 on TMo? Are we supposed to be left in the dark?

It can't be far behind - I wouldn't stress too much as it's the same OS, just different hardware. I was kinda freaking out when the 8X update was available first, but it looks like the majority of 920 owners will actually get the first update.

This is good because my 920 is freezing constantly... Feels like my 900 runs a lot smoother... My 920 also gets pretty warm on the upper part of the phone but that might be a totally different thing. Maybe a hardware problem, non-software related. HAPPY HOLIDAYS GUYS!!!

That mainly happens when I'm playing games on my 920. I too hope that can be fixed in software, but it might just be a hardware "feature."

Have you been experiencing any lagging while picking a song as well? Also, yesterday morning I tried connecting my phone via Bluetooth to my car deck and it froze for a good half-hour. It was a little embarrassing cause the phone started playing music in front of my boss but I couldn't do anything about it cause it was frozen.

Overheating and freezing occasionally are 99% hardware issue.

So you're telling me there's a chance... Ha ha, jk.

Press and hold volume down + power button for about 15 seconds. This restarts the phone as if you pulled the battery.

@Daniel - Are we sure this is the entire update? ATT email is a little vague and only talks about bluetooth.

Yes, it is, but would you really want to tell your staff that it fixes dramatic major issues? They already have a hard time promoting the platform, why give some of the more hateful ones fuel for the fire, lol.

@dogfish The update that is on Nokia's servers is this update. It's common to do OS and firmare patches together since they usually work hand in hand (in fact, the firmware unlocks the "Wifi hotspot feature" in Portico. They're also not going to miss an opportunity to tie and update altogether. While OTA OS updates are nice, they still need to get approved by the carrier. That means Nokia and MS need to pack as much as they can into this as they may not get another shot for awhile.

Great Early Christmas present

Come on, Rogers. Where is our upgrade?

This will be...my final test.. I have been holding off in my buying this red 920.. I want to see how successful this update will be..

When will Sweden get this update?

Waiting for it to launch over the pond here :)


Wasn't expecting this so soon. I'm very impressed by Nokia. Bring it on. Can't wait for tomorrow.

Awesome, my dad will be glad to hear this.

One's got to love Nokia :)

and yet the 7.8 update is pushed out till next year...wtg att..wtg

7.8 took an arrow to the knee.

Possibly (probably) a stupid question, but why do we have to wait for carriers to roll out these updates when you can download them over Wifi, couldn't Microsoft not host the updates? Also, any ideas when this is coming to the UK?

I just told my friend from work that I would have a new toy in the next week. Now I have to tell her on this day not-a-damn will be done.

I just received it. Two of the five 920 in my family plan received it about 1 hour ago.

What part of the country are you from? Screen capture?

I call bullshit until you post pictures to prove it. Once you do, I'm sorry for this.

Unbranded will receive it tomorrow too ?

Awsome, like to hear that.

Wooooooooooohoooo! That's the kind of announcement I want to hear. None of those 4th quarter, early next Christmas, maybe next year type of BS.
+100 for Ms, Nokia and of ATT.

Thanks goodness the 820 is getting the update too. I was afraid only the 920 would get the update early, being the flagship phone and all.

what about the dev edition from build 2012? even no idea where to get its firmware. thought it could get the update first. :(

I litteraly JUST flashed the update via Care Suite... Oh well, Atleast I get a clean install.

12/19 is my bday, you all have to thank me :P

Hey,Daniel. I believe this update will come bundled in when the 920 launches in India 1st week of January?

Any word from Rogers? Anyone see anything, a statement, something in their redboard, etc regarding their expected timeline?

Daniel, I have the Build 920 on AT&T. Any idea if that's included or will be updated some other way?

I tried to do it via Nav and Nokia and wouldn't work. I downloaded the rom just fine but when I try to flash it I get an error. :-(

Any word on unlocked devices or Dev devices? I just got a BUILD Lumia 920 off of eBay because of its Pentaband support and I'd love to know if there's an update in my future.

come on, @Daniel ! give us a hint!

Perfect timing! My wife's 920 crashes 2 to 3 times a week! She is really getting frustrated over it, and today being her birthday, I was considering replacing it with another non Lumia phone. My 920 doesn't crash as much, but it has a handful of times. This OTA update should solve my problem, and no, I'm not replacing my wife. Too much time invested in her! Lol

My 920 has never crashed. Weird. I want the camera update though.

How is it that you're so sure? If it crashes and reboots when you're asleep do you really go digging through the log files for errors? A lot of the time you don't notice it.. but it probably has happened to you at least once.

It is easy to notice because it requires SIM code after that. At least in my case. About three reboots/day since 22.11 I have owned the device. Really looking forward having this update.

None for me. I know when my phone is rebooting. I need to type PIN number to my SIM card ;].

Buggy apps. Try to figure out which app it could be. That is the usual cause.

I didn't have any issues until I installed the Skype app. Uninstalling it (and rebooting my phone) fixed it. Haven't had a problem since.

I just got a big pile of Nokia app updates, must be prepping for the big show tomorrow.

I'm surprised to see this as we go into the holiday season. Typically service providers shy away from 'risky' changes this time of year. A lot of people go on vacation, etc.
Also, I didn't read that as implying the update will be available for everyone tomorrow. I read it as a slow roll-out to a limited number of people starting tomorrow. The expectation being that everyone will get access to the update by Jan 7th. And that fits more with my impressions of how they should be running the service. They'll try a few now but won't open the flood gates until after the holidays.

Is this the update that includes the "WiFi stay-on" feature? Or is that later on.

Cool!!!! Waiting for Rogers! :)


I am psyched to read about the bluetooth issues I hope it helps my pairing problems

I'm shocked AT&T would be the first to update. They released the BlackBerry 7.1 update an entire year after all the other carriers did last year.

Any ideas when people in the UK get this?

There's a PR 1.1 firmware for Verizon Wireless's Nokia Lumia 822 on Nokia's server.

I am not sure if it's Portico or not. Does any brave soul wants to try flashing his/her device?

RM-845_NAM_VZW_VAR242360_PR1_1_White (059P3Z8)

I hope the international version gets the update today as well..

No over the air fix my battery dying after less than 12 hours with minimal use and we'll be talkin

Any idea if this will work with my phone on straight talk?

I have gotten a few little updates before, so yes it should work also for you

I am thrilled too. My Surface has had a Firmware update and now my 920. This is why I ditched Samsung and Android. It takes them years to update devices and now I have my new gadgets getting updates within a month. I couldnt be more pleased.

Thats Nokia! Google androids update still not avalaible for more then 50%. Devices. )))))))))

Yeah. HTC promised a Jellybean update for the HTC One X by end of October... as we hit the end of December, still no sign of it. I passed on the One X to my wife, but keep checking to see if there's an update and it never comes.

will this update be rolled out internationally?

When is Windows Phone 8 gonna get the ability to customize the other sounds. Would very much like the ability to add custom SMS, mail, etc sounds.

What about "Keep WiFi on" for 920? Are we getting this or only 8x exclusive? I see no mention of it anywhere.

Mentioned couple times already. Yes.

what about att 8x? I thought that was the news a couple of days ago....no release for 8x?

No 8x its a fix for Lumia

Getting this update today would be a double whammy for goodies!! Woke up this morning and LTE is now available in Lancaster, PA

I know right, I was pleasantly surprised when I woke up this am and saw lte. That and the update I'm like thank you Santa.

Grrrr! Where's my update... getting kinda antsie here!

Waiting... And refreshing.

Awesome b'day gift! Sweet!

It's my bday too! My update just started!

Hurray!