Have Windows Phone 8 Update 3? Rotation Lock lets you pin the setting to your Start screen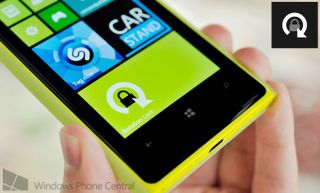 Locking the screen rotation on Windows Phone 8 is simply wonderful. Before Update 3 (aka GDR3), if you were preparing to lay in bed with the Kindle app at the ready, you'd have to watch out for the pesky gyroscope which would switch the screen orientation. It was a minor nuisance. Now with rotation lock, you're able to hop into the phone settings and lock the display to portrait or landscape. That said, it can be a pain to navigate through the settings area. Cue Rotation Lock, an app to solve this problem.
So what does the app do? Rotation Lock simply enables you to pin the setting to the Start screen as a tile. This tile can be configured for all sizes (see above photo) and that's about it, really. There's not a whole lot to it, which is definitely a strength. When launching the app, you're greeted by a single screen that asks you to pin a tile to your Start screen. That's it, job done. You now have quick and convenient access to the screen rotation lock settings.
You can download Rotation Lock from the Windows Phone Store for free - note that this app requires Windows Phone 8 and the GDR3 update.
Rich Edmonds is Senior Editor of PC hardware at Windows Central, covering everything related to PC components and NAS. He's been involved in technology for more than a decade and knows a thing or two about the magic inside a PC chassis. You can follow him over on Twitter at @RichEdmonds.
I wish MS would allow one touch setting change from a tile. This would be great for WiFi and battery save mode as well. It can't be that difficult to do this, but then again, they also still havent even given us more theme color options, which is probably the easiest thing to do.

Colors, yeah more colors,colorful, so easy but still....nothing at gdr3

It would probably take them 5 minutes to add more tile color options. Wouldnt take much longer to add one touch settings change either for things like Wifi. Yet they've refused to do this. No excuse for these not being added by now.

R they can let us do it ourselves just give us the color picker

It took Apple years to add toggles. Luckily there was the jailbreak community on iOS that took care of that. These shortcut apps really aren't toggles but they help.

They at least eventually added toggles. Apple had screen rotation lock accessible via the double tap home button since IOS 3 (maybe 4). This implementation via settings menu is such a disappointment- MS should be leap frogging the competition and not doing a sloppy job

WP needs quick settings menu, look like iOS7. Dam-it, It`s Easy!

Yup, simple & effective. Good job Tim

Not the first on wpcentral, but it was certainly the first. It was submitted before official docs told how to do it ;)

Hi Tim, you got me wrong, there's been some kind of a misunderstanding. I understand now that you are the developer of the app, and it's really cool. And,as WP users, we only have respect and gratitude for those who make it better for us. My original comment was, however, an allusion to a running joke here on WP Central, something related to being the first one to comment on any article. :P Once again, Tim, I salute the guys that make our foray into WP worth it, and that includes you too. Honoured. :)

Oh oh! My apologies! Now that you mention it, I didn't even realize there weren't any first comments!

I just pinned it from hardware test app

Yup, from the latest update, Hardware Test also include SIM apps that can be pinned. Thats cool, i need to access many of cellular services.

That app was developed kinda fast,, wasn't it❔

Rodneyej and his. ? Marks

Question mark marks. Makes sense.

It took me awhile, but now I get it..

Is 1996 when you were born, or graduated high school❔

That app would take under an hour to make... You'd spend more time making the graphics & testing, than coding.

Sweet....so glad I manned up and downloaded gdr3 preview! Sooo wort it just for rotation lock alone

So does cool light. It has had an update! I prefer that...

Nice ❕ I was going to make an app for it , but got busy in the past few days.

76% sure this will be easily accessible in blue, so I'm not frettin

Who let the trolls out? Who,who,who,who

I'll never understand the big deal of rotation lock. Just like driving mode, stupid feature. Just mute your phone, same crap.

I don't care for rotation lock either. I have never had the need and never used it on any iPod Touch I had. However it is a feature that has been highly demanded so I am glad the option is coming.

Same here. All I want is the ability to use a Bluetooth keyboard, you know for office...... What a great selling point that would be.....

When I'm lying down on my bed or my couch, I generally hold my phone the same way I would if I were sitting/stading up. Without rotation lock, the phone decides to go into landscape mode which makes it more difficult for me to read what I am reading (if I'm browsing a website for example). I don't like to browse things on my phone in landscape, but I'm pretty much forced to when lying down if I don't hold my phone in a special way when lying down, it's difficult.

The nice thing about driving mode is that you can have it silence all alerts EXCEPT text and calls if you want (can't accomplish that by muting your phone) so that there are no distractions/reasons to look at your phone (since calls get routed to your bluetooth headset, as do texts for reading aloud)

Exactly. How anyone can NOT understand rotation lock is the mystery here.

Yep, lying down on a couch, bed or deck chair is a pain without rotation lock! I turned it on in the WPC app as soon as it was added.

So does this app lock your camera to portrait mode also like the native one.

All it does it give access to the same lock from the start screen. So yes. But even android and (presumably but I don't have a device to test) also do this.

Please give us the equalizer enhancement for Lumia 520

In reality I wish I could just lock IE or reading apps. Or maybe everything else but photos, can never be happy... :'( Lol

Hope this feature comes in 8.1. Would like to lock every screen except for the photos and videos.

Videos still play landscape, but photos won't spin.

Can someone make an app for lock screen button. It would be very helpful for us who are using HTC 8x.

? What's wrong with the physical button?

And? That's perfect! I hate how the Lumias have it on the side :\

http://forums.wpcentral.com/windows-phone-8/246201-kind-separate-volume-control-music-ringtone.html
I made one. check it out.

Thanks Bruce, but can you tell me how can I install on 8x

Is your phone developer-unlocked?

Well I have been registered as developer to receive GDR3

That's great. Then install WP8 SDK on a windows PC, download the .xap from my SkyDrive and install the app on your phone.

Please don't get me wrong but do I have to worry about something will go wrong with my phone after I install your app.

I can only say "at your own risk, the app is provided as it is". That being said, the possibility of things going wrong is much much lower than installing GDR3 from microsoft. I have not heard anything going wrong from anybody who is using the app.

It's working. That is what was missing me from my ex Nokia N9.
I hope one day it will be able to unlock HTC 8x with double tap.
Any way thanks you again for this app for me very useful.
Best regards from Croatia!!

When complete grd3 will available ?

This is great by the developer but we shouldn't need this. Either in the upcoming notification centre or add more room but we NEED to be able to change quick on/off settings with one click, without context switches!

I
remember having lots of toggle switches set up on wm6.5. It was super fast. I could do most things right on my home screen.

Nice simple shortcut, thanks!

Oh my god, yes yes yes !! I need a cigarette. . . .

The app shows no icon on my 920.

I haven't gotten an update for my Ativ S. Do you know why. PS I live in South Africa

What case is on this phone?

i hope ms will add option to pin ANY setting to start

Connection Tiles has already implemented such a shortcut in its latest update! http://www.windowsphone.com/s?appid=44438c2c-cfad-4cfd-8152-e2ed54847aad

What about the GDR3 update here in the Philippines?

Update 3 on my L920. Works fine!

Love the new lock feature and now this effective app to lock the setting to a tile on my screen is just perfect! Thanks!

This is more about the about gdr3 in general. My lumia 920 on Rogers decided to stop receiving service after I did the update to gdr3 using the preview for developers app to receive the update. Seems as tho the radio is being turned off intermittently some times all day even in the town I live which I usually get full bars 4g service but just says no service and when I go to cellular in the settings and search for provider I get nothin. Then all of a sudden after couple reboots and key combo reboot it works for a bit then cuts out. Now I'm back on my trusty focus with 7.8

I downloaded, just waiting for GDR3 in the next weeks

Battery saver and brightness need to be able to pin.

Rotation lock is cool except when you wan to use your camera. There needs to be a setting to exclude certain apps from locked rotation.

What I would like to see is:
When in the home screen like you sweep to the right to see the list of apps, I would like to be able to sweep to the left which could be used as a notification center and have toggle buttons for data, wifi, location, screen rotation. Just like android but with the windows 8 style.
Now that would be cool

Next app...... More tiles for 920/1020, come on devs wph have done it for the ativ...... Please :|

Did we get app locker in Lumia phones with gdr3 update
Windows Central Newsletter
Thank you for signing up to Windows Central. You will receive a verification email shortly.
There was a problem. Please refresh the page and try again.