Updates for Windows 8.1 Preview fix app crashes, improve compatibility and more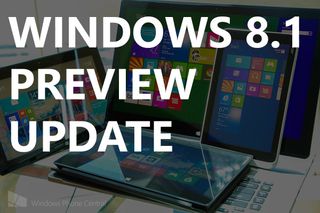 If you're running the preview of Windows 8.1 on a machine you're well aware of the fact that this is basically beta software. And with that said, you've probably encounter a few problems here and there. That's why Microsoft supplies somewhat fast and frequent updates for Windows 8.1 during this period. There's one important and four recommended updates you might want to install.
Hit up your PC settings on your Windows 8.1 device, then scroll on down to "Update & recovery". In there you'll see Windows Update which displays if you have any updates available or you can manually check for them. Right now here are some of the highlights you'll get when doing a quick update.
Important
KB2863312 - Compatibility update for Windows RT 8.1 Preview and Windows 8.1 Preview
Recommended
KB2864247 - Windows Store apps crash on launch in Windows 8.1 Preview
KB2864713 - Update improves the robustness of data files in Windows 8.1 Preview
KB2864806 - Can't sign in to a Google account through certain applications in Windows 8.1 Preview
KB2864808 - Can't resume a download in Internet Explorer 11 Preview
Depending on your own update history you might already have the above installed or have more. If you do, be sure to share what you find below. Our pals over at Wind8Apps had a few more available than we did. They're seeing fixes for:
Improves Search charm performance in Windows 8.1 Preview
Windows Store app is not added to the correct category in Windows 8.1 Preview
Improves SkyDrive video playback in Windows 8.1
Personally I had a few apps crash at launch, but they seem to be working fine now – thanks update KB2864247. Have any of you folks been having any issues listed above? Update and let us know if it's working for you. What other quirks have you encounter so far while exploring all the new Windows 8.1 territory? Sound off below.
Via: Wind8Apps
Thanks for the tip Radu!
Get the Windows Central Newsletter
All the latest news, reviews, and guides for Windows and Xbox diehards.
Thank god! The app crashes and only one YouTube app working is pissing me off.

You forgot to say first... That was your destiny and most important time of your life...

I thought of it but there's no point in saying it.

It's an annoyance, yes, but it shouldn't piss you off. We signed up for this beta software.

This is most important to remember. Don't use the preview on your daily driver.

No I understand its a beta software and I downloaded it. Also I dont regret it, but that doesn't mean there aren't annoying bugs.

So ýou are upset because your beta software is beta software? Now there is an impressive bit of logic.

No I understand its a beta software and I downloaded it. Also I dont regret it, but that doesn't mean there aren't annoying bugs.

I am having Bluetooth and WiFi issues. I hope that they fix these soon. The update didn't fix them. Otherwise I like what they did. You would think that this would be the one issue that they wouldn't have, because it seems that every beta has WiFi issues.

Yeah. I haven't used Bluetooth with W8.1 yet, but I've seen a few folks on Twitter have issues. Which is a shame since I'm getting a BT mouse this weekend.

It's not a universal issue so your bluetooth mouse may still work fine. Bluetooth works fine for me on both Windows 8.1 and my Surface RT 8.1.

I am having issues with my Microsoft Wedge Bluetooth mouse. LoL

Me too! The Wedge mouse just randomly stops working. The only thing that seems to fix it is a reboot.
This has been introduced into 8.1 relatively recently. The initial builds were working fine.

Which mouse are you getting?

Make sure that you have installed your vendor specific device drivers for both your Bluetooth & WiFi, especially if they are Atheros or Broadcom. The default built-in device drivers from Microsoft have a few issues. Don't bother if your Vendor supplied Device Drivers are older than what Microsoft provides, they still work as expected. Hope this helps.

I have a lot of pictures in my pictures folder but when I select one to open in the photos app, the picture does not display. Weird thing is, if I slide up from the bottom, I get options and if I choose crop, I see the picture. Weird. Other apps in 8.1 do display the pictures though. Just not the photos app. Anyone else seeing this and know a fix?

Does anyone know if the release preview will be updated to the full version, or will you have to reinstall win8? That's the only thing keeping me from installing the preview. I had the release preview of win8, and it was rather frustrating that I had to reinstall 7 just to reinstall 8.

I think you will be able to upgrade to 8.1 RTM
"If you're currently using Windows RT, you won't be able to uninstall Windows RT 8.1 Preview. You'll be able to upgrade to the final edition of Windows RT 8.1 when it becomes available." http://windows.microsoft.com/en-us/windows-8/preview-faq

I assume it applies to win8.1 as well

You will also have to reinstall all your apps, store and desktop.

If you read the Windows 8.1 Preview FAQ this question would have been answered.

Why do people keep asking the same question? The preview is not directly upgradeable to the RTM. That has been said over and over again. It is not as bad as in the past though since 8.1 remembers your apps and settings. If you install 8.1 and set it up the way you want, then clean reinstall 8.0, and then install 8.1 again, it sets itself up exactly as you left 8.1. The same is true if you, as I did today, install 8.1 on a replacement device on the same account. My Surface Pro was defective, and was subject to a 8.1 reinstall and then replaced, so I can confirm this is how it works. You just need to reinstall your x86 apps - everything else is set up automatically as per the most recent configuration saved to your account. It even leaves spots on the start screen where the x86 apps were and, upon reinstall of those apps, inserts the icons where they were previously placed.

How do you reinstall windows 8 on surface RT ?? By a manufactory reset or with the recovery partition ??

Recovery Partition, but if you didn't create the recovery media before upgrading to the preview then you're out of luck, the preview upgrades the recovery partition as well.

The 8.1 Preview won't even install on my laptop, which currently has Windows 8 on it. Sucks....

I couldn't install a dual boot instance either. Got an error about an optical device being unplugged (which I didn't do) and reconnect the device ot continue. Fail.

Fail? Do you guys realize this is a "preview"?

If the OS does not install, how is this not a fail? Is there some success I am overlooking?

As a beta tester, you should be happy that you found a bug, reported it, and co tributed to the success of 8.1. If you aren't interested in that, you probably shouldn't be using beta software.

Yes actually. Lots of people have successfully updated to 8.1. Myself included.

Have had no issues so far, loving the preview. Although the photos app took ages to display photos on computer, and at first didn't show slideshow on live tile... Everything working fine now though, and haven't even updated yet :-)

Since updating to 8.1, I have had issues with opening word and excel!! Do these updates fix any of that?


Just install Win8 back, you won't be able to upgrade from preview to normal version later anyways.

I'm having Download Issues in Internet Explorer..... Seems not fixed :( :( :(

Even after the upate, the Songza App will not launch successfully. Other than that, I am loving the preview!

Damn it! I was really wanting to use it. I've been all about DI.FM since Dan showed me that app.

A few mail crashes continue every once in a while.
Songza still crashes every time I attempt to choose a playlist. :(

Search Charm is very slow compared to Windows 8, even with global search turned off. I hope this can fix it, otherwise everything works fine in 8.1

Is anyone else having issues with the touchpad or an external mouse? It seems like Microsoft changed up the scrolling technique in W8.1 and it messes with any pointing device I have.

I had an error after installing 8.1 that my trackpad software was not compatible. So I just reinstalled the software and the error went away and everything is working fine. Dell XPS 12.

Same experience, the keyboard scrolling is totally messed up.

I did a full clean install with the ISO and the preview is amazing! I have all my files in Skydrive and it saves almost all your apps and settings so a clean install is pretty easy.
There are a few bugs (of course - it is a beta) like the camera app doesn't work for me and photos doesn't see my skydrive pics, but overall, so awesome!

Do these fixes allow install on non en-us devices, if not then meh!!!!!

Half the apps don't work, search charm is ridiculously slow, the apps that do work are slow and crash, the index service consumes far too much cpu and indexes too often, ie11 is too slow to use so had to install chrome, suffice to say I shouldn't have upgraded but knew the risks. Hope the update helps!

Clean install? I'm running it on 4 machines with zero issues (just Metrotube crashing). Love 8.1.

Clean install but on a Sony Vaio laptop which may be the reason, as it is a couple of years old. Worked fine with 8 though.

My 2+ year old HP laptop runs the preview better than my surface. The IE preview on my surface RT has issues displaying HTML5 content on a few websites and I've only noticed a couple of apps that crash. Overall not too bad, glad to see updates rolling out.

Hopefully they have worked out the WiFi issue.

Isn't there an 8.1 update for windows phone coming soon too?

Yes, but the WP team is behind schedule for an unknown reason

Still getting a Driver Error when I try to connect my Lumia 920 via USB.

The Atom restriction is gone!! Downloading now on Thinkpad Tablet 2. Curious how it'll work out

I guess the en-us restriction is still in place though!!!!!!

The only issue I've seen so far is the flash player couldn't play the confederation cup games streaming on cbc.ca. Before the 8.1 update it played flawlessly.

Good to know, their on top of it with updates and its now released for en-GB I'm updating surface RT as I write!

Loving 8.1 but I noticed 3 times since installing it, the dreaded audio gets muted when I touch the keyboard fault may be back. Anyone else notice that yet?

Hrm, don't see anything about certain things causing IE11 to crash, commenting on gawker blogs causes a crash 100% of the time when i hit publish, i've seen similar with twitter and at random. Reminds me of early ie10 for stability.

Am i the only one that the windows phone app doesnt work?

Nope I have the same issue my Lumia 928 doesn't sync and he app says to plug in my phone.

Anyone else on win rt having issues wih syncing your windows phone 8? I'm trying to sync my Lumia 928 the windows phone app use to work but now in preview it doesn't want to sync or see the phone. Also I noticed that he display doesn't auto portrait or landscape when turned. And in the photos app only the photos on my computer show up no Facebook albums or SkyDrive or even Flickr anyone else having these issues?

The only problem I have encountered is my Surface RT drains its battery in standby. I caught the screen not turning off when I close the type cover as well. The preview forum suggested reinstalling video drivers but I haven't given that a try yet.

is this since the new updates? I've found that my surface RT turns off much faster when I close the touch cover Since the original 8.1 install.

That was before the update

Its been pending for an hour, then started downloading, now pending, Microsoft = shit

People that decide to use beta software and complain about bugs = shit

After the update i have problem with Internet Explorer it crashes, before i had no cares at all but apps crashes much more rarely after the update.
Til now i love 8.1.

Still didn't fix the issue with my photo app not showing photos and crashing. Funny thing is that it works on my girlfriends old Dell Inspiron 1525 that I upgraded to W8 and then 8.1. But not on my home built i5 PC...

This update crashed my os. Its just booting into the recovery screen. I'm at the end of my rope wth Microsoft. I begin looking for a Mac this weekend. I've had it.

Careful with that door. Thanks for sharing.

It is beta software, didn't you read the terms? you can hardly blame Microsoft? #dramaqueen

I can hardly blame Microsoft for releasing a product that needed a patch less than a week after it release? Beta or no beta, the fact that they needed to address serious instability issues a few days after release is troubling. #hashtagsareforsocialites

Anyone know when us Samsung ATIV users will be able to play in the 8.1 sandbox? I'm so bummed that our chipset is excluded from the preview.

Be happy...u don't want it. Its not terrible but this is my main device and I wish I hadn't put it on. If you have another device you play with that's probably more ideal. It can be buggy.

The biggest issue I have right now is scrolling with a mouse or touchpad. I've tried several devices and all of them exhibit the same problem. In my HP tm2, I've used a Microsoft Touch Mouse, Microsoft Touch Arc Mouse, and the built in Synaptics touchpad. On another device, a desktop, it uses a standard GE mouse with dual scroll and back and forward buttons. The problem that persists is the lag. It seems to scroll slow at first then go fast to one screen only. I like the Start Button for desktop use, makes it easier to get back to the Start Screen for mouse pointer users, but the scrolling works against it. From what I've read this was a bug that just snuck into the preview build. Hope they iron this out soon. Embarrassing to show my device off if it don't scroll like butter like it used to.

My Kobo e-reader app crashes on launch still after this update.

And is it just me or is anyone else experiencing more "limited" connections and disconnections on WiFi than on Windows 8?

Has anyone noticed that metro tube doesn't work at all on win rt 8.1 preview. I had to download prime tube

Yes...i was wondering it I was the only one to see this. I guess they'll fix it for later. How is the other app you've downloaded?

I love the UI...but I never should of downloaded this preview. I know I can't get it off but has anybody found a way? Also how do get these updates? My Windows update option on my RT says there's no updates yet they're out. Help!

I downloaded 8.1 on my hp envy 23 all in one touch screen desktop works great with the new updates . Last night I installed it on my Samsung ativ 500t and surface tablets .the surface works great as always but the pleasant surprise was the ativ now works like I always wanted it to.screen response is amazing app switching to half screen so cool .tombstone the apps for fast recovery. And a general feel of tightness to the os makes me one happy customer thanks MS for for the continued effort.

My HP laptop was running semi-fine 8.1 and that is until I found out that it doesn't like updates, or so it seems. I tried going to the control panel to access the update aplet and it just stalls there with no hope, until I end the task via task manager. I wonder if there's another way of bringing the updates on board.

People hub isnt syncing correctly, i only got my outlook contacts, no faceboook, no twitter, no linked, can anyone help?


Get error message "openGL 2.0/1.4 Renderer not supported" when attempting to open "Angry Birds" since I installed 8.1.
The grand kids are unhappy.
Suggestions?


I installed the 8.1 but had to uninstall it because my wireless wasn't working could anyone tell me if this has been fixed please

<p>Hey ! Still apps crashes ,even after the fix update.Specialy Bing weather, backrounds hd and twitter ,i have reinstalled them but still same problem HELP!!!!!</p>

i follow the instructions but still no luck. apps are crashing continuosly.

FOR N AND KN VERSIONS IF YOUR APPS ARE NOT WORKING Windows update works awesomely but does not fix the app problem, I would suggest installing all windows updates (except the bing search bar) first.. then if some of your apps still dont work (spotify, Skype for windows 8.1, Chrome 8.1 version, Many games from the app store, ETC) then this is the permanent fix I found 1. I enabled net frame work 3.5 in windows settings (put a little square in the box to activate it) - not sure if this matters
2. I installed all important and recommended updates. including silverlight
3. Download the windows "Media Feature Pack" if you have N or KN versions of windows (sorry can't link it because this site tells me that my message is "spam" when i try) so google it