USA Today launches official Windows 10 app with article sync features and more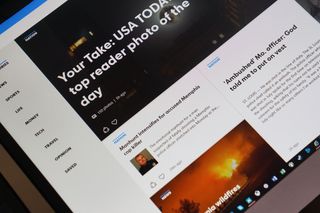 USA Today has now launched its official Windows 10 app, as Microsoft said they would during its BUILD 2015 developer conference back in April. It follows the launch of the official Twitter app for Microsoft's latest operating system.
While the official download web page for the USA Today app still shows its old screenshot, the new app is available and includes features such as the ability to save articles for reading at a later time. User can also sync article they have read so they can be quickly accessed on other Windows 10 devices. The app does not yet appear to support Windows 10 Mobile but that should come in the near future.
Download USA Today for Windows 10 (opens in new tab) (Free)
Via: Microsoft-News.com
Windows Central Newsletter
Get the best of Windows Central in in your inbox, every day!
Nice that they're still supportive!

The app is really nice too. Great job USAToday

Yes, I always liked the Windows Phone USA Today app. Very clean UI.

I am so happy! USA Today is the best. :)

Windows 10 released last week, and USA is launching only today? Too late!

It launched 3 days ago I think. I had the W10 version for a few days, it just crashed every time i tried opening it but it works perfectly now.

I think I was live day of.

I tried the day after W10 came out but it game me the 8.1 app.

I think it's right on damn time.

It was available since 29th. Tipped here, but nobody saw it, also iHeartRadio and Hulu Plus.

lol...seriously? Besides Microsoft they're one of the first companies to even release a new Windows 10 universal app...

This is the ones of the first signs of water coming from the floodgates.

How so? USA Today has always had apps on Windows Phone and Windows 8, so it's not surprising they'd have an app for Windows 10 already. I hate to be the negative one about this, but I've been doing this app-waiting game since Windows Phone 7 Series.

But are we sure they'll support the mobile version ? I really think that releasing the mobile OS later can have a negative affect whereas all the developers would release the desktop win10 app and forget about the mobile version since it's a couple months away. Hope I'm wrong....

"The app does not yet appear to support Windows 10 Mobile but that should come in the near future."
I have a feeling that those apps released for Windows 10 wont support Mobile, even after it launches...

Nice strategy to kill Mobile. Make a fuss about universal apps, then put paltry resources to mobile development and launch months later than pc counterpart and not even provide a launch schedule for mobile.

Hey! I miss your "Nandela Nandela" chant.

I guess I don't get how Windows 10's "universal apps" things works. I thought developers only had to write one version and then it magically worked on all Windows 10 devices. This isn't the case? Developers must separately update and code Windows 10 and Windows 10 Mobile apps?

Developers has to opt in to the targets for their app. They simple can choose not to publish for Mobile. And they will... And, for the UI, developers has to spent time thinking how to do the app layout well adaptive to all the screens. They have to built the app with this in their minds.

How does the app store work? If you have an app for Windows8.1 and Phone 8.1 and you release an app for the Win10 App store is it a physical new store? do you have to move all apps to the win10 store? Obviously a Windows 8.1 PC wouldnt be able to run this app anyways. How can I see apps that are specially written for windows 10

It's a new package.. the store is the same (the unified store), the "app" is the same.. but the packages are different.. when the developer submit the app they can add a version for Windows 10 and others for Win8/Win8.1/WP7/WP8/WP8.1. Then, when you try to download the program the store will try to get the best version for your machine.

The app does not yet appear to support Windows 10 Mobile but that should come in the near future.

What makes you so sure this will come to mobile? Most companies ignore Microsoft's mobile platform. Just because MS has made it easier to code once and distribute across multiple devices doesn't make this a sure thing.

It is much nicer than having to code for each device individually. Only time will tell if it will be successful.

The store is unclear for sure. On build 166 on icon store says supports x86, x64, ARM. Right below that it says install this app on up to 10 windows ten devices.

Except for the 1st party apps.. there's any app already available for W10 mobile? (like Twitter's mobile version is the W10 version?)

Hope that they will reallyyy launch mobile version....universal app definition should be applied..i doubt...

Windows 10 needs more millions of users hoepfully xbox one gets it soon to add userbase

Ha, so much for Universal apps eh? Seems we've heard this story before. Seems like deja vu.

No change there then, their 8.1 app wasn't supported either. Content dropped off so badly I uninstalled is some time ago.

you gotta give USA Today props, they were one of the first companies to bring a decent app to the platform back in 8 and they were on Windows Phone right from the get go as well
Windows Central Newsletter
Thank you for signing up to Windows Central. You will receive a verification email shortly.
There was a problem. Please refresh the page and try again.