Use SeeClickFix for Windows Phone 8 to clean up your streets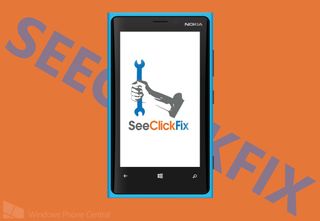 Pencil in another small victory for Windows Phone in your scorebooks, we just picked up SeeClickFix. It's an app has been out for rival platforms iOS, Android and BlackBerry, but now it's sitting in the Windows Phone Store for you to download. SeeClickFix is a simple application to help citizens interact with and report non-emergency issues to their local city governments. CitySourced is a similar app, but SeeClickFix looks and performs better. Check it out.
SeeClickFix (www.seeclickfix.com) is a service that combines a web portal with apps for every major platform to allow citizens to connect to their cities. Users can report issues like potholes, broken signs, etc. and allow local government to better address and serve their citizens. It's a nifty application and allows you to report issues without making a call or writing a letter – a solution for the 21st century.
Reports that users submit can be fairly detailed and provide good insight into how your government operates. When reporting an issue the app automatically grabs your location, then you add a title, subject and picture of the issue. Once the issue is reported, government employees and other citizens can track the progress of whether or not the issue has been resolved. It's genius to help users hold their government accountable.
It's also refreshing to have an app that doesn't require you to set up an account to use it. You can submit issues anonymously, which is a good thing if you're reporting something like graffiti and don't want anyone to retaliate against your prize winning petunias.
SeeClickFix is a free app for citizens. It looks like their business model revolves around providing services and solutions to governments and media outlets. That said, feel free to download the app and help do your part to improve your city.
If you're rocking a Windows Phone 8 device you can download here in the Windows Phone Store, use the QR code below, or swipe right in our app.
Windows Central Newsletter
Get the best of Windows Central in in your inbox, every day!
Can it take my garbage out? Every Tuesday morning plz

Isn't this why we have kids?

Bags I have, id have adopt grown ass man to do it lol

SeeClickFix can't help you with that, sorry :)

Nice, glad to see more apps coming over to Windows Phone :)

Cool app. But sad my city doesn't appear to be addressing the problems. Do we have to ask the city to create themselves account to monitor?

SeeClickFix is taking care of that, emails are sent to city counselor or supervisor.
If you see your issues still not fixed, read more about how it works here:
http://seeclickfix.com/faq
http://seeclickfix.com/community_groups


Must we have the same comment in every thread?

This app is awesome. All we need now is the app that uploads video straight to the ACLU when we tape cops acting like villains.

The video upload is not yet implemented, but you can record and upload your video with your favorite app on your phone.
When reporting, you can include a link to the video.

I thought the ACLU had that app for WP, I sure if you ask them, they will tell where their Android App sends it too.

I'm sure cities love this

They do!
I encourage you to download the app and check out the activity in your neighborhood.
Your city might be already taking care of the reported issues.
If you see your issues still not fixed, read more about how it works here:

http://seeclickfix.com/faq
http://seeclickfix.com/community_groups

Sound alot like "lovecleanstreet" for wp7/8. I'll have to try it out to see how well it works.

Any support for windows phone 7.8 in the future?

A version for Windows Phone 7.8 might come in the future, but please don't expect it soon. Sorry!


This will coming in handy; San Diego has tons of potholes!

Looks like San Diego has an active community reporting issues, go check it out.

A version for Windows Phone 7.8 might come in the future, but please don't expect it soon. Sorry!

This is going to be seriously handy. My home town of Southampton is falling apart.

Is there no way WPCentral App and Website serve two newsfeeds? One for 7.8 and one for 8? Its getting tiring reading same "no love for 7.8" comments. We all knew that WP7 will slowly get lesser support. That OS has been out since 10/2010. This is 3/2013 - 2 years and 5 months. I expect this sort of support for WP8. How else is it going to acquire quick conversion rate?

If you like the app and find it useful, please show your support by reviewing it on the marketplace and send a message to SeeClickFix by Twitter (http://www.twitter.com/seeclickfix) or Facebook (http://www.facebook.com/seeclickfix) to let them know that the WP8 app is appreciated in the community.
It's very important for the app's further maintenance and development.
Thanks!

Ah, so this is a lot like http://LoveCleanStreets.org but for the US instead of the UK

Excellent, apps that provide services like this should be fully supported. This is a great way for us average peons to try and get our local government to move faster. First thing I'll do with it is send in some reports on the many problems on the cycling trails I use.

I love the trends I'm seeing: "missing" apps being ported to WP8 (like this one which I've been waiting for) and news of companies adopting WP8 as their platforms. Maybe trends is too strong a word for now but there is clearly some momentum in the direction of Windows Phone. I see more of them in the wild all the time and Microsoft seems to have learned that advertising needs to be sustained, not a one-of thing.

Nice, I looked up my city, and it seems the they are in there helping, including council members.
Windows Central Newsletter
Thank you for signing up to Windows Central. You will receive a verification email shortly.
There was a problem. Please refresh the page and try again.