Use your Bing Rewards points for a chance to win a HTC 8X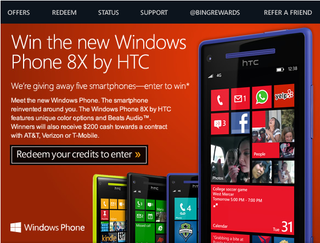 Those of you who participate in the Bing Rewards program may have received an email recently, as I did, telling you about a new contest where you can win one of five HTC 8X phones. In addition to winning of HTC's flagship devices, the selected contestants will also receive $200 toward a contract with AT&T, Verizon or T-Mobile.
To enter, simply redeem 15 (or 10, if you are a Gold Rewards member) of your Bing Rewards credits to purchase sweepstakes entries before January 7, 2013 at 11:59 AM. ET. One strange item of note is that ten sweepstakes entries are listed at the same 15-point cost as a single entry. This very well could be a mistake, so grab ten entries while you can.
The Bing Rewards program was originally conceived as a way to reward shoppers with 5% cash back for buying items they found via Bing on sites like Amazon and eBay. It later evolved into something more similar to Xbox Live Rewards, where you earn points for doing searches and can later redeem them for items, gift cards, or in this case, contest entries. Microsoft has been ramping up their rewards programs and even recently decided to start offering benefits for Xbox Live members based on their Gamerscores.
Hey, it's not much, but it's a nice bit of perks for something you are probably doing already.
Source: Microsoft
Thanks for the tip. Being gold member got 10 in 10. Entered so many sweepstakes but never won anything. Then again, it's free money and if win, free honey....

I saw this early this morning and already entered. Could always use another!

Entered. I am seeing a pattern from microsoft. They seem to have moved away from Nokia and moving closed to HTC. Anyway I think Nokia should use the Lumia line for windows and when contract is over start Android..

I also put in for the Xbox 360

Being a gold member is finally starting to pay off. I've gotten 5 amazon cards, entered a couple of these sweepstakes (haven't won one yet ( ._.) ) and currently have 993 points in the bank. Thank you Bing.

Shhhh... Don't tell people, you're lowering my chances at winning

Yeah... I've got almost 2,000 points to burn, and this is as good a place to burn them as anyplace!

Quite bummed that I can't redeem my Bing Rewards in Canada, even though I can collect them. What a tease.

Bing Rewards points not in Canada!!

I would not pass up this phone if I won it. :)

Anyone know when they will start allowing Bing rewards for searches made through searches made on the phone? I know we can use Bing.com in ie but what about the main search on the phone.

Probably never sinced you're forced to use it on WP anyway. Bing Rewards is really just an incentive to get people to use Bing instead of Google. I really like it since I use Bing anyway.

I already got Nokia 9202 but been using my Bing points try to win Xbox

It took some clickin', but I now have 290 entries in the 8x contest... :D

Does anybody know when Bing Rewards will be available in Germany?

And of course Bing rewards are not available in Belgium. Man I would be glad if Bing even got out of beta here, because now it is rediculous.

ThaNX for the tip.....just spent 6000 points ....good luck to me....

"This feature isn't available yet in your country or region."
Ah, figures...

Still waiting on the results of this...
Windows Central Newsletter
Thank you for signing up to Windows Central. You will receive a verification email shortly.
There was a problem. Please refresh the page and try again.