Xbox LIVE's new MyAchievements program rewards Gold members for their Gamerscores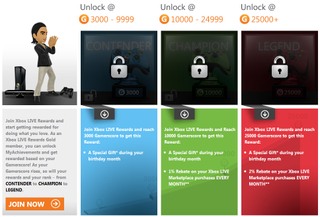 Microsoft has added a new perk for Xbox LIVE Rewards Gold members. MyAchievements, as it is called, offers benefits for players who have achieved certain Gamerscores. The program is live and has already unlocked the different tiers for players who have reached each milestone, of which there are three.
The Contender level (Gamerscore 3000-9999) entitles you to a "special gift" during your birthday month. It's not clear what exactly that gift is, but according to the fine print, it's worth a whopping $.25. We are guessing it is a birthday prop for your avatar. In addition to the birthday gift, the Champion level (Gamerscore 10000-25000) entitles you to a 1% discount on Xbox LIVE Marketplace purchases. The top level, Legend (Gamerscore 25000+) doubles your discount in the Marketplace to 2%.
It's certainly a step in the right direction for Microsoft to offer something to players for their Gamerscore, other than just bragging rights. And seriously, who really ever brags about their Gamerscore anyway? The rewards aren't significant enough to drive up the number of Gold subscribers, and falls short of what other services (like Sony's PSN Rewards) offers their members, but at least they're throwing the current ones a bone. The MyAchievements program is set to go until June 30 2013, so who knows, there could be more to come.
What do you think? Is the MyAchievements perk enough to get you gaming?
Source: Microsoft
It'd be nice if Microsoft would simply reduce the price of the Gold subscription, but I don't see that happening. All it's done is go up.

There are plenty of deals online. Look on Amazon and Newegg for those deals. I have yet to pay full price for Gold access.

How cheap do you want it? It's currently about $5 per month IF you paid the FULL price of $60 a year. Personally, I'm only paying $25 per year (using the family plan). I'm getting 4 Xbox Live Gold accounts for $99 per year (and using all 4!).
Amazon and other websites (and even retail stores) have good deals as well, sometimes adding an extra month or two onto the $60 price tag, or even combining a lower price + more months.
At $5 a month, I'm betting it's the cheapest reoccuring monthly expense anyone has.

EDIT: Forgot to mention, when I renew my Family Plan once a year for $99, I also get 1200 Microsoft Points back into my account (worth about $15 I think). So that's a total cost per year of $84 for 4 Xbox Live Gold accounts or $21 per year per account/ $1.75 per month per account. I don't know how I could get it any cheaper than that, lol.

I personally don't have an issue with pricing as I have a family plan gold membership, 4 players @ $99/year. That is not much at all if you divide it by 4. Also, I've seen deals on ebay and amazon for $29.99-$39.00 for a years membership for a single user. But I guess you are like many others who think all the technology associated with the console itself and network connectivity is cheap. MS is running a business, they give away millions monthly and you want more???

"...they give away millions monthly..."

Can you elaborate on that statement that Microsoft "gives away" millions?

I know about the online deals for XBL Gold. Microsoft's doing fine with their business model so more power to them. My real beef is that you need the Gold subscription to watch Netflix but thankfully I have other devices that don't charge me to watch Netflix after paying for the device. But hey, it's a negotiation. Microsoft has their rules. I don't like the XBL Gold thing so I choose not to buy into it. If I ever feel I could use XBL Gold, I'll get a subscription as cheaply as possible.

Buy your gold membership from Amazon. I always pay $20-$40 for my membership.

Or wait. I got last year's renewal for $30 just by not renewing until a couple of weeks before expiration.

Always knew I was a contender... I am happy with the pricing of the Family Gold probably not so if I was paying for 4 accounts seperately.

XBL Gold is great but these perks are a joke in comparison to what's offered via Playstation Plus..

Definitely. 2% is kind of lame. The only downside to PS+ is I keep holding off on purchasing games in hopes that they'll eventually be free (I got burned buying Borderlands about 3 weeks before PS+ made it free).

If it starts now and ends June 30 (if not extended), anyone who has a birthday in July/Aug/Sept can't get their birthday gift.

My birthday is in July, but I suppose I can live without the 20ms points you get as a gift ;)

Its 40$ on eBay, not that much for security and privacy for a year, plus they should've done higher numbers, ive got over 70k

Agreed, I had the highest tier years and years ago!

As usually not in my country, Norway

Well not a huge suprice there is it, Scandinavia gets 1 deal of a 100, always been like that. Was amazed we got to watch the E3 live broadcast.

That's really cool and adds value to gold membership, but they shouldn't be so stingy. 1% off? Thats nothing, and they need to drop prices if avatar stuff, three dollars for a piece of virtual clothing is ridiculous

It's unbelievable: on XboX you have to PAY to play online, other than the price of the games themselves.
That's absurd. Thank god I play on PC, and I still have "LIVE" titles, with online and achievements.
Screw Xbox gold :P

Shhhh! Don't trash XBL Gold's "value proposition." The "Gold Defenders" will jump all over you ;-)

My birthday is in October, and I already got my "special" prize, which was 20 Microsoft Points. I have around 9000 gamerscore, so I'm guessing the higher tiers will give you more points (50, 100 maybe)?

It was my birtthday at the start of the month, recieved this email last week from microsoft :

Congratulations! This month you'll be another year wiser. But what's a birthday without a sweet surprise? Try this: Enjoy 20 Microsoft Points as our gift to you. Use it towards anything you wish in the Xbox LIVE Marketplace. Your birthday Microsoft Points will be automatically deposited into your Xbox LIVE account by the 15th of the month. It's just one of the fun extras that you get for reaching CONTENDER, CHAMPIONor LEGEND status on MyAchievements from Xbox LIVE Rewards. Now, take a deep breath and blow out those candles!


Hey, 20 pts is better than nothing :)

I would be as optimistic with you if not for the fact that 20 points gets you nothing. At least using Bing rewards gets me 100 points every what, 12-13 days? 20 points a year is just pathetic. :/

Yeah, using Bing is cool....always can get 1800 MP every month for free

I'd be rich if Bing was supported in my country.

How does Bing Rewards work?

This is nothing new, They've done this a few times in the past. I have been well over 100k for years now & I have already unlocked all three of these levels, and I got avatar crap...

I never understood why some complain about paying for Xbox Live. It's only a $60 for a year. I usually find them for $20 less on Amazon. The service is top notch compared to Playstation plus. For most services in the world you have to pay so what's the issue. I adhere to this line "You get what you pay for".

You don't have a ps3 do you? Playstation plus is the tits.

Except for when PSN gets hacked or goes offline. I'll be sticking with XBL thank you very much.

Lastly, let me add by saying that this is a crappy attempt at enticing people. Is this a joke?

I got 20 points since this month is my birthday. It seems to be the same across the board since I have almost 100,000 gamerscore.

Wouldn't be enough to turn me into a gamerscore guy if I wasn't one already. Close to 200k. Waiting to get the 200kth (?) achievement in Far Cry 3

Typical response: "Microsoft is giving us additional rewards services for our Xbox Gold subscription, let's complain about it!"

Seems to be the normal response from people all across the net on multiple forums, complaining about getting more for your money. There's a lot of Microsoft hate in the world. :)

>:D im a legend! haha i knew all those years slaving wasnt for nought >:O muahahaha
BOW DOWN FOOLS! >:D lol

But....my birthdays in August =(

Really don't like the fact to get some basic online features such as online multiplayer you have to pay for it. I can understand if there were other perks included, but having to buy the game, then pay to play it online, that's just asking too much IMO, especially when other competitors are allowing this.

You get what you pay for. The online experience on Xbox 360 is far superior to the Playstation 3's online experience. But if you don't care much about the quality of multiplayer features or being able to communicate with other people, in other words, PS3's free online play is fine. Sucks when odler games' servers get shut down though, doesn't it?

Once more...its not available in switzerland. Like all the other great service, including youtube on xbox, xbox music/zune music, all or the most apps for xbox.... "Unfortunately, you can't join Xbox LIVE Rewards right now. It's strictly because the program is not available in your country. Check back often as new countries are being added to the program."

So what do we get as a Legend? The same 20ms points? Lol +2% off store lol. I like them giving free stuff but seems underwhelming

I guess it's cool, it's free.... I just went over 9K gamer score last night...

The coulda make the rebate higher imo. 2% for the many years I've played is not alot at all. They should've bumped it up 5%, 10%, 15%

Totally agree. Now that would be an incentive to play more games

Yeah I just got my special gift for my birthday... it's 20pts

The birthday gift is just a miserable 20 Microsoft points...

When I first got an Xbox, I thought my gamerscore could be used to purchase new games and content. Obviously I was disappointed. Then when the Avatar Marketplace was announced, I hoped my gamerscore would unlock different items and clothes. Again, disappointed. When this was announced, I set my expectations really low...and yet I'm still disappointed. Microsoft has no idea how to appeal to its customers.

I'm assuming you're still a customer of theirs, so I would say they do know how to appeal to them otherwise you would have stopped using their console long ago.
Windows Central Newsletter
Get the best of Windows Central in in your inbox, every day!
Thank you for signing up to Windows Central. You will receive a verification email shortly.
There was a problem. Please refresh the page and try again.