Vastking G800 is a Nintendo Switch for Windows 10 gamers
By Matt Brown published
The Vastking G800 is shaping up to offer everything you love about the Nintendo Switch while running Windows 10.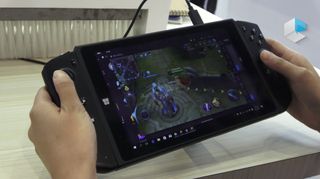 Nintendo has seen widespread success this year with the Nintendo Switch – its latest gaming device that blurs the lines between a traditional home console and handheld system. Featuring a tablet form factor and detachable "Joy-Con" controllers, the device has garnered a fair amount of traction and PC manufacturers have clearly taken note.
As reported by Notebook Italia, Chinese manufacturer Vastking has debuted the G800 – a portable gaming tablet clearly drawing heavy inspiration from Nintendo's handheld. Featuring full HD display, detachable wireless controllers and kick-out stand the device is shaping up to be an enticing gaming machine, however, has a Windows 10 twist.
The Vastking G800 comes with an 8-inch IPS display at 1920 x 1200 resolution, a 1.1GHz Intel Pentium N4200 processor and RAM configurations of 2GB, 3GB, 4GB or 6GB. The device also offers 32GB of embedded storage as standard, expandable via an SD card. The device also offers WiFi and Bluetooth connectivity and 3,400 mAH battery. Other features of the tablet include a gyroscope and 2-megapixel front-facing camera. Across the top of the device, USB-C, USB-A, micro HDMI and 3.5mm audio can all be found, alongside a dedicated volume rocker.
The external wireless controllers are what makes this tablet truly unique, both usable when detached and connected to the side of the tablet. Utilizing WiFi connectivity, these controllers offer a traditional controller layout, with triggers, buttons and two thumbsticks. Although this tablet replicates the concept of the Joy-Cons, no form of simple docking to external monitors has been showcased.
As of right now, Vastking is currently looking to license this design to other organizations, ahead of a formal release. No release window or pricing has been announced at this point in time. What do you think of the device so far? Let us know your thoughts in the comments.
Thanks for the tip, Marco!
Matt Brown is Windows Central's Senior Games Editor, Xbox & PC, at Future. Following over seven years of professional consumer technology and gaming coverage, he's focused on the world of Microsoft's gaming efforts. You can follow him on Twitter @mattjbrown.
This is hot! Woah in few years windows hardware won't be anything to joke about!

Maybe I'm thinking ahead but this could be an ultimate gaming device. If it works well. You have Windows 10 so you have Windows Store games, Steam and every other store like GOG and Origin. Then you also have Xbox One streaming and PlayStation Now. Then of course all sorts of emulators at your disposable. All with integrated joypad controls and I'm sure keyboard/mouse support via USB and Bluetooth. This is definitely something to keep an eye on.

Nintendo's lawyers right now: **heavy breathing**

Probably not unless they use the exact same technology patented by Nintendo. Detachable controllers have been a thing for years and as for a tablet with a kickstand built in that runs windows...hmmm, where have we seen that before? 🤔

Seems like a Linx clone to me. Not bad. Can't see how Nintendo can complain or they'll have to answer for ripping off the Linx.

Oooh this is tempting, I currently have a GPD Win for my mobile PC gaming purposes. But this does play games in full HD instead of the 720p on the GPD Win. Both devices are great for this kind of mobile gaming though. I'm curious what's more powerful though? The Core m3 in the upcoming GPD Win 2 or the Pentium chipset in this device? I realize in recent years the Pentium line has essentially become a low end budget CPU. If that's the case, is it even that much more powerful than the Atom x7 in my 1st gen GPD Win?

Unless I'm misreading something, the Atom in the GPD Win is better that the Pentium in this. Also, the core m3 in the Win 2 would be better than both.

I looked into a bit and from what I can tell, the Atom x7 in the GPD Win might have a faster CPU. Both are quad core, but the x7 maintains higher clock speeds than the Pentium. However, I know there's more to CPU performance than clock speed or cores. As for the GPU, the Pentium has Intel HD Graphics 505 which is exactly 1 generation newer than the one in the GPD Win. It's got a higher clock speed, more execution units, and support for DirectX 12. So I'd say as far the GPU goes, this tablet would out perform the one in the GPD Win but probably loses to the entire Core m3 chipset.

Didn't know about the newer HD Graphcs. I'd be interested in seeing more videos of people playing games on this once it's out in the wild.

Yeah I got to hand it to Intel though. They may have lost the mobile war against ARM but devices like these still show how great Intel's mobile offerings were. It's a shame it didn't really start to catch on until now when they ended their mobile efforts. The Atom x7 in the GPD Win is over 3 generations old now yet it runs modernish games pretty well and doesn't break a sweat when running Windows 10. For ARM chipsets, it basically takes the Snapdragon 835, one of the most powerful ARM SoC's out there to run full Windows 10 at an acceptable level of performance.

It only beats the snapdragon 835 in windows since it is using emulation. The gpu in it is already more than 3 times as strong as the one in the gpd win. In benchmarks,it also absolutely destroys it.

Won't the cpu be an issue for most games? 1.1ghz doesn't seem like that much

Low end CPU, no dedicated GPU, and only 32 GB Storage, this thing is crap. Thi isn't for any serious gamer and I have a gaming desktop/laptop/and a Switch.

Agreed that this is pretty weak but I suspect that we are going to start seeing even more and better versions of dedicated Windows handheld PCs. The GPD Win isn't overly powerful but it plays a surprising number of games (including a few that aren't going to the Switch, like Overwatch) and there's enough demand that they are coming out with a second one with better specs..

I have a Dell Latitude 13 7350 with a Core M-5 CPU, 8 GB RAM, and 1TB M.2 SSD. It won't play any decent game worth a damn unless you turn all settings down as far as they can go. It is a Dual Core 4 thread mobile chipset. The Tegra outperforms it, trust me. Also, it doesn't take a Snapdragon 835 to run Windows. You forget about those Windows 8 RT Tablets from years ago. They ran Full Windows, just ARM can't natively run an x86 program.

Actually you'd probably be surprised to learn that modern Intel HD Graphics GPU's like the one found in this device actually do outperform the Tegra X in the Nintendo Switch. I have a device called a GPD Win that's powered by an Intel Atom x7 plus HD Graphics 405 and as far as benchmarks go, it's on par with the Switch, even better in some areas too. The Pentium SoC in this tablet is a generation newer and more powerful than the Atom SoC in the GPD Win so it'll certainly further outperform your Nintendo Switch. Yes in PC Land, Intel Atom and Pentium SoC's are considered low end. But compared to mobile ARM-based chipsets found in smartphones and cheap tablets, Intel chips are still more powerful. Only Apple has been able to somewhat match low end Intel chipsets in performance. Yes the iPad does outperform the Switch as well but it's only comparable to the gaming tablet mentioned in this article.

Ever play a Switch? I doubt it. Zelda BotW is an AAA quality title. I'm not talking those stupid marketplace mobile app games. This is a joke, I've tried playing real games on much better tablets than this and it wasn't a good experience. This is some cheap made in China garbage. I made the mistake once buying one of those. Won't make the same mistake twice.

FYI, breath of the wild runs perfectly fine on a Wii U without much difference from the Switch and as we all know by now, the Wii U is about as powerful as an Xbox 360. So point is, while breath of the wild looks great, it's not a graphically demanding game. The specs of the tablet in this article are more than adqueate to run the Wii U emulator actually which means you probably could play Breath of the Wild on this ironically.

U cannot run any gmae with cemu on this device. The cpu is super ****** and the gpu in it is weaker than one in the ps3 which is weaker than the one on the x box 360 which is weaker than the one on the wii u

Based on the minimum requirements for Cemu, the GPD Win does meet the minimum requirements although it's been noted there'll likely be numerous graphical glitches due to the driver being unofficially supported. And I can confirm the GPD Win can also run Dolphin Emu flawlessly. It also more than meets the requirements to run the Xenia 360 emulator and as you said, the Wii U isn't a huge leap from the 360.

They actually don't.The gpd win is way weaker than even a ps3(80 gflops). The switch is already way stronger than the x box 360 which is stronger than a ps3(by like 50 gflops)

It's actually not an accurate measure to compare GFLOPS of different architectures. The GPD Win is Intel x86, the Switch is ARM, while the 360/PS3 is PowerPC based. And even between the same architecture platforms, FLOPS have never been the entire story. It's just a measure of how many floating point operations a CPU can do per second, but there's more than just floating operations for overall performance.

It doesn't really matter Generalheed since it is still listed in the order of power in which the gpd win is the weakest. It can only run most games from the ps3/x box 360 at low settings at an ok framerate or it can't run them at all

Perhaps but remember we're talking about a small handheld device the size of a Nintendo DS that's on par with the Switch and capable of running 360/PS3 games as well as some modern PC games at acceptable performance levels. It's still a pretty impressive accomplishment. There's no way you'd ever be able to play Doom on a Nintendo 3DS.

1) Microsoft should really do something like this for the Xbox / windows mobile... But they won't 2) what games are we talking here? If it can't any AAA games like forza, or fifa then it won't take off. It won't play them with that spec 3) all you need is a decent Windows laptop such as the surface or other more portable devices that have a much better Spec and GPu and also an Xbox controller and away you go 4) Sorry for posting as a reply but on my phone it wont let me post as a new post!

My GPD Win which has a chipset that's a generation older than the one in this article can run most modern games at low to medium settings. And games over 5 years old it can run just fine at high settings including Skyrim. Intel HD Graphics is a lot more powerful than you think actually. Of course it won't run the latest high end games like Forza though. But from a device as compact as the GPD Win or this tablet, it wasn't meant for that. You'll never see games like that on the Nintendo Switch either. Keep in mind that this is supposed to be a portable gaming device that lets you play PC games. It's not meant to replace your console or gaming PC by any means.

Intel HD is trash, the end. SMH

Yeah that fact seems to be lost on most people. They think that every gaming device must always be cutting edge on graphics. Portables have NEVER been the same spec as their current home versions on the console side. The Game Boy was under the NES, Gameboy Advance under the Gamecube, PSP under the PS2 & PS3, the Vita under the PS3 & PS4 but yet they were capable in their own right and all had some great games. This thing doesn't NEED to be 4k 60 with Ultra settings. It just needs to play a variety of games respectably on the go with perhaps some older games a full settings.

I'm not talking 4k budy, I'm talking a decent gaming experience. I've tried to play games on my tablet that is a lot more powerfull than this thing and has a 1TB M.2 SSD in it and it's NOT a good gaming experience. No self respecting gamer would say this thing is for gamers. The Switch is the best mobile gaming device atm. I would love to see MS make something, but not this cheap made in China garbage.

What is with Nintendo fans not being able to admit that the Switch is less powerful than most mobile devices out there? You can throw all the benchmarks and spec comparisons out there but it's like they're in total denial. The fact is, devices like the Samsung Galaxy S8 and Apple's latest iPad are all more powerful than the Switch both in CPU and GPU performance. And what's even more powerful on top of all that is Intel HD Graphics. I'd also like to know what kind of tablet you have that has swappable M2 SSD's and costs less than $1000 and isn't powered by Intel HD Graphics. Even the most expensive Surface Pro is still powered by Intel HD Graphics. And finally, we're talking about tablets here. Not gaming PC's. You honestly expect a handheld portable device to have GTX 1080 levels of performance? No that is not the point of any gaming tablet. Not even with the Switch. Gaming tablets are meant to run lower fidelity games like breath of the wild. You'll never see high end games like Battlefield or Star Wars Battlefront on a Switch.

Comparing specs between platforms is more or less pointless as there are other factors involved. On a PC you have a lot of overhead for an operating system and device drivers to be ready for whatever variety of uses you need for a computer at any given time. Tablets and phones to some aspect do as well but much more optimized to use less power and conserve battery life. A dedicated gaming machine is even more optimized to only run what is needed for games and directly related services. There's not much extra running in the background so more of the hardware can be dedicated to the games themselves. To me I really don't look too much at the specs but I look at how well does the device run the target application(s).

They could definetly port the game if they wanted to.They could port cod bo3 to last gen and battlefield 4 runs on last gen so why not? Doom and wolfenstein 2 are already coming. Plus,the intel hd in the tablet is actually weaker than the gpu in the ps3

Just because they can port a game to last gen doesn't mean they should. Black Ops 3 on last gen was horrible. The graphics were tuned down so much and the framerate was inconsistent. Plus, campaign mode had to be cut out because it was a lot more demanding than multiplayer and they couldn't gut it enough to run acceptably on last gen. Some simpler games like sports games can of course easily be ported to last gen, but the latest modern games should not.

U know that battlefield 4 on last gen looks a lot better than bo3 on last gen and runs better. They clearly put o effort in it at all. The switch is also quite a bit more powerful than last gen

The intent is for gamers, whether it actually performs well or not is another thing. It my well be terrible. Regardless, I like the idea of this just as I like the Switch design but unlike the Switch I could find more uses for this as long as it hits a minimum performance level. Granted maybe my threshold is lower. Considering I've been gaming probably before you were born and still have just about every game system going all the way back to the 2600, I consider myself a pretty respectable gamer and this still interests me. All something like this has to do is have decent control and battery life and I could probably find a use for it.

I bet this would run cuphead flawlessly 😎

I mean doom and wolfenstein 2 are very demanding games and they are coming to the switch(wolfenstein 2 just came out I believe)

Doom runs at 720p ~25fps on the Switch, 1080p 60fps on Xbox One/PS4, and 4K 60fps on Xbox One X. Point is, the Doom engine used in Doom and Wolfenstein is a very flexible game engine and can scale well from low end hardware like the Switch to high end hardware like the Xbox One X. Also, Doom also runs on the GPD Win at relatively the same performance levels as the Switch (720p 30fps). Oh and even though Doom can run at 720p 30fps on the Switch, it's not simply a reduction of resolution and framerates but also a reduction in texture quality and visual effects.

Doom runs at 720p 30 fps(with some drops but rare) on the switch. In order to run doom on the gpd win, the phawx had to mess with the config file while also running it at 320 by 420 (with 50 percent resolutions scale which makes it way lower)and it still runs at 25 fps usually and around 22 or 21 fps in combat(basing off averages) U clearly talking bullshit

He probably had the older GPD Win then before the refresh that upgraded the SoC to the faster Atom x7 Z8750. It's got higher clock speeds across the board as well as supposedly unverified faster memory.

The revised version usually only runs games at like 1 fps better. It Is not going to make it run from 320 by 420 with a 50 percent res scale,modified config file,and 21 or 25 fps average to 720p 30 fps

Agreed and no problem :-)

Of course it's not for a "serious gamer". Doesn't make it crap though

Using wireless to connect the controller pieces seems like a bad idea. They seem to have two contacts, probably to get power from the device and avoid including their own batteries. Not adding the 2 more contacts needed to have full USB means they'll consume more power (3 radios to connect both controllers and central device), introduce latency, and be banned from use on airplanes.


Everything I love about the Switch, except for the games. I don't want the switch because it's a portable system, that's just a bonus, I want it for the exclusive games to it.

What Microsoft should do is a make a "made Windows (or Xbox) Mobile Gaming" certification for both games and hardware. It doesn't have to be much: minimum requirements for processor, GPU, memory, screen resolution and some standard for the controls. Games should be able to run at a minimum of 30 FPS at this setup and have a UI that's usable on such a device by selecting "Mobile Game Mode" in the settings menu, so no fiddling around with lots of complicated settings. Launch it with a nice Xbox One Mobile device by MS itself with a bunch of games from the big franchises with the Mobile Gaming Mode added and then let the OEM's flood the market with more and more devices to compete with the Switch.

Wouldn't mind "Xbox mode" on desktop either 😃

Ew, gross...A PENTIUM?! Why do people still insist on using those, they're the WORST. 😥 Celeron too 🤢

Needs Raven Ridge to give it a decent GPU, IMO. I don't see mention of the GPU to know if there's anything competent inside to push a real gaming experience worth mentioning.

The GPU is just an Intel HD Graphics 505 which is 1 generation newer than the one found in the GPD Win's Atom x7 SoC. I have no personally used an HD Graphics 505 device yet, but from my experience with the GPD Win's HD Graphics 405, you can expect pretty decent performance for a device of this form factor. I primarily use the 405 to play Halo games like Halo 2 Vista and Halo Wars Definitive Edition. It runs all those games just fine and can even max out Halo 2 Vista. Aside from Halo, you can also play Skyrim and Fallout at low-med settings. Most modernish games should be able to run just fine on this. Of course don't expect to max out the graphical settings for newer games.

Most modern games will run like ****. Games that came out during the ps3/x box 360 era will either run okay at lowe settings or still run like ****

i think MS should officially come out something like this with LTE connectivity and high GPU and CPU and RAM built-in, wow that will be fantastic...lol

I look at this and I'm already considering getting one and repurposing it for work.

What I love about Nintendo Switch is that I could play GOTY Nintendo games like BOTW and Odyssey. So no, that horrendous tablet does not in any inch resemble what I love about the Switch.

That's the thing though. If you aren't married to Nintendo only games, these are excellent devices because, let's face it, the Switch is getting a lot of software but the overwhelming majority are ports from Steam, GoG, etc. At least with devices like these, you'll know what to expect because it's Windows and you won't have to worry about the 2-year harware refresh cycle by Nintendo where they put in "new" (read: basic) features that should have been on the handheld/console from the get-go (ahem, voice chat) so they can double-dip. I love Nintendo but I also know Nintendo, if you get my meaning.

I see this and think it's perfect for game streaming via Steam.

Ha, I have the same idea when I see this, plus liquidsky will be perfect match on screen size, battery and performance balance

I'm begging for someone to make an 8 inch, Windows 10 tablet with LTE that has good performance.
Windows Central Newsletter
Get the best of Windows Central in in your inbox, every day!
Thank you for signing up to Windows Central. You will receive a verification email shortly.
There was a problem. Please refresh the page and try again.