Vector Watch app update fixes notification issues on Windows 10 Mobile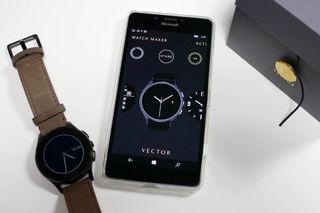 It looks like Vector Watch owners can breathe a sigh of relief, as a recent app update appears to have fixed an issue that has been preventing phone notifications from syncing since the launch of the Windows 10 Mobile Creators Update.
Notification issues have actually been plaguing Vector Watch owners since December 2016, but many users reported they outright stopped working following the release of the Creators Update. Now, a number of tipsters and users on the Vector Watch forums report that the most recent update to the app, which began rolling out over the past day or so, has enabled notifications once again.
That said, some users have still reported issues following the update. After initially working for a time, one forum user reports connection issues resumed after rebooting. The solution to any remaining syncing issues, it seems, requires un-pairing the Vector Watch from your phone and resetting the app from its settings menu.
It sounds like performance is still a bit hit or miss, but notifications are in a much better spot than before the update. Further updates are likely required to smooth things out even more. However, Vector Watch was acquired by Fitbit earlier in 2017, so it's reasonable to speculate that support may be limited going forward.
Thanks for the tips, everyone!
Download Vector Watch (W10) from the WIndows Store (opens in new tab)
Windows Central Newsletter
Get the best of Windows Central in your inbox, every day!
Dan Thorp-Lancaster is the former Editor-in-Chief of Windows Central. He began working with Windows Central, Android Central, and iMore as a news writer in 2014 and is obsessed with tech of all sorts. You can follow Dan on Twitter @DthorpL and Instagram @heyitsdtl.
Great news . Finally. Thanks Mr Dan for this article 👍

Get out!!!!! I thought they were just gonna let it be. Wow, time to check it out then.

LOAD OF GARBAGE!!!!! still the same crap. After resetting, following all the instructions, trying absolutley everything. Stuck at the same point.

Are you actually managing to set up the app at all with the watch? I can't even use the app, because upon setting up (Let's connect your Vector Watch"), I only get "The bluetooth command reached timeout". Anybody else stuck on this point after reinstalling the app with the newest update?

Correct. Same point. Bluetooth pairs, through the app the device is found, begins synching and stays stuck forever, eventually gives that Bluetooth timeout error and does nothing. The time and date syncs that's about all.

It worked perfectly for me.

Did you uninstall the app and your the watch? I did that first and installed the updated app.

I meant unpair the watch.

The same issue is with Garmin's app. No sync since the Creators Update...

When you say no sync, do you mean phone notifications? Because mine syncs all of the activities, but I don't receive notifications about calls and texts.

Yes, sync of activities works fine, but no notifications. It sounds like the same issue as with the Vector Watch... (Fenix 5)

Same here for Garmin app. Activity sync works fine but not there notifications.

I contacted Gramin (Netherlands) with the issue and after a few email conversations they mail this (translated from Dutch):

Thank you for forwarding the information.
I have forwarded this information to my colleagues.
In this way we can investigate the exact cause and provide the application for a new update.
If there is anything else I can help you, then I'm happy to help you again.

I think every Garmin owner should contact Garmin to let them know that there are more than a couple of W10M users who paid in some cases over $700 for a Garmin watch and expect to see 100% support. I send a screenshot of the comments of the Windows Store Garmin app where lot's of people complained about the notification issues...

No, no it doesn't. I'm still stuck on the syncing menu.

Excellent news. This is a really great smartwatch and given it was one of the very few that was compatible with windows phone, I was worried they would just let it die.

I communicated with their tech support and they kept me up to speed as to when the update was coming. When they notified me to grab the update I followed their instructions on installing the update and everything has worked perfectly since.

The general consensus seems to be it works until the phone reboots then the app must be reinstalled.
What phone are you using that it is working perfectly?

Lumia 950. I've rebooted and it still works fine

These are the instructions they sent me. Raluca Craciun (Vector Watch)
Jun 15, 16:37 EEST
Dear Mr. Blanchard,
Thank you for bearing with us in solving this issue!
Please be informed that we have just released an update for the Vector Watch app that includes a fix for the sync issues that appeared after the Creators Update.
Thus, we kindly ask you to please:
1. Access the Settings menu on your watch, by keeping pressed both the upper and middle buttons and then select "Unpair";
2. Delete the watch ID from your phone's Bluetooth menu;
3. Uninstall the Vector Watch app from your phone;
4. Restart the phone;
5. Reinstall the latest version of the Vector Watch from the Microsoft Store (available at https://www.windowscentral.com/e?link=https2F%2Fclick.linksynergy.co... ).
Looking forward to your feedback on this situation!
Kind regards,
Raluca | Support Team| Vector
VECTOR WATCH GROUP
Web: www.vectorwatch.com | support@vectorwatch.com

Done ask if that and it still loses ask notifications after a reboot.
950 xl

I followed these exact instructions, and now I can't even set up the app with the watch. I only get "The bluetooth command reached timeout" while on the initial WATCH SETUP screen.

I may have to buy a Vector Watch now.

I returned my Garmin and jumped on the Fitbit band wagon. Notifications worked 95% of the time and continues to improve 👍

That's good to know. The only thing about the Vector watch besides the previous issues is that the vibration motor is too weak. I could barely feel it sometimes.

Finally!!!!! I was just looking for the update this morning, but it wasn't there.. I can finally bring my Luna out of the drawer. Yey. Let's hope it works.

It works perfectly only just after install. when you reboot phone notifications stop working until you reset watch and reset/resinstall app..... So big step forward but need another smaller....

A mí sigue sin funcionarme, no llega a sincronizar con el reloj.

Buyed the Garmin 5x today. Well see in a week how it works with W10m Insider fast...

I don't remember reading about the existence of the issue. I'd appreciate if you do not report the issue being solved before disclosing the issue.

The best smart watch like wearable is still the Microsoft Band. I didn't the past few months looking for replacements after replacing my band 2 for the third time in a year to include Vector watch. Little did i realize the replacement was staring me in the face the whole time. The original band. What it lacks in style it makes up in disability. I had it in my closet for the past two years and it works like a champ.

Still use my original Band on daily basis. Others came and went away. Including the $450 Vector Luna.

Wow, it took them 5 MONTHS to fix something. Bunch of Eastern European crooks and false advertising and even more uninformed reporting from Windows Central. Thankfully, my new Galaxy Gear S3 watch says f*ck you Vector.

Never heard of this. Binged a lilo, is 30 days battery life real?

Yes, the watch itself is amazing. I've charged my Vector Luna four times since Christmas, so that makes battery life more than 30 days a charge for me.

Finalmente, siguiendo los pasos de Raluca, todo ha ido bien, de momento recibo todas las notificaciones perfectamente.
Mi móvil es el Lumia 950. La versión del Sistema Operativo del Vector smartwatch es la 2.0, y dice Raluca que no hay ninguna posterior, que es la misma para todas las plataformas. Así que por ahora estoy contento.
Yo lo cargo a los 35 días con aún un 8% de batería.