Vector Watch companion app built for Windows 10 Mobile hits the scene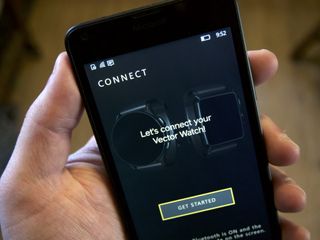 Vector Watch has pushed out a brand new Windows 10 Mobile companion app for its smart watch of the same name. There's more than support for Windows 10 Mobile tagging along in this release however, as it also includes plenty of new apps and watch faces for your Vector Watch.
Here's a look at all of what's new in the Vector Watch app for Windows 10 Mobile:
Windows 10 Mobile Support (RS Insider not supported)
Notifications that get dismissed from the watch will automatically be dismissed from the phone as well. You also have the option to not dismiss them from the phone.
VOS (Vector OS) Update - Notifications with non-English characters and diacritics now displayed on watch
Activity Tracking improvements – Detailed Sleep data is now available in the activity graph
Restore user data (Alarms and User Biometric Data) after reinstalling the app
New Music app - Please remember to open the Groove Music app on the phone beforehand
New apps: NEST, Wunderlist, Evernote
Improved Timezone stream for DST (Daylight Savings Time)
Improved OTA (Over The Air) updates stability – Retry button in case of update failure
Improved phone - watch connectivity
Improved notifications and calls (will reach your watch faster than before)
New watch faces now available in the store
Compatibility with the Watchface Maker
Facebook & Twitter Streams now have icons
Tested on the most popular Microsoft Lumia devices, such as 640XL, 950 and 950 XL
Enabled pairing from the app U
npairing from the watch now triggers unpairing from the phone >- Various UI improvements and bugfixes
If you happen to own a Vector Watch and a Windows 10 Mobile device, that's a lot of cool new stuff to look forward to. Keep in mind that the Windows 10 Mobile version of the app is a separate listing from the previous version, so it will require a new download rather than a simple update. In any case, you can grab the app from the Windows Store now to give it a shot.
Download Vector Watch for Windows 10 Mobile (opens in new tab)
Dan Thorp-Lancaster is the former Editor-in-Chief of Windows Central. He began working with Windows Central, Android Central, and iMore as a news writer in 2014 and is obsessed with tech of all sorts. You can follow Dan on Twitter @DthorpL and Instagram @heyitsdtl.
It's July and it's raining apps!!

Watch the Review from Daniel Rubino did in 2015 > https://www.youtube.com/watch?v=MwmXznAJfhk

Haven't heard of this watch i like it its like a regular watch with smart features. Anyone have one and use it with windows mobile 10? Does it work as well as the Microsoft band for notifications?

It's been very reliable for notifications so far.

With the new update, could you tell us how music controls are coming along now? I noted in your impression video that the Vector didn't have music controls similar to the Band 2 which was a shame to me. Even more so is how at the time they offered mostly analog clocks. Does this update release some digital clocks for us to change to?

The music controls are simple: Play, pause, next track, previous track, and volume up and down. There are a handful of new digital watch faces also.

It had been very reliable for me also until this week. Notifications no longer work on the watch. I've contacted support, but no reply.

Hey Daniel, didn't you review the Vector Watch back in 2015?

Will you do another review to showcase the updated app? :)

Man, I really want of these, but I'm already wearing a Charge HR. But the support from a company like this really makes you question why companies like Amazon can't support us.

Wow, just hope we had more options

I love the look of the Vectors but the display is very poor, resolution wise. Hopefully they'll release newer models with sharper screens.

I think resolution is something one would willingly forgo in exchange of amazing battery life.

I can't really say I agree. It is 100x better than my Pebble. I agree, it's not the best resolution, but honestly I cannot complain at all about it considering the 3 week battery life.

Agreed, battery life is incredible, but considering what else is out there for iOS/Android and this is the best offering for Windows fans at the moment, it does seem again that were just settling. And you can't tell me it's not a little embarrassing if you compared it to a mate with an Android wear watch.

Well done, you've managed to reiterate the main selling point with additional punctuation.

I whole heartedly agree with this. With MS Band I already have a habit of charging it daily. I would trade 15 days of battery for better display/brightness/contrast/resolution. I had a hard time having a face that makes dial stand out like a real watch. Finally, I felt the weight was too much comparing to my other chronograph and returned it. Did not want to return but weight and resolution were huge let down for me considering I am spending nearly $220 for a watch I plan to use with $250 Lumia 640 XL. I want a watch where I can change faces and have them stand out with my attire or accessories/phone etc. Good first iteration, will look forward to next. Notifications, apps, store is all goodness.

the vector watch has a ios or an android app?

It does, before Windows 10.

That's a BIG changelog! Posted via the Windows Central App for Android

I had been having random issues on the latest build, but the new app took over and all is will, even better. Their support has been responsive with an obvious commitment to Windows 10.

...and if you have a Vector, do yourself a solid and get a few bands from Barton. Their quick release silicon bands are great.

Does Barton have the metal chain bands as well? I'm really wanting to get the Meridian because I like the rectangular watch face, but I'm disappointed that it doesn't have an option to buy it with the chain link band, say in a brushed black color.

If you're looking for a metal band, I recommend this one. It arrived in the mail Saturday, and I love it on my Vector.

very nice looking watch but where can i buy in canada rather than online and pay crazy customs duty.

Amazon Canada https://www.amazon.ca/s/ref=sr_pg_1?rh=i2Ck%3AVECTOR+SMART+WATCH&...

You can also check out some local watch shops especially in Richmond, Calgary, Saskatoon, and Hamilton. Sometimes these local shops carry smartwatches

I know it says Nest is a new app but does vector have to make the apps? I really like this watch...battery life, waterproof and activity tracking make it sound very appealing but i got a feeling lack of apps may be an issue
Windows Central Newsletter
Thank you for signing up to Windows Central. You will receive a verification email shortly.
There was a problem. Please refresh the page and try again.