Verizon agrees to buy Yahoo for $4.83 billion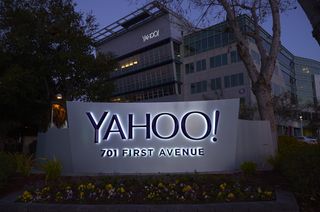 Yahoo has agreed to sell its core business to Verizon for $4.83 billion, signaling an end to one of the internet's most pioneering companies as a standalone entity.
Under the deal, Verizon will acquire Yahoo's search, mail and instant messaging services, along with its ad platform and a few real estate holdings. Yahoo's ad business and digital content services — including Yahoo Finance and Yahoo Sports — will be of significant value to Verizon as it looks to expand its offerings in this space following the acquisition of AOL last year for $4.4 billion. The move puts Verizon behind Google and Facebook in the U.S. digital ad segment, with a total share of 4.5%.
Yahoo will retain its stake in Chinese internet giant Alibaba and Yahoo Japan, which have a combined value of over $40 billion. CEO Marissa Mayer isn't likely to join Verizon, but she will receive a severance package valued at $57 million.
Verizon to acquire Yahoo's operating business
BASKING RIDGE, N.J., and SUNNYVALE, Calif., July 25, 2016 -- Verizon Communications Inc. (NYSE, Nasdaq: VZ) and Yahoo! Inc. (Nasdaq: YHOO) today announce they have entered into a definitive agreement under which Verizon will acquire Yahoo's operating business for approximately $4.83 billion in cash, subject to customary closing adjustments.
Yahoo informs, connects and entertains a global audience of more than 1 billion monthly active users** -- including 600 million monthly active mobile users*** through its search, communications and digital content products. Yahoo also connects advertisers with target audiences through a streamlined advertising technology stack that combines the power of their data, content and technology.
Lowell McAdam, Verizon Chairman and CEO, said: "Just over a year ago we acquired AOL to enhance our strategy of providing a cross-screen connection for consumers, creators and advertisers. The acquisition of Yahoo will put Verizon in a highly competitive position as a top global mobile media company, and help accelerate our revenue stream in digital advertising."
Yahoo will be integrated with AOL under Marni Walden, EVP and President of the Product Innovation and New Businesses organization at Verizon.
Marissa Mayer, CEO of Yahoo, said: "Yahoo is a company that has changed the world, and will continue to do so through this combination with Verizon and AOL. The sale of our operating business, which effectively separates our Asian asset equity stakes, is an important step in our plan to unlock shareholder value for Yahoo. This transaction also sets up a great opportunity for Yahoo to build further distribution and accelerate our work in mobile, video, native advertising and social."
Mayer added, "Yahoo and AOL popularized the Internet, email, search and real-time media. It's poetic to be joining forces with AOL and Verizon as we enter our next chapter focused on achieving scale on mobile. We have a terrific, loyal, experienced and quality team, and I couldn't be prouder of our achievements to date, including building our new lines of business to $1.6 billion in GAAP revenue in 2015. I'm excited to extend our momentum through this transaction."
Tim Armstrong, CEO of AOL, said: "Our mission at AOL is to build brands people love, and we will continue to invest in and grow them. Yahoo has been a long-time investor in premium content and created some of the most beloved consumer brands in key categories like sports, news and finance."
Under Armstrong, AOL has invested in and grown global premium brands, including The Huffington Post, TechCrunch, Engadget, MAKERS and AOL.com, and market-leading programmatic platforms -- including ONE by AOL for both advertisers and publishers.
Armstrong added, "We have enormous respect for what Yahoo has accomplished: this transaction is about unleashing Yahoo's full potential, building upon our collective synergies, and strengthening and accelerating that growth. Combining Verizon, AOL and Yahoo will create a new powerful competitive rival in mobile media, and an open, scaled alternative offering for advertisers and publishers."
The addition of Yahoo to Verizon and AOL will create one of the largest portfolios of owned and partnered global brands with extensive distribution capabilities. Combined, AOL and Yahoo will have more than 25 brands in its portfolio for continued investment and growth. Yahoo's key assets include market-leading premium content brands in major categories including finance, news and sports, as well as one of the most popular email services globally with approximately 225 million monthly active users****. Additional technology assets in the advertising space include Brightroll, a programmatic demand-side platform; Flurry, an independent mobile apps analytics service; and Gemini, a native and search advertising solution.
The deal is subject to customary closing conditions, approval by Yahoo's shareholders, and regulatory approvals, and is expected to close in Q1 of 2017. Until the closing, Yahoo will continue to operate independently, offering and improving its own products and services for users, advertisers, developers and partners.
Verizon will generally issue cash-settled Verizon RSUs for Yahoo RSUs that are outstanding at the close.
The sale does not include Yahoo's cash, its shares in Alibaba Group Holdings, its shares in Yahoo Japan, Yahoo's convertible notes, certain minority investments, and Yahoo's non-core patents (called the Excalibur portfolio). These assets will continue to be held by Yahoo, which will change its name at closing and become a registered, publicly traded investment company. Yahoo will provide additional information about the investment company at a future date.
Yahoo intends to return substantially all of its net cash to shareholders and will determine and communicate a specific capital return strategy at an appropriate time.
So definitely never going to be a flickr app for windows then ☹

I'll join you in that :( if that is the case

Well, it has an API! So there sure will be some developer who will make a decent one at some point in the future

How the mighty have fallen. Worth less than some start ups.

They were a company of more than 20bi.. Lost chances of join the Microsoft team for much more... God forgive...

$4.83B + $40B = $44.83 Billion.

Yahoo was great in its time, without the sneaky crap of Google. The end of an era indeed.

End of an era indeed! Yahoo taught us how to use e-mail.

And search web pages! It opened up the internet as we know it for millions.

And get malware from site ads... ;)

That was Excite and AltaVista for me... Jump on the Yahoo once those two essentially disappeared.

I never used Yahoo for anything and it didn't teach me how to use email. It was and still is useless. Meh...

You probably weren't there. Yahoo WAS internet in its age.

Yeah. For everybody, for millions of people. For the general public. Clearly not for IT and software professionals. It's not a difficult thing to understand, you know.

I Guess, you are 4 year old. Aren't you?

I don't need to guess that you're stupid. Lol

If you don't like it, at least respect what others feel...

Agree, their email is the worse, no calendar, contacts, cross platform syncing, etc. They may have been innovators 25 years ago, but they feel asleep at the wheel with AOL and Novell.

Yup used Lycos a lot back then, Yahoo some. The moved to Google then Bing.

You're not alone...I have never ever used Yahoo for anything and don't see myself doing so anytime in the future. I am an IT professional that has been usning the internet since 1990 through a VAX mainfraim. :P I suppose it might have been used by general consumers...why I'm not sure. Heard their financial markets information was good.

AOL was my introduction, I am sure I am not alone....

My ISP uses Yahoo mail as its webmail provider. Wonder how this will affect things?

Oh dear, and I thought I had problems ;)

It is just me with the problem then hahaaaa

Around 10% of what MS offered back in the day. That time MS was saved, not looking as good with LinkedIn lunacy.

Well at least LinkedIn reputation can't get much worse as they have already leaked their users private information.

Is that like saying I gave away all my stuff, when my house got robbed, and I allowed myself to sit in a chair for 20 minutes, as they held a gun to my head? Seems counter intuitive, frankly.

Ugh... In 2008 Microsoft was ready to pay $45 Billion for Yahoo... and today is mere 5 Billion. Well done Marissa Mayer! you should be the next CEO of google :-)

Perhaps MS saw the value in alibaba stake and was not really interested about Yahoo :)

If my memory is right I thought the idea of Microsoft's offer in 08 was to try and take on Google in search by combining with Yahoo - that was in the days before Bing (June 1st 2009 launch) and also before Yahoo bought Tumblr for $1.1b. That Verizon isn't buying the Alibaba stake is telling and does explain why Yahoo is half a Nokia (or 4/9 of Linkedin). I'm interested to see if this goes ahead - with Verizon having bought AOL and there being plenty of crossover with Yahoo it could be interesting to see how it shakes out.

Does this mean Verizon is taking on google for search, well specifically ads?

The CEO doesn`t have the power to sell the company, the shareholders have.

I don't believe this would have been announced if it already hadn't been OKed by the board of trustees and/or a vote of majority owners. Not all stock has voting rights.

I walk point out to the guy above laughing at the CEO not selling the company to MS, it`s not up to the CEO to sell a company. So 1 person is not to blame for not letting MS buy it at that time.

Maybe if MS had bought it then and taken it in a different direction (or as @skydiverian below suggests pushed it hard into search with Bing) it would have been worth more than $45B by now. Probably not, but still not a fair comparison.

Well Bing has run the Yahoo back-end for years now, and or hasn't saved them. Their writers are trash on almost every front, and the place reeks of political bias. I still use them for fantasy sports and e-mail, but I switched my home page long ago because their site is so loaded with bad writing and links to unbelievable garbage blogs like Huffington Post, Vox, and HelloGiggles. You get a great mix of clickbait celebrity articles and hyper-liberal junk telling you how to think and feel at every turn.

I used Yahoo as my homepage for 15 years. I finally dropped them when they redesigned their website and filled up the newsfeed with direct links to sewage like the sites you listed (don't forget Mic, the "news site for Millennials"). Good riddance.

Yahoo only sourced part of their searches through Bing. Not all of them. Yahoo's one of the oldest search engines on the net.

Yahoo is arguably worth $44.83 Billion right now. The $4.83 Billion portion that Verizon is purchasing and the $40 Billion portion that Yahoo is not selling.

Silly looking back in that context, if MS had purchased it, it is possible they could have done something with it and it be worth more now, but guess we will never know :)

Now it's Microsoft's turn to get sold to some company who values the trust of it's customers.

Right, because Verizon totally values its customers. (Try again.)

Well, I get 50/50 internet (FiOS) from Verizon "as a valued customer" w/ no additional charge. I signed contract for 15/5 or 25/15, can't remember which one was it

"no additional charge" LOL, that's funny. You should be getting 1000/1000 at no additional charge, have you seen Google Fiber costs lately? It puts all other providers to shame. Heck, I get 300/30 out of my personal provider at the same cost as Verizon, and terrible connectivity in the locations where I have work that uses Verizon.

I guess they have billions of customers. So, perhaps yes. I guess they do not care about Microsoft customers.

Yahoo search was my first ever search engine. Still remember the red colored Yahoo with just a search bar below. So many memories with Yahoo messenger and chat rooms. End of an era

Let's see if Yahoo search drops Bing now.

They probably won't. I would imagine there is a lot of backend financial commitment between yahoo and MS. Verizon will likely honor those commitments, at least for now. Besides, Windows mobile aside, MS and Verizon could still continue business as usual.

Another media outlet bought up by a telecom. What could go wrong with that?

Nothing, given the quality of writing there.

Yahoo's downfall started when they couldn't make a better Messenger for the life of them. Stuck in Windows XP design era with added transparency from Vista in the window chrome. since 2007.

Microsoft lost an opportunity to buy Yahoo for 47bn and sell it to Verizon for 4.7bn...

What will happen to the email accounts?

Microsoft should adopt co-CEO model now that they are aiming to become the new Blackberry. Nadella-Mayer would be a perfect match.

Wasn't MS made an offer to buy yahoo for about 40 B a few years ago?...What the hell happened....4+ B....Nice job Yahoo CEO, Mayer, you are right, Yahoo did change the world...In its shareholders packets. You should be hire at Comcast, Alphabet Inc. And even Apple....We can all see how good you can be in depleting a company its value.

The current company now called Yahoo is worth the $4.8 billion that Verizon is paying for a portion of Yahoo PLUS the $40 billion of investments that Yahoo now owns and is not selling to Verizon. That totals to a current value of $44.8 Billion. Right?

Good. Because Yahoo SUCKS.

The most funny thing about this to me, is that AT&T still uses Yahoo heavily for it's technology needs. All e-mail accounts are actually Yahoo accounts with AT&T. Wonder what will happen with this in the future?

Hope they switch to Microsoft.

With this news I'm sure Verizon will escalate getting that Yahoo Fantasy Football UWP App on W10. It's okay to dream right?

Awon yahoo yahoo boyz ti di Verizon Verizon boyz. E woo bi awon alagbara ti subu. Nothing last forever! Be good, don't be evil like an alphabet.

What so Verizon bought Yahoo yet Yahoo will keep its stake in allibaba. So they both will use the Yahoo name ???? Posted via the Windows Central App for Android

No. The article said that the original Yahoo company is selling the name too, and will announce a new name in the future.

in early days yahoo even declined to buy google for 1 million

I'm not sure what to think of this; Verizon has done a lot of things that I don't like.

Correct me if I'm wrong but does Yahoo not handle all AT&T email accounts? Whenever I have to access my att,net account over the internet I have to do it through Yahoo. If I'm correct I would say that this puts AT&T in an awkward situation.

First AOL. Then Yahoo. My money is on them buying Myspace next.
Windows Central Newsletter
Get the best of Windows Central in in your inbox, every day!
Thank you for signing up to Windows Central. You will receive a verification email shortly.
There was a problem. Please refresh the page and try again.