Verizon and Snap Inc. partner for exclusive 5G powered AR experiences
Verizon partners with Snap Inc to tout the power of 5G.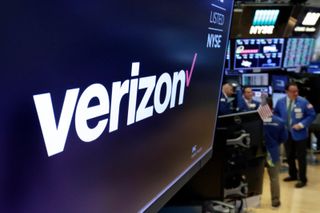 (Image credit: Associated Press)
What you need to know
Verizon has partnered with Snap Inc. to spotlight the advantages of a 5G network.
Verizon will preload the Snapchat app and exclusive AR filters on select 5G phones.
Snapchat will launch exclusive 5G powered AR filters during the NFL's Super Bowl LIV.
Verizon has announced a partnership with Snap Inc, the parent company that owns the popular social media app, Snapchat, to show the advantages of Verizon's 5G Ultra Wideband network through exclusive augmented reality (AR) experiences.
The two companies will explore 5G possibilities by working on marketing campaigns with exclusive distribution through each other. For example, Verizon will preload the Snapchat app, along with exclusive AR features, on select 5G Verizon phones, and Verizon would be the principal sponsor for Snap Originals.
In an official press release, Snap chief strategy officer Jared Grusd said, "We are thrilled to partner with Verizon to move the industry forward through the development of creative and innovative 5G experiences on Snapchat."
5G would be a big boost for not only AR and VR, but also give Snapchat's 203 million active users and every Verizon subscriber a powerful network to have more engagement with friends, family, and colleagues. On the commercial side, it would mean big business for brands during live sporting events, concerts, and more.
Merging Verizon's 5G with Snapchat's AR technology would mean you could have access to professional sports and concerts in ways you've never had before. For example, you could use Snapchat's Landmarker technology to have an AR version of you and your friends backstage at a concert, or in the locker room of your favorite team after a big win. Since it's on a 5G network, it would all be in real-time with almost no latency issues.
Verizon has also partnered with other companies such as Walt Disney Studios, which could bring a 5G network to Disney themed parks.
The telecommunications company has also partnered with the NFL. It has awarded two separate $400,000 grants to AR/VR developers Colorfiction and Juncture Media to create augmented reality mobile games that would debut during the NFL's Super Bowl LIV in Miami and take advantage of Verizon's 5G network.
There is no doubt that 5G will be huge for AR and VR. It's a match made in high-speed data heaven. Verizon's new partnership with Snap Inc. shows that the tech companies know this too. Between purchasing Jaunt VR back in October and now working with Snap Inc, it's obvious Verizon is positioning itself to lead the charge of delivering a 5G network across the country. Currently, Verizon's 5G Ultra Wideband network can be found in 18 cities in the U.S. However, the goal is to expand that coverage to 30 cities by the end of this year.
Yes, one month from now.
Get the Windows Central Newsletter
All the latest news, reviews, and guides for Windows and Xbox diehards.
Bobby Carlton is a contributing writer for Mobile Nations who lives in Upstate NY and has covered events such as SXSW, CES, Tribeca Film Festival, Learning, TechLearn, Comic Con, and countless other conferences that may have the latest in VR and AR news. He's obsessed with finding the perfect backpack (it's currently the WANDRD HEXAD Carryall Travel 40L Duffel!), absolutely loves black coffee, and always willing to talk Star Wars. Follow him on Twitter at @bcarlton727. {.end}