Verizon HTC One for Windows nabs OS and firmware update too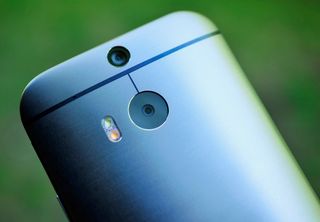 Looks like another Verizon phone is getting an update today. The HTC One (M8) for Windows is also getting some new firmware and an OS update if not on the Preview for Developers program. This news follows updates to the Lumia 822 and Lumia 928 announced earlier this morning.
The update bumps the OS to version Windows Phone 8.1.1 build 14203, and it also picks up new firmware, jumping from 10602 to firmware build 21705.
According to Verizon's document on the update, the firmware contains the following:
Softcard Payment Support (May require download from Windows Phone store)
Resolved an issue where the phone was intermittently not able to power on
Fixed the copy/paste functionality at the time of Xbox account sign in
Improved stability to prevent the phone from rebooting on its own
Interestingly, if you are in the Preview for Developers program with that app-enabled, your HTC One for Windows will not see the update. Instead, you need to disable the program through your Preview for Developers app and then check. Only after you do this will your phone be able to pick up the firmware update.
Since the Preview for Developers OS build is newer (build 14219), only the new firmware is applied and you will not be downgraded. After installation, you can re-enable the Preview for Developers program.
Source: Verizon Wireless (opens in new tab) (PDF); Thanks, @TheWinPhan and @AnXboxDude, for the tips
Daniel Rubino is the Editor-in-chief of Windows Central, head reviewer, podcast co-host, and analyst. He has been here covering Microsoft since 2007 when this site was called WMExperts (and later Windows Phone Central). His interests include Windows, Microsoft Surface, laptops, next-gen computing, and for some reason, watches. Before all this tech stuff, he worked on a Ph.D. in linguistics and ran the projectors at movie theaters, which has done absolutely nothing for his career.
Verizon is on a roll today

No, they just couldn't stand all the complaints. They finally got something done for once.

Still no love for the flagship ICON...

So far it looks to be smooth sailing with the M8 on Verizon.

Love to see HTC dropping firmware updates quicker than Microsoft. Posted via the Windows Phone Central App for Android

The carrier's do the firmware updates not the manufacturer.

What about unlocked devices then?

Firmware comes from the OEM bro. Posted via the Windows Phone Central App for Android

No all carriers do is test the firmware. Still comes from the OEMs.

Not sure I get what you mean. This update was out months ago, and built by Microsoft. It took a while bevore Verizon allowed it through.

His point is that Verizon has to approve all firmware updates. So while it may be available, the carrier has final say when it gets released. Which is why Verizon users were still waiting on Cyan while most other carriers were releasing it.

What's especially funny, is that SuperBoy Micah, or whatever his name is, has been railing against this phone ever since it came out, because "it won't get updates or be supported" like the superior Nokia phones. Now this phone just got updated, and his didn't.

Pretty sure he's talking about long term updates. Two year old Nokia still receive updates like clockwork, with very few exceptions. Will HTC do the same? I don't know that anyone can say, but Nokia/Microsoft have a pretty great track record to go up against.

They really need to ban him already.

If that's the case, I would be banned... Again.

My Nokia 1520 on ATT had received firmware updates several times already while my Nokia icon on Verizon has not, so it's carrier related.

No love ❤ for the ICON! So frustrating to have to wait until early 2015.

Now we have a timeframe and it will be denim

Did Verizon announce something? Posted via the Windows Central App for Android

Early 2015 for Verizon means November probably.

Eh! I'm not able to update my old 520 to denim by disabling PFD. India

Go to the forums...your comment is off topic

Sorry I thought its about firmware updates so it might be relevant.

You might be interested in this. I guess no new firmware update is coming. http://nokiatheone.com/2014/12/20/is-microsoft-really-rolling-out-the-lu...

Thanks, confusion cleared :-)

That was a glitch, they didn't hsvr denim.

Correct. This post is about the HTC One M8, in case you missed the title. And the entirety of the article. And the other comments.

So fucking what? Were talking firmware, let it be.

The original comment is about a technique described for a specific phone not working on a completely different phone. I simply stated that it wouldn't work as it is for a different phone. Common sense, the article, and other commentors agree with me. Hell, even the original poster apologized for the off topic post. Your comment just makes you look like a dick :)

No mother fucker, many others are, we've seen this before, if it's closer enough it works. And I'm far worse than a flimsy duck mother fucker.

Lol what? What are you even going on about?


Your turn AT&T. Give my M8 some love. :-)

The M8 on AT&T already has softcard support.

Did it get the HTC EYE experience update like the Android variant yet? A bit curious. Posted via the Windows Central App for Android

I thought you were banned!? WTH

Just down vote everything he says. That's what it's for.

Once a poor man while fishing got a pot, when he opened, he found a Genie, Genie said it would realise a wish of poor man. ,,, ,,, ,,, What did the poor man asked? ,,, ,,, ,,, Make all Windows Phone users happy before 2015 :P

Verizon's just full of surprises today aren't they. Heh. Posted via the Windows Central App for Android

Don't worry, they'll surprise all of their M8 windows phone users next month by telling them they've discontinued the M8 for windows.

Lol, harsh. I don't think they would pull another Icon move. That was very bad PR for them. Posted via the Windows Central App for Android

What about hey Cortana? Does this HTC updated firmware enable that?

Nope. Lumia only feature for now. Thankfully.

Thankfully? Why all the hate? Why would you be thankful that HTC owners don't get that feature? Did HTC make fun of you when you were little or something?

He's just mad that HTC is updating their Windows Phones ;) For some reason he only wants Lumia to succeed in the Windows Phone space.

No he's not, because my Lumia 1520 doesn't have hey Cortana yet so unless he's overseas, he doesn't either. Besides I'm sure the HTC will get it as well because it's considered a premium phone

Why would you say thankfully? It should be a good thing that there are other brands of windows phones besides Lumia. It gives people wanting to switch to windows phone more options so they're more likely find a phone they actually like.

Maybe someday so we can laugh at Micah

I'm a funny guy. I'm sure you can.

Funny Guy = Intolerable fan boi. Whatever helps you sleep at night

I for one, like Micah. Leave em alone.

I got your back Micah. Don't take that the wrong way...

Installing it on my test M8 as I type this....

Well well looks like the Scrooge got a visit from the Christmas spirit :P.

Where's all the people saying HTC doesn't support their phones now???

They don't lol. They just took like 5 months to bring an official upgrade to some of their 8x phones....and not even the unlocked versions lol. I'd hope they could at least update something minor as this lol.

I was wondering when the trolls would show up.

He shows up whenever this phone is mentioned. He's jealous that he doesn't own one apparently.

Micah is correct. I wouldn't get your hopes up on anything from Verizon. Look how long they took. WP on Verizon is on life support.

Busy updating their phones.

All 100 of them. Jk :) good for the m8 owners tho, in all seriousness.

Sweeeeet. I just hope the HTC camera app gets an upgrade soon :|

Disappointed in my One M8 going back to Lumia soon

So HTC has got updated firmware and software before the Icon. Interesting....

Yes. A bug fix with a few minor additions vs an actual os upgrade lmao. You m8 owners lmao

Firmware and software stability updates are not minor. FYI any increased functionality is regarded as an OS update. That is industry standard, not your standard. An OS upgrade would be an entirely new OS like Windows 10.

Funny considering we has 8.1.1 already. Lumia Icon anybody *cough*

I don't think you understand, updates are only needed when there's an actual problem, or to add features/content. Ive had 0 problems with anything on the m8 and softcard worked even before this update. They aren't going to release new updates when there's nothing wrong. lumia phones must have lots of problems..

Another thing is when I bought my m8 I wasn't expecting to get tons of additional content or feature updates anyway, I bought the phone for what it already has. If there ever comes a new feature that Verizon just refuses to release, ill get a new phone and leave Verizon. I only keep my phones for 12 months usually anyways.

And here I am still waiting for the update on my HTC 8XT. One week later, still nothing.

Hoping the T-Mobile version gets this too.

Downloading the update now....

As an Icon owner, I can gladly say that DRubino was the One to twist the knife. #gutwrenching

As a former Verizon subsciber and Icon owner, today's announcements have been Caesarian. I mean that in the usurping, stabbing multiple times, coniving sort of way. Now, the initial Verizon announcement came from another writer on WinCentral. At that point, the knife was in. But the definitive "Icon is delayed" post comes from the editor in chief. Knife turned & internals gnashed. Would you be more grateful to hear about a nuke dropping from the president or the secretary of who gives a fuck?

I think I see what you mean. A bit convoluted, but I get it.

The fact that HTC actually updated a WP is encouraging in itself. I was legitimately concerned that my HTC One would remain in the same state until I got my next phone (which I actually want bothered by because it's a great phone). Maybe HTC users will get 'Hey Cortana'.

Yeah its a good sign, I hope they do. We gotta bug verizon about it.

+999999999999999999999999999999999999999999999999999999999 Posted via the Windows Phone Central App for Android

had to restart my m8 after disabling the preview for developers app. got a server error when i checked for updates prior to restarting.

This is excellent, but what about the Samsung phones on Verizon?

Someone posted in the WC Forums, Verizon had stated the ATIV SE will get 8.1 update "soon" as well. I can't get a source for that though. I wonder if they have a behind the scenes source or whatnot. http://forums.windowscentral.com/samsung-ativ-se/329782-verizon-will-bring-wp-8-1-ativ-se-htc-w8-soon.html EDIT: Nvm, it's a Microsoft Domain...so it's straight from the horse's mouth.

Awesome. Thanks for that. My mom has the Odyssey which I updated using the Developer Preview. Unfortunately it's quite buggy and it didn't sound like it's getting officially updated, so that's disappointing. We also got my dad an Ativ SE for Christmas so I'm glad it's at least getting updated, though my mom's Odyssey needs it more.

So I have a M8 but its tmo, guess ill have to wait for update.

And still no good news for 8X owners

Roll my butt, where's my ICON update!

The problem is they haven't updated the Icon, the most popular phone on Verizon lol. What a joke. This is annoying.

"HTC never supports their devices!" When an HTC update is available: "Well, it still doesn't have Lumia features."

Just like Lumia doesn't have all M8 features.

That's weird, I've already used softcard weeks ago and without doing any updates on my HTC m8 ...

HTC M8 here. Installed the update...now everytime I press the top button to wake it up it delays for a couple seconds and says "Resuming..." Then shows my lock screen. Anyone experiencing this?

Still having issues updating my device. Keep getting the 8018830f error. This sucks. Help me please. No DEV program here. HTC One M8 here.
Windows Central Newsletter
Thank you for signing up to Windows Central. You will receive a verification email shortly.
There was a problem. Please refresh the page and try again.