Verizon announces Windows Phone 8.1 Update 1 to Lumia 928, Lumia 822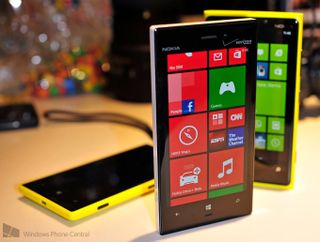 Verizon has started rolling out Windows Phone 8.1 Update 1 for the Lumia 928 and Lumia 822. Among the other features of Update 1, the 928 and 822 owners are also getting access to Cortana. Better yet, this update will also take both phones onto the latest Lumia Denim software, which is currently pushing out to other Lumia phones all around the world.
In addition to Cortana, the Lumia 928 and 822 are receiving a number of features that came to other phones with Windows Phone 8.1.1. These include things like background images on Live tiles, the Word Flow keyboard, Action Center, and more.
Windows Phone 8.1 Update 1 itself brings some new user-facing features, including native app folder creation on the Start screen, as well as support for interactive phone covers. Update 1 also contains several performance improvements and fixes.
You can download Update 1 on your device manually by going to Settings > Phone Updates, although the actual update may not come until later today. Stay tuned.
Source: Verizon 1 (opens in new tab), 2 (opens in new tab)
Thanks to primortal and Indistinguishable for the tip!
Windows Central Newsletter
Get the best of Windows Central in in your inbox, every day!
Finally, Merry Christmas Verizon users!

What a stupid christmas present, haha!

Thank the lord. Took them long enough.

I needed this Christmas present. Thank you, thank you, thank you.

And Merry Christmas to everyone in hell, who are all appreciating the cooler temperatures now that it has frozen over. Thanks Verizon! :)

That was a great comment xD. Question: Do I need to back out of the developer preview or downgrade my phone back to 8.0 to get the update? I hope not.

I'm not on Verizon, but I used the DP to update my T-Mobile 925 to 8.1 in late spring. I got the official 8.1/Cyan update in late October and didn't have to reset my phone to 8 to get it - so you should be good to go. :-)

928 DP here. I'm happy about this update, but I already have about 95% of the new features. Can anyone tell me what I will get with "denim" that I didn't have already? No sarcasm please. Will I at least get the "hey Cortana" feature? Folders, action center, Cortana, background images, and so much more are a thing of the past for DP users. I'm not sure if the 928's hardware is capable of handling the new camera features. Thanks in advance for your input :-)

As a DP user, you won't see much if at all in the department of "new features". What you will get is the stability and longevity that a firmware designed for the OS version can bring.

My understanding is that the Denim/Cyan Firmware update hits a number of device drivers as well. One of which is upgrade the bluetooth to latest specs.

I will let you know. i use a bloothoth radio and wierd things would happen. Like the only way i could hear a call was by turning on speaker, especially after i had recieved calls on my car radio and then left the car.

You'll get the camera improvements and features which will be huge. I think 4K is also coming for video with Denim.
Edit: I thought I was on the Icon story for a second there. 4k won't be on these phones.

Hey Cortana will not work on L928 because s4 processor does not support it.

Tap-to-pay with SoftCard wallet (you need to download app from store after updating to Denim)

I have a Lumia 830 with Denim and Softcard does show in the store.

Yeah, not so exited also. I've had DP on 928 since it was available. That's almost a year right? :)

Well since you are on Verizon you will actually be getting cyan bundled with the update as well, which will give you stuff like miracast, bluetooth 4.0 LE, faster camera launch, and it will enable stuff like Gestures and Truecaller. As far as Denim, you will mostly just get better reliability of the OS, whereas my Icon will be getting 4k video and other camera enhancements. So it actually will be a big update for you, even though most of the functionality will be from the cyan side of the update. Hope that helps.

Too little, too late.
I've already fled for greener pastures (AT&T). Maybe if they had been the slightest bit verbal about the situation... maybe I would have stayed. I think this and the mass of app updates we've seen lately are from pressure applied by Microsoft as a reaction to the recent bad press, i.e, Tom Warren/Ed Bott.

Same here. I switched to AT&T and my Iphone 6+ will be here tomorrow. I find it extremely ironic that my phone updates to Denim literally the night before my switch is final. I disliked how Verizon strung us along and how having my Lumia 822 for 2 years, Microsoft seems to be slacking off on getting more adoption for the Windows phone system. So I made the jump to an Iphone as well as leaving Verizon. Maybe I will go back to Windows phone in the future but I doubt it. Whoever is behind marketing for Windows phone should be fired. MS really needs to put some muscle and show a strong commitment or app developers aren't going to bother.

Verizon doesn't have that phone..

Why the heck would you ask about that on an article about Verizon smart phones....

Just checked, no update for 928.

http://www.verizon.com/dam/support/pdf/system_update/benefits-lumia-928-...

I got the press release, but when I go to "Phone Update" on my phone and check for updates it tells me my phone is up to date.

Just keep trying. It is a "roll out" so it all depends.

Don't know if the link naming above is purposeful or just normal stupidity: "... www.verizonwireless.com/dam/support ..."

Not showing up for my 928 yet either.

Are you on DP? I hear that some users had to turn their DP off in order to get their phone to recognize the update is available. This in other forums about "denim" here on WC.

my 928 is on DP - Got the update late afternoon. Works well in so far as nothing broke & fitbit app finds my flex (updated bluetooth). This AM got a DP update -- What was that??

My guess is the OS version that Verizon is pushing is slightly older than the DP one. When you received the update from Verizon, it's possible it downgraded the OS slightly and the DP update brought you back up to date. That's only guess though.

The update is available now.

Bout time SE and Icon now.

Joe Bilefore just tweeted that the ICON will get Denim early 2015

That probably means "Before 6/30/2015"...

Wich probably means we get official rollout news at the 19th of June :p

LoL!! Nah it means before or more likely ON 05/30/2015 ... :)

The SE might have a hard time getting Lumia firmware

Poor US windows phone users..

Verizon.
Doing just fine with my AT&T 830.

Thought they didn't even roll put cyan yet?

Directly to Denim it seems

I from México and Just order an unlocked lumia 822... From what I've read this is not the first verizin skip and update and mixed with the next update, so cyan it's include in this update from verizon.

So if I have dfp should I update to this?

yes...you get improved performance and softcard payment support as well.

Omg!!!! I cannot believe my eyes and ears

I see a tear rolling down your face :D

I got really excited when I saw the title but then realized the Icon isn't on the list. Back to waiting.

Maybe we have to wait until 1 PM EST/ 10 AM PST? I just checked and it wasnt there.

Nice glad to see our other friends enjoying the features we've had for a while AT&T user here =)

Did you guys get cyan or denim

The support Doc says Denim "With Windows Phone 8.1, Nokia Lumia users will enjoy exclusive DENIM updates not included in the Windows Phone 8.1 update, which include: NOKIA CAMERA APP-GENERAL • Edit/share images faster with simplified UI • Sharper and lower noise video • Improved color and picture in the dark • Shorter latency with autofocus ENHANCED CREATIVE STUDIO • Offers easy post-editing, focus+blur, color-pop, collage, adjust, fix, high-res reframing and five new filters NOKIA STORYTELLER • Share stories as a video slideshow on social networks HERE DRIVE+ • Offers a free upgrade to full global navigation NOKIA DEVICE HUB • Manage connected accessories effectively (previously Nokia Accessories)"

Is this update 1 with Cyan or Denim?

The support Doc says Denim "With Windows Phone 8.1, Nokia Lumia users will enjoy exclusive DENIM updates not included in the Windows Phone 8.1 update, which include: "

Interesting the PDF says "Verizon Wireless is pleased to announce Windows Phone 8.1 Update 1"?!

It seems that the Icon/929 is still in the dust. Wonder if they are waiting for Denim next month.

Joe Bilefore just tweeted that the ICON will get Denim early 2015.

At least we get a schedule and great news. Surprised that VZW got Denim before AT&T :P

Meant as a device upgrade and not pre-installed ;)

Great news for those one Verizon, most likely they have bundled both cyan and denim together.

That would be a waste of time, to flash a revised firmware, only to immediately replace it with another revision.

How come they leave the flagship phone in the dust and continue updating the 928? Not that its bad but the Icon definitely needs some carrier love.

Well in Verizon's defense the 928 was the flagship Verizon phone before tge icon was.

Because we 928 users have "Glance." Just kidding, but I really couldn't justify the purchase of the icon without "Glance." Anyone in disagreement has not experience such an important feature

I had Glance on my 822 and loved it. It was hard to give up in order to get the Icon but having that awesome screen, the faster processor, 2 Gb of ram and mostly that 20Mp camera more than made up for it. Oh, yeah, the update gives us back the double tap to wake feature that I enjoyed with Glance. Did I mention 'Hey Cortana' and 4K video recording? But seriously, Glance is a really good feature but I'm glad I made the choice to go with the Icon even without it.

Since they dropped the Icon all together. 928 is actually thier current, almost 2 year old flagship.

Rolling out? Why does everyone except Apple "Roll out" updates? When IOS gets an update you just get it. Not that I'm an Apple fan boy but I'm just so tired of the "Rolling out" crap.

I guess it has to do with Microsoft not manufacturing all the devices by themselves. Compared to Apple, they have much more devices to support which are not manufactured by them.

You don't just get it. Every iOS user tries to get it at once and iTunes goes to shit for a week. You roll out and update to lower the amount of possible support tickets swarming you at once and over whelming your servers.

Wow, this is the DENIM update. Quite a surprise

Not available yet to me on Phone Update. Anybody receive it yet?

This just in: Hell is now a frozen wasteland. Now back to our regularly scheduled programming.

To be fair, Verizon received "Lumia Black" way before At&t. As a matter of fact, we are not late to Cyan. We simply wasn't getting it. Lol

praise the lord! miracles do happen at Christmas Posted via the Windows Central App for Android

Do you Verizon people feel better now?

No shouldn't have taken this long

From when Denim was officially released was what....one day? It didn't take long at all in that context. Look on the bright side! Your phone didn't suffer needlessly in between. Sure there were features that Microsoft released that Verizon did not, but you could have been on the Preview for Developers like I am on my HTC 8X which has YET to get 8.1 and you don't hear me being ungrateful(not that you are, but you are being a sourpuss about it :P) Sorry if I'm being mean...Just sayin...enjoy your DENIM update! (remember...look on the BRIGHT side)

My phone suffered from GPS, Camera, and vibration not working without Cyan. Hopefully Denim will fix my woes.

Dang, that sucks. Ok I am sorry that they had those issues. I didn't know that the prior update brought all of that with it and Cyan would have fixed it.

@wpn00b.... You're not being mean at all. I'm in the same boat with my 928 DP 8.1.1. I have so many of the new features (but not all) listed that I'm not as excited as I probably should be. But to each his own I guess.

Denim did not take long to come to Verizon. Cyan didn't take long either. It never was coming. I blame Belfiore for leading us on.

they completely skipped an update..

I remember Microsoft initially announcing (wp7) that carriers will be allowed to skip one update if they really need to but will have to deliver the one after that.

No, now I need to start declining the update for eternity on my 928 and Icon, just like my 520.

Just get the old images for those devices, so you can reimage whichever build whenever! NCS is your friend. www.seidea.com

LOL I forgot that there are those that are still on 8.0. I still have a device on that as well. 8.1 apps are catching up in terms of fluidity but I do miss some of the integration within the hubs.

Yes, much... ...and no. It took months and months of complaining to finally get a reason Cyan was taking so long...and that finally came from MS, not from VZW. Horrid customer service, same old canned answers from VZW. Still considering jumping when my contract's up. It really depends what their next phone is going to be...

Congratulations to 822 and 928 owners! The added delay on the Icon is Verizon's gut punch in retaliation for people slamming their Twitter accounts.

Thank you from Lumia 928 DP 8.1.1 :-)

May be idea was always to bring the 8.1 and update 1 together. Verizon seems not too keen to put more resources to WP. Just end up releasing the two separate updates together. Couple of weeks back I was at verizon store and they didn't have HTC M8 for windows on display. They said we can order it for you. They didn't have any WP on display. Whats the point of releasing flagship models when carriers are not interested in selling or marketing those. Microsoft should really do something about it. I think they missed the trick. They should have released Lumia 735 directly from their store unlocked if no carrier is intersted. I have used that phone. Its really good for its price. On the side note I am glad that they finally updating.

WP 8.1?! Woot? That came with my phone when I bought it in Sweden late August. How come Verizon hasn't released it until now?

It's a cold day in hell...

They'll roll out denim by Xmas 2015

If you'd actually read the article you'd know that this is Denim.

I can't believe it.....but but ICON ?

Joe Bilefore just tweeted that the ICON will get Denim early 2015

Hey IceDre, can you get evidence of that tweet on here so we can breathe a breath of freshair in expectance of our update and something to look forward to pending WP10 geeez.

https://twitter.com/joebelfiore/status/545978520317341696

But still no Icon? WHAT?! This is crazy.

No update for Icon A5....

Hope Icon gets fast tracked to Denim soon too!

@joebelfiore: Happy Holidays WP users on Verizon! The 928 and 922 updates (WP8.1 + Denim) go live today and the ICON is on deck for early 2015.

so what does early 2015, i hate the generalization of schedules....uugghh

so is this the equivalent of a termination package?

FINALLY. Well, it'll be a while before I can get it since I'm using an Icon, but still. Good to see Verizon getting this out there! In the spirit of the season I will be generous and hopeful and say that maybe this means that Verizon is forcing Microsoft to improve the weaknesses of the Icon, namely WiFi reception and battery drain when surfing the web. I can dream, right?

Maybe I am speaking to soon but so far I like that Microsoft is in charge. This feels completely different than other roll outs of firmware. Maybe I'm just excited that my 928 is getting Denim about the same time as the rest of the world.

I'm going to assume if using the preview for developers there wont be anything in this Verizon approved update that I don't already have on those phones, which I have one each of, as well as an Icon?

DENIM firmware update is present which will bring Camera improvements among other things

Same here..... Not too much to be excited about as a 928 Developers Preview user

Yeah, for the non-Snapdragon CPUs I think the Preview is pretty much the same as the official Denim/8.1.

Nope, with Denim, you also get SoftCard wallet payment capabilities which you dont have with DP.

Why don't iphones have to wait to "roll out"?

A fixed set of similar devices manufactured by Apple vs. Large number of devices with various hardware configurations manufactured by different providers.

Simply put. Why is this not understood already is beyond me.

Will this include Hey Cortana?

If the phones run 8xx series processors

The 928 and 822 don't have the correct chipset to support Hey Cortana

Congratulations Verizon WP users! About damn time too!

No update available yet for my 822. My Fitbit Zip is going to show a big smiley face once it happens.

I think I might be pressing the "Check for updates" button quite often today on my 928. And to think I was going to move to PfD by the end of the year if VZW didn't give any news about pushing cyan.

To be honest, you have done yourself a disservice by avoiding PFDs. It works flawlessly on my 928.

y'all do realize I'm going to be mashing the "Check for Updates" button until the update gets here...

I think I check every five minutes. I would assume at 1PM EST we should start seeing it.

I'm so happy for you guys on Verizon :]

So they waited to bypass Cyan entirely and now they are the only carrier with Denim? Kinda brilliant, though it pissed off my friend who just returned his band Tuesday due to it not working on his 928 with preview for developers.

Wow.... I wasn't aware that band wouldn't work with PFDs. I've been trying to get my hand on the Microsoft band ever since its release. To think I would not have been able to use it. That would have been frustrating.

Yes it works perfectly with the DP and 928.

It wasn't brilliant to hold off the massive Black/8.0 -> Cyan/8.1 update which brought so much new stuff, in order to do the minor Cyan/8.1 -> Denim/8.1.1 update. It really held back the development and adoption of WP, IMO.

Odd, the Microsoft Band works perfectly with my 928 with Developer Preview.

The fact that the these other are gettīng this first is so infuriating. What a slap in te face. Some freakin' flagship device. Fool meonce, shame on me. Fool me twice....

Didn't these devices come out prior to the Icon? Don't you think they deserve the update first? Buying a newer device doesn't jump you to the front of the line. The Icon has more features than the 928/822 do and probably requires more testing. Be patient, it will come. How were you fooled?

You obviously don't undrstand the role of flagship devices -they are suppsed deliver best of class experiences. So, no, the older phones don't deserve theuodate first. How was I fooled? Believing that a flagship device woukd deliver a bet in class experience. Cyan came out 6 monts ago and we still donlt gave it. Donlt tell me to belatient - itls patronizing, I have every right to be upset. Most all Windows Pones are 2 updates aged of me.

I see your point. I guess I'm just saying the 928 was top of the heap for a moment there as well until the Icon came out as an upgrade of it. Now that the 928 has the update, I imagine that the Icon is not far behind. It just seems like negativity for negativity's sake to be "upset" about it. If you were not getting the update at all, I'd understand you better, but the " it should be me first!" attitude is unwarranted. You first until the next model above yours comes along? Or would you cry foul then to? That's what I'm getting at. An easy answer is you would just upgrade to that model then but that's lazy...

The icon may be more powerful than the 928, but more features is an overstatement. "Glance"..... cough cough....

I pray we get glance on Icon with the update, if the update comes :(

Not seeing my comment for some reason. I'm dumping vzw next week after being with them 10 years. I might come back if they decide to treat WP users better.

"I might come back if they decide to treat WP users better." The best part of this post is that it is attached to the comments of an article explaining how Verizon skipped the Cyan update entirely and is the first US carrier to have Denim firmware updtes released on their devices (not launched with). It even says it is coming soon for the Icon. From your below post I see you have the 8X. So do I. Hop onto Preview for Developers and enjoy 8.1. If you don't feel like doing that, then wait for the update. If not, go to another carrier that doesn't have Denim yet... then what will you say? And before you get hasty...not even AT&T or TMOBILE (Sprint doesn't even OFFER this phone) have released 8.1 for the 8X. So... I mean... I don't see where you are going with this.

Finally! Took way too long. But wait where's the 8X update? Oh yeah, we were ignored again. Verizon is the worst! They can't even get that right. How sad. Can't wait to leave them.

Nokia devices were updated today. That's all that was mentioned. You were not ignored, just not a part of this round of updates. I am using the 8X as well. Just wait as the 928 and 822 users did.

At least your Verizon 8X is getting an update. The T-Mobile one is abandoned and stuck on 8 forever :(


I just haaaaaaaaad to be impatient and hop on developer preview didn't I lol.

What's wrong with that? Can't you still do the update while on DP?

I heard that Kim Jong Un wanted his update and threatened a Christmas surprise if he didnt get it.

God I just laughed my ass off and woke my dad thanks for that ! :D

Say wwhhat? Hard to compute, Verizon plus update. I have the 928 with dev preview, does this mean I will get the firmware update only as I have 8.1.1 already.

Same question here. Sorry I wasn't able to contribute. Hopefully someone will answer our inquiry :-)

I was on developer preview and didn't even uncheck it...update was downloaded and it is installing right now.

until now there's no uptate showing on my L822

Do we need to do anything different if we are on Developers Preview compared to not?

Well... Does yours have cyan? If not you need to downgrade to 8.0 and update. Advice from me is to back up.

I have the 822 so never got Cyan. I guess I'll wait and see. I don't want to downgrade haha

Well I have the 928 and checked all day and no update Im on Dev. preview too, but around 9pm I checked one more time before I downgraded back to windows 8 and there it was updating so I dont know if there is a time frame on checking or what but dont downgrade cause i read somewhere they fixed that and you dont have to no more so just keep checking seems like mine always does it when im charging it. So I have denim now on my 928 and didnt have to go back to 8

Maybe I'll throw my SIM back into the 928 and see if I can use tap to pay. Mmm my sweet friend 928. I use it everyday still...

After you upgrade to Denim, the SoftCard app can be downloaded from the Verizon app store (store within store) and be used for tap-to-pay

Wow so Verizon trumps AT&T this round with Denim!

Yeah they do! Big Red back on top! #OITNBQuote

Yeah first in line to update devices that can't take advantage of the features it brings.

And with "Black." Let's us not forget. At&t has only one with Cyan.

The devil is putting on his ice skates now.

In all seriousness, how does this work with those on the developer preview? I assume (never good though) that it should not affect anything, but wanted some insight. Regards.

+1. Will wait for others with the Dev Preview to update and give the step-by-step instructions before I go rolling back to 8.0. Hoping I don't have to...

I don't think we will have to roll back. I THINK we can update without issue as this is updating firmware for those on dev preview, but I could be sorely mistaken.

I really hope that's true. I just need the firmware update to improve my battery life.

Should I take the first leap of faith????

Live on the edge. Go for it. I am at work and will be unable to do anything until I get home.

I installed the Nokia Software Recovery Tool 5.0.0 and Denim was available there. First time had an error and the second try installed perfectly.

I wonder if txt and mms will function on t-mobile with the 928 now?

Probably not. Verizon phones with unlocked GSM radios seem weird about doing MMS on other GSM carriers. I have seen this on Android and specifically my old Lumia 822. SMS worked fine for me though. We did track down and input all the APN info manually, no dice.

Oddly, my 928 works fine on GoPhone (AT&T prepaid) doing MMS. Mind you, I don't even have a data plan. I had to fire up the Nokia settings app, but didn't have to actually input any changes for it to work. I believe I also saw mention of this elsewhere, the prepaid/postpaid can work differently. Main problem is Verizon likes to hide access to the settings. IIRC, the original release of the phones allowed access but then a subsequent update (Amber?) hosed that.

Excellent! Will update mine later, have been seriously on the fence of abandoning wp for a cycle since couldnt keep updated and support, but will probably hang in there now to see what shakes out this year with windows10 now that we are up to denim already. Any word on htc 8x on verizon, girlfriend is running it.

All I see is Verizon saying f u to icon users.

I wish there was a way all ICON users on Verizon can sign up a protest/petition sheet for our WP8.1.1 update. Is this possible?!?!?!

What about the Ativ SE.......

Nothing yet.....for my 928

I had two 822s, one was proto, both gave me the "unable to find a bootable option" error. Hope this fixes that for those 822 users...
But what about the power-up issue with the Icon? Is THAT fixed?

Verizon releases denim before any US carrier, I did not see that coming

Why not? They did it with "Black" as well.

All that complaining paid off, Verizon users... You're going straight to Denim, wow!

Verizon the first in the U.S. to get Denim = Mind Blown

Wow Verizon...you guys...always doing the weirdest things.. But thank you!

how to turn off developer preview?

Preview for Developers app

You turn it off from within the app. Not sure if that is necessary or not.

F....... Verizon for abandoning the icon so quickly and mentioning the 822

can anyone who took this update confirmed softcard is available to you now in the app store?

Softcard is available if you have the DP, however, making an account with Softcard won't work. Will update this thread with this information when I get finished updating to Denim.

SoftCard is available for use after updating the 822 and 928 to Denim

And the mobile website for Softcard worked perfectly.

anyone with 928 on DP actually get it yet?

Has anyone been able to update their Lumia 822 or 928?

Okay, looks like I already have Denim but I never went through the process to install. Did this happen to anyone else? I was on DP.

No you didn't have Denim. That was a bug in the "extras + info" display.

Would this bug prevent me from updating?

So how do you know if you really have Denim?

i have the same issue i believe. Sounds like it anyway. I didnt notice anything different about the phone. Excellent question there JesseCJ. How can you tell if you actually have Denim?

Wtf why the hell are they updating 822(not quad band hspa) instead of the icon(has quad band hspa)

First of most likely a few updates starting now for me too. Checked at 9:59 am PST.

2nd download starting now. First update took 28 minutes (mostly backup data)

and the final reboot just happened.. now time to play!

Were you ever on Developer Preview, or did you stay on Stock 8.0?

For me took 2 minute, and say up to date ;)

3051.50009.1446.0 is available for the 928 using the Lumia Software Recovery Tool version 5.0.0 I believe this is Denim. It's 4.17 GB. Lumia 928
Verizon
Denim
8.10.14203.306
3051.50009.1446.0000 Edit: 10:10 AM PST, the OTA update is still not here.

Tried to go from 3051.400000.1352.0058 to 3051.50009.1446.0 with Lumia Software Recovery Tool 5.0.0 Get: There was an error. Please try again. Error code: InternalError

Deleted the download and tried again. Installing now.

Just updated my Nokia 928, I was on Developers Preview. I opened the DP App turned off preview and then went to settings and selected update. No issues, worked perfectly

As scary as that sounds, I tried it, but it didn't work for my 822. Turned PDF back on. Hopefully by the time I get home tonight Denim will be ready.

Whoa! A pig just flew over a rotund singing lady.

It's wasn't worth the upgrade. Listing Glance and Xenon Flash were the big no-no's for me.

Glance is the only reason I didn't get the icon. I still have a free upgrade, but don't want another 928.

The process does a "pre-update", which took 30 minutes on my 928. This doesn't change anything OS or firmware. Checking again starts another update that is taking longer to download, so we'll see if this is the full monty.

Haven't gotten the update yet.... Why isn't it allowing an update

SoftCard also is how working on my 928.

I've had 8.1.1 for a while now though the Developers account, I just checked to see if I had updates but no luck it says I'm still on Lunina Black :(

Mine says I have denim in extras + info but I've never gotten the update
Core build says: 3051.40000.1352.10330
I've been on developer preview running windows phone 8.1.1 with data toggle in action center.

Mine reads the same. Very confusing

Probably running into the extra+info app update error. I'm seeing the same thing now too. And I most definitely did not get any updates to my OS/Firmware.

About says the firmware is: 3051.40000.1352.0058 extras+info says: 3051.40000.1352.10330 I suspect an oversight and a bug. OS Version 8.10.14219.341

Nokia software update tool says latest version is 3051.50009.1446.0

Turned off DP, rebooted, hit check for updates: NOTHING

I did the same thing as you. I ended up using to Nokia Software Updater to get the Denium update.

Is that on the Nokia website or is it an app?

I got my copy from Softpedia.

Why would you post in this forum? Verizon phones here!

What's DP App? Can someone explain me? Thanks.

The Developer Preview app allows users to access versions of Windows Phone before they are officialy released. You could get WP 8.1 before the carriers release the OTA update. It did NOT however contain the firmware updates that are in the Verizon package.

Oh, I was confused, I didn't know the meaning of DP App, I know now that is Developer Preview. Btw, in the Microsoft web show the os version and the firmware version as OS Version: 8.10.14203.306 | Firmware version: 3051.50009.1446.0000 but mine is OS Version: 8.10.14219.341 | Firmware version: 3051.40000.1352.0058 it says I have the Lumia Denim version as long as I see in Extras + Info. I got the OS version and Firmware version from the "About" option. Thanks for your help.

Look at the date at the bottom of the extras + Info settings app; if the Build date at the bottom of the screen says "11/18/2014", then you have Denim firmware. If it doesn't, then you have Black firmware, no matter what the legend at the top of the screen says. Use the Lumia Software Recovery Tool 5.0.0 from Softpedia.com to update your DP phone to 3051.50009.1446.0000.

Been running DP in my global unlocked (using on Cricket HSPA+) for a long time now. I got a notification this morning saying "Welcome to Lumia Denim". I gave my Verizon 822 to a friend who had been admiring Windows Phone for a long time now. Will have to let him know there is an update coming. Honestly I'm mainly hoping for better battery life. I'm usually in power save mode by 10PM almost every day. Anyway unlike some other furit based platforms, I love how my phone has gotten FASTER and not SLOWER as newer versions of my favorite mobile OS come out. Way to go Microsoft! Much love <3

Yay! The gears are grinding on my 928.

I can turn vibrate on and off from notifications!

Where are some of you people located in Bama and have yet to get the update on anything ! Do I need to restore the phone???

Horaayyy! For all those on Verizon, Merry Christmas.

I believe 928 phones are getting it now but still no 822. At least not my 822.

4:36PM EST and still no OTA update for my Lumia 822. I'll wait til midnight and if I don't have it by then I'll try using the Recovery Tool to get it.

I got the updates at about 11:15pm last night. I thought they would fix my camera insta crash whenever opening an app that uses it but sadly they did not. Time to get a new phone. I will truly miss Nokia but HTC has the best phone on Verizon right now.

I have a 928 with dp, and I dont see the update yet, I tried unchecking the check box on the preview app and still didn't see anything, what are the steps for users on dp?

Same thing here, can't get it to download the update

Me either. DP, 5:30 PM and says I'm up to date.

Look at my post to PauloC above.

Can't believe it's finally here and....NADA

See there you guys go... Now quit bitching on every single thread

you will, just hang tight. Your update is coming early 2015.

NL 928 update is downloadable on Lumia Software Recovery Tool but after its downloaded it checks some stuff then says Internalerror!!! Please help

http://www.microsoft.com/en/mobile/support/software-update/wp8-software-... Lumia 928
Verizon
Denim
8.10.14203.306
3051.50009.1446.0000

Lumia 928 DP, when I it supposed to roll out?

A-ma-zing!! I'm gonna to try and get it today on my 928.

Lumia 928 DP, 5pm EST no update yet. What's the latest on the procedure? Is it mandatory that we "uncheck" the DP box first, or will Denim install even with it still checked?

How to install with Lumia 928 with dp

What happens if were on dev preview

What would it do to the update if DP is simply uninstalled?

It won't show up? Any ideas? Lumia 928 on dp

The OS Version on Lumia 928 DP is at 8.10.14219.341 which is higher than Denim update by Verizon = 8.10.14203.306 but the Firmware version is lower at 3051.40000.1352.0058. Chances of just FW update is low as OS version is high. Extras + Info says "Lumia Denim" which mean it will not update. I tried turning off DP and rebooted but no luck so far. Might need to use Lumia Software recovery tool to update FW perhaps? Any suggestions? Thanks!

Seeing same numbers here. Did the update really happen or what?

The firmware version should be: 3051.50009.1446.0093 per the PDF from Verizon.

On the Nokia 822 it shows I have the Denim version but the firmware version number is the Black number version. I was using DP also. Today I never saw my phone go though any update. What gives? Is anyone else having same issue? Do I need to do the recovery tool?

I miss the Zune trick with WP7. Anyone remember those days?

Can't wait to get home, get a bottle of wine and rid it.

I just updated my 822 with Nokia software updatter and everything is working fine and on the correct version numbers. I did have DP installed at the time.

I used the Nokia Recovery Tool to get the updated FW but it downgraded the OS Version. I will enable DP after it completes restoring my apps and then do an update to hopefully pick up the last DP update.

We're not supposed to have to do all that to get the update. I'll give my 928 a couple business days before going that route.

I also used the Nokia Software Updater for my 822. Installed and good to go. Thirty-five minutes including down load. Merry frickin Christmas verizon, took you long enough! lol

No update for my 928 yet... I'm in Florida now but will check again once I get back home to the Philly area tomorrow afternoon. Can anyone with a 928 confirm that they have the Denim update? wait a minute... just checked "extras+info" and it says Denim. How can I be sure that I actually have Denim? never mind. I should have read the whole thread before posting. Doh!

Has anyone updated their 822 OTA (without the Recovery Tool)? One 822 of mine updated to 8.1 Update but is still on Black. WTF

i'm using preview for deverlope . i want update but i dont have update in my seting. what will i do now??

have developer preview on Lumia 928 and call verizon they sai you don't need to turn it off. and your phone will update. AND MINE DID. at 10 pm tonight. like the women said on the phone the update will come in batches. i think eople who have smart phones forget the updates are not like have a computer (where they all come to everyone at once) they come in batches so be patient and keep checking. If they did it all at once no one would be able to download it wifi or not.

Update received Lumia 928: Developer Preview (On Lastest DP Version) (Nevada, USA) 8:00pm (Pacific Time) Nothing I needed to do in order to receive it (No Downgrading Needed!!!)... Hope everything starts getting there's!!!

My Lumia 822 is installing the Lumia 8.1.1 and Denim update. I tried disabling the Preview for developers app, but that didn't work. So after awhile I enabled it again, and this time it worked. Right now the gears are turning. So just try enabling the preview app and try to update your phone. Just sit tight and watch the miracle happen. Goood luck!

I'm getting it now. 11:35 est

Awesome, getting it in Sacramento right now. DP turned on.

Has anyone gotten the update yet? I've tried throughout the day and no luck. I deactivated DP even. Oh well ill try tomorrow.

Got it in Baltimore starting at 9:20. All told, took 90 minutes. All is smooth and well. Did not have DP. Waited. Glad. I can stop pooping on Verizon now.

If you deactivated developer preview, and didn't work, try reactivating it. That's what I did, and it worked. Now I have the update and Denim update, too. Good luck!

Agreed, that's what happened to me too. Reactivated DP and it finally came down. FYI - it will reboot and seem to reinstall multiple updates, even DP again.
Also, is Cortana really still "beta" in Denim??

yes most likely..Cortana will probably be in beta for awhile but as you can see she works very well.

Yes, had DP turned off, as suggested earlier, and after turning back on updates happened!!!! Two 928's now live on Denim. Seems faster...

Finally, double promotion!! Haha..

My sons updating his 928 now hell be . +1020 for me AT&T

I have Dp on my 928 and it said I have an update. I downloaded and the gears are turning. We'll see what happens.

The update is done and the version says: 3051.500009.1446.10437. I didn't turn off DP and all seems fine.

Ok confirmed turning off DP then turning back on worked to start the OTA. (I did check for updates in between.) I DID BACKUP MY PHONE FIRST! Be safe folks.

Lumia 928...Last night I unenrolled in DP, uninstalled and tried manual update...no update. I reinstalled DP, reenrolled and then tried manual update...no update.
When I woke up this morning, update phone setting showed an update downloaded and is ready to install.
My wife has Lumia 928 and DP and did nothing and her phone also had an update ready to install.
So, if you have DP, you don't need to do anything but wait until the update makes it to your phone.
We are both rocking Denim firmware update and the latest OS on DP. I am hoping for battery improvements. And this is not a sarcastic comment but the phone's performance seems more fluid and faster :)
THERE IS NO NEED TO USE THE NOKIA TOOL AND FLASH THE UPDATE...JUST PATIENTLY WAIT!

I agree. Same story for me. I am not known for patience so I did many things last night that did not need to be done. Jus wait and you will get it.

Finally got it! Here's the story: Turned DP back on and hit check for updates. It took exactly 15 minutes to show that an update was available. Once the process started I was off and running. The whole process lasted for an hour. It updated 2 or 3 times during the entire process.

My 928 with dev preview updated this morning. My wife's 928 updated last night. Anyone that has DP just needs to wait. Everything went fine with the update, all I need now is a enhanced sim to make payments.

It worked for my 822 and went pretty quickly. It took less time than most other updates I've done.

Re: mwright53,
Thank you for the 822 specific comment.
May I ask forum members:
I have been backing up my photos, TV Blaze, and my podcast list (I'm on WP 8.0). Is there anything else I should back up because I'll lose them in my eventual WP grade to WP 8.1? I really like Zune functionality in WP 7 and still miss it. I know 8.1 loses the integrated Music, Podcast, Video Hub that 8.0 has. Anything else?

At long last!! Sheeeeeesh!

I got the Cyan and Denim updates last night for my Lumia 928. I've got to admit I LOVE IT!!! It literally is like having a new phone!

is the camera faster now on the 928 with Denim?

I confess I don't know, robbie. I use my camera on my 928, but I'm such a novice that I don't really know how to use it effectively. In fact, just 10 minutes ago I saw a vide from this website (I think) which said that one can start recording a video with your Windows Phone by just pressing and holding the camera button. I didn't even know that! I honestly wish there was a class my wife and I could take, so learn how to better use our cameras on our Lumia 928's.

You don't need to turn of Developers Preview. Mine finally was available last night and updated fine. Also, camera launches MUCH faster and Softcard works! But what is the small dot above the wifi indicator in the status bar. I never saw that before.

It tells you when you are using data. It's an arrow.

Finally got it for my 928 at 9:28 last night (around that time). Went smoothly. Took about 30 minutes in total for the 2 update packages. No Hey Cortana, no Miracast, no HDR and Camera enhancements. All understood. Just glad to get Denim.

Anyone know if Microsoft has any plans to try to get Hey Cortana on the 928 in the fture. Kind of a bummer not to get that feature. Although with the update the new Gestures Beta works and I love it. Definitely worth checking out.

Hey Cortana will never work for your or my L928 because it powered by snapdragon S4 processor which does not have the capability.

I had disabled the DP early yesterday and then checked for updates throughout the day. It kept saying my phone was up to date. Early this morning, I checked my phone again and it still said my phone was up to date. I dont remember seeing my Lumia 928 updating, but now when i go to settings -> extras+info it says I have the Denim update. Very weird. Wouldnt i have seen it install denim? Now when i reenable the DP and then go to Settings -> Extras+Info it says Lumia Black. Is anyone else seeing this too?

I'd say to try and open a Denim only app. Then you'll know for sure.

I just updated my phone! I have Lumia 928 on Verizon. So here is what i see that are new/different. When i restarted my phone instead of seeing the blue bg image with the red square and the verizon and windows logos on it i now see the Verizon logo on a red bg that covers the whole screen. That's new. Also, above the Wi-Fi icon, i now see a little arrow that blinks. -- Seems there is a second update now, I'm installing that now... -- FYI, I checked the version numbers of Lumia Denim/Black to make sure i was on the right version and i was not, so that's good because i hadnt noticed any difference and i am hoping that the camera is faster with this update.

Downloaded the latest version with Denim with no problems for my 928. Firmware revison number ..1146.0093 OS version 8.10.14219.341 However, when I check for updates, the display shows 8.10.14219.341 is available. I have DP software. Any ideas on this?

I got the Denim update this morning even though I have Dp. But, new it started to install a new update right now. I wonder what it is?

On my Lumia 928, two updates got installed yesterday. Unfortunately after the second update, phone does't boot any moreWith soft-reset (power + volume down for 15 sec.), I get NOKIA icon followed by Verizon icon, then simply black screen. I didn't have DP on it.

I've done a hard reset (http://www.microsoft.com/en-us/mobile/support/product/lumia928/faq/?action=singleTopic&topic=FA141347&category=softwareupdateanddownload). That erased my data (photos gone, had to punch in MSA account info etc.), but upon reboot I haveDenim. Looks great.

Camera is definitely faster...pretty awesome now

I had an update today also after updating to denim with DP. The update was the latest DP OS update I already had. It just installed again. Dont know why but after update the phone still works great.

I have SO Version: 8.10.14219.341 and firmware version: 3051.50009.1446.0093

Very pleasant surprise going right to Denim! Thanks Verizon!!

Amen to that! Makes sense that they gave us Denim right away. After all, Verizon owed us BIG TIME!

Took over a year to officially reach the 928. Wtf

Took 8 months, not a year. Yes, it took a long time, but not a year.

It was funny. I've had a Lumia 822 for almost 2 years, but haven't been paying any attention to the Verizon Windows Phone news.The phone works great, but yesterday I thought I'd do the Software Update Check and got the update to prepare the phone for 8.1, rebooted and then got the Denim update. It all took an hour, but what a surprise! I had no idea this was coming. And I just enabled Glance. I have found that the Music App doesn't work, but I installed a different Music player that works great. Three Cheers !!!

my power button doesnt work anymore after Denim update. i dont haven the Chive app on my phone. hard reset my phone twice using Nokia Software Recovery still doesnt work. anybody havin same problem?

ICON!!!!!!!!!!!!!!!!!!!!!!!!!!!!!!!!!!! VERIZON!!!!!!!!!!!!!!!!!!!!!! WHERE IS MY UPDATE PLEASE!!!!!!!!!!!!!!!!!!!!!!?!?!?!?!?!?!??!?!

Not sure who was asking about battery life with Denim but on my 928, I had it off the charger for roughly 6 hours yesterday and was checking websites, tweeting and answering email...only lost 6% of battery during that time. So far so good.

Anyone have GPS problems on their Lumia 928? I have lost GPS and use of Mi Coach, Nokia Drive, Navigon... useless! I have tried hard reset and did Lumia Software Recovery and still the same issue (twice)!

I can pretty much echo the sentiment of everyone here when I say, "It's about damn time!" I updated both my 928 and 822 over the weekend. The 928 took 1hr. and 58 minutes. The 822 took around 3 hrs.
Windows Central Newsletter
Thank you for signing up to Windows Central. You will receive a verification email shortly.
There was a problem. Please refresh the page and try again.