Verizon HTC Trophy to be released March 24th?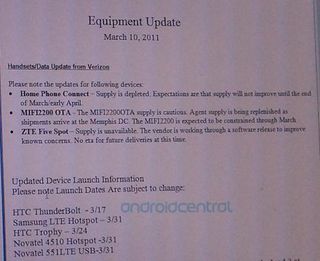 We've heard that the Verizon HTC Trophy is on the cusp of release--we know it's in tester hands, has a NoDo update (though not the latest, whatever that means) and we've heard that "end of March" was the time frame for release. Of course we also heard, though we expressed skepticism, that June may be the date as well.
Well good news, as things look to be sliding towards the end of March, specifically Thursday the 24th. Yes, in just under two-weeks time, Verizon will reportedly begin stocking and selling their first Windows Phone device, which is a global phone to boot. Featuring a 3.8" screen, 16GB of memory and a 5MP camera, the phone should be more than adequate for Verizon users.
The email above comes from our sister site Android Central, who got their hands evidently on a Verizon/third party vendor email. It is noted that "Launch Dates Are subject to change", so anything is possible. But we think Verizon will have more to say at CTIA in Orlando in a few weeks (yes, we'll have people there for coverage). We also expect more info to start pouring out about this phone about....now?
Source: Android Central
Daniel Rubino is the Editor-in-chief of Windows Central, head reviewer, podcast co-host, and analyst. He has been here covering Microsoft since 2007 when this site was called WMExperts (and later Windows Phone Central). His interests include Windows, Microsoft Surface, laptops, next-gen computing, and for some reason, watches. Before all this tech stuff, he worked on a Ph.D. in linguistics and ran the projectors at movie theaters, which has done absolutely nothing for his career.
Nice, just a few days after Sprint it seems. Now MS should push ads harder and get the word out more.

I don't know if they could push any harder at this point. I see a WP7 almost every other commercial break these days. Must be the sports programs I am watching because they are pushing hard.

Ya, that's when they push the most since the sports fans are also those who jump on to smartphones as well it seems. But those are still pretty targetted I'd say.

There is a lot of ads yes, A ton of them but all for AT&T and some for T-mobile. I want to see Verizon pushing it.

Well, if it dosen't show up. I'm probably going to jump ship. As hit and miss as T-Mobile coverage is, the HD7 sure is a pretty device.

Where are you getting the 16gb storage size??http://www.htc.com/www/product/7trophy/specification.html8gb, and it's not user-expandable.

The leaked screencaps they posted earlier show 16gb:http://wpcentral.com/verizon-htc-trophy-global-phone-coming-out-june

It's been reported already in a few places that the Verizon version will come with 16gb, the UK version came with 8gb.It is "sort of" user upgradable but, you would possably void your warranty (you need to open the phone)...search on XDA on it, they have pictures on how to do it.

Its cool to see a document on it but, we are still in the same boat, note the "Subject to change". Till Verizon releases a press statement, we are just guessing...again. At least if this this is a "true Verizon" document, it would be the first proof of a release besides rumor.After Sprint going on the 20th, I wouldn't be shocked if this is true, just would love to hear an offical statement on it.

I have been testing the Trophy for a few weeks.. it is nice. Does come with 16gb. Glad to see it will be available before I have to return this one!!!

If you had it for testing... Please answer one thing. Does it still have the FM radio or did Verizon disable it like they did in the TP and TP2 (never mind about a bunch of Android phones too)

They can't disable the FM radio in any Windows Phone device. FM is a requirement for Zune services.

Good, I look forward to getting this phone

Yes, FM radio is still in it! Needs headphones plugged in for antenna... so no speaker radio.. :(

Wish it had an OLED like the Focus, but I'll take it. And I'll take it the second its available.

Let's hope this turns out to be true! I don't want to leave Verizon just to get a WP7, but I will if I have to. I will definitely nab this phone on March 24, or pre-order it as soon as it becomes available.

Still not my first choice but the more I see it the more I warm up to it. Probably won't preorder since I'd like to give it a hands on before making the jump, but I'm feeling better about it.

+1 Exactly my feelings on it

This phone is NOT more than adequate for me.I want a 7 Pro on VZW.It's incredibly stupid to offer one lone candybar phone to represent all of WP7, when there are other unique phones out there.Hopefully this sells great quickly so VZW can realize to pack their stock with more, different WP7 devices.

I guess everyone has their own wants. I agree I would prefer one with a keyboard but, this is only they are getting for now.This phone has a better and larger display, the Trohphy comes with a 3.8" Super LCD (almost as good as SuperAMOLED). The Arrive/Pro 7 is a 3.6" LCD (not Super), a nice display but, not as nice as this one.Not sure if you need it but, it is a world phone too, The pro 7 is not. It also runs on the same CPU as the other models. So it's just as fast and will handle and look great.So, everyone has their choice and I agree I would love one with a little better specs but, it is one of the first gen Windows phone 7 models, so unless you want to wait till next year (maybe fall time) this is your only option on Verizon.I wonder how much it will be with a 1 year contract, that might fit the best of both worlds, so when the newer models come out I can upgrae with out getting raped...

I'm hoping they have a decent price for the 1 year contract as well, if not then I might just have to cough up the contract-free price. Either way I'll be getting this as soon as it's available.

If your going to cough up the contract free price (I think for this phone it's $499.99). You might as well sign a 2 year contract, you can always pay the contract free price on another phone if you want to.

I'm not completely sure that I can confirm this is a Super LCD form any of the reviews. Engadget- "To start with, like all WP7 handsets the Trophy starts with a 480 x 800 pixel resolution and 1GHz Snapdragon (QSD8250) processor under a capacitive touchscreen. From there we've got a bright 3.8-inch SLCD LCD, 802.11n WiFi, Bluetooth 2.1 with EDR, GPS, FM Radio, a 1300mAh battery, and 8GB of fixed flash storage with 512MB of ROM and 576MB of RAM."Soooo......yeah. Da heck? And AMOLED looks so beautiful with the black yet colorful WP7 design scheme.

It's not a bad phone, it's got the same specs as most of the WP7 phones anyway.THere was a big discussion on the Trophy SLCD Vs. The LCD. THe very first models of the Trophy came out with the standard LCD but, was upgraded to the SLCD. Every one from that point now has a SLCD, there should be no reason to believe that it does not have one. Someone also contacted HTC and it was said it came with the SLCD.I would see no reason why Verizon would down a display to sell it here.THe AMOLED displays are very nice, no question. The SLED is just not as bright but, as detailed.If you want to see the real difference between the displays...http://www.engadget.com/2010/09/13/spot-the-difference-htc-desires-slcd-...

Well, the SLCD is basically just an LED backlit LCD right? Acronyms......Anyways, my assumption is that it's the same back lighting technology as Apple uses in the iPhone. TFT LCD.Same thing?
Windows Central Newsletter
Thank you for signing up to Windows Central. You will receive a verification email shortly.
There was a problem. Please refresh the page and try again.