Verizon reportedly retires the Lumia Icon less than a year after launch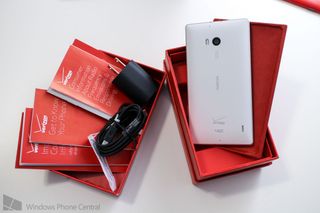 The Lumia Icon was released on Verizon on February 20, 2014. That wasn't too long ago, which is surprising that Verizon has decided to "retire" the device so soon.
We're big fans of the Lumia Icon and we know we're not alone. It's the phone known internationally as the Lumia 930, but exclusive to Verizon. It features a beautiful 5-inch, 1080p display and a 20 MP PureView camera. Other tech inside include a Snapdragon 800 processor, 2 GB of RAM, 32 GB of storage and Qi wireless charging. It's a great device and one of the best Windows Phones available on Verizon.
Which is odd that the Icon has already been retired by Verizon. The information comes from the official Verizon Wireless Support Twitter account. They say the Lumia Icon is still in stock, but is now retired.
We're going to file this as a "rumor" until an official statement comes from Verizon. Support staff can sometimes mix up internal information, so we'll see how this plays out. In the meantime, we'll reach out and see if we can find out what's really happening with the Icon on Verizon.
Update: As many have noted, you can no longer purchase the Lumia Icon on Verizon's website, seemingly confirming the news.
Source: @VZWSupport
Thanks for the tip Micke S!
Seems horrible. I was just about to go to Verizon to check out the icon

That's explain about why ICON hasn't get cyan yet

Considering that their employees won't even sell them, it makes sense. I really hate verizon.

They only stocked it in like 5% of their stores. Probably didn't sell well due to their own stupidity. What a shame it isn't available on other carriers.

I don't know how it didn't sell well as I bought all of our employees icons of Verizon and ordered more this week.

I hope Microsoft learns that this exclusivity deal is complete and total bollocks. Verizon doesn't even try to sell WP (let alone other carriers) and that really cripples WP's growth. Hope MS realises that sooner than later.

This is true but the Lumia 925 disappeared top why no mention of that on wpc before but now cause its a flagship...

Meanwhile, no Lumia models available before the carriers dropped the 925, and now the Icon. At least the Icon was promoted, though.

You are right, and it´s the same evrywhere here in Europe, the shops won´t sell the phones and talk bad about WP. MS needs to leran from this, they need to change all about sale.

ATT is no better. My mom went in specifically to buy a 1520 and the rep kept bringing out larger Android phones trying to talk her into something else.

Same for here in Canada. My wife asked for a Nokia 1020 at Rogers and the lady came back with an iPhone 5S. She said, "No, I want the Nokia, the one with the good camera." The Rogers lady said, "This one is way better, you don't want the Nokia." My wife had to put her foot down, and demand it.

Reminds me of a rep, who was adamant that the ipad 2's rear camera was better than the 2520. Despite telling him constantly I am not interested in using a whopping big slab to take pictures let alone selfies (at that point he proceeded to start taking selfies with the ipad 2's rear camera - for a moment I didn't know whether to laugh in despair or grab the ipad and beat some sense into him lol, however in the end I just walked straight out of the store).


No Cyan, and no Windows 8.1, no Cortana. This was one of their flagship Windows devices. There is more support and marketing for the HTC M8 but the Icon is a better product.

You can download the Developer Preview up and update your Icon to Windows 8.1. I have it on 3 of our Icons and works great without any issues.

Consider yourself lucky Waldon Gaio. My icon on the dev preview sometimes takes 5 seconds to wake up and occasionally will be the only device in my house that wont connect to wifi.

You are absolutely right @blushrts717. I do get that wi-fi issue once in a while but not enough to cause headache. the benefits i get from updating to dev preview is way more than the cons. hopefully verizon and microsoft still do the right thing and update the device to the latest OS.

Very doubtful, Walden. Verizon and "do the right thing" shouldn't be together in the same sentence.

I have a icon and I have the Cyan updat, 8.1 and Cortana so I dunno what you're talking about????????

If I'm not mistaken, you have Developer Preview which had a firmware update to Cyan. However, if someone is not a developer, my daugther, then they will have to wait for Verizon. I shouldn't have to trick my phone into having what it should have already. My daughter is not tech savy so she sees the commercial for Cortana and notices that her phone doesn't have it. It's called fragmented OS. Not as fragmented as Android but fragmented nevertheless. The only WP in the US that MS uses to promote Cortana is the HTC One M8. The Icon is a premium device and should have the latest update. The Lumia Icon is a better phone than the HTC. The Lumia line is owned by MS now. So....it's October, no Cyan, no Denim, no 8.1. I don't even want to hear about Windows 9!!!!

I have downloaded Cyan on Icon yesterday. Check for updates.

Seriously!? On a Verizon Icon? Cyan? For sure? Please reply.

No, you didn't! You might have downloaded the WP8.1.1 Developer Preview OS, but the Cyan firmware update has yet to be approved by Verizon and if this article holds merit, we will NEVER get Cyan or Denim and Verizon will lose thousands of customers including me!

They just lost me. I had an Icon and just lost it. Have insurance on it, but I don't think I will be claiming anything. Why pay $100 to replace a phone they quit supporting?

Did you try to find it through Microsoft's "Find My Phone"? http://www.windowsphone.com/en-US/How-to/wp8/settings-and-personalization/find-a-lost-phone

I chatted with a rep and they said Cyan was recalled and I should call Nokia about it.

It may still get updates. My 920 hasn't been available at Rogers for over a year and they still just released Cyan.

I don't know if that's true or not. Verizon has a history of being the last one to the table with updates on their phones. Interestingly, Nokia USA, (@NokiaUSA), was advertizing the Icon just yesterday afternoon on Twitter using the phrase "Stay Stealthy".

What I hope is that it comes to TMo and AT&T.

They not going to be on contract. They going to be only at retail HUAAAAAA

I hope so too. I'm on tmo. I jumped from a 925 to a note 3. I was planning on jumping to a note 4. I'd much rather a 930 or 1520. Posted via Windows Phone Central App

Waiting on my 1520(green) in the mail now. A buddy of mine just left Verizon for ATT and the 1520.

Just picked up a green one myself. It is amazing. Would rather have it then the 930.

We oughta start a Green L1520 Club :). People that I show it to, really like the color.

I have mine. Love it. Hulk smash.

Got my "Hulk" 1520 from AT&T and I love it. It's a pretty legit phone!

Have Icon, then 930. Why? Or did you mean to say than?

Just switched to ATT too for the green 1520 (and obvious dislike of Verizon...)!

Good for you. I'll be joining you. I switched from AT&T to Verizon a few years ago. Worst mistake I've ever made. I'm going to pay out my contract and get a 1520 on AT&T as well! Verizon SUCKS! I advist ALL Windows Phone users to leave Verizon and lets hit them in their pocketbook where it counts!

Yes, it will hurt them badly losing 0.01% of their sales...

Depends on where you are in your contract. Someone on here yesterday said it will cost them $1200 to break their Verizon contract (family plan).

Oh... Lumia 1520. It is such a sweet device.

Rodney, here's what I've been saying all along. Here's a wonderful article written yesterday. Take a look. http://redmondmag.com/articles/2014/10/08/windows-phone-not-popular.aspx

This has been a long-standing issue. I remember when I went in to the local store to pick up a L928 for my wife, that I had ordered online. When I got there, to pick up the phone *I had already paid for* the sales guy dug in hard trying to get me to exchange it for a Galaxy. This was in the Redmond Verizon store, like a mile from Microsoft's main campus. They don't even get respect in their own back yard. I know Verizon still hates Microsoft over the whole Kin thing, and I know Samsung and Apple are giving out WAY better spiffs to the sales people than Nokia ever did, but man. Microsoft was completely screwed before they ever had a chance to get started. They would have done better by only selling direct in the U.S. -- at least then they wouldn't have had sales drones unfairly bad-mouthing their product because Nokia wasn't greasing their palms as well as the competition.

Verizon is a tool shed. Long story short, I've never been as rightfully hacked as when I had to interrupt and "remind" the manager to get me the Icon screen protectors that I asked him very kindly for, three customers earlier. The smarmy gleefullness with which he helped Apple types was so... gah! He was insistent that it would still be another 15 minutes before he could look for them, but I was "rather convincing" by that point. Since I get some gradiation of this same "service" every time, I just won't go any more.

Their time is slowly fading. While coverage and pricing is normalizing throughout the industry, the day of the Verizon salesman is slowly on its way out. I can almost see the actual stores almost going away all together with the devices sold either in Best Buy, Costco, WalMart type stores or online and the AT&T, Verizon, Sprint....services actually being just a registration part of buying the phone. There is literally no need for a Verizon store with 9 salesmen. Much less all geared to pushing specific devices and not services.

Ok.. I'll read it. Thanks.

This situation is true, but it still does not address the root cause... It just says that there are no devices in stores. It doesn't say why.....
..........
Marketing, and proper awareness, is what will get more devices in store shelves... Marketing, advertising, are the first steps... Nevertheless, I do understand that having devices on store shelves is part of marketing, but it's just that. Part... It's not the first step, obviously..

I guess you're just going to miss the point. :) You can do all the advertising you want. If and when you visit the carrier stores after seeing all the wonderful "marketing" and those in the stores push something other than WP devices ALL the marketing ain't worth diddly. I visit my local Verizon store and the WP devices aren't in the back corner, they are in plain sight. But the workers try to push the iPhone or a Galaxy. They just do. Oh well. I'll let you continue to hold on to your beliefs and I'll hold on to what I know is actually happening. :)

Im not missing the point.. It's not that complicated of a read... It's not like you posted an article about nuclear physics.... Lol..
................
Anyways, we're both really saying the same thing.. We both agree that presence, awareness, availability, perception, the amount of devices on carriers, advertising, and so on is the problem..... We have to be realistic here.. It's a fact that all the things we both mentioned are a part of marketing.. This is what makes up marketing. You could say that marketing is the general term for all these separate issues... So, lol!!! That's why I say that marketing is the root cause... What is so hard to understand about that... If you have poor eating habits, and its causing you a lot of separate health issues, then your diet is the root cause of your problems because it is affecting everything... There's just no way of getting around it...

Nuclear physics?! Lol! Yes... :) I guess we'll just have to wait and see how everything pans out. Unlike most I can wait and wait and see what Microsofts does.

Yeah, for all we know all these low end devices could be the awnswer.. If they help boost market share, and the app catalog grows, then carriers will have no choice but to push WP...

Today I was talking to this guy who works for MS and his female coworker, about WP, and why it's market share is so low in the US... They both said that WP's low market share is a result of poor marketing... They did say that about 3 months ago they got a new marketing director, so they expect things to seriously change with W10... They both totally agree that MS needs to outsource it's marketing because they are terrible at it.. And, that's coming from veteran MS employees❗ ... You guys need to finally understand root cause!
..........

I asked them on twitter and they said they are still supporting it....so we will see

Don't do it. Verizon straight refuses to update any firmware for any windows phone. I'm switching from Verizon as soon as my contract ends.

Glad my phone is retail one

Not totally true. We got a lot of updates on the 928. Not cyan of course, but previous ones none the less.

We also already received a firmware update for the Icon (an 8.0 revision). So it's not true that they never updated even the Icon.

That update was only sent out because they were required to fix an issue that related to the Verizon network for security reasons. The FCC forced them to push it. But when it comes to "enhancements" on the firmware/software, VZW won't push it. That is why I'm leaving Verizon and going back to AT&T! VZW sucks when it comes to updating phones. I had the exact same issue with my Samsung Galaxy Nexus. Was supposed to be a "Nexus" device and get updates directly from Google, yet VZW reneged and we had to wait MONTHS for the Jelly Bean update. This is why Google doesn't allow any Nexus devices on Verizon anymore!

If you are set on a Windows Phone then it still is worth checking out. This thing better still be supported though. Still waiting on Cyan and official 8.1 (and some said Android phones were the only ones with carrier delayed updates.....)

Here's a great article written yesterday. It's a shame! But these carriers are only interest in getting as many iPhones and Galaxy's sold. http://redmondmag.com/articles/2014/10/08/windows-phone-not-popular.aspx

We've all seen this sales behavior. Rather than do exclusives Microsoft should offer deals through carriers where they pay part of commission for each windows phone sold to sales staff, otherwise there is no incentive for them to even try and sell the unknown to the public.

I believe Microsoft has tried that (offer commissions). The real problem is as I see it is that these workers 1) just don't like Microsoft. That's dad's company. Its not hip like Apple or Samsung. 2) this is squarely part of the US carriers to push Microsoft out. 3) Lastly, these carriers have heavily subsidies the phones from Apple and Samsung they don't want Microsoft in any way take away any sales from the aforementioned. IMO.

It's funny Microsoft is suffering from the exact problem Apple had in the late 90s that prompted the rise of the Apple Store. Hardware retailers would barely stock any Apple machines, and even when they did were so ignorant of their capabilities they'd just push Windows boxes instead. Seeking to get control of their retail presence Apple started making their own stores and selling directly to customers. Unfortunately that is a very long game. Microsoft stores are barely getting any press as it stands, and even if they are there's isn't a proper flagship phone that you can buy on all major networks in the U.S.

Exactly. Microsoft needs one super/hero phone that can work on all networks. And they just need to advertise it and sell it at their stores or online. I think they are waiting for the new iteration of their OS to evolve to do this. Hopefully it happens soon. I'm patient. I can wait. I will never spend my own money on an iPhone or and Android device. NEVER! :)

I suspect that's exactly what they're working towards, but other buyers may not have your patience, especially when Microsoft is keeping mum about future devices. Also Windows 10 is looking at an April 2015 launch, and that is pretty far away. My fear is that Microsoft would be too late once again. With any luck they actually release a hero device for each carrier and put the full force of their company behind it. Hopefully the advantages of Windows 10 would be enough to attract new customers in droves.

None of what you said is true! I mean none, good guess but not true.

Not so simple. If they will start paying sales staff to sell thier phones then they will have to either increase the price or make phones of poor quality. With samsung the phones are poorer quality but they instead invest in marketing and promotion. Something has to give. And everybody has its own strategy.

Microsoft has already gone the route of paying sales staff. The way I see it most of the carriers pay huge amounts in subsidies for the iPhone and Samsung devices that they are going to push those before anything else. WP devices just gets in the way. Though my major problem with WP devices is how and when they sell their phones. Apple announces a phone and in less than 2 weeks it's up for sale. Microsoft announces a phone and it takes 3 to 4 months before it goes on sale. Then everyone wants to talk about the NEW future phones. To me that's one of the things that's really killing the sales of WP devices. I wish Microsoft would not announce any devices until they are ready to put them up for sales immediately!

Totally agree. Anouncing a device and then delivering 5 months later when the buzz died out is just plain stupid.

SERIOUSLY OVERDUE. I and a few others (sadly too few!) have been saying the same thing on this site for months, if not years. Microsoft can't sell phones if they are not available where people buy phones!! This is such a no-brainer, yet very little is done about it. WHY do they even have ads on TV when people CAN'T GO INTO A STORE AND BUY THE PRODUCT THEY ARE ADVERTISING?? They are throwing away money!

Ding ding ding...that's why I don't go into AT&T to buy my phone, no contract for me...I prefer to buy it online after "trying it out" in an AT&T store...I will keep buying windows phones until they quit making them! If AT&T refuses to let me use it on their network, I will go to another network.

They still have stock... So go order it now!

Why? It's never getting updated. And I know about and have the developer preview 8.1. The phone takes 4-5 seconds to wake up sometimes. Can't use any bluetooth 4.0 devices either. Batter life isn't so hot either. All would improve with cyan firmware, but we won't see it now. Sorry, but windows phone is circling the drain. I've had a bunch since my Samsung focus, but I'm out.

Gotts disagree with you man. Icon with 8.1.1 (the latest) runs smooth as silk for me. I have none of the problems you mention

If it is true, Steve Elop should be fired for his total marketing failure in the US market. They have lost the only high-end WP8.1 flagship among all US carriers. It is a bloody disaster.

By your on words he should already be fired. If that's the flagship (I think 1520) It's only on one carrier. That is an EPIC FAIL. A true flagship should be on all carrier's like the iPhone and Galaxy Line. Posted via Windows Phone Central App

I consider L1520 is a niche phablet and not the flagship size that appeals to the mass. L930 is the current high-end flagship that never show up in US market. We don't know why and ICON is retiring. I hope that Steve Elop would come out and give us a straight answer in Satya Nadella style. He has been quiet lately. We users need to know clearly the MS' WP short term and long term strategies as well as the upcoming product lineups. We are running out patience.

Nokia Lumia 1520 is AWESOME!!!!!!

Well, your consideration is just effing wrong, Einstein. The 1520 is absolutely THE flagship Windows Phone, bar none.

Absolutely wrong... HTC One Windows is the flagship. Your phone is a tablet. Even the HTC is almost too big but it does have superior dots per inch even surpassing the new Iphone 6 plus which I also have. I really prefer the darned One. Wish it had more Apps for banks and stuff but it has enough for me and I'm decently picky. It's just a phone that feels good in your hand. A screen to die for and it's made better then anything else out there.

HTC One has great specs. But L930's camera and the upcoming DENIM upgrade would solidify its #1 flaghip position for now.

Yes but switching to AT&T will still get you an HTC One M8 when the exclusivity deal ends on Verizon. AT&T and TMob will get the HTC One M8 too.

UPDATE: HTC One M8 for Windows will be available on AT&T on Nov 7th. http://www.wpcentral.com/att-htc-one-windows-nov-7-same-day-lumia-830

Only the 1520 has all options, glance, SD, etc. Fuck off. Complain of its size, stick it up your ass, then you may complain

Wow. Relax. Someone likes a different phone than you because it's smaller and you go on a curse rant?

Since when has Nadella given a straight answer about anything? Everytime he items his noise hole a bucket full of marketing speak spills out that rarely makes any sense.

Disagree. Comparing to Steve Ballmer, Satya has been loud, clear and straight about MS's future direction and focuses to the public. The responses from Wall Street and MSFT share performance have demonstrated the results.

Perhaps, but I don't have/want Verizon, so I am not really bothered by this....this phone was perfect size/specs, wish AT&T had a simlar version....1520 is massive

Same here, maybe there's a flagship in the making to replace it?......

I have this phone and it a good one

You still can. They should still have them in stock.

That's why Microsoft needs to stop giving high end phones exclusive to any carrier. Verizon doesn't even advertise it and same with Microsoft.

It's time to US ppl learn to buy phone at full price like other ppl in the rest of the world

Except carriers demand it or they won't offer them, at all. You guys seem to think that Microsoft wouldn't choose to have devices universally available.

You can still buy it at Amazon for ninety-nine bucks on Verizon contract.

You can still buy the Lumia Icon at at any Verizon retail corporate store that still has them in stock (my local one does- just call and ask), You can also buy them on Verizon contract from Amazon and Microsoft- all at the same price of $99.

Guess I'll just have to get an M8 then

Tell that to us AT&T users.....the reason we don't have the icon/930 is because of Verizon's exclusive deal. And now they are going to "suspend" it? F*ck US carriers.

So...does suspension of VZW exclusivity mean we may see it on AT&T?

Please please please let that be the case!!!!!

That's what I'm hoping for. We didn't get it because Verizon had an "exclusive" deal. I'm assuming their suspension if the phone also suspends the exclusivity? I'd love an Icon running Lumia Denim natively on AT&T.

That's what I'm wondering! Let's see a North American version!

don't get your hopes up, verizon probably has a permement exclusive, the only way I see otherwise,is if suspending the phone breaches the contrct.. which i doubt.

??? They got an exclusive to sell it, not to stop selling it. I am sure that ceasing sales renders the exclusivity agreement void.

What makes the icon any different than any other Lumia exclusive, its just like the 928 and 810, if the carrier retires then, then they are still carrier exclusives

Perhaps the Icon is exclusive and the Icon is NOT the 930.

You are 100% right, the problem is, Nokia alrwady stated that the 930 is for the foreign market and that they'll focus on the icon for the us market. The best possibility imho is for Microsoft to make a 935 with a screen capable of glance, and sell that

I agree completely! A 935 w/Glance and NOT exclusive to any carrier! Radio should be able to handle any carrier and sold only through Microsoft Store and online through Microsoft! Carriers can only sell it if they agree to keep it unlocked! It's time Microsoft started strong-arming the carriers. There may not be a HUGE audience for the WP, but there is enough of us that the demand is significant enough to warrant some attention by the carriers, especially with Windows 10 right around the corner.

It damned well better be what it means. If Verizon really is retiring it, MSFT needs to immediately release it to every other U.S. carrier.

÷1 Posted via the Windows Phone Central App for Android

Hopefully that will be the case. Stupid stupid stupid having the "best" phone on only one carrier.

What really concerns me is what this might indicate about the viability of the platform - especially considering that no real new halo device has been announced. In other words: Are the carriers giving up (not that they ever really tried) and is MS giving up too?

you are reading way to much into it, microsoft has nothing to do with it, verizon just said fuck that phone because it didnt sell (and verzon is among the worst cases of "you want a windows phone.. fuck that trash, let me show you this new iphone.." can we PLEASE top with this doom and gloom already? its getting irritating beyond reason, just stop.

At 8 months old, there is little reason to bring this to ATT&T and T-Mobile. It will be percieved as "old". I do not think we will see a new high end model untull WIndows 10, or at least untill a Windows 10 preview is availabel for phones.

Yup, its why I think the only way out of this rut is to release a 935 with a slight spec bump and glance screen, it would be enough to solve the icon issue

I think its disgusting that we have a carrier locked phone, where the carrier doesn't even support it. Why did Verizon even fight for exclusivity if they are just gonna throw this device away?

And that's exactly what's going on here. Microsoft is putting other OEMs on a pedestal, trying to get them the sales they expect.

Because MS is horrible at marketing, and they don't show that they care about WP... If they don't care, then why should their partners❓

If a device is a carrier exclusive or custom made for one carrier, why is it Microsoft's job to market it? The whole point of carrier exclusives is so that the carrier can market it exclusively. It seems silly to blame MS for this.

I can't remember ever seeing any Verizon advertising for the Icon. But they advertise the crap out of an iPhone and galaxy.

Clearly, this is totally on Verizon.

Root cause.. You guys never look at the root cause... It's so obvious to blame the carrier... The fact is that overall, the past 4 years, MS has failed to market WP properly, and create excitement around the platform... This is nearly just another example of what is happening as a result of poor marketing on MS's part....
................
If MS doesn't show interest in WP then why should it's partners? Marketing is WP's biggest issue.. Marketing is the root cause of all of WP's issues...

Nokia would have made this deal with Verizon, not MS...

They did. This was before MS took the reins.

Yeah. But carrier-only phones are really stupid. In turkey, we have both carrier-sold and retail-sold ones. I have a retail-sold phone. All can get all phones. Peace! Btw. Carrier ones get FASTER updates, weirdly.

Seriously the U.S. model for carriers is just ridiculous! They've grown so enormously powerful that only a juggernaut like Apple can tame them! Only Apple does not permit ugly logos on their beautiful designs, and that Verizon logo mutilates any phone. MS has to find their way out of this mess, we really need a different mobile OS, not another iOS or Droid clone! WP is just so damn unique! Long live WP :-)

Hopefully in Windows 10, this would change. If it's one OS that runs on all devices, then updates with be very crucial in the long term since Windows is vastly used hence needs lots of updates to keep up with securities.

In the USA and Canada carriere use different frequncies, so phones are not compatible between all carriers. technology. GSM (Global System for Mobiles)
USA: AT&T and T-Mobile
Canada: Rogers CDMA (Code Division Multiple Access) USA: Verizon, Sprint, MetroPCS, and US Cellular use CDMA.
Canada: Telus and Bell Mobility LTE
AT7T and T-mobile LTE bands are not compatible. So you can use an AT&T or european phione on T-Mobile but lose LTE speed. I think MS could develop a multi radio (CDMA, GSM, LTE) univeral phone and be successful. The multiple bank or multiple radios would addd to manufactureing cost, but there would be savings in design, usoing a single manufacturing line, advertizing and supporting a universal phone.

Actually some AT&T phones now include band 4 which is the primary LTE band T-mobile uses. Sometimes there are issues with getting the band usable on some devices for whatever reason though. AT&T trying to block out people from using their phones on T-mobile I guess.

Retire it and come out with a 1530

Just get rid of verizon. You don't want an un-updated 1530... ever

I think the day VZW comes out with something brand new for WP before anyone else will be the same day hell freezes over. They cannot bring things to market very quick at all compared to other US carriers. VZW has always been aweful with WP. Nothing new. My contract with them is over in less than a month and I am holding out hope for a new WP for the holidays, but may just end up maintaining my 8X until W10.

They had icon well before the 930

They also got the One (M8) for Windows first too. That may be the reason for the chilli weather lately. :)

Sprint is worse with WP. Just saying.

I think I read that Sprint and Nokia had some long running beef. Maybe Sprint reconsider now that Nokia is out of the game.

I hope that's not the case that would be a real blow to WP in general.

How so? They probably only sold a tiny amount of them---can't see how that would be a blow to anything.

If verizon wasnt such a shitty carrier.....

I guess it's just not selling.

They don't advertise it anyhow

Exactly. They don't see good sales because they don't advertise Windows Phones to begin with. You can't blame it on the phone when you only advertise Android and iPhone.

Not only do they not advertise it, but people going into the VZW stores to buy a WP are being pressured by Verizon sales people to buy something else! Microsoft should really SUE VZW over this!

I disagree. I'm a WP lover but I also understand that iOS is a cultural phenomenon in the states right now. No matter how much you advertise it would be throwing money in the garbage. US consumers want whatever the "cool" thing is right now and that's an iPhone. No amount of advertising is going to change that. But as time proves, people will eventually grow tired of iOS (mine came two years ago) and will start to look for something fresh and new. That could be 3-5 years from now so hopefully WP will only be a better system at that time and start taking back market. But I don't blame Verizon in the least. Nor ATT for that matter. I remember when the 920 first released the media blitz was huge in my ATT local stores. WP all over the walls and even the ATT employees all wearing WP polos/t-shirts. And still, it was virtually a DOA product. I bought one anyway but I like to buck from the trend.

That is quite honestly the only reason why they would retire this device, poor sales. Now they don't have to spend time and money providing updates, except to those that are security related/mandatory.

It doesn't sell because Verizon employees actively discourage customers from purchasing Windows Phones. I saw one doing it to a lady who noticed the HTC One M8 for Windows, just the other day. They have a disdain for them. It's sick!

Absolutely correct on that. They don't get encouraged by the reps during their stop-ins and they don't craft sales pitches for them because everyone flocks to the Galaxy and iOS stuff.

You're absolutely right. I walked into my local Verizon knowing I wanted an Icon. I told the rep I didnt need to see anything else. He tried sooo hard to steer me to an HTC phone, told me Windows phones were hard to use, that most people returned them after buying. I was like STFU with that nonsense and box up my phone , MOFO. Worst. Experience. EVER.

When I switched to Verizon last month, the sales rep in the store was actually trying to convince me to get the One M8 Windows Phone (I had gotten the Icon). I clarified and asked if he meant the Android one. He said, "Nope. This one. The Windows Phone." So, they ARE out there, but rare in number.

You think the 928 is selling better?

Its one of the highest rated devices in the Verizon site. I dont blame vzn for the poor sales. Its MS's fault.

Ratings and sales have nothing to do with one another. The ratings are from the people who actually purchased the Icon. I'm one of them. Anyone that has actually used the Icon knows what a GREAT device it is. But Verizon ACTIVELY tries to downplay the device and tries to prevent people from buying it! I still say Microsoft should be sueing Verizon over this issue!

You blame MS for providing a highly rated device? Interesting.

Should we applaud microsoft for acheiving this?

Last high end smart phone from Microsoft / Nokia, is retired less than a year old. Next high end smart phone is still a year away. Nice. Very nice

Any successful military commander will tell you, Timing. Is. Everything. Look at how Eisenhower walloped industry in his farewell address. Supreme Allied Commander and bringer of highways in states. O yes he did.

A year away? What the hell are you smoking?

Windows 10 will change everthing. Earliest: April 2015 is 7 months away. Could easily be close to a year.

Sorry but I've been hearing that for two years now when I first heard about the "game-changing" 920. Seems every phone released "will change everything". I love my 1520 but I'm under no illusions at this point that WP will do anything meaningful until the cultural phenomenon of iOS starts to wane. No amount of great products or advertising is going to convince the suburban moms and teens to not buy what all their cool friends are using---sorry.

I do not disagree with you. What I should have said is Windows 10 will change everything in the Windows Phone world. What will be added or lost, what phones will be upgradeable, what should a new phone have to best utilize the Windows 10. Thinks are uncertain. Buying the inexpensive phones now hitting the market is not a high risk. Buying a new high end phone in this uncertain market is a bigger risk. Designing, announcing, releasing and selling a new high end phone is extremely risky. I think Windows 10 and universal apps will be good for the windows phones, but iPhones will still be popular.

Hopefully its a rumor else Verizon would be getting the anti-WP carrier award here in the US, T-Mobile comes next (sigh 810)

Actually, that award, and second and third, goes to Sprint: two phones, and they won't even sell one of them.

Microsoft is just foolish to let these retail carrier sale people who are use to pushing Samsung and iPhone phones. But they just plain stupid to not even offer an online unlocked high end WP with all the radios in it like the iPhone and Google Nexus. That amount to being lazy and dumb! Leaves them with nothing to sell directly to the consumer!

Since we suspect a rumour, please add the RumÓmeter

It is from an official vzw support twitter account. Not much reason to do that.

I knew it, I'm getting rid of this thing first thing in morning

I got tired of waiting for Cyan and picked up an iPhone 6. Love me some MS apps and services, but my experiement with WP was absolutley horrific. OneDrive, OneNote, Skype...all 10x better on competing platforms. It's pathetic. I was debating whether or not to sell the Icon and was hoping to see what happened with Windows 10. Not anymore. It's going up on eBay tomorrow. Sad really. Windows Phone has such enormous potential.

Please, make possible send international... So, I can buy from you!!!!( Brazil)

I got tired of waiting as well. Got an Optimus l90. Definitely a step up from 521.

That statement makes no sense.

Its like cutting off your nose to spite your face. Why get rid of a good phone just because they wont sell them any more? Would you sell a great car just because a model was retired?

Wow. Was waiting for Cyan. Those hopes are all gone. I guess i am stuck with a laggy brick on 8.1, or feature hole 8.0. This is the last nail in the coffin for me, I am paying my ETF. Fuck Verizon

Don't pay it. Let T-Mobile or AT&T pay it for you.

I'm not.going back to contracts again. Tmo sucks here and att said no to buyout. I'm going to outright buy a 1520 and use cricket, which basically is att

There's also Straight Talk as an option. I know you may have already decided, but just adding this in as more information for others. As of early November, I'll be moving my Lumia 920 to Straight Talk for the $45 unlimited plan.

GO WITH TMOBILE. UNLIMITED DATA BRO

I have no issues with my in on 8.1..... Every once in a while I get power button lag to turn screen on, but I soft reset, and it's fine after that.... Has happened literally 5x's since I installed 8.1 developer preview the day it was released

You may be accepting it, but 8.1 is SO much better, with Cyan. Really, its night and day. My 1520 was eating up battery, and doing all manner of little, sometimes almost niggling stuff, untill AT&T released Cyan, for it. Battery consumption went from as much as 39%/hr, to 3%. Freezes and lock ups disappeared, too.

I'm wanting a 1520, but the screen sensitivity issue I read about bothers me. Is it bad? Do you get it at all on yours?

Nope, no problems at all with my 1520.

That is reassuring. I wonder if the 1525 is a real thing, and when it will arrive also

It's sad to know that Verizon and ATT are the top carriers that support Windows phones, yet things like this happen. Troll Mobile "support" is a joke, and Sprint is non existent. There truly is no good carrier for us.

Seems the 930/icon has been a failure. I still love mine but it could have been so much more

8.1 makes it lag and hang without Cyan

Bullsh*t!!! I switched to Verizon just to get the Icon in June. If this is official F U Verizon!

You serious?!? They better come out with a fully updated 930. I hate Verizon more by the minute..

Why does it need to make sense? Verizon retired the BlackBerry Z30 and still sells the Z10. Similarly, Verizon retired the Icon and has kept the 928. This is Verizon we are talking about.

I don't think it's odd, they probably replaced it with the Sony Xperia Z3V which they just announced today.

No but there's a launcher pro 8. I use it on my note 3. Makes my note run like a windows phone 8. I love it. Tmobile is getting the Z3 too. Like original windows phones it has a dedicated camera button. Posted via Windows Phone Central App

Haha you and your Sony love... Like they don't have room for both. Or could retire the 928 instead.

Is the 928 still selling? I thought it's dead already.

I don't think the 928 is still selling. Also, it has nothing to do with Sony love. I love Nokia more. The thing is, the Z3V has everything the 929 has but a more modern chipset (801), microSD expansion and runs Android which is a more popular OS next to consumers. From Verizon's perspective, it wouldn't make sense to keep trying to sell the 929 when they just got a new phone which is as good when not better and that they know will sell more.

So you're saying that VZW was selling the Icon simply because they didn't have they Z3 yet, right? Not even iPhone 6, but another Android device from the entire crowd of Android devices. Seriously? FYI, the consumers don't care about specs.

No no. I said that they could have replaced it with the Z3V. Because the phones are very very similar - except for the OS - they might has thought it pointless to keep the one with the unpopular OS. The Z3V is the only phone that can match the 929/930 on the market. It has also a 20.7mp camera, Qi wireless charging, 5" full HD (actually, 5.2) etc. Apart from the OS, the 929 doesn't have a thing that the Z3V doesn't have too. I'm not saying Verizon DID this. I'm just suggesting they might have. Because it's plausible.

To be honest, I'm surprised that they carried it as long as they did. Naturally, I prefer that they carry all WIN8 Phones but they obviously don't sell as much as the other high-end android phones which makes it difficult to justify any marketing dollars etc. I expect an 830/35 to be a better seller than a high-end windows phone unless there is a new flagship with something unique about it.

For them to keep trying to sell something, they would have had to try to sell it in the first place.

They never tried in the first place. They don't advertise and they don't try to pawn it off on customers like they do Android. Sales people will actually negatively yeah about the phone in front of customers as if they know what phone is best for everyone.

You're right, the z3 does look good. Have heard great things about the first two.

It's clearly not better - it's running fucking Adroid.

But my dad owns a Lumia 928 and I want it to get WP8.1...

I have the 928.. Have you tried the developers preview?

Z3 is steaming hot. I'm considering trying out android because of it (pending the price and availability on AT&T). That camera + "waterproof"...

I agree it's attractive hardware. They need to pull an HTC and release a Windows version.

I was just thinking that.

That would be cool but I don't think Sony is heading that direction. Unless Microsoft pays them a bucket load of cash of course. Posted via the Windows Phone Central App for Android

I was looking for the z3 on the Verizon site... Not there yet. Is there an article you're referring to?

Head over to Android Central, they've the coverage of Sony's event in New York yesterday. Posted via the Windows Phone Central App for Android

Right on! Thank you! Appreciate it!

Hopefully this means a Lumia 930/935 is coming to every network now.

+1 Posted via the Windows Phone Central App for Android

Tho stinks, hoping to get one in Dec.

They selfishly hog the phone, don't promote it, delay the update, give no info on the update, mark it as retired with no explanation to prevent panic...... This was nothing but a case of I don't want it but I don't want anyone else to have it. ..... They are killing Windows phone

This -^ FUCK YOU VERIZON....... That's why I bought mine at the Microsoft store full retail price, off contract with unlimited data. Just to spite them..... Maybe I should start downloading torrents on my phone to spite them some more

Torrenting what? How would that hurt Verizon specifically?

LOL PROIBABLY PORN. WASTE THIER DATA PROBABLY

Why do I have the feeling we can all stop looking for the Cyan update, regardless of which model we own?

right lol and sad story...

AT&T has updated all the Lumia phones from the 1520 right down to the 520, including the 2 year old 920, with Cyan. "Like those, who like you," is a very old, yet very valid phrase.

My last phone was an 810. My current phone is a 928. Maybe I should buy an iPhone so Apple will stop updating them...

Love my 928. Despise Verizon. Have set a reminder for the day my contract expires. Will move to AT&T.

Unlocked GSM for the win!!!!!!

i'm getting tired, really tired.

While you're at it how about asking about cyan for VZW Lumias?

Someone did:

@BlueChipEric That is correct the Icon is being retired, we still have them in stock and at stores. *TM— VZW Support (@VZWSupport) October 10, 2014

@BlueChipEric We do not have the release dates for the software updates as of yet. *TM— VZW Support (@VZWSupport) October 10, 2014 @BlueChipEric We don't want to see you leave, there is no explinationas of yet. *TM— VZW Support (@VZWSupport) October 10, 2014

Nice job verizon. If it wasn't for Verizon exclusivity, L930 would have landed on AT&T.

cause they're not interested in carrying WindowsPhone, they care about Android and IOS ... just like the b***hs at T-Mobile... lousy windowsphone support... smh love my Lumia and it looks like I will be bolting to ATT next year after I see what handsets are coming....

One thing i have to say At&t has shown a lot of love to lumia's ! Posted via the Windows Phone Central App for Android

Well, at least some news regarding the Icon (still no official info about Cyan, however I doubt it will eventually receive).

I went to their website and the icon is gone. They only have the 928. Wtf...

I just checked it too.. Unreal!

Glad I got rid of my Icon and picked up an M8. Hopefully they don't retire it to.

As long as it sells decently, they won't.

Nothing sell if you hide the fact that it exists.

I've seen the M8 for Windows out on the shelves with the the other phones, so I personally don't believe they are hiding it.

Not at my store in Ofallon, Missouri. They even told me when I stopped by that I was still the only person who had asked for one of their 5 units. They still don't have a display model or even a notice that it's available. They will tell you however that no one buys a Windows phone. Awful deal but MS is big enough to catch them and stop the nonsense if they wanted to. It wouldn't take much of a contract to say that if the phones weren't available and on display the exclusivity was over. No one cared enough on any level and to be honest that's on Microsoft just as much as Verizon. If they don't employ smart enough people to protect their interests they're on the way to being out of business and deserve to be.

MS really don't know how to get the word out about Lumia phones! It's confusing with different models, hardly any adverts, no real push from MS...I hate the iPhone bur seeing the well thought out OS and integrated features and support and customer service I do feel more attracted to iPhone 6..MS really needs to see iPhone 6 and why people like it and just at the hardware but the support and full function of its OS with some great features that work across all iPhones

People like the iPhone 6 because Apple made it.

Wow that's terrible if true. It's a good phone that would be even better with cyan.

I'm assuming the 928 would be retired too,

What the heck! I was planning on getting either the Icon or the 830... I guess I'll have to get the 830 when it's released on AT&T or some carrier around here.

If you want to go Windows Phone go with AT&T... They've done a good job in supporting Windows Phone devices. Verizon on the other hand has had a spotty record when it comes to this.

This just isn't true. ATT has been just as spotty in the past. No one is consistent, and this is why I'm close to giving up on WP, not on Verizon.

But what does AT&T have? Low end 635. Flagship (actually) 1020 Gargantuan 1520. Not much of a selection, especially for someone who may want an upper mid-range phone they can pocket.

If you want an upper mid range that you can pocket then you are looking for the 830 which is coming soon to at&t.

Hopefully, with the Icon extinct, AT&T will add the 930 too - especially as I don't see a 1020 successor in the wings...

Well you can't expect them to stock a phone when its not released. They've had pretty much every WP since launch and will be getting the M8 & 830 in the future. Only major release they've missed is the Icon/930 and that's due to the twats at Verizon getting it exclusively. If there were devices available, att would have had them. That fumble is firmly in Microsoft's court.

Nokia made the exclusivity deal before the sale to MS, btw...

Also in terms of windows phone AT&T is still scheduled to get the HTC One M8 for windows.Just no word in when the verizon exclusivity expires for that.

Just going to repost this in hopes that someone from Microsoft can get the gist of my feelings. Anyone know if the forever-old WP update agreement that carriers can 'skip one update, but must provide the following one' is still in effect? I have been a huge fan of Windows Phone since the beginning. Zune before that, and Windows Media Center before that. I cannot recall any similar situation where a flagship device, or any device for that matter, was so neglected (perhaps the original HTC Titan?). I get the impression that Microsoft has given up on pushing carriers to update their devices, and are just resting on the fact that they have the Preview for Developers program now. Why can we no longer have anything even close to the universal, simultaneous rollout that 7.5 Mango had? EVERY update that came out prior to the PFD program was handled better than anything since then. All I know is that I don't care if we ever see Cyan at this point, but if we don't see promise of Denim when it starts to roll out this month I am officially giving up. Not on Verizon, but on Windows Phone. It would be outrageous if their flagship device, that I paid over 500 dollars for, never received an update. I don't care if Verizon has been sitting on the update since RTM - fix the fucking problem, Microsoft. Throw money at them until they do it, I don't care. This is your flagship device.

I completely agree. Its ridiculous how completely disorganized they are with carrier releases. I've grown tired of waiting. IPhone 6 of Sony Experia Z3v if I don't hear good news with the denim update.

Something worse is that they've pulled the PfD for some phones: my 8XT can't get it by dint of being an HTC (f*ckin' HTC). So it's not just that the rollout is messed up, but they're actively keeping it from certain phones. What happened to "every WP8 phone will get 8.1"?

Evath, maybe check again, I'm pretty sure that it's available for HTC phones now? At least the 8x

Ugh not good news. My buddy who works at a store told me they are seeing if any stores want to do sendbacks they can now.

Looking at the Verizon Website the ICON is not on there anymore
They have the older phone Lumia 928, HTC 8X, Ativ SE and the new M8 for windows phone
Sad sad day

VZW have more WIndows Phones than AT&T and they just eliminated one. This is not good news for the health of Windows Phone.

WTF!? In what world does Verizon have more WP'S than AT&T? 928 was a 920 variant, and 1520, and 930/icon are same Gen. Plus AT&T/Cricket, had/have the 800, 900, 520, 635, 925, 1020, Samsung Focus, Focus 2, Ativ S, HTC Surround, Titan, Titan 2, and soon the One W8. You, my friend, are mistaken. WP LIVES at Big Blue, not Red✅ !

Easy, Big Boy. I'm just looking at ATT.com

Um what does retired even mean?

It's a fancy name for not being sold, I reckon.

Love my ATT 920! Bite me Verizon.

Explains why the Motherfuckers haven't released the update!!! Sorry for the expletive!!! NOT!

Love the explicative. Please, use them more often.

These are just more reasons why I switched back to Android

I suggest the Turbo... It's going to be killer

and thats why you are on Android central and not Windows Phone central right? oh wait.............

When all their sales people do everything they can to tell you not to buy it what do you expect.

That's why I have always said Verizon is a horrible, horrible cellular company. Their prices are horrible. Their service is horrible. And this act is horrible. AT&T is the place to be.

If ATT worked at my house and office I would switch today

This freaking blows. I wanted BLUETOOTH for my fitbit and got this phone for it.....I'm done with Verizon. ATT here I come!

Glad I picked up my Icon a few months ago. But now I'm concerned I'll never get the Cyan update :'(

Verizon have handled Windows Phone like absolute amateurs. Best phone they have and they keep steering people who specifically ask for it away from it. They haven't even gotten the Cyan update out (even though I've heard it may be out later this month). I switched from Sprint to Verizon for similar shoddy support. Got the 928 the day it was released and did the same with the Icon. Verizon has been a disappointment.

Your right, since we sell cell phones for both Verizon and AT&T the reps from each stop in to see how things are going. The verizon rep knows nothing, doesn't talk, and wants nothing to do with windows phones. It is all galaxy and iPhones. I have to say the AT&T rep is not much better. She always rolls her eyes when the subject of windows phones comes up. Her argument is they are such a small part of the market. Of course since neither carrier does anything to promote windows phones. I personally have and love the icon. However, I am thinking of jumping to the Note 4. I would love to stay with a windows device, but it appears that windows devices will be a thing of the past down the road. Neither carrier is adding new Nokia devices or promoting windows devices. I might hang in there until early next year in the hope some new devices come down the pike. But if not it is back to android I go.

If this is true then it will be the second time Verizon has stranded me on a phone that they will no longer update...as I moved from the Samsung Galaxy Nexus (a phone which killed the Nexus program on Verizon) to the Lumia Icon...I only stayed on Verizon and selected the Icon as it was a "flagship" device (still is for the most part) and thought that they would keep it rolling...if they retire it and dont update it to Cyan that would be an epic failure...pretty much counting out Denim or Windows 10 for Phone. Guess if you want a carrier that supports Windows Phone then you need to be on AT&T Oh well 1.5 years until I can get off Verizon.

I have unlimited data....i can't leave

Call AT&T, and ask if they'll pick up the ETF, for you to switch.

Dude! The exact same effin thing happened to me. I was royally pissed when I found out the GNex wasn't gonna be updated as was promised. And now possibly the same scheiss with the Icon... Two phones in a flippin' row. What are the odds, right? All I know is if they punk out on this update, the feces is gonna hit the oscillator. I think I'm might take Chi28n2k's suggestion and call AT&T and see what happens. Either they'll pay my ETF, or I'll be stuck with Big Red for another year and a half as well. That is IF the Cyan update doesn't happen. It's always nice to have a (possible) contingency.

Anyone have an idea of how many Icons they have moved?

Gotta figure out how to get my icon on ATT now. Wasted money by buying out right.

What would you gain by putting it on AT&T?

I doubt you can put it on AT&T as Ma Bell runs GSM and VZW runs TDMA.

The VZW phones have hardware for both. They don't work with 4G/LTE on GSM networks though.

TDMA? You took me back on that one. They actually run calls over CDMA for now.

Verizon and ATT use completely incompatible networks. You can't use them interchangeably

While that is true, the smartphones Verizon sell have radios for both systems in them (and are also unlocked). Several Lumia Icon users have already reported using them on AT&T.

What he said. I used an 822 on Cricket with some success. HSPA worked fine, but MMS never worked (MMS never did work on my Windows Phones, even ATT locked ones, on Cricket, until 8.1.) 822 also kinda works on TMO.

While what you say is also true, the LTE channels are not the same and the phone will not function at top speeds as well as exhibit other issues like us66 just mentioned. Given the fact that you are now paying a premium "unlocked" price for the phone, it hardly makes good sense to do such a thing. In practice, if not theory, it's not a real option

I'd like the icon on att if qi is included

It's probably going to be the 1520 all over again.

yea, unfortunately ATT has chosen PMA which no phones use over qi which was gaining momentum. Only thing that will bring qi back is if iphone gets qi wireless charging. I wish 1520 wasn't so big, but 6" is too much for day to day use.

Fantastic. This is why they wanted it as an exclusive? Are you learning anything, Microsoft?

There has to be a mistake

If Verizon retires this exclusive, can at&t have it? (with everything intact, including the MF'n Qi wireless charging built-in!!!)

Damn carriers are doing everything possible to kill WP!!!

clearly verizon is, but at the same time, isn't this microsoft's own fault anyway? Even today nobody knows what windows phone will do next year. new version? will it be something else? what features does it have? Took them 3 years to support something as basica as say, wallpapers, they couldn't even ship lock screen widgets, and their very own keyboard for phones doesn't even support their own phone OS because they couldn't be bothered to do it. the windows phone division is so inconpetent that we should be grateful any carrier bothers with them and VZ wouldn't be dumping them if MSFT would compete. For all the "mobile first" crap you hear their CEO talk, you see even the office team release sway for the iphone first because internally, they don't even believe in themselves. if you think about, if your own company doesn't think you matter, why should anybody think differently? To be onest I wouldn't be surprised if VZ wasn't paid to have this phone and now that the contract is over, they will not touch WP again unless MSFT cuts them another check.

I think you are correct! WinPhones have always been hidden in the back corner of the stores I have been into throughout New England and I always get demoed the iPhone or the Galaxy when I walk in and say I am looking for a new phone. "What about Windows Phone" is always met with "Oh! Yeah. They are over here." They never have tried to talk me out of it...not really, but they have always promoted the iPhone or Galaxy.

Been to many AT&T stores and all sales staff are extremely negative in regard to WP, and in fact you have to insist or they will steer you to anything but WP. Then AT&T NEUTERS the 1520, tell me the carriers are not responsible for the inability for WP to get a chance at a level playing field! I have been dealing with this carrier crap since AT&T never got out all of the updates for my Focus. It's criminal how WP has been treated by any and all carriers! Rant over for the moment. Currently hoping for a proper upgrade for my L920. 1520 as originally developed would have been perfect till AT&T screwed it up and I personally can't afford a full retail up front for the 1520.3 !

With all three of my Lumia phones (900, 520 and 635) no one could help me or wanted to sell me ab iPhone. Luckily I knew what I wanted

What "proper upgrade," for your 920, are you waiting for? I got the official cyan update weeks ago, and I had a 920 running 8.1 PFD. So, something's fishy with that. And the only thing you can't get on a 1520, from AT&T, is Qi. I am typing this on a 32GB 1520 (AT&T variant). It's available via online sale only, as reported by WPC, in December, or January. That's how I found out about it. $250, w/subsidy.

I think what he means by "proper upgrade" is the 930 or something like that. I'm in the same position.

I just switched to Verizon for the larger network and the Icon... I despise corporate greed and the wireless telcos take the cake. Now I see no reason for Verizon to update the icon to cyan... Damn you Verizon and the greedy corporate monster you've become!!!!

Wtf Verizon. Cyan better be coming!

Yeah it doesn't make sense when their still carrying the very out of date 928

I never thought I could hate a company! What the actual fuck Verizon. You suck massive ballsacks.

And this is making windows phone better and better everyday. I'm glad I'm here to watch the boat before it sinks. I regret not buying an Android phone last month, instead, I bought a Lumia 1520 on at&t and I don't think I'll be eligible to have my phone updated to w10. Well well

>and I don't think I'll be eligible to have my phone updated to w10 What would make you think that?

I am 100% certain you will be eligible. Especially since you use AT&T and not Verizon.

Oh shut up just switch back to other Two Big Phones OS

I can't switch back to something I've never used before. My first smartphone was a WP7 phone, and I've been with Microsoft Os since the beginning. I don't even know what is it like to use and Android or an iPhone. So just shut the f*ck up. I'm clearly not the only one disappointed with the OS, ok?

Lol I apologize yeah I know how you feel I am an early adopter of WP as well first was Samsung Focus and as well idk how to use IOS or Android either but a little to get around

Why do you think your 1520 won't be eligible for Windows 10?

Because W10 won't be available anytime soon and carriers want to make money out of their costumers. Probably they'll be too busy promoting new phones running the new OS and will keep delaying for months the update for our "old phones". That's what happened to my HTC 8x. And Microsoft leaving costumers behind isn't something new. My Lumia 900 got the same treatment as my 8x, stuck with an OS that can't even run the newest apps because Microsoft keeps changing the way apps are developed.

Windows 10 will use the same kernel, presumably, as WP 8/8.1. The upgrade should be natural, and if you're on at&t, you have no reason to think you wont get it. I've gotten every upgrade since Mango, from an HTC Titan (upgrade abandoned by HTC itself), through an L920 (officially upgraded to Cyan, from 8.1 Dev Preview), and an L1520 (also updated to Cyan, from Dev Preview). Why fear? The only constant, is Change!

Almost every 'fact' you assert is incorrect. Microsoft is the one pushing out the updates to 'bypass' the carriers, so you will get WP10.
The reason current Apps don't run on the Lumia 900 is that it is a different OS architecture, it has NOTHING to do with the way Apps are developed.

Good luck with that update guys. Hate AT&T all you want, but they are still the best possible carrier in US when it comes to devices and updates.

Icon/930 really needs to be updated, just like the 920 needed the 925. All they have to do is make it slimmer and lighter, and use a (AMOLED) screen that support Glance. Maybe update to the latest Snapdragon 8xx.

I never considered picking it up due to the lack of glance.

I've said it before and I'll say it again, MSFT current strategy with windows phone is fundamentally flawed. They need to change in drastic ways or die off. 1) run android apps to solve the app gap. 2) let OEMs have access to an API to make customizations without breaking code changes. If windows 7 can be themed to look like OSX and still works with updates and all, do the same for WP. make it skinnable. 3) stop your war on developers and embrace the full set of android capabilities without fear. google success is due on the fact android's api is about developers first, the way windows was before windows phone turned it into a joke. Embrace developers the way windows always has. developers make or break your platform and the reason the WP platform is failing with developers is because its maker failed to realize: developers make your otherwise boring lackluster software shine.

1). oh you mean what Blackberry is doing? 2). basically like how OEMs are skinning Android phones with their horrible UIs 3). Why don't you ask how the Amazon Firephone is doing....

lol...dude. you are poorly misinformed or overly blinded and naive. all your points are off. there isn't much of an app gap anymore (welcome to 2014), why would we want to skin our phones? and they've never had a war on developers. they've done nothing but embrace developers at every turn.

You really hate WP, don't you? Your posts on Paul Thurrott's site and neowin are similarly negative, so why not move to android as you like their model so much?

Microsoft DOES embrace developers. You might not see it happening, but they truly are.

1) Can't be done 2) No one wants OEM crapware and skins on their phones, not even Android users. 3) Bad data. Most of "android" is the forked version without access to google play, etc. Moreover, opening more of the OS, like Android, means you become a malware magnet, like Android. Devs ignore WP only because of the smaller user base. The development tools are much better than Android's, the design cleaner and easier.

Yes, cause Windows is not a malware magnet.

Considering how Windows 10 will change everything, you'll be able to do all of the above and more on a phone running windows. Very interested in the approach they take with Win10.

Not all of us want the security flaws that plague Android.

*Sent from my Windows PC (AKA Malware everywhere)

The only phone worse then Windows phone?

Should have been on AT&T to start with.

Should've been on T-Mobile!

Seems a lot of over-reacting to this news/rumor/whatever.

How is it an over reaction? Everyone wants firmware updates. I have an unlocked Roger L920 and I am running the most up to date hardware. This device is running close to two years old.

Because its an unconfirmed rumor? Or I wasn't quite grasping the significance, firmware wise...

Verizon SUCKS! Can you hear me now? Probably not since Verizon service is terrible. Loser company.

Why is it a rumor? The information is straight from the source!

The reps are big the most knowledgeable people to believe in

Sounds like a great company then. /s

If Verizon retires the Icon with no further updates, they can eat the ETF and Edge balance.

And your credit rating will eat the points they give you.

It should have never been an exclusive and honestly WP is up against too much competition this device should have been $99 for a 2 yr contract out the gate, think about it what phone would you get this or the LG g3, galaxy s5, iPhone 6, HTC one m8, Moto X, nexus 5 all have better specs, more apps, and in some cases cheaper

I think out of the phones you mentioned, maybe the nexus 5, and maybe Moto X, were the only ones available, when the Icon was released?

Glad I left Verizon what a pathetic joke

It's funny how businesses say that they care about their customers' interests but act like they only care about their money, and profit margins instead. LOL

When did businesses start caring about customers?

The death knell of WinPhone won't be a lack of demand, or a lack of apps, it'll be apathetic carriers who control the U.S. Market.

Duh
If this keeps up I'm jumping to Android even though WP has only been my Phone Driver for 3 yrs
I'll never switch to iPhone never

Apathetic carriers with anti-WP salespeople.

Very true statement, Verizon is the gold standard for the argument to End these dam exclusive phones for carriers in the US.

Hmm.. Seems legit. The ICON no longer shows up on Verizon when browsing smartphones filtered by "Windows" as the operating system. Really bad news. I wonder why was this decision taken.

The good news is Icon will be cheapeer ;)

While I'm quite glad that I'm not on Verizon with a Windows Phone, I do have to say that "retired" could mean any number of things until clarified by Verizon officially. Retired may mean: - No longer sold, but still supported
- No longer sold or supported
- No longer sold, but still supported, in preparation for a new device launch to take its place As companies use a number of terms to define any number of things. Retired, EOL, etc. No reason to get all worked up for something neither confirmed nor clarified.

No more windows phone for me. My 925 on T-mobile looks like it's about to get the same treatment without an official update. I got burned with the Lumia 900 on AT&T also. I just picked up a Moto G 2nd Gen. from Best Buy and waiting on the Nexus 6/X and also will be getting an iPhone 6.

Didn't T-Mobile say they'd update the 925 before the end of the year?

They did and they better. I upgraded to the 925 from the 810. ICON owners have my sympathy.

You must have a lot of money
Unless you have a job that requires
Work Phone
Personal Phone

On the other hand, maybe this means a new flagship is coming in a couple weeks.

If it's because it isn't selling, that's Verizon's fault. I personally have an Icon. When I bought it, the salesperson vehemently tried to talk me out of it. Verizon only pushes the iphone and whatever the latest samsung product is. That's what they told me to get, one of those 2 choices. When my wife's contract was up, she wanted the htc one m8 (android). They tried their best to push her to the s5 but she wouldn't budge. I sometimes wonder if they get kickbacks from apple or samsung. Either way, it really sux if this is true as the Icon is one of, if not the, best phones on the market.

Sad! I honestly don't think Verizon is a good home for WP. Att started the revolution. May have a better chance there with 1520. In this case, be no good to show up on Att now. I think though only 3 Nokia WP have made a name for itself: 920, 1020, and 1520. Also putting out true successors to these three would put MS WP device back on the radar again.

Well T-Mobile was the original home of windows phone along with AT&T

They weren't that aggressive as ATT, and still isn't.

...oh and don't show a device and coming out 3-4 months later.

This is a shame, I have the Icon and love it! It's super fast, it's not too big, and the screen and camera are incredible. Hopefully they'll come out with something soon that's a worthy replacement.

Apparently Verizon is grabbing the 735. Not that its a worthy replacement.

If this is true this sucks been waiting for cyan so I can use my treasure tag that I bought from Verizon and use my fitbit app you suck Verizon!!!!!

i use my treasure tag, and don't have cyan. give it a go.

fitbit app works fine on my Icon with 8.1 developer preview.

The app works, but after Cyan we can synbc the Fitibit with the Icon.

Good thing I went with at&t. Only true supporter of windows phone.

I can only hope that the Icon comes to AT&T. I'd grab it in a heart beat.


It's not really surprising. My sister got one a week-plus ago, and the guy said that it was the first he'd sold. The devices aren't marketed much, they probably sell like crap, and they likely have enough extra stock that the figure it pointless to take on more devices from Microsoft/Nokia, opting to run it dry and let the HTC One (M8) for Windows be the only option until a new device is released.

So, this is really bad for Microsoft and WP on one hand, unless they do have a new flagship coming which they've managed to keep under wraps so far (other than McLaren). Maybe at least a 935 with a better design and bumped specs. IMO 925 was a really important phone for WP so maybe a 935 will have similar success. Hopefully Microsoft has now established all their phone product lines and can focus on iterating/improving. By my count these are the unique lines now: 53x/63x - budget 73x - mid-range/selfie 83x - affordable flagship 93x - flagship 102x - photography flagship 152x - large-size flagship We're overdue on updates for the 10- series especially, but a 935 would still be really nice.

Nice list. I wish I could find a spreadsheet that added the major specification items so I could easily compare. Maybe WPCentral could have this as a feature on their web site?

Windows phone not doing too well overall in US. This should be a lesson to MS/Nokia that exclusivity is not good business.

Exclusivity is gone I guess. Lol. It's business. You need to understand that if they don't profit enough... What's the point. Ppl r waiting for better. MS needs to get their shit together. Plain and simple

Carriers should not have access to the OS or firmware. Plain and simple.

Agreed! I thought the Dev Preview WAS a bypass of carriers?

How much money has Microsoft wasted? Because NO ONE that sells windows phone promotes it. Hell they actually discourage you from buying the product.

Is this a "fact" that dev prev get firmware now? Someone tell me. Coz I still dont have it on TMO

Sadly... I got my mom to get a 521 and it had issues all the time... Switched to a cheap droid

They are in war with Microsoft somehow because Microsoft had big part shares with COMCAST who seems is doing better than Verizon (in every sense) who also seems is having struggle with their Redbox and already shut down their movies stream and subscription program. I have the Icon and is such a beautiful piece of hardware along with its awesome camera. Their signal is getting bad some how it has slowed down in the last couple of weeks for me. Shame they're dropping this artwork Lumia Icon.

I just called Verizon the icon is officially retired

Yeah Verizon, just go ahead and put all your eggs in the Galaxy and IBaskets. Funny how big corporations and powerful nations forget that all empires crumbled down due to greed and inner struggles for power. Big shots within the company do not allocate a budget to promote all devices based on their own unique capabilities, but then they have the balls to discontinue those devices no one knew about cause they don't sell as well as their golden eggs.

You're talking about nations and empires crumbling over a phone that got retired from a carrier?

Figure of speech. In this case the empire would be Verizon ;-). I just felt like bitching for a bit but I'm fine now. Just wish a true successor to the 1020 would come out to give WinP a much needed push.

Well Nokia scorned the iPhone... So yes business empires are vulnerable!

Hope this is a wake up call to MS

Sad and pathetic. No wonder there isn't even a mention of Cyan/w8.1 for the Icon.

Oh the woes of being a WP user and having to be on Verizon.... It's a thing. Seriously.

If you go to the website its gone but the 928 is there and the ativ se,8x and m8.

when are Verizon update Cyan for Lumia 928:(

Further confirms my leaving the WP. I own an icon and I honestly felt like it is powerful but lacks some of that 928 flare. IPhone 6 here is come.

It has disappeared from Verizon's online store

If this a sign of things to come to WP even it has in the past I'm jumping to Android unfortunately WP has been my main driver but I'll never jump iPhone never

And I still can't get it for ATT

Since Microsoft owns Nokia, shouldn't THEY give us the firmware updates? This is bullshit. "Denim is for the Icon." Verizon: "LOLNOPE.GIF".

So.... No advertisements, not a single placard on stores, phone displayed in the back of every store I've been in, right next to the non-smart phones or free LG crapdroid phones....... When you go into a Verizon store and mention Lumia or Windows, you immediately get scoffed at by sales..... No wonder it sold like shit......Microsoft needs to start paying these sales fools.... Maybe there would be better sales if there was a incentive

Just seems odd since the 928 is still for sale.

Phones are retired all the time. If it is not performing well then why take up space. Windows phone is on a short leash and for good reason.

So, if Verizon retires ICON, can I terminate the 2-year contract now?

I think you should be able to without any penalty, they didn't hold up their end of the contract so why should you have to, dam Verizon

They are still supporting it so they are holding up their end of the contract.

Really... The update is where? Wifi still blows on icon

Do you have proof of their support?

I'm not interested in the HTC One M8 with Windows or the upcoming Lumia 735. I guess I'm getting the Sony Experia Z3v or iPhone 6. If Verizon ever gets something good ill come back.

Re: blindfromthesun, Look at your current options with other carriers. They are always changing. That is what I'm doing.

Icon is still available if you live in the States... http://www.amazon.com/Nokia-Lumia-Icon-Verizon-Wireless/dp/B00HWEMZ1E/re...

That was because the Icon, a flagship device, do not have Glance support

I was a Windows Phone enthusiast almost from its very beginning, but now I believe that this platform is, unfortunately, dying, that's the reason for Verizon decision. Who is to blame? Microsoft of course.

Not Verizon who has never advertised this phone and whose sales people do everything in their power to talk you from buying it?

I can say they told me there are no new upcoming windows phones

Doesn't mean much. "They" told people that walked into stores to buy WP that they should buy something else instead.

Yes, lots of galasick at veriphon

Well this sucks. I moved to Verizon to get the Icon when it was released. Looks like it's true. The Icon isn't on the website anymore. I'm only 8 months into a two year contract with a phone they may not even support. It's hard being a WP fan...

So when is the next highest-end Lumia phone coming out? Soon I hope... my contract is up later this year and I want the newest most expensive, highest end Lumia phone.

Wow, for real ? A 7-8 month old phone ? Fuck Verizon.... If they dont give me Denim before Dec 1, I will file a lawsuit against them... Why ? Because Denim was announced before they disco'd the phone.... They are still selling the iPhone 4s and the Samsung S4....both are older than the ICON... I guess if you have a ICON, you wont be getting Windows 10 on it..... Fucking Verizon....we should just sue them for the fuck of it... Maybe it's because of all the bitching that we do about getting Cyan ?

Glad I went with the M8. It's a fantastic device!

My contract with Verizon is up in two months... Done with them. Time to shop around...

Glad I have Cricket /AT&T

I am the owner of a Lumia Icon and love the phone. I have also be a Verizon customer for many years. If Verizon decides to sideline Windows Phones I may finally switch providers.

Where the fuck is CYAN ⁉⁉⁉

I don't see how the a** clowns at Verizon can now hold anyone who has recently purchased an Icon on a 2 year contract to uphold their end of the contract, it appears that Verizon isn't holding up their end.

So does this mean AT&T will get it, then? Anyways, Verizon: Terrible WP support, it sucks.

Does this mean Microsoft can finally push out the cyan firmware?

Regarding updates: I have HTC 8X with AT&T for almost two years. I haven't got Windows Phone 8.1 yet! So, is AT&T any better than Verizon? Don't think so.

HTC hasn't released the update for any of their phones, even the unlocked phones don't have 8.1. That's why your phone doesn't have the update.

Well Microsoft, this is what you get for making your flagship phones carrier exclusive. The Icon should've been available on all carriers, now the best Windows Phone will be available on none.

Are we still getting the cyan update??????

Only if Microsoft pulls their thumb out of their ass and gives it to us directly. And I'm not too confident of that.

Is that even possible? (If it is, Microsoft should do that all the time! Screw the carriers)

Sad state of affairs. Stupid people that run major companies make even larger stupid mistakes. The only difference between Verizon and GM's management is that it's hard to kill someone with a bad phone decision.

please release it on T-Mobile! a huge number of ppl will love this flagship device!

Maybe they'll be swapping out for the actual 930?

Just got this for my wife... Great phone. Got the M8 for me.

I just checked the vzw site, it is gone. Headed to the store for an update.

ahem....http://www.amazon.com/Nokia-Lumia-Icon-Verizon-Wireless/dp/B00HWEMZ1E/re...

Switch to the carrier that has backed windows since day 1 AT&T

Olivia Pope now uses a white icon,last season she had a L925. Posted via the Windows Phone Central App for Android

This really sucks, the icon was my first WP and I love it, I'm just really upset that this is happening to such a great phone. Im sick of Verizon, but I'm not big on AT&Ts WP selection, and VZW is the only carrier that gets reception in my office. There is no reason why they should treat WP the way they do. Pretty discouraging. Why drop support for the icon but keep the 928 and 8x??? Makes me not want to invest in anything Verizon puts out for fear it will get dropped Asap so they wont have to worry about updating the phones.

Introducing the new Lumia smart phone, Better get it quick before it retires!

Verizon needs some serious loss of subscribers, knock their ass out of the number one slot in the US. It's not just the killing off of their self proclaimed flagship phone, in less than a year, there employees are kind of asses to anyone wanting something other than an iPhone or Galaxy . They should really compensate Icon owners with some sort of buy back program that isn't an insult. Like offering $50 off any phone, something like that would just be a slap in the face.

Not enough people are choosing this phone and Verizon will only push devices important to their bottom line. Its got everything I want in a phone except for being on AT&T but Verizon believes only in the quick buck. That won't be the Icon unfortunately.

Heed the warning potential HTC One on VZW buyers. You'll never see an update and they will "retire" it within the year.

The 928 is still going strong, no updates though.

Well, apparently... I pissed them off? HA! SCREW YOU VERIZON! I will drop you now! Not for this, but for cyan, and your arrogance and greed, and for promoting inferior products. This is the icing on your doom cake.

Sorry Microsoft, its been real. Nexus devices from now on for me. And not on Verizon.

So because Verizon drops one phone that means Microsoft will drop everything?

There needs to be a way to bypass the carrier for the updates. Can't believe the icon doesn't have Cyan yet.

Well, will Verizon still be carrying any WP devices for inflated prices!

No high end devices on T-mo this whole exclusive thing sucks if your into high end devices WP is not where one wants to be because you can't get one unless your at&t I'm on T-mo no updates for the 925 point is why support something that MS and carriers don't support but hey that famous saying coming soon. Now why was it that MS paid over 5 billion for ? Low end Lumias exciting

Gotta be lack of sales. Not from lack of trying-they did run some nice commercials when it first came out..

What is happening? Verizon doesn't want to support Windows Phone and I may have to move to AT&T, not that they are much better.

It is confirmed here in Texas, it is retired.

Amazing how another carrier exclusive worked out so well for Nokia/Microsoft! In markets where Windows Phone is doing OK - like at least 10% marketshare, I can see it making sense to keep good carrier relations. But in the US where the marketshare is lower single digits, I don't see how it makes any sense to try to deal with the carriers. MS has no leverage; the WP market is just a niche. To the extent they do anything here, they should deal with the market as it is and recognize that the carriers are not working in their best interest. Both AT&T and T-Mobile, and their myriad MVNOs offer 'bring your own phone' plans with no subsidy cost built in. MS should ramp up selling Windows Phones (maybe with financing plans for people who balk at a larger up front cost) unlocked and unbranded through their stores. Maybe with discounts if you subscribe to Office 365. Then they should be able to provide updates without carrier interference, and hopefully keep their enthusiast base happy. If you're going to be relegated to being a niche player, then play the niche. Especially as MS is finally starting to get everything lined up for there just being "one" Windows platform. Ads like "Would you let your ISP choose which computer brand you could buy?" seem to write themselves. Sure, Google does this with their Nexus phone, and MS is currently doing a little bit of this with the Lumia 635 and Lumia 1020 on their site, along with the Blu phones, but I mean do it with versions of every major model of Lumia phone from low to high end.

Well said, well said! If you are a niche player, play the niche well!

The good news is VZW (and the rest of them) will all be gone in 10 years. Think about what it is we pay for. We pay for access to data when we don't have wi-fi, that's all. This is why they are fighting so hard on net neutrality. This is why VZW is fighting wi-fi calling. I'm really close cancelling my contract and just carry my work supplied hot spot. There's no valid purpose for me to pay $100 a month for access to data for maybe 10 hours a week. They know they will die and I will dance on their graves!

The 735 is on its way, the HTC M8 just kanched and Nokia is missing a flagship? Feels deliberate. Verizon is still launching Windows phones. Seems like there was supposed to be another Nokia Flagship here for the holidays as a replacement.
(cough*McClaren*cough)
I bet that cancelation hurts worse than we realize.

Microsoft needs a new strategy to sell Lumia ASAP they need new blood in the marketing department

I think MS needs to either tighten its grip on the carriers to push out updates and advertise its phones or by pass the update process like Apple does. Considering its rigin hardware requirement, I'm surprise it hasn't been like that since day one.

I had several Verizon employees try to talk down on me after I told them I was getting my Icon. I was extremely pissed. I dont care about your opinions, your entry level job training doesn't make me want to change my mind. Long live Microsoft.

This is the prove, WP simply doesn't sell well , it's not a good business, hopefully this will end this carrier exclusives crap as well

If it's about sales, why not retire the 928 instead? Does anyone think it sells better?

That does not sound right

I was in my local corporate Verizon store the other day and they didn't have a single windows phone on display. They begrudgingly got an icon from the back to show me when I asked but not before pushing the new iPhone one me. If we take into account all the rumors as well as what we see happening in the stores, it doesn't look good.

Same story from several people, unfortunately. I had to go to three stores before finding mine. At least they didn't try and talk me out of it, bit that was probably because they were too busy...

Funny because I just got a postcard telling me to upgrade to a phone than can "keep up with me." Are they suggesting that I sould retire, like the Lumia they advertise?

Next up: MS is getting out of the phone business. They will make apps for Apple and Android. Watch and see.

Sadly, I'm afraid I agree

Yup oh well
Switching to Android then

If you want a Windows Phone you better be on AT&T. That's all this news and T-Mobile's continued lack of support tells me. The other carriers just flat don't care. I'm already tired of waiting for an update to my 925 that will never come.

Verizon is the pits. Last time I went to a Verizon store, all employees seem to only push Android. They don't even acknowledge the windows phones at all.

I just called Verizon and was told they are not retiring the icon. So who to believe,that is the question. Hopefully wpc can find out.

This shows how unpopular windows phones are. Every flagship model don't sell well at all. Poor thing....

This why targeting the low end is the easy to go right now. Maybe have one flagship on all carriers and a bunch of low end variants?

Problem is, sales is just as bad even for low end. The overall market shares still the same like a year ago. The masses are just not into the tile thingy. Even windows desktop is moving back to iconic based style. Windows phones is going down soon...

Yea it doesn't help when stores hide them in the corners and reps pretty much convince u to not even look it if u try to view

Most of these reps are biased kids pre-twenties. If it ain't part of their tech bubble 99.9% don't want to know.

The fails just keep piling up. Go Microsoft.
What a bunch of clowns. Now with eggs all over their face.

Well it's so dissapointed for US people but i'm glad lumia 930 has launched yesterday in my country.i'm still waiting for lumia 730 with dual sim card and not expensive than others.

Not suprising, given their lack of timely updates on the phones. And yet I'll still be with Verizon at the next upgrade cycle, too, because of the nice discount I get through my company. They don't inspire me, though.

I am now a vender in a Verizon Wireless store five days a week. I can tell you with absolute certainty that [at least in the Long Island, New York store I work in] not only do they not mention any Windows Phones, but they bash them all! I have never seen a sale of the Icon, HTC One M8 for Windows or the Samsung Ativ variant and I've been in the store since August 18th. I have asked the Wireless reps why this is and they do make one valid point (and you've all heard it)... The app gap (not to mention the ecosystem). The Icon and the M8 for Windows are fantastic phones. Microsoft must do something to close the app gap/ecosystem issues and then promote the hell out of Windows Phone!!! For 8 hours a day I see people come in with cracked iPhone screens, IOS 8. whatever update issues, Android phone being wiped out for no reason, etc. IOS and Android are software/hardware nightmares from what I've seen. If Microsoft can get their shit right with what they lack, they will rule the mobile space at some point.

Wouldn't this be because a new device is on the way to replace it?

I am so mad about this I have been on the phone wasting customer support time for past 1.5 hrs! Total crap, I switched to Verizon for this phone and they have taken my money , but not supported the product. Should be illegal to do this and not release updates for any phone less than 2 years old that recieves updates from manufacturer! I think I will make an FCC compalint, doubt it will do any good though.

All that will happen from an FCC complaint is that a customer service rep will call you and provide whatever company mandated bullshit he is told to say. However he won't be able to change anything and I'm sure some Verizon executive will print out the complaint and use it as toilet paper.

Typical Verizon....their "flagship" phones that don't rhyme with shamsung or shiphone live a short life.

It just shows that mid range devices shouldn't have been made. MS should have stuck with low and high end. And yes, the icon isn't high end enough for the masses for it to be considered high end. People either want crappy and cheap or expensive with bling all over the place. The icon didn't have the camera bling nor did it have the screen size bling. Sheeple are sold on bling, popularity and advertising. The icon never stood out. It was just another hum-drum phone with decent specs. Big deal, those are a dime a dozen. MS has their low end down. But they need to get rid of all this mid-range stuff and focus time, development and monetary resources to make high end phones stand way above the crowd and be a leader in mobility instead of a follower playing catch-up year after year. Microsoft needs a miracle or investors will force a spin-off of all their mobile products if this keeps up. And if MS as a last resort tries to run smartphones and tablets exclusively with Android, it won't work out any better for them than it has for HTC or Sony.

Really it has all high end features it's a 930 virtually, the only to of the longer thing it doesn't have is processor, and it's only a couple models behind is an 800 instead of an 802 or 805

In a way this seems like a really good thing to me, it may be the push Microsoft needs to finally stop doing these stupid exclusivity deals. Verizon effectively just wiped out the only current Lumia flagship they have way before I'm sure they expected. Maybe I will be able to get the 930 on att now

I think so too! MS needs to find their way around this. Maybe winphone will be for those not interested in contract lines (like most countries outside the U.S.), just sell the damn phones unlocked from the MS store! After all we don't buy our laptops on contract do we? I've never used the contract model because 2 yrs stuck with a single phone is unimaginable to me! I typically use a different phone every 6-8 months! Unleash the unlocked phones!

If this is true which it look like it is, the headlines tomorrow are going to make a bad situation even worse. Looks like ill be getting a android phone on 3 months....

In pure gaming and 3D performance, it is their fastest phone - and they are ditching it? Wow, dumb. (To date only the 1520 is pushing faster 3D numbers on a mobile device. Even the new iPhone 6 isn't as fast as the Nokia Icon for 3D performance/gaming.)

I have the ICON. Love it.

Same here but the users are all wondering when Verizon will release 8.1.

I have the ICON. It's a solid phone, but it desperately needs 8.1 Cyan to take it to the next level. I switched from Android and I really lost a number of software features that just aren't there to make WP competitive. Of the numerous times I've called Verizon asking when Cyan is coming, they have never been able to tell me. Highly disappointed that it's getting pulled, but not surprising. Windows Phones just don't sell well, even if they have solid hardware (ie 20MP camera). If MS was smart they wouldn't rely on carriers to push updates, just roll it out with the update (ie HTC One M8) and provide links for users to update themselves. So disappointing.

First AT&T retires the 1020 now Verizon dose this

Don't feel bad I went to att to order another 32gb 1520 not only did they say they couldn't order but asked why would I even want it and kept trying to sell me an iPhone or a Droid despite pleading that I wanted my 1520 nothing else no other OS so could u imagine ur average customer probably hears nothing hut bad about it and probably never even shown the phones

I guess that I'm going to att

This is why I said Fuck You to Verizon 5 years ago. They were expensive, had horrible customer service, and 0 support for phones that didn't fit their perfect little niche of devices.

This was why I left US cellular, now Verizon is just as bad :

Yeah, me too.... They still don't have LTE where I live as well. Sadly, AT&T is pretty weak in coverage, and TMo is TMIA.

Just hope they focus more on unlocked phones from the MS store. I've never used a phone on contract, simply because I change phones too often, just like the flexibility of placing my SIM into any phone at any time, not in rigid 2 year cycles. I better grab as many unlocked win phone models as I can before they get scarce. Loving my 8X, 520, 920 and 1520 all unlocked, would try to get an unlocked 930 and M8 as well!

Microsoft. Open your own US carrier and screw everyone else here. Then again your own stores tell me they miss their android because it can search in the email app... Seriously.

The icon is no longer on vzwireless website!!!! The rumor is true. Sooooo mad, my contract was up in a month and I was going to get one!!!!!!

You still can..... http://www.amazon.com/Nokia-Lumia-Icon-Verizon-Wireless/dp/B00HWEMZ1E/re...

I'm sure that they're prepping for a US 930 release

While youhs complain about the icon my Lumia 925 has not received Cyan update so while you complain at least your phones have a 20mp camera 2gb of ram and a snapdragon 8xx chipset while I am with my Lumia 925 I am still on Lumia black and only have a mere 16gb on storage memory and you silly babies have 32 GB of memory storage if I had icon I would be grateful for the battery life alot better than 2k mah and a phone on 720p display

What MS has to stop exclusivity with hand sets. Let all WPs be available to any carrier that wants them. If they are going to do exclusivity, it should be no longer than three months.

Microsoft should just sell an U.S 930 unlocked with all the radio frequencies on their store website and in their retail stores. Why not? Their competitor's - Google's GooglePlay edition or Apple's iPhone unlocked models have been available since 2009. Windows phones in the U.S. never have an full unlocked high end phone in WP 8 since the 800 and 900 models were Windows Phone 7.8 OS too! It still sold okay and was sold on ebay and amazon for a long time too. I don't consider 1020 a flagship Lumia model. It was a specialty smartphone.

Can I get the 930 from AT&T, now, then? Please?

This is disheartening news that I fear portends greater disappointment. Microsoft needs to get its shit together on Windows Phone. I'm currently clinging to my 920 because there is no viable replacement in my mind. Think I'd like the 1520, but afraid to get one on the increasingly slim chance a 1525 is released. I'm frustrated.

That suck I have icon it works well never have to call Verizon about any problem for my icon I didn't even bother to get insurance on it hardware solid and software runs smooth.

If it isn't bad enough that I'm having trouble with mine and my wife's cars'....i gotta hear this shìt too? WTH man!

Never had one.. But too bad for the platform...

I disagree that size hampered the sell of the 1520. I believe the fact it was only available on ATT in the US and only available for GSM and not CDMA also had a lot to do with it. It sold well on ATT, but it could have done better, if it were available at more carriers. Considering that people are buying large screen phones, 6in isn't that big of a deal.

Would it be a rumor that the Icon was retired because it was generating too many complaints at the FCC about the delay in releasing the official 8.1/cyan update?

You Verizon customers who have bought this phone should really be pissed off. Verizon is the company at fault here not Microsoft. Speak with your wallets and leave for another carrier Posted via the Windows Phone Central App for Android

I tweeted Verizon about this and receiving future updates and got this response. https://twitter.com/VZWSupport/status/520374997634654209 So there is still a glimmer of hope for us to receive Lumia Cyan!

I literally just bought my icon on Monday......

Why can't Americans just buy phones at retail and get a SIM card from the carrier of their choice?

Because it not how business is done in the U.S. The rest of the world you can buy an unlocked phone and choice your carrier; but in the U.S.; the carrier is the king and the consumer has to go to the carrier to get the new models. All the manufacturer in the U.S. need the carrier to buy the model with the exception of the iPhone; to get any sales for their new phone. Apple's iPhone would sell either way; and that is why the iPhone has no carrier branding on it. Apple would just tell them that they just sell it at the Apple retail stores, online and maybe in Best Buy stores if they insist on placing a carrier logo on the iPhone!

Not even one week into having this phone and bam! Verizon drops it! Such an amazing phone too!!

Such anger. Such hate. Yoda said "Fear Leads to Anger. Anger Leads to Hate. Hate Leads to Sufferrrrring". Yeah, that probably sums up everyone's feelings about Verizon Wireless right about now, should this be true. :'(

I tweeted this two days ago. Received no reply. @VZWSupport YES or NO answer: does Verizon intend to ever release the cyan update?

Wtf? This better mean that Ms is taking over firmware updates now!

I don't know why anyone puts up with this carrier unless they absolutely have no choice. Their rates are higher than just about everyone else and their arrogant attitude toward their customers makes my teeth grind.

The more articles like this the more confusing I'm... Why put your money and future on a carrier? Why do you buy it with contract then sit down and pray for the carrier's mercy?
This carrier business model makes no sense to me....

They wont retire the phone probably just going to a new sku for the next iteration preloaded with wp8.1

I've never gone to a carrier store. I wasn't quite so aware of the heavy hypocritical bias sales reps have as before I got my first real smartphone, the 521. Last was a zte midnight, which was weak and sub par at best, really put me off android that I had to download the SDK and command prompt the crap out of it just todo a few simple fixes, like moving apps to SD (most apps rather than some). Anyway I already prepared a introduction if I ever do go to any biased carrier store. "I'd like to see the windows phones you have available, and if you dare to try to even think id rather want a stale experience overpriced iphone or a buggy bloated android device, I will personally shove a ten foot pole up your ass and sodomize you till you cant sit straight for the rest of your life. Are we as pristine as mountain spring water clear?"

I believe I speak for everyone here when I say that I hate Verizon. But just because they're no longer selling a device shouldn't get in the way of OS updates (Cyan, 8.1.1, Denim, 10, etc.).

Wow, and so many disappointed comments. No 930 on any US carrier now, hopefully this means a new flagship is planned. Maybe MS is just letting all the lower end Nokias play out until 2015, then release a couple awesome new MS Lumias in the Spring?

If they drop all support for the Icon, I'm jumping ship to AT&T

930/icon -> lumia 830 thats whats happening. sku swap. my problem with this is i see the 830 as a downgrade when compared to the 930.

From now I can advise my family and friends If you like Windows Phone then you stay away Verizon carrier

It is sad to see a good phone go to waste thanks to MS exclusives. Wish I could get something on TMO.

I have the L 928 and as you all know, no damn update. Verizon is making all in their power for me to end them as cell phone provider because their lack of service. What company would shoot themselves in the foot...Verizon. May 2015 can't be sooner...

Microsoft....please just start selling all your phones unlocked in your online store. Enough of this carrier shit

OUTRAGEOUS bull from Verizon!
SENT FROM MICROSOFT LUMIA ICON!!!

This better not be true as it doesn't bode well for the exclusive flagships. If it is true then this should sound alarm bells at Redmond.

Really surprising and unfortunate. Was it not long ago that we were getting stories of Verizon execs in meetings saying they were going to push the Icon to every customer in their stores...purportedly that everyone should be walking out the store with one because they really believed in it? I remember reading that here, of course it was one of those "a source close to the matter" or whatever, but it had given us all hope that atleast Verizon was going to put some effort.

What's pathetic is the Nokia Lumia 928 is still on sale on the Verizon Wireless website. The Icon is very absent.

crazy......have the phone love it! now will leave verizon when im ready for a new phone if they dont get a better, badder windows phone. best phone ive owned!

I smell a new flagship launch here(With the glance screen)

Wtfffffffffffgfffffffgfgcx bfmh,ddl
Hskh
AkhslhdlhxljdnfjdljdlhelhdlhzmbzmvxmcxmbsmhdkdlhdmskgsmhdkgMgN
Zng

This doesnt make sense when their still selling the 928

I love my Icon. I however got the Samsung Galaxy Nexus in my drawer and it will get Android L and that is after being 3 years old. Of course it is from devs and not Verizon as Verizon screwed the phone over from the start. So the choices are either the iPhone or Nexus for the updates, I will go Nexus and I will vote with my pocketbook and will be leaving Verizon. AT&T is about as good with coverage anyways and I can get that coverage on Cricket for much cheaper. So, bye WP (not because I didn't like you) and bye Verizon. I have to get service for devices I pay good money for. And rather then point fingers and say Verizon did it or MS did it, I will leave, they both did it and neither has done a thing to protect their image. They are both to blame.

An exclusive that the rest of the world knows as Lumia 930 does not make much sense! Especially when there are newer and more attractive models out.

Are you kidding me!?!?!?!? I just bought this phone 3 weeks ago!!! Screw you verizon!!

I use 928 & no glance was a deal breaker for me

I don't know why people in these comments are saying things like, "f*** you Verizon". They're a business and have to make money. Windows Phones simply do not sell. I occasionally ask my ATT exec friend and he always shakes his head. It's not for a lack of trying since there have been TV ads, etc. When I walk into a local ATT or Verizon store I see a section devoted to WP, so the phones are out on display. Salesmen point customers to the popular devices because that's what sells. MSFT has blown billions on WP. They even screwed up their main moneymaking product, Windows, in an attempt to promote the WP tiled interface. It failed miserably. At some point they have to pull the plug. I think they have internally since they've started releasing first on other platforms. My wish is that they would complete the circle and make Visual Studio for Android (and iOS, if possible). At least they have a chance to make some money off of that instead of losing more billions in the WP sinkhole.

I have no idea where you live but I called all around my state and not one store in a 100 mile radius sells any WP devices. Verizon did WP a disjustice and MS is guilty for allowing it to happen.

I'm north of Atlanta. My local Verizon store had the Icon and M8 while my local ATT store had several WP phones on display (1520, can't remember the other ones). Maybe that's changed in the couple of months since I last went to the stores.

Microsoft does not even sell their own phones to the public, why should carriers even be peddling a product that even the manufacturer does not even want the public to buy, go iPhone 6. Apple announced the iPhone 6, within days it was available for purchase, long lines at their stores, Microsoft announces a new Lumia every 2 months, and still it's not available for purchase, what a joke, my cracked screen 920 is near dead, I'm going back to iPhone at Christmas, since I cannot get this phone fixed, or cannot buy a Windows Phone in Canada.

No one knows what Microsoft is doing with their mobile phones. I don't blame Verizon for not wanting to wait around wondering what the hell Microsoft is doing.

Can somebody explain why this carrier dependency is so important in the US? I always read news and information which carrier is selling which phone... I'm mean, if I want a phone I just go to store or order it online. Even if I want it cheaper on contract I can order it online with every available carrier over phone retailers... I really don't understand it from a German perspective...

The short version is each carrier has a unique cellular band, so phones don't easily switch between carriers. When you buy a phone you essentially pledge a two year commitment to that carrier. Or if you live in an area where the coverage is dominated or only functional to one carrier, you may also be forced to go with them.

I ended up getting an Optimus L90 instead of the Lumia 635 simply for the fact that I don't like the idea of MS pushing low end phones so much when they need to do more to promote the mid and high end phones. I'm not switching carriers just to get a decent mid range windows phone with 8.1 and Lumia Scion. Of course, I've discovered a bad issue google has to fix with kitkat. Phone runs great, but certain apps don't play nice with kitkat and internal storage.

I sure didn't. I've got an Optimus L90 now.

I'm thinking now that Verizon has retired the Icon, the 930 will be released officially for North America.

Microsoft/Nokia is not that smart! They are the stupidest in terms of marketing their smartphones in the U.S. market. Apple cannot make enought iPhone 6s! Apple knows how to market their phones and they don't f*ck around with U.S. carriers with exclusivity agreements that make existing WP users crazy! Microsoft want to build market share; but their WP users like my self want to have "unlocked" WPs and not have to move about from one carrier to another just to get the latest phone. Microsoft/Nokia seems to want to have "new" users but they don't seem to care but their existing WP user base!

This is all on MS. All their money and power, and they let Apple and Google walk all over them.

All of this is Microsoft's fault. All of their money and power, and they let Google and Apple walk all over them.

This is so crazy, Windows phones is at a cross road, and this is not good.

Then sell your stocks for half price!

US customers, can you not buy the 930 handset outright from an international retailer and stick your chosen carrier SIM in it? Just a thought. Of course that does mean coughing up the whole wad in one go bar air time plan though...
Amazon UK are stocking most colours of the 930 SIM free...

They can buy it but it doesn't support North American LTE bands.

Cant be true. The 928 isnt retired

Reason: Ppl need a phone with expandable memory like microsd card feature missing in ICON ! Seriously they aren't happy with just 32 GB internal storage.

I've been using Microsoft's platform long before WP7. Windows Mobile 6.5 was ok for me. When WP7 launched I decided to try it out. Well that was the worst decision ever! That WP7 was a total crap. I could not even check my daily costs on my SIM because WP7 did not support USSD commands (*100#, *1234# etc) not to talk about other things, basic things that were not working and the app store which was a total ghost town back then. Now with WP8 things sounded promissing, but when I ended up with the 920 after it's release and saw how badly it was: constant freezing, reboots, cell signal dropping out like hell, all these with 3 exchanged phones, I ended up with another platform. Now I decided to try one last time WP and went to my local operator store and got the latest 930. Great design, great camera, great display, enough apps for my needs but three big problems: Was heating up like hell even when browsing internet on IE with one maximum two tabs being used, wifi signal was way weaker on the same conditions than my wife's iphone, and after updating to 8.1 Update 1 sometimes when going in messaging, facebook or email the phone was going to airplane mode by itself and then was rebooting. WTF?? Not to tell that I have avoided the 1520 not for the screen, but because of the scroll issue of the touch screen. It happened on the demo phone in the operator's store. So for me, until MS decides to pay more attention to the hardware of their devices and to the OS itself to avoid these bugs I won't buy another WP device again. Rushing up to catch the competition is not a solution! Releasing a high end device but with problems won't bring you more sales!! won't make others switch to WP!!

Love my Icon. I hope that means that Verizon