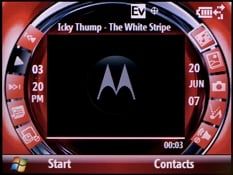 We've had a mess of Verizon rumors in the past couple of weeks, so let's get clear on what's coming from them Windows Mobile-wise. Fortunately, we have a nice way to do that courtesy of phoneArena, who snagged some internal documents from the big V.
Release dates for all these devices have been all over the map, and some rumors dates have been missed. Suffice to say that they'll all hit in 2007 and I personally think they'll hit in the order I present them after the break, read on.
One note - my guesses at the release dates could likely be inaccurate, as PhoneArena's documents say this is the order:
Motorola Q9m / Q9c - August / Q4
Samsung SCH-i760 - September
UTStarcom SMT5800 - October
UTStarcom XV6800 - October
Motorola Q9M and Motorola Q9C
We discovered the Q9C, enterprise version of the Q9 yesterday, and it looks to be the ho-hum version of the media-software-enhanced Q9M. What do we get with this device?
Windows Mobile 6 Standard Edition
EVDO for data
Bluetooth
microSD Slot
4.6" x 2.6" x .6"
4.7oz
1130 mAh battery, 5 hours talk time
320x240 screen
1.3 Megapixel camera
Q9M has fancy new interface, pictured at the top of the article.
UTStarcomm XV6800
This is the Verizon version of the Sprint Mogul and as you can see from the phonearena pic, it's not as pretty (or so says I, anyhow). Here we get the same specs as the Mogul:
Windows Mobile 6 Professional Edition
EVDO for data (upgradable to Rev A)
WiFi and Bluetooth
59 x 110 x 18.5 mm
384 MHz processor
256 RAM, 64 ROM
165 Grams
1500 maH battery
320 x 240 touchscreen (2.8 inches)
2 Megapixel camera (actually 1.9, but let's not split hairs)
UTStarcom SMT5800
The poorly-named SMT 5800 also doesn't look all that pretty. I was initially impressed with its GSM cousin, the Vox, before ultimately knocking the Vox in my review it because of it's poor keyboard and processor. Specs:
EVDO (upgradable to Rev A)
2 megapixel camera
128 RAM, 64 ROM
MicroSD
Bluetooth (but no WiFi?)
Samsung i760
The Samsung i760 has been near the top of my covet-list based on its combination of the slider and keypad form-factors. I also look forward to the same fit and finish that Samsung brought to the Blackjack on a device with a touchscreen. Specs are respectable, but not out of this world:
60 x 110 x 20 mm
150 grams
Windows Mobile 6 Professional
400 MHZ Samsung (naturally) Processor
128MB ROM
64 MB RAM (54.5MB for the User)
2.8" touchscreen, 320x240
EVDO (I think Rev A, but that's not for sure?)
MicroSD
Bluetooth 2.0
WiFi (both B and G)
1.3 mp camera
Get the Windows Central Newsletter
All the latest news, reviews, and guides for Windows and Xbox diehards.