Verizon Touch Pro 2 gets second ROM update--MR2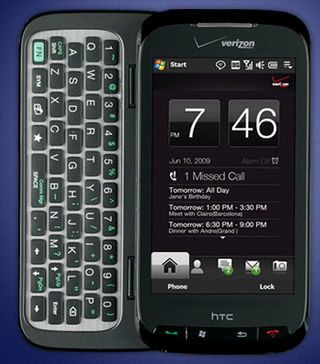 Looks like the Verizon Touch Pro 2 just received a maintenance ROM update called 'MR2'. Still a bit early to know all the changes, but so far it looks to be some subtle, under the hood type fixes as opposed to a whole new "experience":
So shall we play "what else is different"? If you find anything, hit us up in comments.
You can grab the ROM update right here from PCD.
(Update) Full list of changes--Thanks NightRaven!
ROM: 4.01.605.15/Radio: 2.35.00WV
Operating system has been upgraded to Windows Mobile®
6.5 COM2.5.
The HTC Sense™ user interface has been improved.
Visual Voice Mail (version 1.1.12.11) now comes preloaded on the device.
GlobalAccess Connect support. For international Internet access, you can tether your smartphone to a notebook.
Enhanced VZ Navigator® performance.
Improved auto-configuration of Daylight Saving Time.
Improved word prediction and autocorrection.
Enhanced on-screen keyboard layouts.
New, compact QWERTY keyboard option.
When composing email or text messages, type the first few letters of the recipient's name in the To field to see a list of possible matches.
Quick setup of common email account types and an option to set up an email account manually.
[Thanks, eddiecanuck, for the tip!]
Windows Central Newsletter
Get the best of Windows Central in in your inbox, every day!
Daniel Rubino is the Editor-in-chief of Windows Central, head reviewer, podcast co-host, and analyst. He has been covering Microsoft since 2007 when this site was called WMExperts (and later Windows Phone Central). His interests include Windows, laptops, next-gen computing, and for some reason, watches. Before all this tech stuff, he worked on a Ph.D. in linguistics, watched people sleep (for medical purposes!), and ran the projectors at movie theaters because it was fun.
What a very nice phone...I would love to buy that one soon :)

NO STAY AWAY! TRUST ME! Wm sux! i wish i waited a year. get android=faster.

I would never trust the word of someone who says "sux". Also windows mobile isn't the best mobile operating system but it's still pretty good. Especially if you use a custom ROM like Energy or MightyROM. Either way as much as I love the phone it's late to upgrade to it unless you need Windows Mobile for some reason. I'd recommend waiting until the fall and I'm sure HTC will have a similar style phone running Windows Phone 7 and if you don't want to use Windows Phone 7 the Droid 2 is coming and I'm sure more Android phones with keyboards will come later in the year.

Just for the record I really like my TP2. I have had almost all the major WM devices and have kept this one the longest. It is simply a good device.

I need to try this one first and hoping it will work good so I can share it to my friends.

Hi, thanks for the link on ROM update :) I'm gonna update it :P

It looks like what I've come to believe is Sense 2.5; it has the little app launcher in the home tab that wasn't present in the previous build, the start menu is now WM6.5 instead of the old ~24 slot with "All Programs" option, the task manager drop down on the top right is gone, a Twitter tab is available, and Facebook for WM is pre-installed with the expected MS stuff (Office Mobile, Marketplace, My Phone, Bing) and usual Verizon stuff (VZ Nav, Visual VM). I'll give it a try, but I was really hoping for WM6.5.3, even though it wasn't even hinted anywhere. :-p

After restarting my phone, the 30 slot start menu + All Programs option is back (and updated).

Manilla Ver = 2.5.20132227.0
Radio Ver = 2.35.00VW Still WM 6.5 (not 6.5.3), but well worth the upgrade...

I've tried flashing and can't get mine to boot past the htc logo screen. I can flash back to stock MR1, but can't get MR2 to load after flashing. Those that have it working, do you have an unlocked phone?

I could not flash mine until I relocked it. Then it worked fine. I like it very much.

How did you get past the HTC screen... I can't get anything to talk to it.. None of the lock programs, etc.. In a sense, I'm hosed... Any help is appreciated.. Thx,
-JS

Hopefully it'll fix the Laridian compatibility problems and the resource management problem that makes it impossible to run enough programs to use up all of available memory.

My phone was not unlocked (stock VZW setup) and it worked.

ROM: 4.01.605.15/Radio: 2.35.00WV Operating system has been upgraded to Windows Mobile

Mine wont boot past the white htc screen either. Mine has been unlocked. Maybe VZW got mad and tweaked the bootloader.

At first, I thought MR2 would stand for MightyRom2! Still, it's nice to see an update like this from Verizon.

its to bad sprint botched up the touch pro 2 release that release was so slow and lacking so now I am using an evo and its nice to have a phone that doesnt freeze up all the time hopefully these improvements on the touch pro 2 get added to the sprint version as well it really needs some touching up

Is Groups new or is it just me? Although it takes longer to boot up, the responsiveness seems to be much snappier while flicking through appointments, emails and photos. And I love the Twitter tab (goodbye PocketTwit) Two things bug me (other than the slow startup):
-Where did the Task Manager go?
-Appointments no longer show on the homescreen. The homescreen tabs are nice but I prefer my appointments being readily viewable.

anyone know how to get the appointments back on the homepage?

I have installed the new update on my TP2 and the absence of the task manager in the upper right hand corner really bugged me, I installed the Touch X taskmanager and it works identical to the original one. Also, the lack of a "lock" key really was annoying so I installed G-Trigger and now can just shake my phone to lock it. Overall I love the new update, I haven't had to reboot my phone for over two weeks. FYI, for turn by turn navigation on Verizon phones, install Bing mobile, not the Bing made for Verizon, it works great and I don't have to pay for VZ Navigator.

It only took 3 months from this...
http://www.wmexperts.com/verizon-touch-pro-2-getting-sense-25-where-art-... Can anybody cofirm it is the same build numbers?

It looks like the ROM update bricked my phone. I can't boot past the white screen with green HTC lettering and red version ID in the lower left corner. What do I have to do in order to get my phone back?

and my phone has never been unlocked... what's up with this thing?

I thought it bricked mine too at first. It seemed to be stuck on the white HTC screen for a good 5 minutes then it finally moved on.

Mine was there for more than 30 minutes...

To get this update to flash sucessfully, if you're coming from a custom ROM, you MUST flash back to mr1 and then relock your phone then flash to mr2, without the relock you will not get past the htc screen...

Explain "relock your phone." As far as I know, I've never unlocked my phone, but I'd like to try re-locking it just in case. I was able to flash back to MR1, but still wasn't able to flash MR2.

If you have never placed a Custom ROM on your phone you more than likely have a locked phone...

tried to flash mines comming from a similar custom rom. it stopped at the boot screen. flashed back down to mr1, then tried to relock using the raphael relocker couldnt find a rhodium relocker....complete crash lol....hard reset won't work doesnt even light up on charger lol...but im an insider my warr replacement is on its way to me...first crash ever but i have all my cabs roms and etc on sd and all the data sync thru myphone fun times though

No problems during the flash. Just not sure I'm super-thrilled with Sense 2.5. The menues and slider seem a little snappy-er(?)... but everything else seems sloooowwww... I do remember When I first flashed Verizon's 6.5/2.1 that it was also dragging a bit a first. I'll give it some time before I give a final yay or nay. FYI: I got the task manager back with a .cab called "Touch X Task Manager". Definately dis-like the clutter of the home page. Must get rid of the visible hot-links. Too freakin' busy. Also none of the sliders, slider icons, page tweeks or anything that worked with Sence 2.1 carry over to 2.5. Not the end of the world, just annoying going back and finding somthing that'll give me a comparable look to what I had going with 2.1. Darn learning curve! But nobodys making tweaks for 2.1 anymore, anyway... so I guess it was an unavoidable "upgrade".

For other people's info, the task manager is now a program in the All Programs list. I put it in the first slot of the quick launch thing, but I'd much rather have the old one back, I think. I saw that .cab you mentioned, but wasn't sure on it. I'm kind of annoyed at the weather animation going on. It's been back and forth partly cloudy and sunny here and it seems like the thing just gets in the way. Plus, we don't have HD2 power with these things, HTC. :-p Also, if I'm not happy with the changes (like the lock) after a couple weeks, I'll probably try to switch back. I'd like to lock my phone before I put it back in the magnetic case that might reactivate the screen...

Thanks for the tip on Touch X Task Manager, it's identical to the old one I knew and loved!

Did you figure out how to remove those "hot links" from the home screen? It doesn't give room for "Missed Calls" or "Missed Texts" anymore. How you supposed to know you missed a call?

Ugh! I have the US Cellular CDMA version of this phone. Why still no upgrade to 6.5.3/6.6??????? I'm too chicken to use a non factory ROM :( (Also don't know how...) But maybe eventually I will have no choice if they continue to ignore us poor "Classic" owners.

Is this coming to the Sprint TP2 too?

The update looks very nice, new functionality is cool - BUT THERE IS NO WAY TO LOCK THE FLIPPIN' PHONE - other than to go into Settings and navigate to the security settings and lock it there. Can't access the locking function with any of the customizable buttons, can't hold the end call button (the phone turns off instead) can't add it to the Home Screen with Sense enabled - nothing!! So this somewhat cool update is utterly and completely USELESS to me...[sigh] Back to the WM default Today screen. If any of you WinMo mavens can show me the error of my ways I would be most grateful.

The phone automatically locks when the screen is turned off... I think I prefer that to having to always touch the "soft lock" button, which doesn't always lock in a timely manner.

I just push the button on the top of the phone and it locks when the screen dims. Doesn't yours do that? I hate the "Quick Links" or whatever. I want them gone, so I can see "Missed Calls" and "Missed Texts" again.

PLEASE tell me how to get back to WM default - I prefer seeing my tasks, appointments, and everything all in one place! It's a shame... this update did fix my phone locking up - couldn't answer calls sometimes!

i like the new upgrade but i keep getting a message when im seind or ceiving MM messages this is what im gettin and i cant receive or send unless i select yes; " Connect- in order to send/download MM messages, the currentactive connectionmay be closed (this may affect other applicationsin use). do you want to continue" is anyone experiencing this? i nothing the drop down menu ro see what programs are running is gone also. verizon tells me there maybe another program using my data connection why im getting the message but i cant tell anymore. are you guys getting this also.

I just flashed to the MR2 due to some problems with BT and VVM thinking my volume was not one. I **HATE** the Quick Links and the missing Soft Lock button. No, mine does not lock when I push the button at the top. Going back to MR1 soon if no one has a reg hack to bring back my home page as it was with MR1. Gregg

Uh, that was supposed to be "...volume was not on."

FUNNY. My new Verizon Touch Pro 2 got stolen about 2 weeks ago, and I went to the insurance company to get a new one. They are trying to give me the imagio instead. I guess they "don't have" the touch pro 2 anymore.
Makes me sad man :[

UGH!!! I downloaded this thinking it would fix some of the many, many bugs in my system - it did! But, it also got rid of task manager, SO I CAN'T CLOSE OPEN PROGRAMS ANYMORE! And, sense is the only option for a today screen now... I used the standard windows mobile today screen hich lets me see my tasks - HTC SENSE DOES NOT LET YOU SEE TASKS!!! I will never buy an HTC phone again. If I could buy a device with my specs and add it to Verizon, I'd do it - but all I have to choose from is crappy Verizon phones.

The task manager is still there! You just can't see it. Go ahead and touch the top right corner .. it still pulls up the task manager ... it just doesn't show the icon on the screen. You can still close programs or switch between programs just like before. Also, I really like that when you put your screen to sleep by touching the top button, it puts the phone in lock mode too. I hated having to switch back to the home screen to lock my phone. Now I can lock it from any screen. I just wish the stocks screen used larger text. It's hard reading those little numbers. Also the home screen doesn't look so bland anymore. At least now I can add a few of my favorite programs there.
Windows Central Newsletter
Thank you for signing up to Windows Central. You will receive a verification email shortly.
There was a problem. Please refresh the page and try again.