A version of Microsoft's Windows Movie Maker may be coming to Windows 10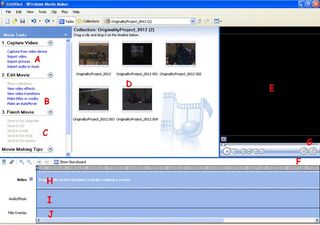 Microsoft stated in a support page that a version of Movie Maker, one of its most popular free Windows desktop apps, could be coming to the Windows Store for Windows 10 PCs.
For those of you who are unaware, Windows Movie Maker is a easy-to-use video editing app, with the first version launched in 2000 as part of Microsoft's Windows Essentials software suite. The current version of the app was released in 2012. Microsoft plans to end support for all of its Windows Essentials 2012 apps on January 17, 2017.
While the support post for those apps (opens in new tab) shows that Microsoft has listed a number of altentatives for Windows 8.1 and Windows 10 owners for the rest of the apps in the suite, such as Mail, Photos and OneDrive, it lists something different for Movie Maker:
That's all that Microsoft has revealed so far, at least publicly. There's no word on a release date, nor if Movie Maker will be released as a UWP app or simply converted from its current desktop version via Microsoft's "Project Centennial" tools. We have contacted Microsoft to see if they have any more information on Movie Maker for Windows 10.
Thanks to "undeadninjadm" for the tip!
Nice! I love Movie Maker!

Great program! I professionally edit videos, but for personal small projects I often reverted to WMM instead of my full blown pro software. When it does everything your project needs, there is no need for pro stuff.

Absolutely. And for those of us that don't have enough need for the pro stuff, the alternatives in the store currently aren't that great. I look forward to this!

Yeah, what he said. (Double post.)

Ah those Essentials, reminds me on MSN Live messenger. Best thing that ever lived besides Zune. Definitely nice news, it would be great to see revived Movie Maker in Windows Store.

"it would be great to see revived Movie Maker in Windows Store" If only to show that the bridge tools work as expected. MS should also put some effort to converting their own IOS Apps to be available in the Windows Mobile store as well. it is more credible to developers if MS leads by example --

I believe Facebook, Messenger and Instagram are ported from IOS. They work fine, except that they cache lots of data so Instagram takes up to 400 mb on my phone. But I don't see why would they convert their own apps to Windows when they already exist in Windows Store?

I think Facebook has their own tool to convert apps..and yes Instagram takes a lot of space and the scrolling is not smooth at all..

I thought unsmooth scrolling was a feature so that it stops at each picture! I am not sure though! I haven't tested it on iOS.

Facebook's apps don't use Islandwood for porting. They use facebook's own solution, and there seems to lie the cause for some issues like all 3 apps (and no other apps) freezing upon launch until you restart the phone again.

I believe he's referring to the garage apps. People are still quite upset that the garage team rarely release apps for Windows.

The complaints about garage apps are endless. I understand to an extent, but it is purely a space for developers to make things for fun on their own time. I believe it increases creativity. If a one of Microsoft's hired iOS developers decided to make a random iOS app for fun, why are people getting mad at Microsoft. As much as it would be great to pump out more apps for just windows 10, restricting/forcing people to make apps for one platform is not the answer. Plus the ideas that get put out via the garage app can be taken by Microsoft and made an official thing or further integrated into the OS such as oneclip (or "bundle"/whatever the new name might be).

MS claims there is little effort - the bridges do most of the work. so porting the app as they ask devs to do would be a stronger statement if they did as well and it is not only the garage apps - I understand the Mail App they provide to IOS and Android is much better that the Mail App in Windows 10. It is a rebranding of an acquired app. So why isnt it ported to Windows 10?

Well I think a port makes sense if an app originally came from another platform and doesn't already exist. I mean it's a way to help developers for other platforms get a jump start on windows 10/mobile, not necessarily a one-click conversion solution that makes your app work perfectly on a different platform. In the case of the acquired mail app, I don't think it makes sense to convert it because a) there's already an existing app that is continually being updated (I personally find the app to work well) and b) as I said before converting that app doesn't automatically make it work well like its counterpart (maybe so with simpler apps like games, but for example I think converted apps still need to be coded/designed so it can be used for different screen sizes or to use continuum so in some aspects they would be regressing in usability)

I suppose it is too much to expect Microsoft to invest the effort they are asking Devs to invest in porting apps. I think the acquired mail app is Acompli and I have read that it is superior to the native Windows 10 app. The native app does not have feature parity with it and it would be a welcomed replacement but things are not so easy... I have been hoping to find a Mail App I can use to access my many Outlook forlders so I can access a good amount of email I have archived in mail folders. The Native app falls short. It won't open a saved mail file and I don't think you can even create folders using it. I was hoping Acompli would be closer to what I am looking for,

Huh? They made/are continually updating a porting tool to help developers port apps, how is that not investing effort? Would you rather have developers create a UWP app from scratch? There is not and will never be a simple one click solution where you put in an iPhone app and out comes a bug free, 100% UWP app. It's not simple to do this and pretty significant that such a tool exists in the first place. Regarding the mail app. I have a L950xl and just tested creating a folder and it seems to work fine. I personally don't have archived emails in the sense where you click the archive email button, but I do organize my emails in different folders which do sync between pc and mobile. If archiving email works the same way in that it just moves emails to a folder, then syncing should work fine.

I believe a "do as I do" message is a stronger approach than a "do as I say"! As you said - MS hs invested resources in the tools, why not use them themselves?

Re the "do as I do" message, fair enough, that is a valid perspective. I guess, however, we will have to disagree on what we think is effective. Good discussion!

"just tested creating a folder and it seems to work fine" I am talking the mail program on Surface Pro 3. I have a mail archive folder that I file everything in - moving messages into folder, not clicking the archive button. The folder is on OneDrive and I can access it from Outlook on any of my clients - but not from phone or from the Mail App in Windows 10. I cannot access it from Outlook.com. IF it could import them into the Outlook.com ecosystem, I would alter my work flows accordingly but I have not found out how so I am stuck using Outlook.

Oh you referred to acompli which I thought was a mobile phone app only (?) so I thought you meant on mobile specifically. Oh you meant like literally have a folder where you download emails into. I misunderstood you the first time. What is the benefit of doing that vs having it online like in outlook.com because it should definitely sync everywhere including in the Outlook desktop program if you had it online? Had a similar discussion before re the mail app with another person before. Obviously there can be further improvements like adding categories for example, but as a basic email app I think it works well. Now, some people need more advanced features which is kind of what the outlook desktop application is for. However, I would like to eventually see a more advanced UWP mail app for the people who would like more advanced features.

The short answer is that I wasnt using my microsoft email account for what I was doing. I was accessing my verizon.net account and storing messages in folder in a .pst file forturnately I again searched for and found an answer of sorts at http://answers.microsoft.com/en-us/office/forum/officeversion_other-outl... and it seems to be importing the stored files like I hoped for - but it is hard to see the status of the sync with outlook.com - some of the messages in the folders have uploaded and some have not. I wish I could find a way to see status of the updates. I will give the Mail app a try now. my Acompli comments were regarding making it a UWP app which could work on Windows 10 phoe or computer

Gotcha, makes sense. I'm glad you found the solution though! Yeah I understand what you were saying now. Going back to my original point, I think it makes more sense to port something that doesn't already exist and the fact that porting something over wouldn't mean it automatically becomes a UWP app (they would still need to go in and design the UI for other screen sizes). So from my perspective, I think it would be more efficient to continue to update the current mail app rather than porting in a whole new one.

I wonder if the fact that those apps were ported would explain why they freeze and the only way to use them is to reboot the phone.

The screenshot of Movie Maker 2.1 brings back memories. I really miss that version. WLMM is bad in comparison.

I'd love to use it for some basic gopro video edits.

Thanks and it is about time I like using Windows Movie Maker easy for me to use plus I can't wait to see it in the Windows Store oh yeah !!

I hope they don't just port the 2012 version and actually give us a modern (Universal) app. But also, I hope they don't build something as basic as Movie Moments; I'm not sure if that app can even trim a video!

Please make it for mobile!!!!!!!

they will for android and iOS

How do you know? Why not win10moblie

simple MS too need no. of users use its services like Google. they r not going to waste resources on low windows 10 users....

Lmao! Yes indeed. I can see it now.

Why would they? All their core apps are first and foremost on W10.

i exactly didn't remember the name of the apps/features but there r some apps in iOS which didn't exist in WP. I read in WC itself.... can't remember.

You mean hobby projects under the garage brand?

And inferior to their iOS apps, but thats probably due to the insurmountable limitations of W10m. Not even MS can get around them.

My w10-apps are clearly superior to the ios apps. I can even run them wirelessly on any other device in my household.

So this is what's Bill been working on after going back to MS. http://blog.seattlepi.com/microsoft/2008/06/24/full-text-an-epic-bill-ga...

thanks. that was a fun read. xD

Ahhh... The good old days. Now Windows does all that back and forth screw it up crap automatically!

That was actually a really nice little program. Very easy to use.

Nice ... This is something I use quite frequently. I'd hate to see it go away.

This is excellent, mostly because you won't have the bloody installers. It would be nice to bring the Windows Photo Galery as well.

MS is a trash! They make something and never update it... Look with iMovie it gets better and better... Movie maker is like 2000...

It was updated until it was deemed dead though... For twelve years.

Finally, nothing else free and like it

I am still using it. Really good for small editing of gameplay. Will be really happy to see it updated.

I hope they port Windows Photo Gallery over to the Windows Store too. The current Photos app just doesn't cut it yet. WPG does a nice job with facial recognition and tag management.

I hope so. I used windows movie maker all the time. I'd love to see it back.

I pray that they have been working on this long enough that it is not pathetically dumbed down experience and on par with past offerings. "Movie Moments" was embarrasing. I also pray that support for Contact Groups comes to the People App before they completely discontinue Windows Live Mail in January of 17, as stated on the download.live.com page.

I can honestly say I miss Movie Maker. I recently had to give my Creative Cloud subscription from my previous job so am back to using Premiere CS6 - it regularly gets the audio and video out of sync and is much slower. 95% of what I do doesn't need any more features than Movie Maker - I just need one that works quickly and properly.

Please let it output something other than .WMA files. Posted via the Windows Central App for Android

Why wouldn't it be able to output more? The current desktop application can do that (at least last time I used it)

It has been able to the last eight years...

I used to use movie maker a lot. Nice to hear that :) Posted via the Windows Central App for Android

We need a windows version of final cut pro

We need a windows version of final cut pro

There are tons of Windows video editing programs as good or even better than final cut pro, I'm sure. Posted via the Windows Central App for Android

Really cause I could use some names

I use this to stitch together photos to make time-lapsed videos. Works well until you get to 400-500 photos, then it gets crashy. I will definetly check out a Win10 version.

Yes, they had a great app on W8 but took it away and had to go back to this which is still a solid tool to use

Ha! I just downloaded Movie Maker from Essentials 2012 so I could edit and post a couple of videos on FB.

I wished they'd extend the life of WL Photo Gallery. At least as far as how I use it the feature gap between it and the Photos app is massive

Throw in some of the features available with MS other apps such as Hyperlapse and Slow-mo, then it's perfect.

**** yes, that would be great. Also paint UWP please.

I thought it was already there

I hope it supports DVD burning!

I hope it's a new improved version. It doesn't need to be too fancy, but I hope it has a new modern look to it and optimized for speed. I use Premiere or After Effects for my more complicated work, but I loved Movie Maker for quick and simple animatics. Posted via the Windows Central App for Android

Im very happy about this. Movie Maker is simple and easy to use.

Hopefully they release it as a UWP with a new design, and they add new features and stuff over time. And hopefully not include it as bloatware.

This and Windows Media player needs to become UWP I want this so badly

Hopefully they bring cut or blade tool in this version.

Wasn't there a rumor that Microsoft was working on a new consumer software? Maybe this is it.

Yes please. It is a great tool for simple personal or home projects.

I hate to admit it but Apples iMovie is fantastic. I would love to have access to a true competitor. Posted via the Windows Central App for Android

I mean I use final cut on my mac, so maybe they can make this compelling to professionals, or something like final cut

I was gonna grab the old 2012 version the other day, for editing my Dashcam footage... Hopefully this will come along very soon!!!

Hopefully it works on smartphone as well.

I just wish they bring it up to imovie quality

Somehow i still have wmm on My Windows 10 desktop. I also use It often to shrink the size of video files

But... I have movie maker my pc. It's part of the ms essentials 2012 pack. I can still run it on w10 (didn't check if it was compatibility mode or not). Or is that another program by microsoft that do the same thing?

Windows Movie Maker and Windows DVD Maker were freaking solid programs. With enough dedication, you could product some quality video fun. It was sad seeing that segment of included tools born with Windows XP, then greatly improved on Vista and then 7 totally ignored starting with Win8.

Hi John, Do you know who is responsible for the app's development? I think I need to follow that guy's twitter or something. Thanks!
Windows Central Newsletter
Thank you for signing up to Windows Central. You will receive a verification email shortly.
There was a problem. Please refresh the page and try again.